By Mihail Vladimirov.
SUMMARY
Liverpool continued with their recent formation
Everton could influence the game by being tactically different, but had the same approach as at Anfield
Ibe could have played as part of a front 3, with Henderson on the right flank and Gerrard alongside Lucas
the game was largely dull and uneventful
Defensively, Everton tried to cut off the link-up play between Moreno, Coutinho and Sterling down Liverpool's left
McCarthy played the key defensive role for Everton
Lukaku, Mirallas and Naismith worked to close down Liverpool's 3 centre-backs
Everton didn't have a proper midfield runner who can break the lines
Liverpool were 'boxy' in terms of shape and players' movement
The start of the second half was similar to the first, with neither team really in control
After Sturridge came on, Liverpool became more direct with two runners (Sturridge and Sterling)
Everton then dropped ten yards or so deeper
Liverpool went to a 3-4-1-2 shape for the final ten minutes after Lambert replaced Sterling
Neither team did enough in attack to be a worthy winner
Both managers had some injury issues to deal with for this game. Martinez had Baines and McGeady joining Howard, Osman and Pienaar absent from his match squad. But crucially for the home team, McCarthy has been passed fit to start the game.
On the Red side Rodgers had Lovren and Balotelli ruled out with Lallana's unavailability being a late confirmation. Additionally, Markovic was only fit to start on the bench following his removal against Bolton. On top of all this, Lucas started the game but was quickly removed – and replaced by Allen – inside the opening quarter hour.
The tactical influence of the starting line-ups
With Liverpool unsurprisingly set to continue in their 3-4-2-1 formation and their largely expected starting XI, it was Everton who had the power to influence the game much more by being tactically different. Liverpool's expected formation, their current form and arguably greater individual quality meant the emphasis was on Martinez to be tactically creative in order to make his side more competitive and somewhat level the playing field.
The Spaniard duly obliged, even if what he did wasn't something previously unseen or totally surprising. Everton's approach was an almost carbon copy of what the Blues showed at Anfield earlier in the season. The overall shape was the same, with the midfield and front units being exactly the same – both in terms of positions and roles. The only difference was that at Anfield Lukaku played on the right, while here he started on the left. The other notable difference, apart from Howard playing back then and here it was Joel Robles in goal, was that at at Anfield Martinez had Baines playing and Coleman missing (replaced by Hibbert), while here was the opposite – Coleman and Oviedo (replacing Baines) were the full-backs. In both games Jagielka and Stones formed the centre-back pair.
In the meantime, Rodgers' starting XI, even though not providing any surprises in terms of lining-up in the recently usual 3-4-2-1 shape, held a high degree of tactical surprise with Jordan Ibe starting. With him, and with Manquillo or Johnson not playing, there were two potential variants how Liverpool could've lined up. In theory both of them would influence how the Reds were going to function tactically in a completely different way, meaning each of them also had the power to influence the overall clash in a different way.
The first variant was to use Henderson on the right flank with Gerrard slotting alongside Lucas and Ibe used in the front three. Here Liverpool may have looked rather counter-attacking oriented with Gerrard sitting deep and spraying passes, with the front three all having the pace and trickery to cause trouble when fed quickly. Additionally, Henderson's work-rate and defensive discipline on the right would have been supported by Ibe drifting deep and wide to pick up Oviedo's runs and prevent Everton potentially overloading Liverpool's right flank – something that many of Liverpool's opponents have been doing lately with a degree of success. Another benefit of that variant was that with such a mobile and hard-working front five (the front three and wing-backs), Liverpool could have also pressed from high up, leaving the back five to sit back and cover positionally.
The alternative variant was to see Ibe played on the flank with Henderson in midfield and Gerrard in the advanced inside-right position. Here the main benefit would have been that the effective Lucas-Henderson midfield pair would be retained. But the trade-off was that in two other positions the Reds arguably would have been weaker. Firstly, Ibe being played as the wing-back may have resulted in a series of defensive issues. With Gerrard unable to either press or drop back and wide to help him being easily overloaded, the bulk of the supporting role would have been upon Henderson. But as we saw in the Chelsea games, whenever Henderson drifts wide to assist, a gap opensup through the middle. Secondly, Gerrard's rather static presence in attack may have limited Liverpool in a pure attacking sense, as he isn't able to sustain high-level and intensive pressing nor continually roam between the lines to exploit every pocket of space and support his attacking teammates with decoy runs.
It was the second variant that was eventually preferred by Rodgers to start the game with. Interestingly, even if some issues were already seen by then, when Lucas departed through injury, Rodgers kept his side unchanged with Allen coming in as the like-for-like, in terms of position if not overall change of style of play. A real possibility was to use that enforced sub to reshuffle the Ibe-Henderson-Gerrard trio to see if the other alternative could have impacted Liverpool much more positively.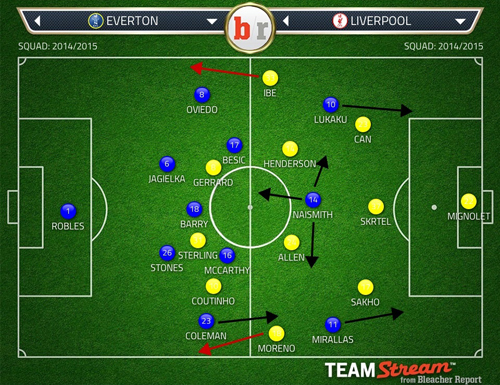 With all of the above in mind, and given how the game was largely dull and uneventful as a contest, it makes much more sense to go through each team's tactical approaches chronologically.
Everton being pragmatic
Unarguably, the way Martinez set up his side was the reason the game was so forgettable. Bar a few individual moments, the game saw little footballing quality. But it's also easy to argue that it was Martinez's approach that was the prime reason – with the growing exhaustion of Liverpool given their tight schedule and little rotation applied by Rodgers in the past couple of months also contributing. Everton competed well and didn't allow Liverpool's better form, confidence and greater quality to shine through as the main decisive factors in the game.
Interestingly, even if Liverpool played a completely different shape than when these teams met earlier in the season (back then the Reds started with 4-2-3-1), Martinez used precisely the same approach to nullify Rodgers' side. It was a 4-1-2-3 shape that looked much more like a 4-diamond-2 but with one main difference. The centre-forwards started out wide and looked to dart infield (rather than vice-versa), which was the reason the shape looked more like a 4-1-2-3, while the advanced midfielder was actually starting forward before looking to drop deep and make his side even more compact through the middle (which made the shape look like a diamond midfield).
This was quite a smart move by Martinez for two reasons. Firstly, it was the only possible way to keep midfield parity with Liverpool with greater emphasis on positional solidity rather than pressing. This was because the diamond midfield allowed a dedicated midfield holder with the shuttlers joining either side of him to make a flat 3-1 midfield unit. In contrast, a rhombus-like midfield would have matched Liverpool's unit better man-for-man (allowing for better pressing) but there would've been greater risk of exposing Barry's lack of pace in the deep-lying pair.
Secondly, to retain a 2-v-1 advantage out wide to then try and exploit both sides – mainly the space between Liverpool's wing-backs and side centre-backs – differently, Everton started with Lukaku on the left and Mirallas on the right, which was also a sensible strategy. On the right the Belgian's pace and direct approach looked to pin back Moreno and prevent Liverpool's left-sided trio (him, Coutinho and Sterling) lining up and being the usual menace going forward. On the left, Lukaku was presumably expected to cause trouble to Liverpool's right-sided defensive unit (Can and Ibe) who were both playing in their unnatural positions, meaning they were vulnerable to letting players ghost past them off the ball. What's more, the fact that Lukaku and Mirallas kept swapping their positions every 15 minutes or so meant Everton weren't one-dimensional in their attacking approach. When the two Belgians were swapping sides, Liverpool's defence was facing different types of threat – Lukaku on Moreno and Mirallas on Can. Arguably this was more suitable as Moreno is more vulnerable to players trying to get inside of him and moving off the ball instead of running at him in a 1-v-1 way, while Can doesn't have a problem getting stuck in in physical encounters but is susceptible to being done for pace (as Hazard and Enner Valencia showed recently).
The rest of this analysis is for Subscribers only.
[ttt-subscribe-article]