By Mihail Vladimirov. 
Summary
Rodgers decided to with a 3-1-4-2 formation, with Sterling in midfield, rather than the #10 role behind the strikers. 

Bilic were cautious initially, looking to avoid Sturridge and Balotelli going 2-v-2 against their centre-backs, and matching Liverpool in midfield.
Besiktas' full-backs rarely ventured forward in the first half, allowing Liverpool to deal with their one dimensional attack, but also restricting the away side's ability to break quickly with their front men.
Rodgers' side were content to recycle the ball slowly and build from their whenever they got chance, but there was a period of ten minutes when they were direct, and caused considerable unease to the home team.
If in the first half Besiktas' 4-2-3-1 played out like Southampton's and thus made it easy for Liverpool to defend against, for the second half the home side's formation looked Chelsea-like (from the second COC semi-final) in its overall tactical application.
Tore and Sahan, five minutes into the second half, swapped sides and kept cutting infield to cause an overload in the middle, again similar to Mourinho's approach at Stamford Bridge.
Besiktas' increased attacking threat, resulting in a goal, highlighted all the flaws with Rodgers' 3-1-4-2 formation. The danger out wide was being exploited with excellent movement from Bilic's forward players and full-backs.
Liverpool's manager failed to react to Bilic's tactical switches, and although the away team had a spell of possession towards the end of normal time, and in extra-time, they failed to register another shot on goal.
Bilic only made two changes from the side that started at Anfield last week; both were enforced as Ramon and Gulum were suspended. However, what's more important was his starting XI for this game contained five players who didn't start in Besiktas' last league game, implying the home side would be fresher than their opponent.
Meanwhile, despite having a plethora of absent players, Rodgers managed to line-up with what was a strong side (even if the majority of the players were no way near their optimal physical condition given the lack of rotation and congested fixture list). The most interesting thing was that Liverpool started the game in a 3-1-4-2 formation with Sterling dropped back in midfield instead of played behind the front pair in what would have been a 3-4-1-2 shape instead.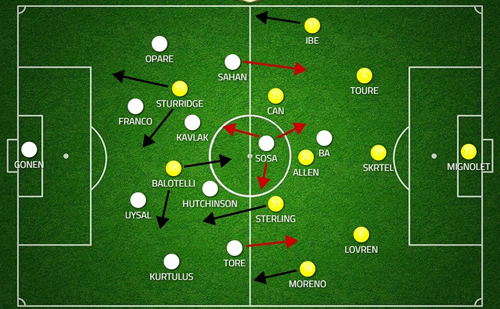 Besiktas approach
With Bilic's formation and line-up basically the same as the game at Anfield, in addition to Liverpool focusing mainly on defending and counter-attacking, the main tactical talking point was how he may approach the game. Would he be brave and try to put Liverpool under severe pressure with and without possession right from the off, aiming to score an early goal or two before dropping back to hit Liverpool on the break? Or will he be more cautious early on, waiting to see how the game is unfolding without taking any unnecessary risks and then apply maximum pressure late on if by then his side is still trailing in the tie?
Besiktas didn't really apply early pressure on Liverpool. Instead of a potential fierce pressing from high up the pitch, the home side sporadically tried sort of half-hearted attempts to close down the opponent largely individually and rarely hunting in packs. Going forward the team was cautious and never committed plenty of bodies so it wasn't a case of the visitors being overloaded too. The full-backs stayed in rather deep and narrow positions, rarely advancing deep into Liverpool's half. This helped screen the centre-backs and prevent the Reds' front pair enjoying a potentially very dangerous 2-v-2 parity. As a result the wide men were left responsible to track back with the wing-backs while the midfield trio had to match Liverpool's man for man, largely nullifying each other in the process.
Besiktas counted mainly on Liverpool being sloppy with the ball and give the ball away in order to regain possession and either initiate quick and direct attacks or, as was often the case, focus on retaining it and  then build-up their attacks in a more slower and considered manner. But with Liverpool having plenty of bodies behind the ball, the home side often found it hard to do something meaningful when in possession and were either quickly dispossessed or had to recycle it backwards.
The home side being so passive and not really willing to exert any early home pressure wasn't a major surprise and could be easily explained. At one hand the result from the first leg was tight and the goal deficit small. At the other, Liverpool's counter-attacking threat posed by that shape and personnel meant it would be a massive gamble from Bilic to insist on early pressure and risk conceding what would have been a killer second goal. Strategically it made sense to see the hosts initially careful with what and how they do defensively and offensively as there was plenty of time for them to eventually push forward hard and en masse later in the game if need be.
The rest of this post is for subscribers only. 
[ttt-subscribe-article]