By Gary Fulcher, Daniel Rhodes and Mihail Vladimirov.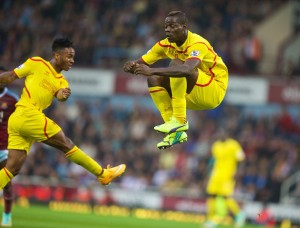 Liverpool are back in Premier League action on Saturday with the visit of West Ham United to Anfield; 3pm kick off UK time. The task is simple for the Reds: beat West Ham and we leapfrog them into 6th place (at least until Spurs face West Brom on Sunday). The Hammers secured a 3-1 victory over Liverpool in the reverse fixture back in September (goals from Reid, Sakho and Amalfitano for West Ham, with Sterling scoring for the Reds), while Liverpool won the corresponding fixture last season 4-1.
Sam Allardyce's side defeated Hull City 3-0 at home a fortnight ago, ending a four game winless sequence in the Premier League. They've picked up 13 points from a possible 30 on their travels this season and their tally of 16 goals away from home is only bettered by Chelsea (27), Manchester City (25) and Arsenal (18). They've kept five cleans sheets in the Premier League this season with all five coming at home, while three of Liverpool's seven shut outs this season have came at Anfield. The Hammers have failed to score on three occasions – twice at home and once away – and in comparison Liverpool have failed to score on five occasions, three at home and twice away.
The rest of this article is for subscribers only.
[ttt-subscribe-article]
 Latest Table
Full
Home
Away
P
W
D
L
F
A
W
D
L
F
A
W
D
L
F
A
GD
Pt
1
Chelsea
22
16
4
2
51
19
10
0
0
24
3
6
4
2
27
16
+32
52
2
Manchester City
22
14
5
3
45
22
7
2
2
20
11
7
3
1
25
11
+23
47
3
Southampton
22
13
3
6
37
16
7
2
2
24
7
6
1
4
13
9
+21
42
4
Manchester United
22
11
7
4
36
21
8
1
2
22
8
3
6
2
14
13
+15
40
5
Arsenal
22
11
6
5
39
25
6
3
1
21
10
5
3
4
18
15
+14
39
6
Tottenham Hotspur
22
11
4
7
32
30
6
2
4
18
14
5
2
3
14
16
+2
37
7
West Ham United
22
10
6
6
35
25
7
2
3
19
10
3
4
3
16
15
+10
36
8
Liverpool
22
10
5
7
31
27
4
5
2
15
11
6
0
5
16
16
+4
35
9
Swansea City
22
8
6
8
26
30
6
3
3
16
13
2
3
5
10
17
-4
30
10
Stoke City
22
8
5
9
23
27
4
2
4
12
12
4
3
5
11
15
-4
29
Liverpool's overall league record against West Ham:
Total – P: 113 W: 60 D: 30 L: 23 F: 189 A: 105 GD: +84
Home – P: 56 W: 38 D: 15 L: 3 F: 108 A: 30 GD: +78
Away – P: 57 W: 22 D: 15 L: 20 F: 81 A: 75 GD: +6
Premier League form – last six matches home and away:
2nd –

Liverpool

: P: 6 W: 4 D: 2 L: 0 F: 12 A: 5 Pts: 14
10th –

West Ham

: P: 6 W: 2 D: 2 L: 2 F: 8 A: 6 Pts: 8
Premier League form – last six matches at home (Liverpool) and away (West Ham):
10th –

Liverpool

: P: 6 W: 2 D: 3 L: 1 F: 10 A: 7 Pts: 9
10th –

West Ham

: P: 6 W: 1 D: 3 L: 2 F: 7 A: 9 Pts: 6
Liverpool's record against teams managed by Sam Allardyce (all competitions):
Total – P: 23 W: 13 D: 5 L: 5 F: 42 A: 25 GD: +17
Home – P: 12 W: 9 D: 2 L: 1 F: 25 A: 8 GD: +17
Away – P: 11 W: 4 D: 3 L: 4 F: 17 A: 17 GD: 0
The match-day officials for this fixture are:
Referee: Andre Marriner
Assistants: S Ledger, M McDonough
Fourth Official: M Jones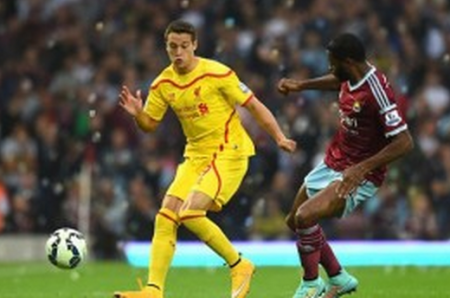 TEAM NEWS
Liverpool are without Jones (thigh) and Flanagan (knee). Toure is on international duty with the Ivory Coast.
West Ham have doubts over Collins (groin) and Demel (muscular injury).
Liverpool:
Goalkeepers: Mignolet, Ward
Defenders: Johnson, Manquillo, Can, Skrtel, Lovren, Sakho, Moreno, Enrique
Midfielders: Gerrard (c), Henderson, Lucas, Coutinho, Allen, Markovic, Lallana, Brannagan, Rossiter, Ojo
Forwards: Sturridge (?), Sterling, Balotelli, Lambert, Borini, Ibe
West Ham:
Goalkeepers: Adrian, Jaaskelainen
Defenders: Cresswell, Tomkins, O'Brien, Jenkinson, Collins (?), Demel (?), Henry, Burke, Potts
Midfielders: Nolan (c), Jarvis, Kouyate, Downing, Morrison, Noble, Amalfitano, Poyet, Song
Forwards: Carroll, Sakho, Cole, Valencia

Mihail Tactical Preview
For Liverpool, this game is of huge importance. Not only do they want to bounce back from their cup-exit but with all of their Top 4 rivals (except Spurs) having 'winnable' games at home, the Reds simply need to win this game.
The problem is that not only is Rodgers' team going into this game on the back of a hugely physically and mentally draining three Cup games but they are facing a tough opponent in West Ham.
West Ham
What makes the Hammers an even tougher proposition is that in addition to the usual defensive origination and supreme solidity associated with every Allardyce team, this season they have added greater tactical flexibility and diverse attacking threat. All of this was enabled by the owners' explicit request for more attack-minded outlook and 'easy on the eye' football for this season but it was further enhanced by the excellent transfer work done in the summer, securing technically excellent and creative players who can play in several positions and roles. The fact Allardyce has used four different formations, shuffled his players around on a regular basis, and played with a variety of strategies and tactics on a game-by-game basis just underlines the richness and newfound flexibility the Londoners are playing with this season.
This game in particular pits Allardyce against a team he very much likes to play against – a technical, possession-oriented team who can be physically dominated (although in the Chelsea tie the Reds showed they're growing in this respect) and nullified via a tactically spot-on approach, overall discipline and defensive resilience. In addition, the different fitness condition of both teams is something that gives the visitors another big advantage and something they can build their whole strategy around. As such how exactly Allardyce is going to approach this game is perhaps even more important to how the game might shape up than in what shape and line-up his team will start the game.
There are two main variants in terms of how Allardyce could prefer to use the fitness-related advantage his team has for this game. The first one is see him being brave, adventurous-oriented and proactive enough to decide he is going to push on right from the start and trying to exert a physical advantage based on pressing and direct attacks (the very same thing Liverpool were put up against in the return game back in September). This will aim not to allow Liverpool settle in their passing rhythm and start to dominance possession and territory. Safe in the knowledge that Rodgers' team will find it hard to last the whole game due to their fitness limitations. This suggests Allardyce will count on overwhelming the opposition – in the period they are supposed to be stronger – and then drop back late on relatively safe that the Reds will find it hard to pick up the pace and put them under massive pressure.
The alternative strategy for Allardyce to use is to order his team keep it tight from the start, weather Liverpool's likely early pressure, then push on later in the period the home team is expected to fade away and try to make his team's greater freshness count in the final 20 mins or of the game.
Both options have their pros and cons and seem equally capable to yield a positive result for West Ham. A potential problem though is that it's not so transparent how exactly Rodgers will approach the game. So it may be a case of Allardyce spending the opening period of the game observing Liverpool's behaviour and then deciding how exactly to proceed. For this, he will need to line-up with flexible enough formation and starting XI, one that is capable to perform both strategies.
The first option ahead of Allardyce is to persist with his most used formation this season – the 4-diamond-2. That shape will allow him equal ability to push on, close Liverpool down and attack directly following any possession turnover; or sit back, absorb the pressure and counter-attack quickly.
A potential problem though is that this formation naturally does not deal well enough with Liverpool's 3-4-2-1. The first issue is that Liverpool's advanced midfield pair could easily overload the deep-lying midfielder, which means sitting back might be a problem. The other problem is that to press adequately, the formation will need to push the shuttlers and the full-backs forward in order to occupy Liverpool's deep-lying midfielder and wing-backs in order  for the pressing to be successful. However, this is only bound to expose West Ham on the break, as it will leave the centre-backs and the midfielder at the base of the diamond as their only players defending.
However, there is a way to work around these issues. Nevertheless, to balance the need for pressing capabilities and retain a proper defensive cover, Allardyce might need to settle for a more considered and midfield-oriented closing down process instead of the more fierce and starting from higher up press. In a way, it'll be a case of West Ham playing with a mixture, or a compromise, of both potential strategies.
Liverpool's back three unit will be given the time and space on the ball to play out with West Ham initially looking to get back in a deeper 4-3-1-2 shape with Nolan and Noble getting deeper and closer to Song to shut down the space through the middle and prevent the ball reaching Liverpool's advanced midfielders as easily. Downing in particular might be tasked to close down from a bit higher up and prevent the ball being played quickly into one of Liverpool's deep-lying midfielders. Then whenever the home team reach the midfield zone, West Ham will be expected to spring into life, using their numerical supremacy to close down centrally. Whenever the ball is played out wide to one of the wing-backs, the shuttler on this side can go wide to engage him with the rest of the midfield unit re-position to plug the gaps. The full-backs will be tasked to stay narrower and closer to the centre-backs and only get out if the wing-back managed to get past the shuttler.
Then whenever the ball is regained, West Ham will have the option to hit long balls for Carroll to control and lay-off or Diafra Sakho/Enner Valencia to chase down the channels. Alternatively, the team could use their midfield bodies to play through the middle with Downing drifting wide to initially provide the width while the full-backs are still getting up the pitch. With Liverpool unlikely to be able to sustain proper pressing all over the pitch, West Ham may found themselves with a bit more time on the ball, which is bound to enable their side midfielders to also get forward in support if the initial counter-attacking route (direct ball to the front pair) is unavailable.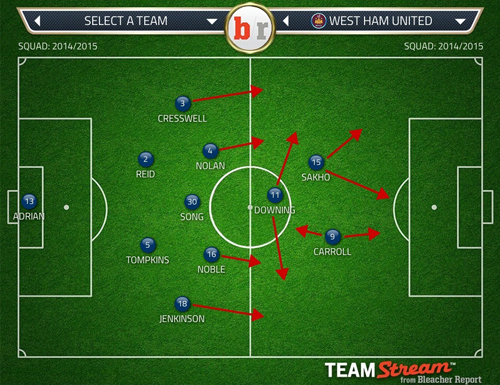 Alternatively, Allardyce might prefer to start with a much more conservative and cautious formation, especially if he plans to start the game passively, weather any storm Liverpool might create and take it from there.
Starting with a 4-4-1-1 shape will allow the Hammers to better cover the space both through the middle and down the sides, therefore being able to stifle both routes for Liverpool to get the ball forward and threat in the final third. As Chelsea showed in the cup-tie with the Reds, using a duo of defensively-aware midfielders is the way to minimise the space between the lines and make it much harder for Liverpool's advanced midfielders to influence the play as much. Song and Noble could do the job here, with Nolan initially getting back to further make his team compact through the middle. In order to both guard the space down the channels the full-backs will need to tuck infield and play more like wide centre-backs than narrow full-backs with the wingers ahead of them participating defensively by tracking back Liverpool's wing-backs.
Then, as soon as the ball is regained, West Ham will have the obvious route to play the ball towards Carroll. However, the team would be much more dangerous if the ball is worked down the flanks with the wingers quickly getting into the space left by the wing-backs. Additionally, safe in the knowledge the midfield pair will be there to cover them, the full-backs could be quick to overlap and provide support in order to overload the space down the flanks, which will in turn enable the wide men to eventually get infield and closer to Carroll and the pushing from deep Nolan.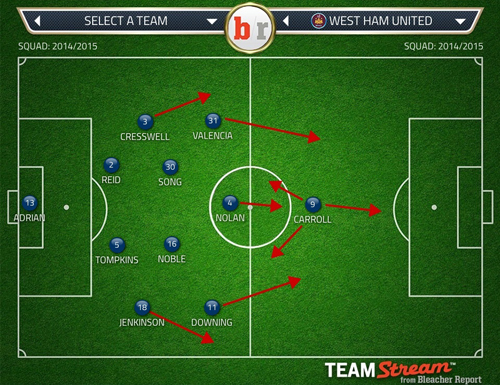 Allardyce being a self-proclaimed manager who prefers to adapt to the opposition, seeking to nullify their strengths and expose their weaknesses, might mean he is open to a third option in terms of starting formation. The way Bolton nullifying Liverpool last weekend using a 3-1-4-1-1 formation might be further reason as to why Allardyce might be keen to use the same 3-1-4-2 shape as at Swansea a couple of weeks ago.
The reason for this is logical. A back three unit, protected by the holding midfield ahead will be enough positional cover through the middle against Liverpool's front three. As Bolton did, it could be a case of the side centre-backs getting tight to their advanced midfielders and passing them over to the defensive midfielder whenever they get too deep or central, with the middle centre-back acting as the sweeper, covering in behind. The benefit of this system will be that West Ham will have their full-backs pushed higher up, therefore being able to more naturally engage the Reds' wing-backs, tracking them back up and down the pitch. Additionally, the midfield pair could put pressure on Liverpool's deep-lying midfielders, thus further slowing down Liverpool's passing flow.
All of this will be capped with enough attacking threat, both on the break and when the visitors will settle for a more patient and considered build-up play. The front pair's diversity will be enough to occupy Liverpool's back three, which then will allow central midfielders to get in support, safe in the knowledge there will be four players  covering for them (the three centre-backs and the holding midfielder) if the move breaks down. On the flanks, it'll be that type of fascinating battle between two sets of wing-backs battling each other up and down the pitch.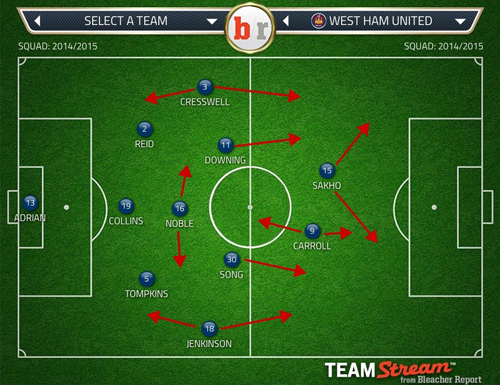 Liverpool
For Liverpool, the first important question is how much Rodgers will rotate his side, following the 120 minutes against Chelsea, in addition to the fact he is largely playing with the same starting XI in the past month and a half.
Theoretically, the Reds can easily make several changes if the main aim is to line-up with as much as fresh starting XI as possible. Lovren and Johnson can slot in either side of Skrtel, allowing Can to join Allen in midfield with Enrique and Markovic starting out wide. The front three could be Lallana playing behind two of Borini, Lambert and Balotelli with what would be a slight change from the usual 3-4-2-1 to more of a 3-4-1-2 to accommodate the presence of two natural forwards. But for all the potential fitness benefits of such a heavy rotation, it's unlikely to see Rodgers rest so many of his current first-choice players. Especially when, with Bolton in mid-week, he will have a game in which he can rotate his side to give the majority of his players a much needed break, more so given the hectic schedule waiting the Reds in the next couple of months.
As such it's quite possible to see Liverpool making no more than only a couple of changes, assuming Sakho, as reported, is fit to start the game. Lucas and Gerrard could be the only players rotated, with Allen and Lallana easily slotting in their places. This, however, is likely to have an impact on how the home team might need to approach the game. Similarly to West Ham, but for a different reasons, Rodgers will need to consider his team's fitness condition and plan how it might be best to use such a starting XI's physical resource throughout the game.
Given West Ham's strenghts and that it's unknown how they will start the game exactly (in terms of formation and overall strategy) it might be worthwhile for Liverpool to start the game cautiously, waiting to see how the visitors are going to play and then have a spell of 15-20 minutes of sustained pressure with and without the ball. This will require the team to be brave, commit plenty of players forward and simply look to overload the opposition all over the pitch.
For this to happen the side centre-backs will have to step out from the backline and be a presence in midfield, allowing the wing-backs to push even higher up. Additionally, the midfield pair would need to offer extra support in terms of one of them always looking to join the attacking moves, surging forward from deep. It could be either Henderson being that man on a regular basis with Allen being the man to pick up the ball from deep and quickly distribute it forward, using his mobility to be the required positional cover through the middle or down the left-hand side. Or it could be a case of both midfielders rotating and taking turns who will be the more deep-lying and who will be the midfield runner providing that extra attacking presence through the middle.
In attack, the advanced midfielders will need to be very mobile and constantly roaming around, swapping positions, popping up in different areas and always ready to complement each other. With Liverpool pinning West Ham back, Sterling won't have as much space to get in behind, which makes his role more about dragging the oppostion's centre-backs laterally and dropping deep to encourage runners getting beyond him. Such a fluid front three will also enable the wing-backs to 'underlap' and be that extra surprising package in terms of dangerous movement off the ball in and around the penalty area. Sakho and Can overloading the channels will be a further reason as to why Moreno and Markovic will be encouraged to get infield and provide darting off-ball runs.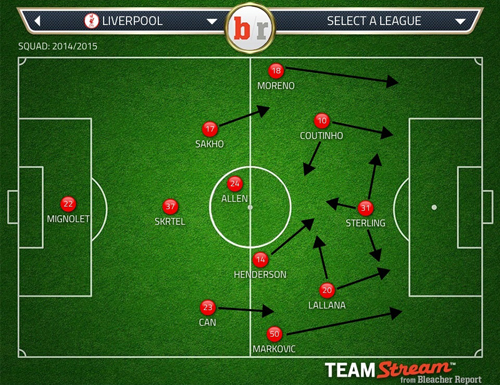 The ultimate aim behind such a spell logically, will be to yield a goal or two. Nevertheless, if this doesn't happen in that period of time, Liverpool will need to decrease their intensity, see out the first half in a more calm and methodical way and save resources for another spell of increased intensity and attacking pressure during the second half. Potentially using his bench too, Rodgers will have to ensure his team is capable of such a spell before it's too late and the game drifts away from his team in the final 15-20 minutes.
Alternatively, Rodgers could prefer to divide the game in two halves. The first half would be all about observing West Ham's behaviour, taking it slowly and carefully in order to gradually settle into the game and pin back the opposition via sustained possession. Liverpool won't need to commit plenty of players forward – they will focus mainly on solid ball retention, good positional cover to totally nullify West Ham's threat and use the front five to probe the game and see whether they can muster something given their individual quality.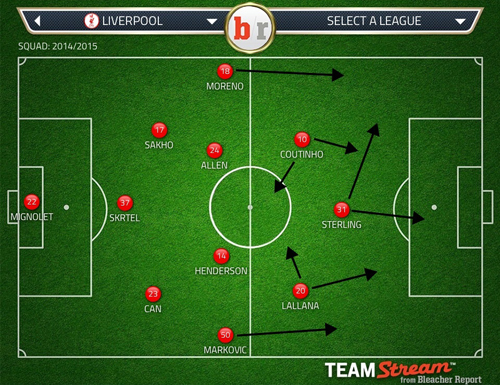 Then, come the second half, the home team will need to ensure they are capable to overwhelm the opposition and put a massive pressure on them before the 70 minute mark. As in the above variant, this will require much more expansive positional play, with both the side centre-backs and one of the midfielders getting into much more advanced positions to support the build-up play and increase the penetration, respectively. If this doesn't yield any positive result, Rodgers could then use his bench to make attacking changes and refresh his side to be able to sustain his team's pressure for the final period of the game.
The presence of a trio centre-backs and a deep-lying midfield pair would be on paper enough to largely deal with West Ham's threat, no matter in what shape the visitors are going to line-up, in the scenario Liverpool are going to spend the first half largely playing it cautiously. This is because that back five unit has the numbers to properly cover the space through the middle, which is bound to largely force West Ham wide. Then as we saw in the Aston Villa game, even if the opposition has a proper target-man capable to get on the end of crosses, the presence of three centre-backs should be enough to largely nullify that danger too.
Then whenever Liverpool is to push forward and commit bodies in attack, the team shouldn't be too worried by West Ham's counter-threats. If the home team succeeds to succcessfuly and for a sustained period pin the opposition back, it'll be all about Srktel's sweeping presence to cover in behind while the side centre-backs, the wing-backs and the midfield pair are all having the recovery pace to quickly get back and halt any dangerous breaks.
Conclusion
This is bound to be a tough game for Liverpool, mainly given their expected limited physical resource and the fact they would be, most likely, unable to last the whole game firing in all cylinders. This puts extra onus on Rodgers' strategical and tactical management throughout the whole game.
However, unless Allardyce is prepared to adopt a similar approach to Neil Lennon's and focus to properly stiffle Liverpool's 3-4-2-1 by selecting a shape that doesn't have obvious holes and weaknesses, the Reds are bound to have enough tactical advantages which paired with their individual quality should be enough to get them over the line.
[ttt-subscribe-article]