By Mihail Vladimirov. 
Summary:
Liverpool started with an experienced XI; Basel reintroduced their in-form players, who had been rested for the Swiss club's previous match.
Sousa's team start, as they did in Madrid, on the front foot, looking to close down, be proactive, and increase the pressure on their opponents, on and off the ball.
Swapping Sterling and Henderson was effective, because it offered the attacking diversity for the Reds, with Sterling stretching the play and Henderson cutting infield.
Lucas and Allen complimented each other well; both full-backs offered different threats and varied their roles well; as did Gerrard and Henderson when linking the build up from the back; the only significant weakness was Lambert's lack of movement up front.
The opening goal was a combination of individual errors rather than any specific tactical or systemic issue with the home side.
After the Basel goal, the home team's attacking threat was minimal because of a lack of movement fluidity, leading to Rodgers' team largely playing in front of the away side.
The half-time changes injected some purpose, movement and pace into the home team's attacks.
Markovic's sending-off restricted Liverpool's attacking purpose, but only for a short time while Rodgers waited for Basel to respond; once they continued to defend, he reacted by switching to three at the back, with Moreno and Henderson as wing-backs.
Given the nature and the importance of this game, it was understandable Rodgers went with an experience-based starting XI. Moreno, Lallana and Coutinho were replaced by Enrique, Allen and Gerrard, respectively; while Toure's injury forced Lovren back into the team.
Although the shape remained the usual 4-2-3-1 when Gerrard plays, there were some tweaks made to it – namely in swapping Sterling and Henderson down the flanks.
On the other side, Basel went with their current in-form players. It should be mentioned that five of them didn't play in the last league game due to being either suspended or deliberately rested ahead of this game. As is often the case in the past couple of months, Sousa started with a 4-1-2-3 formation.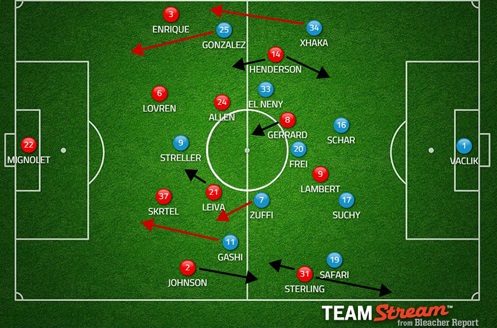 Basel contribute to a positive and open start
Many may have expected to see Basel approach the game cautiously, looking to defend and sporadically threaten on the break, given they only needed to avoid defeat to progress. However, this would not have taken into account how they are playing under Sousa and the fact that even against Real Madrid – even at the Bernabeu – the Swiss team opted for an ambitious and expansive style of play. The fact they had the majority of their starting XI rested in one way or another (either not starting or replaced early in the second half) in the previous game, meant they would also be expected to be fresher than Liverpool.
The rest of this analysis is for Subscribers only.
[ttt-subscribe-article]