By Mihail Vladimirov. 
Summary:
Burnley dominated the first half by overloading the midfield zone, allowing Liverpool time on the ball at the back, but restricting the passing options forward; and then pouncing with an energetic press if any Liverpool CB looked in trouble. 

Dyche's team were first to every ball, made the game scrappy but ultimately lacked any real quality in attack. They were one dimensional, constantly looking to cross the ball, especially from the right with Boyd and Trippier.
Again Burnley's midfield presence, unlike against Arsenal, restricted the direct option to Sterling so Rodgers' team were severely restricted in possession.
The second half brought more success for Liverpool with the ball, as Dyche's team no longer had the energy to press and occupy all of the Reds' passing options.
Once Liverpool scored, they shut the game down with relative ease, keeping the ball well and introducing Lambert who was an effective outlet for the remainder of the match.
Coming off the back of five and four days' rest, respectively, it was not a surprise to see Burnley and Liverpool retaining the same starting XIs as last weekend for this game. Dyche continued with his usual 4-2-2-2 formation, while Rodgers kept faith in the 3-4-2-1 he introduced during the past couple of weeks.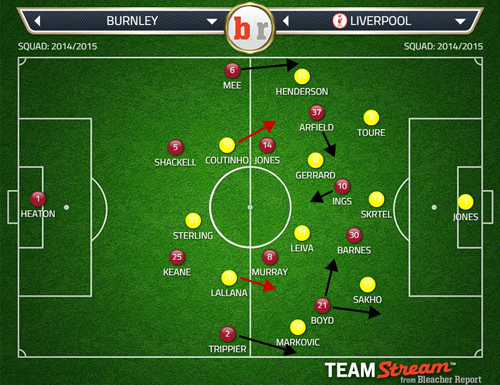 Burnley's first half dominance
In games like this, when the gulf in overall quality between both teams is so obvious, it's a matter of can the inferior team match the superior one to level the playing field through mental strength and a suitable tactical plan. To their credit, this is what Dyche's players did for the first half.
The Clarets simply showed greater desire, fight, and determination to impose their own style and make the game suit them. As a result, the clash became a scrappy affair where spirit, teamwork, and work rate triumphed over individual qualities and technical abilities. Dyche's players channelled that sheer motivation and enthusiasm into an efficient pressing process, which combined with how intelligently they used their shape to occupy the opposition seemed to completely unsettle Liverpool right from the start. Tactically, Burnley didn't provide any major surprises about how they would approach the game. It was a case of their usual strategy being perfectly suitable to first nullify the opposition and then put them under pressure using the very direct and crossing-based attacking method Liverpool usually struggle to deal with.
The rest of this article is for subscribers only. 
[ttt-subscribe-article]