By Paul Tomkins.
In the future, managers will be given contracts on a game-by-game basis. Players will be voted off the pitch and out of the club, with new ones voted in and on. There has to reach a point where no one – players, managers, coaches – can withstand any bad form whatsoever. The quicker life gets, and the more disposable everything becomes, the less patience we can afford anything. Employment at a club will become 'winner stays on'; fail just once and you're gone.
In the recording industry, bands used to be allowed an unsuccessful album (maybe more); that's no longer true. In football, managers used to be allowed a bad season (maybe more); that's no longer true. Whether or not you think a manager is worthy of more time, the noise becomes such that it's virtually impossible for clubs to continue employing them.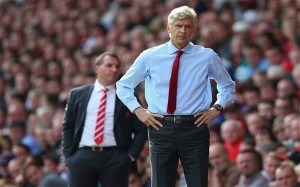 One thing that's struck me for a while about Arsenal fans and Arsene Wenger is that plenty just seem bored of him; something I heard articulated on last weekend's Sunday Supplement. Some Gunners have got into the mindset that he's the problem, and yet whenever they get to the point where they say he has to go the results start to improve; so they harbour some kind of simmering resentment, ready to reiterate their stance at the next sign of failure. Never mind that I 'proved' Arsenal should never really be in the top three, and that the titles won by Wenger were done so the last time they had comparable resources to their competitors – which changed after 2004. Prior to 2004 they should have been in the top three, on most occasions; and they were. Even this season, after a really big buy in 2013 and another 2014, they are still well adrift of the 'rich three', who are starting to converge at the top of the table. Perhaps it doesn't help that the fans are charged so much to watch their team, but Arsenal stay vaguely competitive on the back of that income.
Their fans might argue that Wenger hasn't spent the money he has had at his disposal, and maybe that's valid. But, from the outside, the fans seem bored of finishing 3rd or 4th and 'enjoying' Champions League football; something that some Liverpool fans started to tire of under Rafa Benítez. (If your manager gets you up to 2nd, and you still don't like him, you'll blame him for not getting you to first.) I can assure Gunners that it's not as bad as falling out of the top four and playing in the Europa League. Some fans weren't too bothered about the top four, they just wanted a trophy. But now they're not in the top four, and have just won a trophy, they're bothered about being in the top four again.
They are in a rut of sorts, but it's like the rut of a successful relationship, when, purely out of overfamiliarity, you wonder if you'd be better off with someone else. The passion and excitement has burnt off, but that doesn't mean it's failing. Both parties no longer see eye to eye, but it doesn't follow that they are now wrong for each other. If they break up they'll just find someone else's faults to fixate over; someone who will be better in some areas and worse in others. Stability is boring. The grass always seems greener on the other side.
All fans have wandering eyes. Who is the hot young talent? Who will meet our needs, make us happier now? We could work at it, or we could just look elsewhere. None of this is to say that if a relationship is wrong from the start you should stick it out; clearly Roy Hodgson and David Moyes were wrong for Liverpool and Manchester United respectively, and, you sense, no amount of time would have altered their lack of suitability. Neither had ever finished above 3rd in a meaningful league, perhaps for a reason. Both instantly took big clubs backwards. Neither offered any reason for positivity. Things might have improved, but the only evidence was that sometimes managers improve.
The rest of this article is for Subscribers only.
[ttt-subscribe-article]