By Paul Tomkins.
"Retweet this if you want Rodgers sacked" came one Tweet. Well, I didn't; because I don't. Equally, this season has been such a car crash that, even after last year's miracle, I wouldn't be able to say that the manager's job should be totally safe.
This is a quick 2,000 words after the defeat to Crystal Palace, and I'll try and write something more measured for the site's subscribers tomorrow. But this season seems like another one of those that tailspin from the start.
Rafa's final season; Kenny's final season; Roy's only half-season: the all felt like this, in some ways. They all showed how quickly fortunes can change: Rafa's brilliant 2008/09 side falling apart just one season later; Kenny's wonderful impact in 2011 dulled once he got the job full-time; and Roy Hodgon's … well, I've nothing more to say on that debacle. Gérard Houllier's final two seasons were hard to sit through.
I must reiterate, as outlined in this transfer piece, that Rodgers oversaw a miracle last season. The club should have been vying for 4th with Arsenal, based on wherewithal (the same as this season). But it came within a whisker of the title. That raised expectations to dangerous levels. And when that happens, the pressure can get to players (and fans).
As good as last year was, the Reds had no right to be there; it was pure overachievement. Equally, the team should not be in the bottom half with a negative goal difference as December approaches, playing some quite dreadful football. I've seen some bad defending in my time, but even in this era where defending is often neglected, it's hard to recall worse performances from the majority of the back four. It says a lot that Skrtel's best challenge of the match was on Lovren, and vice versa.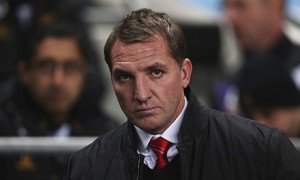 I think Liverpool spread its summer transfer money sensibly in some ways – players for the here and now, players for the future (who can also play now) – but the individuals purchased seem questionable. Part of the theory was sound, but the practice was flawed.
The Southampton trio have their merits (let's not pretend that Lovren wasn't praised last season), but they are all rather slow. Lambert had his best game today, but that's not saying much; he's an honest pro with decent technique when he hasn't got the yips, but he should be 4th-choice at best. Lallana produced the pass of the match for the assist – he has ability – but otherwise he was ineffectual and lightweight. And I described Lovren's role in the second Palace goal as "crumpling in a heap like an upended sumo wrestler". He and Skrtel make Phil Babb and Bjorn Tore Kvarme look like rocks. Admittedly they have no protection, and Steven Gerrard resembles an ice sculpture slowly melting in the Sahara.
There's no great pace in the side, and no great steel either. Gerrard and Lovren don't mind a meaty tackle, but only if they can catch their opponent. Javier Manquillo is the only defender who can defend, and none of the midfield can destroy opposition attacks. Players who did well in Madrid a few weeks ago were once again left out here, as Rodgers persisted with the labouring Gerrard and Johnson, and the hapless Skrtel and Lovren. It tells you how bad Lovren has been that most Reds want to see Kolo Toure in his place. And although Joe Allen played well – and the Reds lost the lead when he was injured on the touchline – Emre Can couldn't get a game even with Henderson's illness; and nor could Lucas Leiva.
Of course, this was a team low on confidence and lacking it's two best strikers – even if one of them can't score in the league – as well as its midfield legs (Henderson). But it was a quite dreadful display, particularly defensively. Liverpool clearly hit a wall last April, and that 'downer' was taken to (and home from) the World Cup, then added to by Suarez's departure. I maintain that the Uruguayan pretty much had to be sold, as he wanted out and was becoming a liability with bans (that were getting longer each time), but the rebuilding did not help repair the team's damaged morale. (And where's Dr Steve Peters? – not that he can work miracles.)
My worry is that, after his excellent coaching last season, Rodgers had more say in transfers, hence more overpriced Premier League purchases, although I may be unfair here if he wasn't the driving force behind the Southampton trio. It's also true that I had no particular problem with any of the summer signings in isolation, but when you put them all together it wasn't a "wow" window. Alexis Sanchez was pursued, and presumably the club made a fair offer, but he chose Arsenal. That happens. The rest of the summer seems less forgivable, now that we're seeing how Rodgers is handling them.
Indeed, the best new arrivals have been Can, 20, Manquillo, 20 and Moreno, 22; all from overseas, with no prior Premier League experience. None has excelled, but they've all done pretty well, all things considered. (And while Divock Origi hasn't arrived yet, you can see the massive potential in a fine athlete and skilful footballer. Bringing him here early would put him under some pressure, but it's not like he's going to let the team down if he struggles; they're all struggling. At the worst it would give him five months to bed in, so that he's no longer a new player next season.)
And while buying from the Premier League is not a problem in itself, I just don't believe, based on years of data, that it is a sensible strategy. Give or take the odd exception, Liverpool's best buys over the past 20 years have almost all come from abroad, and been around the age of 22 at the time. I'd guess that 99% of the world's footballers play outside of England, so why limit yourself to the 1% on the misguided belief that prior experience is required? Southampton sold their players within the Premier League and then improved their team by buying outside of it. You still have to base judgements on the individuals in question – there are some great Premier League talents – but better value certainly seems to come from abroad.
Of course, Liverpool couldn't afford to pay big fees and big wages whilst also increasing the net squad size; the wages-to-turnover ratio was already at 63% for the last accounts, with 70% being the UEFA-decreed danger zone. An increase in income with the Champions League may only be temporary; indeed, it's starting to look that way. Maybe the Reds could have speculated to accumulate – bought big to finish in the top four – but that's what Leeds United did; they banked on it, and they had to offload everyone in a fire sale. Now you run the risk of not only going broke, but falling foul of FFP.
Even so, it doesn't look like the money that was spent is reaping enough dividends right now, even if it is usually the exception if players hit the ground running. The new players haven't been helped by joining a struggling team, although maybe the team is struggling because they joined. (Chicken/egg.)
Liverpool's longer-term future looks promising with almost 20 first-team squad members aged 24 or under, many of whom are top quality for their age. But of course, you need to take care of the here-and-now too. And while that was clearly attempted in the summer, particularly with the Southampton trio (aged 25, 26 and 32, but also Balotelli, 24), it just hasn't worked. Bar the Italian, the "experienced" players were actually very low on international and Champions League exposure. They were, just like Paul Stewart and his ilk, players who looked good briefly in the Premier League (and Stewart cost around £23m according to our Transfer Price Index). Either the Southampton trio were on an upward curve, or just waiting to regress to the mean.
In fairness, Rodgers has had his work cut out without Suarez, who was on another planet last season, and Sturridge, who was almost as good. Gerrard also had a purple-patch that may have been the burning bright before the dying of his light. Just six months ago, Henderson was on top form, and Sterling was firing on all cylinders. But since Rodgers gave Henderson the vice-captain's role (more pressure) and since playing Sterling for 120 minutes in the League Cup (utterly pointless*), the two young dynamos have looked broken.
(*Liverpool don't exist to win trophies; the club exists to try and win meaningful trophies. Who wants to win the old second division or the Johnstone Paint Trophy?)
With the best players either sold, injured or off form, the rest aren't able to be carried with the flow. Or rather, they are: just in the wrong direction, downstream. Players who look good in a good side now look bad in a bad side; or, at least, a side woefully off form.
My sense is that Rodgers needs to be given time to sort this out, and that you don't sack managers after they've just achieved the club's best league "results" for 20 years (finishing 2nd, taking the title to the last day). It's not the Liverpool way to react hastily, although it is the way of the modern fan, of any club.
What's damning is that Liverpool look like a confused side right now, bereft of ideas, and with no identity and little pace. While I don't believe that doing the same things over and over in football is a sign of madness – you can always get different results from game to game by setting up the exact same way – it is hard to fathom how the creaky core of Lovren, Skrtel, Gerrard and Johnson are all remaining in the side. Skrtel has had some fine seasons, but is inconsistent, while Gerrard and Johnson were excellent players whose legs seem to have been lost on Liverpool's pitch. Maybe a solution could be found incorporating one or two of these players, but all four make it seem like a liability. Adding other plodding players isn't helping.
Still, things can quickly change in football. Alan Pardew was the most-sacked-manager-ever-who-wasn't-actually-sacked earlier in the season; suddenly the Geordies are beating everyone. Rodgers needs a similar kind of turnaround to get fans back onside, although some seem beyond accepting him. Weirdly, Mauricio Pochettino looked like a star manager last season, but Spurs look just as bad as Liverpool right now. Just two weeks ago Jurgen Klopp's Dortmund were bottom of the Bundesliga, and yet he's no idiot. Teams can slide badly without the manager being a waste of space.
My main concern remains the transfer activity, and whether or not the team behind the scenes was united on these decisions. As I've noted before, buying another expensive left-sided centre-back and getting in two small attacking players for £20m+ seems a little lopsided in terms of thinking. The good news is that the younger players have time on their side, and, for the most part, something good about them.
If Rodgers was responsible for the signing of the flops in the summer,  then his grip on the job should be slightly more precarious. If he was given most of these players, then I have more sympathy. Either way, I'd give him time. But I wouldn't be unduly shocked if he wasn't afforded that luxury. He's in a hole, and he needs to start digging his way out – not further down.
Fed up with Liverpool? Buying my novel might help take your mind off things. Amongst other things it involves some violence and murder, but is still more cheerful than watching the Reds.