By Gary Fulcher, Daniel Rhodes and Mihail Vladimirov.
With 14 points from the opening 12 league games (with a goal difference of -3), Brendan Rodgers has led Liverpool to their lowest points tally at this stage of any Premier League season since 1992/93, when Souness' Liverpool picked up just 13 points from the opening 12 league games. This side is currently performing worse than the team that boasted the likes of Joe Cole, Poulsen and Konchesky in 2010/11 under the guidance of Roy Hodgson, who amassed 16 points from the first 12 Premier League games. Our next opponents at Anfield on Saturday Stoke City – 3pm kick off UK time –  is without a doubt the proverbial "must win".
Liverpool are currently closer to the relegation zone – four points above 3rd bottom Leicester City – than we are to 4th placed Manchester Utd who are five points ahead of us. Five points is not an insurmountable tally with 78 points still up for grabs over the remaining 26 league games, but with the Reds having picked up 14 points from a possible 36, our form needs to improve soon before the deficit grows too great to overcome.
The rest of this article is for subscribers only.
[ttt-subscribe-article]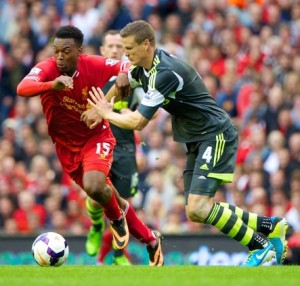 Liverpool won the corresponding fixture last season 1-0, with Simon Mignolet saving a penalty with two minutes remaining to preserve the lead that Daniel Sturridge gave the Reds after 37 minutes. Mark Hughes has yet to leave Anfield with all three points as a visiting manager and with the Potters having left Anfield with maximum points on just three occasions from 59 league visits (with all three wins by Stoke coming when both teams played in the old Second Division: March 1959; 4-3, September 1956; 2-0 and March 1955; 4-2).
Liverpool's overall league record against Stoke City:
Total – P: 118 W: 57 D: 32 L: 29 F: 190 A: 123 GD: +67
Home – P: 59 W: 44 D: 12 L: 3 F: 128 A: 36 GD: +92
Away – P: 59 W: 13 D: 20 L: 26 F: 62 A: 87 GD: -25
Liverpool's record against teams managed by Mark Hughes (all competitions):
Total – P: 16 W: 8 D: 6 L: 2 F: 28 A: 18 GD: +10
Home – P: 8 W: 4 D: 4 L: 0 F: 10 A: 5 GD: +5
Away – P: 8 W: 4 D: 2 L: 2 F: 18 A: 13 GD: +5
Premier League form guide – last six matches home and away:
12th – Stoke City: P: 6 W: 2 D: 1 L: 3 F: 8 A: 10 Pts: 7
14th –

Liverpool

: P: 6 W: 2 D: 1 L: 3 F: 7 A: 9 Pts: 7
The match-day officials for this fixture are:
Referee: Craig Pawson
Assistants: D Bryan, G Beswick
Fourth Official: R Madley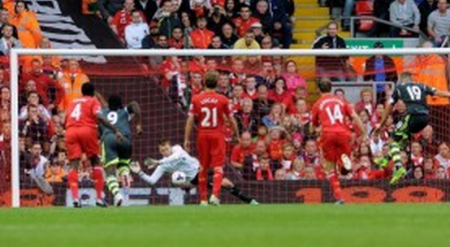 TEAM NEWS
Liverpool are missing Sturridge (thigh), Balotelli (groin), Henderson (illness), Enrique (knee), Suso (groin), Sakho (thigh) and Flanagan (knee).
For Stoke, Odemwingie (ACL), Moses (knock), Pieters (knock), Wilson (hamstring), Teixiera (foot) and Huth (calf) are all injured. Assaidi (on loan from Liverpool) is unavailable to feature against his parent club.
Liverpool:
Goalkeepers: Mignolet, Jones, Ward
Defenders: Johnson, Skrtel, Toure, Lovren, Manquillo, Moreno
Midfielders: Gerrard (c),  Henderson (?), Lucas, Coutinho, Sterling, Markovic, Lallana, Can
Forwards: Lambert, Borini
Stoke City:
Goalkeepers: Begovic, Sorensen
Defenders: Bardsley, Muniesa, Wilson, Shawcross (c), Cameron
Midfielders: Whelan, Ireland, Palacios, N'Zonzi, Adam, Sidwell,
Forwards: Arnautovic, Mame Diouf, Walters, Crouch, Bojan Krkic

For Liverpool this game represents another opportunity for a win to kick-start their season.  After traveling to Leicester they have another home game with Sunderland, so the Reds have a nice little run of three games in which they simply need to register at least 7 pts if they are to really get going this season.
Rodgers' men aren't so far away from the Top 4 places (only 5 pts off), but they are drifting dangerously close to the relegation teams too (only 4 pts). As such every game now becomes an equal chance to push Liverpool higher up or drag them deeper and deeper down the league table.
With this in mind, we should remember that Liverpool's last win came 40 days ago (at QPR, where they were extremely luck to get all three points), and Stoke are one of the toughest visitors. It is not just that Hughes' team have won at both Man City and Tottenham already, away from home they consistently represent a completely different proposition as to when they are playing at the Britannia.
The two-faced Stoke
Last season Stoke were more successful as hosts than visitors. In their home games the Potters registered only three defeats, drawing six and winning 10 games. Away from home, they lost 11 out of their 19 games, winning only three and drawing the other five. This season, the record is pretty equal up to now. Hughes' team won as many games at home as away (2). At Britannia the team drew once and lost three games, while on their travels they have lost the same numbers as they've won and drawn (2).
The main differences this season are in terms of the performances and how exactly Stoke are set up to play differently home and away. Arguably last season's woes on the road made Hughes reconsider his initial aim of making Stoke more of a techinical and possession-based outfit than they were under their previous manager Tony Pulis. As a result of that change, when you see Stoke playing away now it's the very same way as the Potters were under Pulis too.
The emphasis is again very much on defensive solidity and remaining tight at the back at all cost, trying to stifle the opposition's strengths and hope for chances to break forward dangeously. This is how they went to the Etihad and White Hart Line completely nullified Man City and Spurs and won by pinching a goal and two, respectively, by easily exploiting their opponents' vulnerability on the break. The same strategy was applied in the games at Hull and QPR, but the oucome was different (both games were drawn) simply by the virtue of not converting their clear-cut chances into goals. At Southampton the team was again unlucky to lose as they not only missed the game's only clear-cut chance but conceded a poor goal on the rebound. It was only in their visit to the Stadium of Light where Stoke were properly beaten and simply outplayed.
In contrast, at home Hughes' men are playing much more expansive football, trying to push forward and dominate their opponents. This largely continues the theme of last season where the Potters were similarly adventurous and attack-minded in their home games. The difference though is that this season they are not as efficient going forward as they were last year (despite significantly strenghtening in that department this summer). Although the team has won the same numbers of game at home as away (2), they initially struggled to outmanoeuvre teams who were coming to The Britannia to 'do a Stoke' on them, but are now gradually finding the right formula to do succeed.
Stoke lost to both Aston Villa and Leicester one-nil in their first two home games of the season. In these games the Potters created only one clear-cut chance, failed to take it and then conceded two from which one proved to be decisive as it allowed the Foxes to win the game. The next two home games were won – Newcastle (1-0) and Swansea (2-1) – with the team showing an improvement on the attacking front. In these two games Stoke created three clear-cut chances, but converted only one of them (fortunately for them this didn't prove to be their downfall). The improvement has continued in their last two home games, where although the team drew once (West Ham 2-2) and lost once (Burnley 1-2), the increase in the chance creation was a impressive. In total, the team created eight clear cut chances in these two games, but converted only two of them (one in each game) which this time ultimately proved to have a detrimental effect. Meanwhile, West Ham scored two goals while creating zero big chances, and Burnley took full advantage of their two clear-cut chances (one of which was gifted by a Stoke defensive error – the Potters' one and only such error this season) by converting them both to win the game last week.
In summary, it could be said that this season Stoke continue their good play in front of their own crowd, but it's a combination of their wastefulness and initial struggles against packed defences that aren't allowing them to pick up the points they arguably deserve. The big difference is away from home, where the team is much more defensively solid than last season; and arguably could have resulted in a few more points won on the road too.
Stoke's potential formation, XI and approach
Mark Hughes is going to have a real struggle to assemble his side for this game. Not only is his key winger Moses sidelined for a month, but the majority of his defensive backbone are still doubtful. First choice left-back and centre-back Pieters and Wilson are injury doubts with the former having the better chance to be fit enough to feature. Meanwhile, Hughes reported a virus outbreak in the past few days hitting the likes of Begovic, Bardsley and Cameron, his first-choice 'keeper, right back and first back-up option for both centre-back and right-back, respectively.
All this means until the game starts it's completely unclear who is fit enough to be available to start, who will play where, and how exactly Hughes will arrange his side. Given the lack of options though it's safe to expect the three ill players will be given the required treatment to be able to play this game, then depending on Pieters' condition it'll be a case of Muniesa having to fill-in at left back or at centre-back with Cameron ready to step up at centre-back if Pieters isn't fit and Muniesa starts at left back.
Anyway, if we assume the ill players would be ready to feature, the main dilemma for Hughes will be how to format his front quartet. With Moses injured and Assaidi ineligible to play against his parent club Liverpool, it'll be one of Arnautovic and Walters taking up the spot on the left wing. Whoever  starts there though might be connected with who Hughes will prefer up top from Crouch or Diouf.
Crouch and Diouf represent completely different styles of play, so it'll be a case of what exactly Hughes will feel is going to be more useful for this game. The former can provide the aerial threat and link-up play the play with his back to the goal and bring others into play. Given his immobile nature and the need to surround him with buzzing players, it could be that Crouch is used in tandem with Walters and Diouf on both flanks with Bojan roaming just-off him. The former two are extremely hard-working players so will also prove useful when Stoke are defending, while the latter is currently the team's in-form player, capable of both scoring and creating, dribbling forward or providing neat through balls.
Alternatively, Hughes might decide that given his team is going to sit deep and defend in numbers, he will better served by extra pace in attack. In that case Diouf will be retained as the centre-forward with Arnautovic coming in to play on the left, and Walters keeping his place down the right. With Bojan kept just-off the main striker, Stoke will have a front unit who can all participate defensively but also be a huge threat on the break with their ability to quickly nick the ball and convert the possession turnover into very dangerous counter-attacks given their pace and trickery.
No matter the back four and the front quartet, the midfield pair will continue to be N'Zonzi and Sidwell. Whelan started the season as N'Zonzi's partner, but then broke his fibula and was out until the last week or so. Then with Adam lacking the required mobility and Irelan not really being used by Hughes as much, it seems no alternative to N'Zonzi-Sidwell at this moment. A possibility will be to see Hughest dropping his preferred 4-2-3-1 shape in favour to a 4-1-2-3 to provide a more solid midfield unit with any of the other three joining N'Zonzi and Sidwell and the former dropping just ahead of the back four as the extra defensive shield. But this is an unlikely option as Hughes will already have his team defend deep, so will have two solid banks of four and as such might prefer to have extra options on the break.
In terms of approach it's hard to see how Stoke will do anything drastically different than simply looking to sit back, deny Liverpool space in their half and waiting patiently for suitable chances to dangerously break forward. No matter who exactly will play the centre-forward role, the approach will be the same. As mentioned above, the only difference is that Crouch and Diouf will execute the role differently. The former playing mostly with his back to the goal and looking to bring others into play before turning forward and rushing into the box to meet with the in-coming crosses. In contrast, the latter will provide the more mobile outlet, tirelessly working the channels and combining with his close support differently, by exchanging short and sharp passes on the break.
The thing is both approaches carry the inherent possibility of really troubling Liverpool's defence. With the Reds expected to dominate, boss possession, and enjoy a territory advantage, their full-backs will have to join forward to provide the width to stretch Stoke. This in turn will isolate the centre-backs on their own and will empty the channels on the break. If Crouch plays he will occupy both of the centre-backs, leaving plenty of space for others to run around him and pick up the second balls. Alternatively, Diouf's pace will either push the centre-backs deeper, again leaving space for others to join in. Or if Liverpool keep a high-line Diouf (and his partners) will be a direct threat to receive balls in behind.
Crouch wasn't used from the start in the past four games, so it could be a case of Diouf preferred today. But then with Moses out and Arnautovic not really impressing at all, it could as easily be that Diouf and Walters are used down the flanks with Crouch coming in to play ahead. In theory this is the approach bound to offer Stoke the benefits of both approaches. They will have enough pace and trickery on the break with Diouf, Bojan and Walters while with Crouch starting too the team will have the extra attacking diversity and additional route to counter-attack and threat from crosses and set-plays (where Liverpool have been horrible this season).
Defensively, there is no reason to believe Stoke will do anything differently than in their visits to Man City and Tottenham especially, both teams similar in style and approach to Liverpool. In both these games, Hughes had his team defend in a very deep and narrow shape with the full-backs tucking infield and the wide men dropping back as the de-facto full-backs. In addition the midfield duo stayed firmly ahead of the centre-backs to protect the space between the lines as the front pair got back to further make the side compact. Then everytime Stoke won the ball back, the team got up quickly in attack, using the pace of the wide man and the good intergrated movement of the front pair to split their movement well and drag opposition's centre-backs out of position. The very same thing should be expected from Stoke in this game too.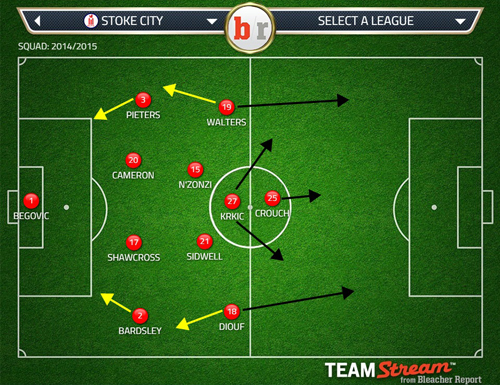 Liverpool
Selection-wise this game provides extra intrigue. With this being Liverpool's third game in six days (and with Leicester to follow on Tuesday) Rodgers doesn't have any choice but to rotate his side. Interestingly, he already did so in the last two games where first Lovren, Coutinho and Lallana played at Palace but then didn't feature away to Ludogorets. With Moreno not starting either game it's expected he is going to start here with Johnson surely bound to be given a breather.
With Balotelli injured, Rodgers has a straight choice between Lambert and Borini for the centre-forward role (unless he is again prepared to start with the diamond formation and gamble with the shapes' inherent weaknesses, which would suit Stoke's streights down the flanks to a tee, making this highly unlikely). Although Lambert already completed 90 mins in the last two games, there is the argument that apart from him netting 2 in 2, he deserves to start based on his tactical suitability for this game.
With Stoke bound to play deep, there will be less room for Borini to make intelligent runs into the channels with the aim to get in behind. It'll be all about joining in during the build-up play, overload the space between the lines and initiate intritact passing combinations to bring others into play. These are all things Borini is simply not suited to provide and Lambert's play is based on. It may be said that Lambert might not be physically fresh enough, but the counter-argument is based on the following two main reasons. First, he didn't feature heavily this season up to now, so should be one of the freshest players in the squad. Second, he appears to be the type of player who thrives when played in consecutive games as given his age and physical stature he needs that practice to get into a proper rhythm and match sharpness. Plus, as the  games up to now showed, he is not really effective when played sporadically for no more than ten to fifteen minutes as he is neither the most mobile players, nor your typical big man that you can simply hoof the ball towards.
As much as Borini might not be the most useful option to play up front against deep and packed defence, equally his intelligence and great off-ball movement might be useful to make those little runs off the flanks who to exploit the pockets of space created by Lambert and the rest of the team. The other benefit is that Borini's freshness could be used for added pressing capabilities to try and regain the ball as soon as it's lost. But with Gerrard likely to be benched for this game, it might be too much to ask for Rodgers to leave out Sterling too (as much as he could do with a little breather too).
Still, the big question, as has been this season more than ever, is whether (and where) Gerrard should start. What was curious was that before the Ludogorets game Rodgers publicly admitted Gerrard can't play three gams in a week and he needs to be managed. Then on the day before the Stoke game Carragher spoke out with an article very much stating the same thing. Is this the start of the world telling Gerrard directly he needs to accept a diminished role and that it's about time he starts to be 'managed' in a way to suit the team more?
Anyway, either before Rodgers and Carragher publicly stated their opinions on the matter it has been clear from a very long time that Gerrard can't play high-intensity games in such a short time, which also involve travelling to a different time zone. Assuming Rodgers stays true to his beliefs, Gerrard won't be starting this game. Which poses an interesting dilemma as to how best the rest of the squad can be used to suit the challenges posed by Stoke and the fact Liverpool really need to win this game.
Without Gerrard
If we assume Gerrard will be rested and the diamond formation won't feature in Rodgers' thinking as a possible initial approach, then the question is effectivelly whether the midfield three will be tilted in a 1-2 or a 2-1 format.
Gerrard not starting might be used as enough reason to continue playing Lucas as the prime defensive-minded midfielder. If Rodgers prefers to start with the 4-1-2-3 formation, the Brazilian is the best option to provide both the required defensive cover in addition to calm and accurate ball usage from deep, allowing Liverpool to build the play swiftly and transition forward in a quicker manner. As explained previously, with Lucas in that role Liverpool seem to be adopting a 2-3-2-3 formation during the early build-up play which allows for better possession transition with the midfield two not forced to drop back and pick up the ball as a result of Gerrard's continual dropping in-between the centre-backs.
Lucas' solid presence at the base of the midfield will allow the players ahead of him to be focused on thinking how it's best to open up the expected well organised and deep-staying defensive wall. There is the argument that Coutinho and Henderson should be used in those positions, with the former providing the extra creativity and the latter focusing on surging from deep to support the attacking play. In attack Lambert could (and arguably should) be partnered by Lallana and one of Sterling and Borini. Lallana will be tasked to drift infield and roam between the lines, providing that extra creative support and secondary attacking presence, while the other should be focussing on exploiting any space that is created by darting infield and into the penalty area.
Arguably, as noted above, Borini could be used from the start. He isn't really a good off-the-bench option in that what he provides (intelligent movement and hard-working style) isn't really that spark you might need to open up the game later on. He just isn't capable of moments of magic on the ball. But his work ethic and ability to use space effectively could be a good starting option in that it might help enhance Liverpool's ability to pin back Stoke and tire them by the virtue of continually working them from side to side and pressing them tirelessly from deep in their own half. Then either if Liverpool will need that extra spark or are already ahead and Stoke will look to push on, Rodgers will have the chance to bring on either or both of Sterling and Gerrard who are much more inventive players on the ball, and in the former's case have the speed to run at tired legs or exploit that extra space in behind on the break.
Lucas' presence ahead of the centre-back should also be used to allow the full-backs even greater attacking freedom. With the wide men both looking to influence the play in more central positions, it'll be up to the full-backs to stretch the play and prevent Stoke settling in their deep and narrow shape. Potentially, Johnson should be more useful that Manquillo going forward. But not only he is yet to show this during the current season but given the lack of mobility in Lucas and the fact Stoke will be a threat on the break, Johnson doesn't seem the player capable to excel in such situations. In contrast as much as Manquillo seems a bit one dimensional and lacking that extra invention going forward, his aggressive defending and recovery pace still makes him the better all-round option to start.
With Liverpool needing to push up, not only to pin back Stoke and ensure the majority of the play is in their half but to also negate Lucas' lack of mobility, they will simply have to play with a higher defensive line. This presents Rodgers with another dilemma. Who to play at centre-back. Lovren is a player who can compensate for the absence of Gerrard's long passes from deep and is a player comfortable in a high line, especially if ahead of him there is a player with real defensive nous. Then there is the argument that not only has the Lovren-Skrtel pairing already failed to impress on so many occassions that it's simply worth breaking up that pair, but Toure is also much more comfortable than the Slovakian to play in a high line and is far more of an on the front foot partner like Lovren. With his better reading of the game Toure also seems much more adept to be able to provide the covering presence, as he did so well on several occasion in both Madrid and Sofia.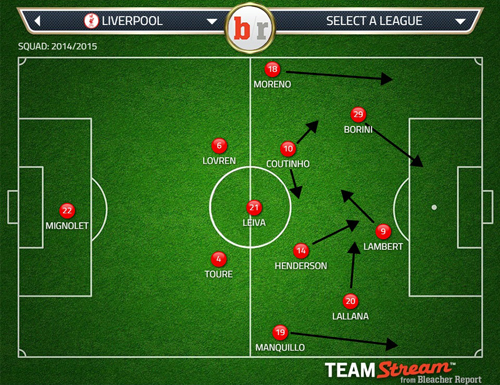 The alternative to the above 4-1-2-3 formation is to see Rodgers going with a double pivot-based formation. The aim here will be that just because Stoke are expected to basically camp in their own half, Liverpool could do with an extra player stationed higher up the pitch.
The first alternative is to see Rodgers going down the route of first wanting to ensure his team establishes possession and territory advantage, settle into total dominance and do the required things to continually drag the opposition out of position to tire them and possibly get further advantage by their lack of proper condition (if the ill players are to play they).
Potentially Lucas and Henderson can be used as a very suitable complementing double pivot unit, but the issue here is that with Stoke playing on the break the lack of pace from the Brazilian might be exposed. In the 4-1-2-3 variant this won't be a problem as he will be staying deep, closer to the centre-backs and won't be asked to either venture forward or cover the width of the pitch. But playing in a double pivot (more so when your team is expected to on the front foot) is a completely different matter as you will be asked to cover at least half of the width of the pitch, and cover for both your partner (if he pushes forward), and the overlapping full-backs. As such it might be better to partner Henderson with either Allen or Can. The former will provide a better and swifte ball usage, while the latter is a more robust and physical presence which might suit the nature of the opposition more.
The front quartet could be comprised of Coutinho in the hole and Lallana off the right with again Borini used on the left to offer the required off-ball movement to complement Lambert's tendency to drop deep. Meanwhile Moreno and Manquillo will be tasked to stretch the play and use their recovery pace to track back Stoke's wingers on the break (another reason as to why, especially in a formation without a dedicated anchor man in a 1-2 midfield, Johnson isn't a viable option).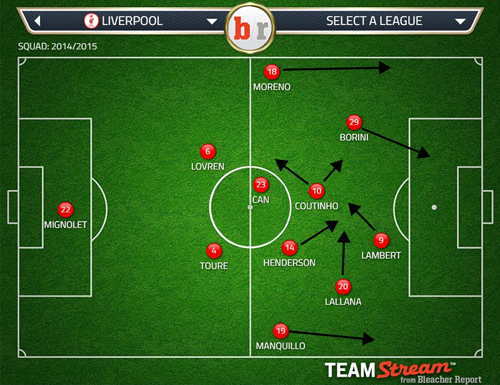 The alternative option is to go with a framework that allows for a fluid midfield and front pair in addition to ball-players playing off the flanks. The aim here will be to overload the space through the middle and further encourage the full-backs to push forward and provide the attacking width.
Henderson and Allen/Can will have to constantly rotate and take turns who is going to go to collect the ball off the backline, and who will step out to link up the play. Then with Coutinho and Lallana drifting off the flanks, aided by Lambert's deep-lying presence, the team should be able to create a unit of five which is bound to overload Stoke's defensive wall. This will allow Borini as the ever drifting wide forward to further stretch the play and, alongside the full-backs, aim  to open up extra space for the central players. Lallana and Coutinho are both great dribblers, while Lambert is adept at playing quick one-twos to send someone into a pocket of space. Add to this Henderson' surging from deep and the Reds should be able to constantly put Stoke under pressure by moving them around.
Again, if this doesn't initially lead to the desired effect of scoring goals it should at the very least serve settle Liverpool in total domination and lay the platform for the second half when the likes of Sterling and Gerrard could be brought in to offer that extra spark both on and off the ball.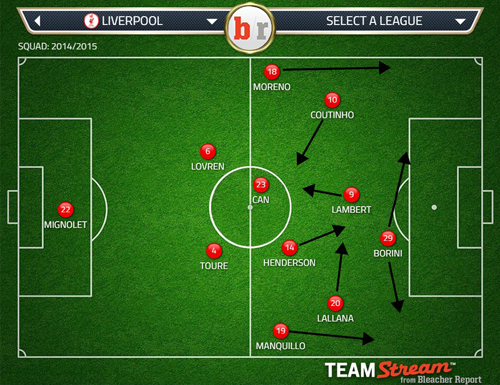 With Gerrard
Of course, it's as easy to imagine Rodgers not being as keen to leave Gerrard out of the starting XI as his words suggest, given the importance of this game and the need to win it. This means there will be even less reason to not start with Sterling too.
If Sterling and Gerrard especially are to start, there is the need to find the suitable framework that will allow for their attacking skills to be properly chanalled and minimise the latter's defensive shortcomings. Theorethically this means there is simply no need to use Gerrard as the sole pivot midfielder, as similarly to Lucas he isn't mobile enough to be a viable shield against Stoke's breaks but unlikel the Brazilian doesn't have the defensive nous to at least protect the space ahead of the centre-backs effectively.
If Gerrard is to play at the base of a 1-2 midfield triangle, then Liverpool will have to live with the gamble of being exposed on the counter-attack as easily as in all the previous games this has happened during this and last season since their captain was moved in that position. Also, if Gerrard is to be used in a double pivot, the problem with his lack of mobility will prevent this from being an effective option. Similarly to Lucas, he will be asked to cover extra ground, which he is even less effective to do than the Brazilian due to the combination of his lack of mobility and the absent defensive awareness, especially in a context when his team will be on the front foot and there will be extra space in need of protection.
As such the only tactically viable option will be to use Gerrard just off the main striker. This might not be a bad option at all, as with Liverpool expected to boss possession and play mainly inside Stoke's half, there will be less need for Gerrard to move too much and constantly transition from attack to defence and vice-versa. He could stay right up there and focus on how best to be utilise his natural attacking flair and qualities to link-up the play and be an additional presence in and around the penalty box. Plus, with a mobile and very much capable on the ball pair of Henderson and Can/Allen, Gerrard won't need to continually drop deep and link up the play.
Unlike the game at Ludogorets where, as much as Gerrard and Lambert played well individually as a duo and given Liverpool's set up and game context they weren't really a suitable choice to play as the front pair, here they should do just fine. They both have the abilities to finish-off any chance coming their way and are both very creative and able to initiate incisive passing combinations plays. Plus, with their team settled in a domination mode, the full-backs will be stretching the play, the wide men will be buzzing around them between the lines, and the midfield pair will have the mobility and energy to be a viable shield on the break.
In the scenario of Gerrard starting it'll make more sense to have Sterling starting too in order to offer that extra pace and on-ball threat, something Borini lacks. Sterling and Lallana could start and drift infield around the more static duo of Gerrard and Lambert, providing the required extra attacking diversity. Add to this Henderson' ability to surge forward from deep and Liverpool should have the required all-round on and off ball threat to worry Stoke.
Here Coutinho and Borini will be Rodgers' main 'jokers' off the bench. The Brazilian could be introduced for extra creativity while the latter can be used to switch the shape to a 4-diamond-2 later on in case Liverpool will need to thrown caution to the wind and go for it, if they were unable to break through Stoke's resilient defence up until now.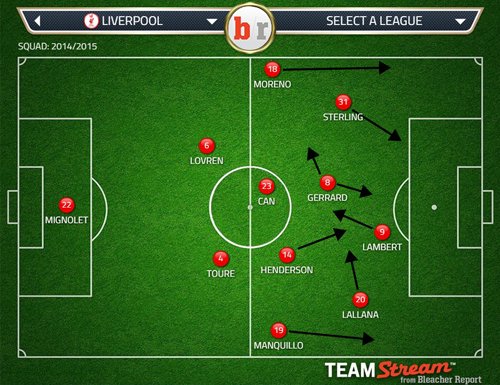 Conclusion
Although breaking down Stoke won't be as easy as the Liverpools fans might hope, Rodgers has enough resources at his dispossal to at least ensure personnel-wise and especially tactically his team has every chance to do so.
When the opposition's 'keeper has 'one of those games' where he saves everything, or his own players keep missing big chances, the manager can't be really criticised as being at fault if his team plays well but fails to win. But in cases when his team continues to struggle to show next to no idea of how exactly to tactically approach breaking down this type of opposition, and there is lack of clear idea and patterns of play, it'll be very much a case of the manager having to continue to face up to the criticism coming his way if he once again plays with a questionable selection and his team continues to look tactically unimpressive and even frustrating.
For Liverpool the good news is that Stoke will either play without important players, or if they do play, they might not be 100% at their best physically and mentally fit to last the whole game. This should be another reason as to why Rodgers just needs to ensure his team is properly set up to take maximum advantage of the situation.
[ttt-subscribe-article]