By Mihail Vladimirov
SUMMARY:
Gerrard started on the bench, Enrique replaced Manquillo.
Both teams started with the 4231 formation.
Hughes welcomed back Pieters and Wilson.
Rodgers opted for a cautious set-up, including the Allen/Lucas double pivot, with both occupying similar roles, and the full-backs staying deep, creating a back six.
With the Reds' first half approach, Henderson was coming deep looking to pass the ball forward, and Coutinho was isolated further forward. This severely restricted the home side's attacking options.
When Stoke had possession, Liverpool failed to press or offer any threat on the counter.
Liverpool were very cautious in the first half, unnecessarily so.
Everything was designed to make Liverpool watertight.
Liverpool were ponderous and unimaginative.
Not much seen of Johnson and Enrique in an attacking sense.
Lucas was too easily dragged out of position.
Stoke did not come to be purely passive.
Enforced changes upset Stoke's plans.
The game has a complete metamorphosis at half-time.
Liverpool's attacking random and chaotic rather than structured and planned.
Henderson was given extra freedom in the second half
Only one Liverpool chance – Allen's – was not the result of Stoke's errors in possession.
Stoke made as many chances as Liverpool in the second half.
Liverpool shored up the defence when Lovren came on but did nothing else.
This meant Liverpool were sitting deep and invited Stoke to attack – they should have equalised.
The big news for this game was Gerrard being benched in a Premier League game for the first time in years. Apart from that, the other change in Rodgers' starting XI following the Ludogorets game was Enrique coming in for Manquillo to play left-back, moving Johnson to his natural slot on the right. Liverpool's shape remained the same 4-2-3-1 used in Bulgaria a couple of days ago.
For Stoke, Hughes had to do without the injured Moses and the ill Bardsley. Nevertheless, he welcomed back both Pieters and Wilson from their recent injury troubles, meaning it was only down the left flank and at right-back where the Potters were changed from their usual format. Arnautovic and Cameron, respectively, had to fill in those positions in Hughes' usual 4-2-3-1 formation.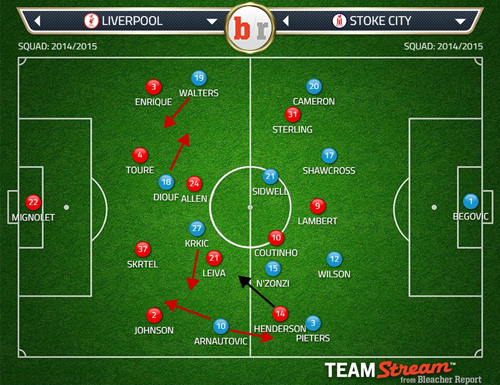 Liverpool struggle to get going
Rodgers' starting XI allowed for two starting variants. The first option was to see the 4-1-2-3 used in Liverpool's last home game against Chelsea, with Henderson and Allen ahead of Lucas in midfield, Sterling (left) and Coutinho (right) flanking Lambert up front. Alternatively, there was the possibility to see Rodgers continue with the more rigid and cautious 4-2-3-1, with Allen next to Lucas deep in midfield, Sterling and Henderson on the flanks and Coutinho roaming in the hole.
That Rodgers chose the latter variant perhaps could serve to reveal his approach to the game – that he was happy to start more cautiously and focus on first building a solid possession platform before seeing his team gradually use the exerted control to pin back the opposition and put them under sustained pressure until they crack. However, what was surprising was how timid, ponderous, and unimaginative Liverpool looked throughout the first half using that particular shape and personnel.
Now, the selected XI and the chosen 4-2-3-1 were naturally predisposed to a more cautious approach, based on extra defensive solidity, midfield stability, and overall increased control over the game, favouring possession over penetration. This was because both Lucas and Allen both sat deep, and the team lacked that extra versatility and diversity. This, in turn, would have forced Coutinho to drop in and link the play through the middle, with Henderson alternating between tucking infield to further help out in midfield and trying to time his off-the-ball runs to get in the final third. Add to this Lambert, who naturally drops deep to join the build-up play, two full-backs (who for different reasons are not the best attacking options in this moment of time: Enrique due to his lack of match fitness and Johnson due to being out of form) and it was clear Liverpool would struggle to put Stoke under the cosh and overrun them with a series of attacking waves.
Which is why it seemed Liverpool would instead focus on largely setting the scene with steady and sustained possession play, looking to control the game and letting the ball do the work in terms of dragging the opposition out of position and from time to time create potent attacking moves. The starting XI seemed very suitable for such 'sterile' dominance given the nature of the midfield pair, that three of the four attackers' style is based around possession and not solely penetration (be it on or off the ball) and that the full-backs were expected to struggle to either continually bomb ahead of the play or influence the play in the final third in any meaningful way.
The rest of this article is for Subscribers only.
[ttt-subscribe-article]