By Chris Rowland.
A lot of the best content on TTT is what no one outside of the subscriber-base gets to see. There's a whole world of brilliant debate going on all day every day.
So let's have a look at a few brief highlights of the conversations that have been taking place this week on the site's many debate threads:
First, on the Brendan Rodgers thread:
Dan Kennett:
So this is what's really bugging me about this season…

10 questions that I'd like Brendan Rodgers to answer:

1) Why are we so easy to score against?

2) Why do we make so many basic defensive errors?

3) Why are we creating so few chances and have so little penetration?

4) What has happened to the pressing?

5) Why are we playing at such a low tempo?

6) Is there any plan to rotate Steven Gerrard for PL games, especially where we are playing 3 games in a week?

7) What was the plan to replace Luis Suarez when we knew he was leaving in June?

8) How was the decision reached that Lambert & Borini as 3rd & 4th choice strikers would be good enough for a team challenging for the top 4?

9) Why have we paid £38m in 12 months on 2 players to replace Daniel Agger yet end up weaker than we were in 2012/13?

10)Why have some transfer signings been marginalised for seemingly political reasons?
DamienP:
Spot on Dan.

Our summer business looks horrendously amateurish, with seemingly no contingency for losing Suarez.. Lambert was a ridiculous signing – whose idea was that?

And the politics seem to be costing us badly. Sakho appears to have been ostracised because he's not a BR signing. Meanwhile the awful Lovren is apparently undroppable because he's a BR signing.

Not good.
Daniel Rhodes:
Isn't Sakho injured? Who plays instead of Lovren if Sakho is out?

Hardly playing politics. I'm not saying he isn't but we've only had ten league games, and yes, when Sakho was fit he didn't start – but that was a while ago, and maybe Sakho will return when he's fit?
Beez:
"Lambert was a ridiculous signing – whose idea was that?"

At the time I don't think it was ridiculous – he was one of only four players to get double figures for goals and assists last season, top for throughball attempts over the last two years, and he created the joint second most CCCs in the Prem last season. All for £4m!

Problem is, at the time we still had Suárez (Rickie signed before the World Cup, don't forget). As an addition to the squad at that point it was a very sensible signing; without adequately replacing Suárez, slightly less so! But I can 100% see the logic in the deal at the time it took place.

Re Dan's questions – a lot of good questions, but it largely boils down to two main issues – why are we bad at defending and attacking? 
DamienP:
But Beez – Lambert is not a top 4 team signing.

Whatever his numbers suggested, I don't think Arsenal, Utd, Chelsea, or City would have gone near him.

For me his signing represents a certain lack of ambition that is costing us now.
Daniel Rhodes:
Of course, and if it is true, with clear evidence (he admits it), then he has to go. There's no way you keep a manager who ignores signings based on politics rather than ability.

Based on ability Alberto and Assaidi haven't been good enough when they got a chance.

Sakho though, if fit, is our best defender in my view, so if he still doesn't get picked, based purely on form, then Rodgers will struggle to justify it.

Not sure he has got an issue though, or else why play Moreno? Manquillo? Balotelli? All transfer committee signings, yet he plays them. Sturridge, Coutinho…

If you're good enough, you play. The only exception I can see is Sakho.
Dan K:
Daniel

Sakho was dropped after Ludogorets when fit

Then there's the pre-Everton game furore with Kolo preferred on the bench

There were also games last season when he was dropped when fit

But if you're nitpicking over the 10th of 10 questions (and I ranked them in order of priority) then it shows we've got major issues
T.I.N.T.:
Daniel Rhodes: How do you know those players were transfer committee signings (if we suppose that the so called committee and Rodgers don´t work together at all) and that Rodgers didn't want them?

So far no one has showed any proof that a signing is either a transfer committee signing or a BR signing! It is somehow just assumed this is how it works. I wonder if it is assumed just to be able to blame someone and to explain poor results on a split within the club?  It could just as easily be a matter of taking longer for new, very young signings to adjust to a new club and new ways of playing, and maybe a bit of overestimating ones ability from Rodgers side.

damienp: We couldn't get the attackers we wanted so we had to go for 3rd or 4th choice to have any at all besides Sturridge and Borini. For £4m I think it was a low money risk well worth taking.
Paul Tomkins:
Dan – some valid points, although not sure I agree with them all.

As Daniel says, if Rodgers is playing politics by not playing good players because he didn't buy them, then he needs to go. But he bought Borini, and he hardly favours him.

Lambert had a fine goalscoring record, was cheap, and a bit different. He started his international career with a couple of goals. At £4m, few people had objections. But his legs have gone, and he hasn't handled the pressure of being a Liverpool player, maybe wanting it too much. He was only meant to be 4th choice, and may have been a good foil for the speedier Sturridge, but not for Balotelli, who also won't run in behind.

As pointed out by Shaun Cummins on Twitter, in May Rodgers said he wanted 2-3 top players rather than seven he couldn't rely on. We got nine, but he also said he wanted a net of about five extra new players at some point.

Our tempo is worse as we don't have as many fast, energetic players. Maybe some are tired after the World Cup (or 120 minutes in the League Cup on top of this). Gerrard sets the tempo but is being closed down quicker by strikers. We don't have the pace of Sturridge. Then there are all the extra Champions League games, which, just to be extra helpful, have been split up with League Cup matches rather than rest weeks.

So I think Rodgers is guilty – or at least, the charges are fair – in about half your points.
Roller:
10 questions that I'd like Brendan Rodgers to answer:

Yes. And wasn't it you Dan who once got to ask him questions? Or do I remember wrong. Anyway has Rodgers given up having such gatherings with supporters. Btw, I could have asked him the same questions. But I'm too shy.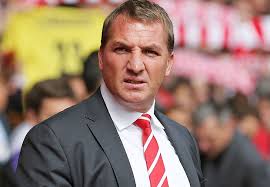 Lots of debate post-Real Madrid, and the matter of team selection:
Beez:
A few stats for ya…

Since Brendan Rodgers took over at Liverpool, Real Madrid have played 43 league games at the Bernabeu stadium. In that time, Madrid have only scored fewer than two goals on three occasions, and have averaged 3.40 goals per match, so for Liverpool to restrict them to just the one goal was a decent achievement. Thanks in part to…

Mignolet made eight saves, and this compares favourably to the 5.33 that other visiting 'keepers have averaged at Real Madrid in La Liga and the CL this season. Thought he did very well tonight.

Top shot-blockers get in the way of around 2.5 opposition shots per game on average, yet Kolo Toure blocked six tonight. On a per-game basis, Toure is now the top shot blocker in this season's Champions League.

Lucas Leiva lead the passing – The Brazilian was Liverpool's top passer on the night, finding a teammate with 63 of the 67 passes he attempted. Lucas also created one of the Reds' three chances at the Bernabeu too, as he teed up Alberto Moreno for a shot.

At 61 minutes, our so called reserves had had the same number of shots at Real as the first team did against Newcastle on Saturday! We only allowed them one CCC – considering QPR had five against us, that's good going!

Always a bit disappointing to lose any game, but I think we can be proud of the team tonight.
Mlleclio:
Well I'm positively zinging after that!  We've woken up at last!

I find it so heartening to see young players turning the corner and coming up with performances which they can build on. I remember when Henderson and Sterling first started to do that. Tonight I reckon we saw at  least 2 potential future stars for LFC turn that corner for the first time in Can and Markovic.  Energy and a lot of skill, pace and strength. (Even Marko managed not to look like a pansy tonight!)

Then Manquillo and Moreno continuing to build on their positive starts to the season and make the old boys look exactly that. As for Borini to judge his performance properly you need to compare him to Balotelli and Lambert and ask could they have done what he did tonight? No way. He might be no Ronaldo, but he makes sense of a Rodgers type team with his energy and pressing: quintessential defending from the front right to the end that ultimately wore Real Madrid down a bit. I still can't see him being a major player for LFC but he really might get to be a much loved squad member.

And then all those guys we take for granted: Kolo, Lucas, Skrtel, Allen and of course Minger! They all were amazing tonight in terms of heart and alertness. I can't understand why people have got it in for Allen – yes he lost the ball a few times, but he also won it a lot and was an essential cog in that midfield unit.  I thought he was quite a leader tonight.

I'm so relieved for Rogers – he responded to the criticism in that trademark way of his by doing something completely leftfield. And he wasn't slow to point out in the post match interview that he did in fact know what he was doing! Particularly seeing that midfield work without Gerrard; against such frightening opposition. I think its a sign of things to come.

Obviously a real shame we couldn't get that equaliser, but for all the positives they don't include having solved the striker/ goal scoring problems just yet. I thought we weren't far off it though – mostly a personnel issue. An in form Sterling might have nicked it at the end, but he still looks jaded and lacking in self-belief to me.
DCronin: 
Is our strongest team the team that lost to Villa at home; couldn't break down Hull; lost 0-3 at home to Real Madrid who went easy on us 2nd half and lost to Newcastle or the team that gave a better performance than any of those previously mentioned at the home of the European Champions?
Yash:
Days like this remind me there are so many idiots in the world. Thank you PT for the paywall.
PJWarren:
I really hope Rodgers can see the bigger picture tonight's performance hints at. I doubt that FSG would sack him for showing faith in his signings like tonight, and for building a midfield for the future. I don't think JWH thinks anything like a typical English sports writer.

I truly do feel that the worst decision Rodgers could make is to persist with Gerrard as DM come hell or high water. Gerrard can play a part, just like Allen, Can, Henderson and Lucas all clearly can. But he isn't our future.

I'm not an owner, but I can't think that you just throw money at a club/manager without closely watching what is going on and making judgements. At what point does a persistence with Gerrard hold back a £10 million signing like Can. Or Allen at £15 million. How happy would I be if you let Lucas leave in January and then spend £15-20 million on a defensively minded midfielder next summer who analysts I employ (surely I don't just rely on Ian Ayre or Rodgers to brief me) tell me is no better than Lucas.

Because what I really don't want in my imaginary manager is a sense of personal feeling clouding professional judgement. I'm not accusing Rodgers of this, but he's at a point here where he has to prove it beyond tonight – which was hugely encouraging.

Journalits/pundits are quickly forgetting the view most held that Liverpool were going there to get thrashed. I think they would have been had Gerrard started because he would have not been where Lucas was at a lot of important points. Allen and Can too. I simply don't think he could have played better than any of this three tonight. Which is when the game was – not back in 08/09.
JoeP:
Some very good performances out there tonight and overall Brendan's rotation strategy was vindicated, even if we were a little bit lucky to come away without losing by 3 or 4, we might still have come away with a point.

Markovic showed flashes of quaality, Moreno looked good, Can looks like a potential global superstar.

You can tell that Kolo Toure is a class above any of our centre backs, I just wish we could have had him 10 years ago instread of the old man he is now.

Finally – a word on Borini.

I think the team was let down tonight by a lack of a having the option of a decent, fit striker. Borini deserves credit for trying hard but he offers no threat. He doesn't have anything I can see that's a unique selling point. He never does anything that makes you go "wow". He's not quick. He's not strong. He's not good in the air. He doesn't have a trick. He doesn't hold the ball up especially well. Every time I see him play I sort of think – well he didn't do anything wrong, he sort of tried hard, but never, ever, ever, ever, ever looks remotely threatening.

In January I would spend all the money we have on a striker.
Menyarky:
Mainly echoing other peoples' thoughts here, but wasn't disappointed with the performance. While they had a heap of shots (not many clear chances mind) we looked a lot more solid at the back and in midfield which was a welcome sight after our recent efforts. The zonal/man marking mix looks a lot better, particularly when all Skrtel has to do is focus on the ball so he doesn't get caught up in a submissions battle. And Kolo, somehow, looked like what our defence has been missing.

Lucas proved his worth tonight, and he should probably start over Gerrard against Chelsea (I doubt he will though) and Emre put in a solid performance too – really excited to see him develop. Allen was disappointing though, and I thought overall we lacked a bit of cohesion when breaking – mainly that extra body breaking from the middle that Henderson would give you – as we never really looked threatening and often didn't have the numbers to put Madrid's defence under pressure. It's nothing to be ashamed of though against the likes of Varane (what a player for 21 years old!) and Sergio Ramos, who despite his critics is very, very good.

Nitpicking a little, but I also thought lacked a player who could hold it up up front a bit – not a sleight on Borini who did all he could – and that's part of the reason why our counter attacks broke down. If only Balotelli had Fabio's work-rate…

We held possession well, completing over 400 passes which was nice to see, however we lacked that cutting edge and chance creation in the final third.

Overall decent, and a lot of positives in individual performances, but I still think we're missing one or maybe two players in the final third that could really complete this squad (as well as an upgrade on Allen. I don't mind him, but I think he's limited in what he provides and isn't quite at the level we want to be at).

Good signs though, and I'm sure they'll all be up for the match against Chelsea this weekend. Rodgers has some decisions to make.