By Chris Rowland.
A lot of the best content on TTT is what no one outside of the subscriber-base gets to see. There's a whole world of brilliant debate going on all day every day.
So let's have a look at a few brief highlights of the conversations that have been taking place this week on the site's many debate threads, starting with this from the First Team Players thread on Rodgers and the signing of strikers:
Beez:
Slightly off topic, but I find it fascinating how people keep referring to Rodgers spending £120m.

Everybody on here would use net spend to defend Rafa against naysayers, but many use the gross figure to have a pop at Rodgers.

I don't think we spent the money as well as we could have, but Rodgers didn't actively sell Suárez, or spend £120m and get to keep him!

Just a thought.
Mr.B:
Talking complete sense, as usual Andrew. It doesn't take much for some people to go loco, does it…
Beez:
I think most of the criticism I've read is valid to be fair, but using the £120m figure just sounds so much more damning than the £44m net figure (which is actually around £34m if you exclude Origi).
Paul Tomkins:
Totally agree, Beez. Been saying this for a while, with the Origi deal skewing the figures too.

Our team is still far less expensive than Manchester United's or Manchester City's, yet they had a) added superstars (United) and b) have a title-winning squad (City). Both are struggling. United have a new manager, so where's the new manager bounce?

Let's be fair in our criticisms.
I find some of the criticisms for not signing a top class striker misguided. Rodgers clearly didn't want to sell Suarez but ultimately had no choice. He evidently didn't want Balotelli given he stated he categorically wouldn't be signed when we played AC Milan in  pre-season. A deal was nearly done for Remy but we pulled out for reasons unknown, but if down to medical issues, that immediately takes the decision out of Rodgers' hands.

During the summer, Rodgers said it was vital we signed a top class striker. He was also prepared to sell Borini for £10m – £14m, but Borini declined. If rumours are to be believed, we made enquiries for Cavani, Benzema and Higuain.

I've read some of the comments above and it's as though it's as simple as going up to Real (for example) and saying we want Benzema please, here's £30m, give him to us. This is not the real world. Doing deals is notoriously difficult and even more so for top class strikers which are coveted by all top clubs.

Just look around at the paucity of top class strikers around Europe. There are very few outstanding strikers who are not already playing for top clubs. Why would these clubs want to weaken their own hand compared to their rivals? Utd gambled massively on a crocked Falcao and predictably, it is not paying off currently. Arsenal took a punt on Welbeck who was widely ridiculed at Utd, even by Utd fans. Falcao and Welbeck sum up the striker market for me currently. It is not as easy as just going out and signing a top class striker unless you offer the fees and wages of City or Che.

Sturridge has had injuries but according to Soccerbase, he played 42 games for us last season in all comps (not too shabby) and I suspect few would have expected him to be out for quite as long as he has been recently. I dare say it is the medical team who determine at what point to step up Sturridge's training, not Rodgers. Rodgers knows he needs him fit for the long term so I doubt he is instructing his medical team to rush him back if he clearly isn't ready. His previous injury was a thigh, then his calf, but it is allegedly his thigh that has has gone this time, not a relapse of his calf.

The strategy of the club from Henry down is clearly to buy young players who will increase in value plus a couple of experienced players if the deal is right. Rodgers was appointed in part because of his track record for bringing on young players. He has continued that since joining us with Sturridge, Henderson, Sterling, Coutinho and Flanagan. That is our chosen path from the top down. No manager can guarantee how quickly a young player will develop. As such, that strategy carries risks but given our financial power versus the likes of City, Che, Real, Barca etc it's a strategy I agree with to a large extent.

Markovic was signed for the future. It's likely that was a strategic decision made by the club, not Rodgers in isolation. Balotelli was a gamble and everyone at the club would have known that, Henry included. It is not currently paying off but everyone would have known his signing could play out as it has. He was evidently a last resort signing becuase of the lack of top quality strikers available in the market. That is not Rodgers' fault in my opinion. Anyone we signed was going to be a significant step down on Suarez. Could we have done more? Break the bank for Sanchez who is not really a striker? He didn't want to come. He wanted London. His choice.

Let's cut Rodgers some slack on the striker front. Defensive issues, fine. The use of Gerrard, fine. Rodgers needs to fix both as he has a direct influnece over these areas. He does not have an influence on top class strikers being available and being affordable (let's not forget about the wages of these strikers) and players will decide for themselves whether moving their families to Liverpool versus London, Barca, Madrid, Paris etc is right for them. We spent a lot of money but given we absolutely had to strengthen the squad, the option to spend £70m on a striker wasn't really there and even if it were, which top clubs would have sold us their best striker?

We need to try and do something in Jan but again, it will be hard as that window is even tougher to do meaningful business in. Being manager of Liverpool is not easy. It's arguably one of the hardest jobs in English football. Rodgers has done well so far yet having finished 2nd just last season, some (seriously misguided in my opinion) Liverpool fans are calling for him to be sacked.

It's November. We have been blighted with injuries in attack, midfield and defence which has robbed Rodgers of fielding an ideal team. The same goes for certain other clubs who find themselves in a very similar position to us. Is Rodgers suddenly a poor manager after being voted by his fellow managers as the best last season? Just recall the performance against Spurs this season when Sturridge was fit. It resembled last season despite Suarez not being on the pitch.

We are 4 points off 4th. Do we back him to turn it around, give him time to get key players back? Or do we blame him because Sturridge is injured, for the lack of top class strikers available, for the club strategy of buying young? Shall we continue to make baseless accusations that he refuses to play committee signings? Shall we continue to claim massive political fallout between Rodgers and FSG despite absolutely zero evidence being produced?.

We were excellent for large parts of last season and also the second half of Rodgers' 1st season. Anyone who claims that was purely down to Suarez clearly wasn't watching closely enough. In Moreno and Manquillo, we have two exciting young full backs. Emre Can looks like he can develop into a beast and we still have not seen the best of Sterling, Henderson, Coutinho and Markovic. This is the path we have chosen and Rodgers is the man charged with growing these players and this team. To change it probably means changing the entire strategy and an another player overhaul. Let's stick with an approach which has shown genuine signs of promise that we can compete again. The alternative is to panic, blame, hurl accusations around, sack the manager and start again from scratch. I for one have zero interest in that option right now.

Every season there are issues. I recall the fallout form some on here after the Oldham defeat in Rodgers' 1st season when some were calling for his head. We went on to have a very good 2nd half of that season and then finished 2nd the following season and were back in the CL. There are always tough periods during a season which is why it's wise to see how the season pans out overall. The bottom line is we were, if not on our knees, then certainly bent over double as a team when Rodgers arrived, but we are now in the CL. We have a some specific issues to resolve but the general trend of the team since Rodgers arrived is very definitely upward. In my view, those who believe that was purely down to Suarez were not looking hard enough, or are only seeing what they want to see in retrospect.
Good post. Just one thing – Sturridge didn't play 42 games for us last season; we only had 43 in total! He appeared in 33.
Thanks Beez. On re-checking, it appears Soccerbase also includes his England matches.
Great post.

But I'm still suspect that our reluctance to offer well above the asking price and valuation prevented us from getting Sanchez. He might not a typical forward, but he can provide the movement that we were getting from Sturridge, which would have allowed us to keep playing in a similar style.
Great post.

For me, the biggest issue was not getting Sanchez or Remy. Neither of these failures can be laid at Rodgers' door. It could probably be argued that it was no one's fault

But there's clearly a strategy in place, as you said. This could well be a season of stepping back before lurching forward again.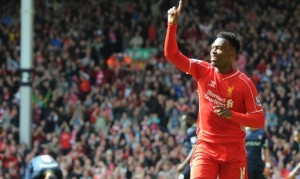 From Paul Tomkins' latest article Revising Opinions: Is Rodgers Now a Flop? came this debate on Brendan Rodgers' Liverpool future and Liverpool's striking options, following news of Daniel Sturridge's latest six-week absence:
Tommy:
If Rodgers gets top 4 this season it justifies his methods in my book. I've said previously that I think 4th this year in many ways will be a more impressive outcome than the 2nd place of last season. He and the team have got a lot of hard work to put in though because at present we don't look like we're going to make it.
It is now being reported that Sturridge has muscle tear–the same injury that he picked up while on international duty–and will be out for up to six weeks.

Rodgers's failure to provide cover for a player known to be injury-prone looks worse and worse. I'm not calling for his head, but he has certainly piled the pressure on himself.
That's probably put paid to 4th place. Even a substantial investment in the upcoming transfer window might not be enough now as the way we're playing we'd have fallen too far behind by Jan.
But was it his failure? Or the committee's? Or a bit of both?
We know they tried very hard for Sanchez. I've no doubt they would have been in the bidding for every quality forward available too (e.g. Cavani). I don't think Rodgers can be blamed for players not choosing to come to us.
Always remember that in the transfer market, the fact that Liverpool want a player does not mean that Liverpool will get a player. For all I know or indeed anyone knows, Liverpool believed that it has a player lined up to replace Suarez and for reasons that are unknown the deal fell through. My point is that the failure to replace Suarez may have been no one's fault in Liverpool which means that it is unfair to criticize Rodgers or the transfer committee or FSG for the failure to bring in a striker. Maybe in regard to a striker Liverpool will have better luck this upcoming transfer window or the upcoming summer transfer window.
"Rodgers's failure to provide cover for a player known to be injury-prone looks worse and worse."

Well he did sign three strikers, Lambert, Balotelli and Origi. It's not as if he did nothing. And by the time Sturridge got injured the window was closed, nothing he could ever have done until January. You can't have a whole team of ready-made replacements just sitting there waiting on the basis that someone MIGHT get injured. Well, unless you've got City and Chelsea money, enough to pay that level of performer the wages necessary to make them forget that they're not playing in the first team and will only get a game if a first teamer gets injured.

I really don't know what more Rodgers could have done.