By Mihail Vladimirov.
SUMMARY
Liverpool switch from 4-diamond-2 to 4-1-2-3, Hull used their usual 3-1-4-2 formation
Hull's cautious approach and selective and very well-timed pressing
Hull well prepared to nullify the threat of Sterling playing off the flank
Sterling effectively man-marked out of the game by Brady
Liverpool's passing tempo slow and lacking in drive
Liverpool offer little movement diversity or attacking penetration
Liverpool could have improved with a change in formation inside the opening 20 minutes, to a 4-2-3-1 with Gerrard pushed forward
Liverpool replicate their first half struggles in the opening 15 minutes of the second half
Liverpool substitutions make a difference
another poor performance from Liverpool
Liverpool have problems with their pressing, their passing which lacks creativity, and their possession play
Rodgers continues to fail to make timely in-game changes or tweaks to his side
Rodgers made three changes following the mid-week game with Real Madrid. Manquillo got the nod at right-back, presumably to give Johnson a bit of a breather and not risk him playing three games in such a short space to risk him getting injured again. Lallana started instead of Coutinho with Can coming in for Henderson, who was reportedly carrying a little knock. The shape changed from the 4-diamond-2 to 4-1-2-3.
Hull were missing some important players. Their first choice keeper and his understudy were both injured, so Bruce had to rely on his third choice keeper. Dawson was also injured, so Bruce junior started his first PL start since late August. In attack the Ben Arfa – Hernandez duo continued as Jelavic was also injured, while the young left wing-back Robertson (who was also unavaible due to injury) was replaced by Brady. The only good news for Steve Bruce was Huddlestone was passed fit enough to start the game as the Tigers continued with their usual 3-1-4-2 formation.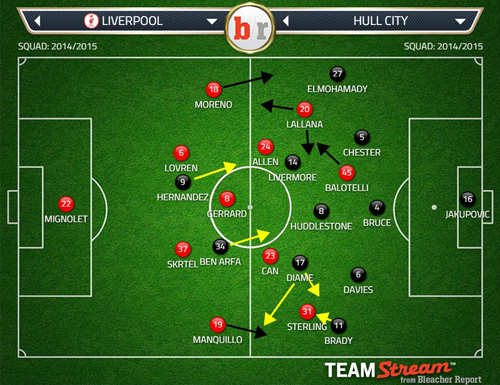 As expected, the game was largely about whether Liverpool will be able to break through a resilient Hull defence. The visitors showed little attacking ambition througout the game and focussed mainly on keeping their defence in tact. But to keep up with the theme of this season, Rodgers' side struggled to spark against deep staying and well organized opposition to eventually drew blank in front of goal.
Hull's approach
With so many important players unavailable and being away from home, it was hardly surprising to see Steve Bruce approach this game cautiously. What caught the eye though was the exact way he adopted his shape and briefed his players to defend against this Liverpool side.
In terms of formation it was nothing different, the usual 3-1-4-2 naturally morphing into a 5-3-2 shape when defending. As against Arsenal last week, Hull were quick to drop into that defensive formation, forming a very tight and compact framework. The effect of being so compact was further enhanced as both Ben Arfa and even Hernandez often dropped deep and got themselves nearer the midfield unit. They rarely pressed the centre-backs or even Gerrard, preferring to simply get goalside of them and keep the shape tight.
Meanwhile the backline pushed up higher up the pitch, which logically served to compress the space towards the midfield zone. This enabled them to press in a selective and very well-timed manner, using their number advantage through the middle (6-v-4) to stick tight on their direct opponents and close them down quickly when the opportunity arised. Safe in the knowledge there will always be a spare man at the back to cover them, Hull's players were able to roam away from their default position to do that closing down. All of this further helped to slow down and unsettle Liverpool's passing momentum coming into the midfield zone.
In the Arsenal game last week, Hull defended much deeper obviously, guarding against the pace in behind of Welbeck and Sanchez. Here, with Balotelli starting the game and expected to often drop deep than work the channels, Hull obviously felt Liverpool would present little threat in behind so they could push up to focus on unsettling their passing rhythm in the midfield third.
However, although Balotelli wasn't expected to provide that threat in behind, there was still Sterling playing off the flank to provide that possibility. But again, like in the Arsenal game, Hull looked very much prepared to nullify that threat too. Last week, Robertson was handled the job to man-mark Sanchez with Ben Arfa – surprisingly or not – briefed to drift wide and pick up Arsenal's right-back Chambers to prevent Hull being overloaded down that side. Something similar happened here in that Brady – replacing Robertson as the left wing-back – looked to get tight on Sterling right from the start, following him like a shadow whenever the Liverpool player tried to roam around.
The rest of this analysis is for Subscribers only.
[ttt-subscribe-article]