By Paul Tomkins.
Five years ago Liverpool FC, having finished 2nd, started the following season with two early defeats, including one at home to Aston Villa (having already visited White Hart Lane). The campaign never really got going after that, and it proved to be Rafa Benítez's last. As with Hodgson's entire tenure, and the season David Moyes spent at United, there were good results, but things never recovered from a bad start.
Anyone who thought this season was going to be a smooth continuation of the last has some coffee to consume this morning.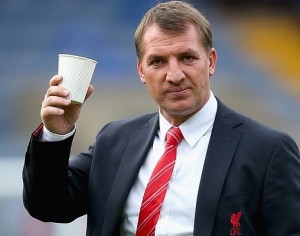 Of course, a bad start doesn't automatically make for a bad season. And losing a game that you shouldn't on paper be losing doesn't automatically make for a bad season. Brendan Rodgers' side were fairly woeful against Villa – it was lacklustre and disjointed – but it would be dangerous to read too much into it, especially as the other defeat from the first four games was away at Manchester City (who, on their way to winning the title last season, had at least five dreadful results).
Liverpool won their first three games last season, but the first two victories were scrappy, with no real finesse. The Reds then drew the fourth game, away at Swansea, and lost the fifth, at home to Southampton.
Rodgers' men actually have more points from the four corresponding fixtures last season, but of course, results are also affected by timing – things like international breaks and injuries crises, and how much rest both teams have had at the time of meeting. If  you lose just four games one season, then lose those same four fixtures when they happen to run consecutively at the start of the next season, then you have a very different situation on your hands. You are suddenly in trouble, and unlikely to go unbeaten for the remaining 34 matches. That said, you can still improve and enjoy better form; you just have less leeway for errors, and it's harder when under that kind of pressure.
International football hasn't been kind to Liverpool in the past few months. First Luis Suarez was banned until October, for an incident that had nothing to do with club football; as such, the need to sell arguably increased. He'd probably have left anyway, but it meant that, one way or another, the Reds would definitely start the season without him (and his transfer value was slightly depreciated due to being damaged goods after the World Cup).
Then Daniel Sturridge and Raheem Sterling were both kept on until the last minute in a meaningless England friendly against Norway just days after the win at Spurs, and days before the Euro 2016 qualifier; no protection for the teenage Sterling, and a whopping one minute's rest for Sturridge. The latter was then injured in what seems a needlessly strenuous training exercise, and the former had to be rested by the club that pays his wages to spare him from potential burnout.
Rodgers has helped develop Sturridge and Sterling into regular internationals, and in return received no consideration from Hodgson when it came to that particular friendly. Rooney, Wilshire and Oxlade-Chamberlain had all been taken off against Norway by the 70th minute, but Henderson, Sturridge and Sterling were kept on right until the end. Cheers, Roy. Of that trio, only Henderson could be relied on to cope physically with frequent games, given his age (he's no longer developing into a man; he now is one) and fitness record. (Indeed, Henderson opts against taking the team bus home after away games, choosing to run down to the motorway.) On top of this, Emre Can and Joe Allen returned from their games with injuries.
Injuries happen, but it's not good if clubs are investing in the best medical care available, only to hand the players over to the Druids for a fortnight. Players now have specially-tailored fitness plans, but it seems that when it came to Sturridge, Roy Hodgson was not following the player's best interests. There's a lot of good that comes from international football in general – I don't want to be elitist about this – but it must drive club managers barmy. Man United have the best record after international breaks, possibly because Alex Ferguson had the power to keep his players away. (Nicky Butt admitted this week that he was never told to fake an injury, just that he wasn't fucking going. And that's Nicky Butt, who he didn't really need anyway.)
Having said all that, Rodgers has to shoulder the majority of the blame for this weekend's defeat, as his side played poorly. It looked like a team of strangers, and maybe that's what you get with six new signings in the outfield ten. Until this game, Rodgers had been able to gradually introduce the new boys, but this was perhaps a situation where he had little choice, given the aforementioned injury issues and the game this Tuesday. Sterling could have started the Villa game – he was physically "fit" enough – but starting would have increased the chances of muscle injury after a busy schedule.
Fluke?
Let's be clear: last season wasn't a fluke. But it was a team playing to the top of its ability without any great expectations (until the last few weeks of the season); much like the trio of summer signings from Southampton were able to do on the south coast. Now Liverpool are expected to not only win games but do so in style, and two of those Southampton players, hitherto unburdened by big fees, are expected to play like £20m stars (while the other has to prove himself in 10 minute cameos). The dynamics have changed.
While finishing within the top three is the only way a team has gone on to win the Premier League title the following year – and therefore could be seen as a staging post – teams overreach and fall back all the time. The greater the overachievement, the more is unrealistically expected the following season. This leads to greater pressure, which is why managers constantly talk down their team's chances if they sense too much optimism. Jose Mourinho did it all last season (almost to perverse levels), and Louis van Gaal spent the first weeks of this season getting his excuses in first. By contrast, Liverpool didn't have high expectations last season, so it was Rodgers' job to talk his team up; to instil belief.
A kind of apathy had washed over the Kop after four largely disappointing seasons, but it found its voice again in 2013/14, as a positive feedback loop between players and fans developed. Against Villa, there was neither an atmosphere nor a performance; neither fed the other. Any group of fans will develop a sense of entitlement, because they only ever want improvement, with standing still a form of stagnation; and this season the Kop feels entitled to entertainment. And victories. It's not a conscious decision by those seated within Anfield; merely how our brains work. We need an improved 'fix' to keep us high. But last season we were supplied with some serious shit.
Sports psychology appears to be a constant battle between handling pressure (which debilitates) and instilling confidence (which elevates), whilst avoiding overconfidence (which leads to complacency). My biggest objection with Roy Hodgson's godforsaken time on Merseyside remains how he began his tenure by hoping that Liverpool didn't get beat heavily by a lowly Middle-Eastern team in preseason, and by going to City to avoid getting beaten 6-0. There's talking your chances down a bit, and being pleased if you're 19th, because it's one place above the bottom. England were able be good against Switzerland because the pressure was off: they officially couldn't be any worse than in Brazil, and they were away from the paying Wembley public.
Moods and mindsets change. Thinking time in football – in terms of imagining future glories, or dwelling on past mistakes – can be dangerous. It's why half-time intervals can see a massive switch in fortunes, as players just do during the unfolding action; whereas at half-time they can take a breath and think about how it's going. The summer is like one big thinking session, as hopes are envisaged, dreams born. Things change markedly over that period of time. Momentum can be maintained only in short bursts, and the longer the interval, the greater the chance to lose that mojo. Sometimes it only needs one single minute of injury stoppage to kill a team's sense of self-belief. By contrast, three months is an eternity. Rarely do terms start one season how they ended the previous one.
Newcastle were deservedly 5th a few seasons ago, but were 16th a season later. In truth, their talent should have seen been somewhere in between; closer to the 10th they achieved last season. They weren't the 5th-best "team" in the division in 2011/12, but they performed to a level that earned them that spot. Similarly, a year later they didn't suddenly have the 16th-worst "team" in the Premier League – it's not like it was a totally different collection of players – but when more is expected defeats hit harder.
If you go into a season feeling like you have to win every game because you must win the title (and some Liverpool fans have already complained of as much to me on Twitter), then every setback will be magnified. When you get good again, losing hurts more. Whilst being shit sucks, you drift into a state of numbness.
In both 2002 and 2009 Liverpool followed 2nd-place finishes with big new signings who didn't work out, and they slipped out of the top four. That doesn't mean it will therefore happen this time, but it's possibly indicative of raised hopes leading more quickly to despair when things go awry. Also, the prospect of a big game on Tuesday – the first Champions League football for five years (albeit against mere European minnows) – is a new "problem" that didn't exist last season.
Liverpool didn't finish 2nd purely because they had no such games last year, but league games before and after European matches add another layer of complication when it comes to fitness and selection. Players who have waited a long time to play in the competition may hold back a bit in the game before, just as they often do when they're about to play a cup final or a game against a footballing superpower.
In 2009 Liverpool had just racked up 86 points, which was more than anyone expected, but with the owners refusing the back the manager over a striker, and with Xabi Alonso departing, were weaker going into the next season. Unlike then, Liverpool appear to have a better squad for the season after finishing 2nd, but without Suarez, Sturridge and Sterling in the starting line-up on Saturday, the incredible attacking understanding of 2013/14 was absent.
If it took Rodgers time to get one group of players playing his way, then six new ones aren't going to knit in as seamlessly as the others. After drinking that strong coffee, there's no need to panic, but this is a season of new challenges.
Part Two: The Players
Assessments of individual (and discussions of all the issues raised) follows for Subscribers only. 
[ttt-subscribe-article]