By Paul Tomkins.
First things first, it's never good to read too much into the opening game. It's a cliché because it's true. Everyone is at different fitness levels, especially after a World Cup, and you'll see more debuts than on any other match day. Some players take longer to find their groove. Everyone is fired up, whereas come November, newly promoted sides may have run out of gas, and hope.
In referring to pundits as dumb, I don't mean to generalise, except, of course, I am generalising. With all due respect I will now show zero respect; at least to the pundits who open their mouths (and laptops) simply to state the untested obvious, and offer no actual analysis. You can probably name them, you don't need me to. There are some great writers and pundits, and you should also know who they are by now.
In this case, I'm talking about those peddling the one-man team nonsense, in relation to Luis Suarez, that's been spouted in recent weeks. It ignores players like Henderson, Sturridge and Sterling, who, despite some praise, still remain criminally underrated outside of the Liverpool fan-base, perhaps because they didn't tear it up at the World Cup under Roy Hodgson. (Question asked, question answered.)
By all means consider the impact of Suarez leaving, and yes, it may prove detrimental. But the 66 games Premier League games he played under Rodgers saw the Reds rack up a respectable but unremarkable 53% win rate; the eleven games (to date) under the Ulsterman without the Uruguayan sees a 73% win-rate.
Eleven is obviously a smaller sample size than 66, but it will of course grow from now on, given that he won't play in our red again, so we can track the impact. To date, Liverpool tend to score fewer goals without Suarez, but concede fewer still. It's as if the chaos Suarez caused opposition defences also destabilised his own team.
Perhaps in the past there's been an injection of additional short-term effort to overcome a side lacking its star – pulling together without him – but the English media seem to obsess about the big-name players in the Premier League in the way they do with the national team. Things like balance and team spirit are rendered irrelevant when you pick sides in this manner.
The pro-rata points tally without Suarez under Rodgers is a 'title-winning' 90, compared with the 68 points with him that wouldn't even guarantee a top four finish. Now, this data is clearly skewed by the fact that the games Suarez missed in 2012/13 were as part of a different team to the ones missed in 2013/14, and of course, the single game of 2014/15, in which the team has further altered. That said, Raheem Sterling only found his confidence last December, from which point the goals started to flow from out wide, so he is now someone who can help fill the void.
Perhaps it all means nothing, and is a mere mirage; stats telling us the opposite of what we assume to be true. I certainly don't expect Liverpool to be racking up 90 points as a matter of course, with some regression to the mean highly likely. But I don't see how you can rely on a single player if your results are better when he's not in the team? Am I missing some logic here?
There will be 'goals' that aren't scored by Liverpool this season that could only have been scored by Suarez; but then different good things can happen in his absence. Remember, 10 of the 11 games without Suarez came when there were no replacements procured with the £75m that selling him would bring. Also, Sunday's 'grind' came without Markovic and Lallana, two creative players purchased (directly or indirectly) with just over half of that £75m, plus Moreno, an attacking full-back signed too late to play. At the very least, all three will be in Liverpool's 18, if not the starting XI.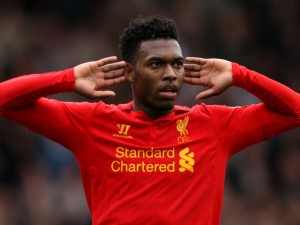 I was struck before the game how little Daniel Sturridge is spoken of a truly top-rate Premier League striker; a man always in Luis Suarez's shadow despite having a better goalscoring ratio for the Reds, and the second-top scorer in the whole top division last year. He's got the best goals-return from his first 50 league games of any Liverpool striker in the Premier League era, yet he's not spoken of in the same terms as Suarez, Torres, Fowler and Owen (at their pomp). Again, it's another lack of insight from the media at large. Suarez dazzled, but Sturridge does the business.
This post is for Subscribers only.
[ttt-subscribe-article]