By Anthony Stanley (Dannyluke10), Alexander Papas (Yiannis), Paul Grech, Si Steers and Barry Meehan (Bazmeen).
We asked several of TTT's writers, contributors and top posters to dust off their crystal balls and give their thoughts on a number of questions about the coming season. This is the third instalment of their responses.
Who will be our most important player?
Anthony Stanley: For me, it's a toss-up between Coutinho and Raheem Sterling (with an honourable mention for Daniel Sturridge). But I can't separate our attacking youngsters and so am going to cheat slightly – but not too much. I expect both Coutinho and Sterling to build on their almost telepathic understanding and perhaps they'll become indelibly linked in the same way that Xavi and Iniesta are at Barcelona – I don't mean to that extent but it may become impossible to discuss one without mentioning the other. Their association could become that umbilical.
In the case of Raheem, there really is no limit to what he can achieve. I don't think rival fans really know how good this kid is right now and there will be some defences in for a shock when the coming campaign kicks off. During the winning run last year, he was probably our best player – certainly in an attacking sense. Perhaps in years to come we'll look back on Suarez's greatest legacy to the Reds being the help he gave an embryonic world class player in believing the hype – Sterling is that good and right now he knows it.
Coutinho really looks like he has the bit between his teeth and can use his ludicrous omission from the Brazilian squad to propel himself to greater feats of consistency. If he can develop this into his game, he can be frightening. He is a genuine magician, a mercurial sorcerer capable of jaw-dropping moments of skill and imagination. Now that the team is no longer built around a certain Uruguayan, I expect Coutinho to really step forward and become the inventive fulcrum of the side.
The Young Player of the Year award next season could well go to either Sterling or Coutinho.
Alexander Papas: With the squad as it stands right now the answer would be Sturridge, but the transfer window is not shut yet and it seems certain we are at least trying to find another striker. If we add to our striking options before 31/08, I am going to go for Henderson. His drive from midfield was sorely missed from his ban during the run-in last season and I think (or at least hope) he is really going to push on towards first-name-on-the-teamsheet territory this season.
Barry Meehan: At time of writing, it seems that most people agree that we still need to sign one more striker, or failing that another attacking player who can bring some goals which can go some way to make up for the loss of Suarez. Even if we do sign another striker I think that Daniel Sturridge will be the most important member of our team this year. He has waited for this opportunity a long time but he is finally the main striker at a top club. I honestly believe this is exactly the kind of situation that he needs to drive him on to the next level where he can join the upper echelons of strikers in Europe. If we are to challenge for the league, or even qualify for Europe, we will need Studge in top form and fit for the majority of the season.
Paul Grech: Looking at how he has done this pre-season, you have to say Coutinho. There has never been much doubt about his talent but it seems as if there is greater steel and resolve in how he approaches games.
It was interesting to hear his recent interview with Portuguese radio where he mentioned how seeing Luis Suarez's dedication in training has inspired him. You'd imagine that being left out of the Brazilian squad has further boosted his desire to push on. The fact that he seems to have completely bought into Brendan Rodgers' philosophy and ideas will help make him a vital player.
Si Steers: The obvious one is Daniel Sturridge, as his goals are going to be the cornerstone of any success we achieve this season. But I'll plump for Raheem Sterling, I can see him making the transition to world class this year, and I expect that he won't be far behind Sturridge in the scoring charts. He has everything in his locker to be great, and I think his impact will soften the blow of losing Suarez.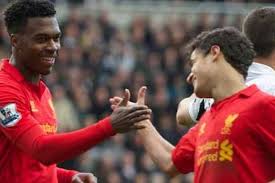 Who will be most valuable this season?
A player to be phased out or sold
Anthony Stanley: Glen Johnson. The contract situation may result in a more focused player than we have seen over the past 18 months and equally some genuine competition for his place may have a positive effect but this troubles me for one reason. Whether or not a player is angling for a new contract, he should be prepared to run through brick walls for Liverpool. Glen Johnson has not appeared too bothered for far too long. Witness how many times he gallops forward, gives the ball away and then saunters back like it's a game between two pub teams. It's not the countless misplaced passes or failure to effectively deal with his opposite number that irks; it's his apparent attitude. Once he wears the red shirt, he'll have my support, but unless he stops sleepwalking through some games, I think we have better options. We used to put up with his defensive eccentricities because of the threat he offered going forward but even that has been blunted now.
Having said all that, I genuinely hope I am forced to eat my words because a firing Glen Johnson could be the difference.
Alexander Papas: It seems as though Agger is on the way out, which may be cruel on the lad but makes sense from any number of perspectives – wages, position depth, age, injury record etc. Many people are probably going to mention Lucas here, but I firmly believe we should keep him for at least one more season. I don't see Can as his replacement, more as the extra body in midfield we could have done with last season. In addition, I would argue that he is the best calming option we have in the middle, for those moments where we want to slow the game down. Allen really should be that player, but he hasn't quite clicked yet, so we really need that extra option at least for this season.
Paul Grech: When he was first signed and many were critical of him, I could see Lucas' potential so it was satisfying to eventually see him coming good. Since his injury however, it has become increasingly harder to see his value.
It could be argued that as a squad player he can still have a role and that might be the case. However, the fact that he seems to have lost so much pace often sees him making unnecessary fouls (and in dangerous positions) so in truth there seems to be little evidence that he can help the team even as a substitute.
Si Steers: Daniel Agger has always been one of my favourite Liverpool players. At his best he has been a Rolls Royce of a defender. But I feel that he would thrive in a less physical league at this stage of his career, so with a  heavy heart I think a parting of ways would be good for both club and player.
Barry Meehan: The player himself has made this one a little bit easier for me here by allegedly requesting a transfer, but once that was done (again allegedly), it seemed to make sense – that in itself was telling. He is too good and too well respected to waste away his prime years warming the bench, so as long as the money is right and the opportunity is right for the player I will be happy to see Daniel Agger take on a new challenge.The mooted move to Barcelona always seemed to make sense but following their capture of Vermaelen it seems possible that Arsenal will make a concrete move for the player, and while it would hurt me to see him playing for another Premier League club, as long as we get the necessary remuneration I am happy for him to move along.
Who most needs to improve on last season?
Anthony Stanley: Glen Johnson. See my answer above.
Alexander Papas: I almost want to say "everybody behind where Gerrard plays", as the defence is clearly in need of improvement from last season, but this is probably harsh on a few of them. Mignolet and Sakho were both in their debut seasons and I would expect them to push on anyway. Enrique was plagued by injuries and Flanagan performed far better than we had any right to expect, while Skrtel would have been a contender for defender of the season if he hadn't been such good mates with Mr. O. Goal.
Therefore I am looking at you, Glen Johnson! For a player probably in our top five or six earners, he certainly struggled for form last season. I would in no way write him off entirely, as he is clearly still a Premier League quality defender, but to stay first choice for us he needs to prove he can still be a Champions League quality defender as well.
Paul Grech: I don't agree with those who feel that Simon Mignolet had a weak season last year and it is surprising to see so many discount the number of crucial saves he made during the season. Judgements have, in many instances, been clouded by the departure of Pepe Reina who was a fantastic keeper at his peak but by the time Mignolet was was was very far from that peak. Many failed to acknowledge this decline
That said, there are areas where he needs to improve. Mignolet needs to be more vocal and needs to get a better command of the penalty area. Equally, his kicking needs to get better. If it does – and Rodgers' track record indicates that he can coach players into improving – then the debate about his suitability will cease. If not, then a tough decision will have to be made.
Si Steers: I think Mignolet started brilliantly, but he struggled with consistency as the season went on. He needs to be more dominant and retain concentration for the entire game if he wants to cement his role as number one – and to step out of the shadow of Pepe Reina.
Barry Meehan: One of the most important aspects of replacing Suarez is in his goal creation. Luckily we already have a player who has shown on numerous occasions that he has the trickery, class and intelligence to  become an assist machine in Coutinho. He featured strongly in many games last year but one thing he never managed was a consistent period of being our most important player. He has had a good break through being left out of the Brazil World Cup squad. Coupled with a strong pre-season, he should be chomping at the bit to show everything he has in the season ahead. There were strong signs of a blossoming partnership with Sturridge at times last year so hopefully with more responsibility on each of them this year, Coutinho can blossom into the player we all know he can become.
What position in the first XI still most needs addressing?
Anthony Stanley: At the time of writing, and assuming we sign Moreno, we still need another striker who can play back-up to Sturridge but is also capable of leading the line on his own and, if required, dovetail with the English forward. All the best, Brendan.
Alexander Papas: The answer to this question has depended on what day it was asked recently. Before the transfer window, I would have said wingers/inside forwards, but we have picked up two very good options in Markovic and Lallana. Then it would have been full-back, but we have now brought Manquillo in and seem to be finally near the end of the Moreno saga. Central midfield has been strengthened, as has central defence, while we now have extra options up front both for the present (Lambert) and the future (Origi).
Perhaps the only real gap is a second type of striker up front, someone who can either complement Sturridge/Lambert in a front two, or offer a different way of playing the lone striker, so it's probably not a surprise that this seems to be our next target. You can say what you like about the names we have signed, but I have been very impressed with the way they have systematically strengthened the entire squad while still having plenty of funds in reserve.
Failing that, maybe a better option for No. 2 goalkeeper to put a bit more pressure on Mignolet?
Barry Meehan: As we approach the close of the the transfer window, I can't help but feel we are very light in goal and need some significant back-up to Mignolet, preferably a player who has the potential to actually push him. It's not that I think Mignolet is a poor goalkeeper – I actually think he is strong now and also has bags of potential to improve – but I think we would all agree that his form dipped as last season progressed. I understand the point of view that goalkeepers need to be secure in their position, but as Bayern Munich showed in their capture of our previous number one, regardless of how strong your first choice is you still need to have security in your next choice. If by any slim chance our Belgian stopper was to suffer an extended absence I would not be confident in Brad Jones holding the fort.
Paul Grech: One of the ways through which Mignolet can improve is by having a deputy who can truly push him; someone who can replace him should the need arise. Brad Jones looks like a decent enough fellow and he isn't a bad goalkeeper but he is nowhere near good enough.
Si Steers: Left-back, which I hope will be covered by Moreno – other than that, another top class striker to cover for Sturridge. I am fairly happy we have good quality options in every position for the first 11, and good squad depth as well in most areas. It is just the striking department we are short if Sturridge picks up an injury.
Surprise package – which player will push on more than expected?
Anthony Stanley: Manquillo looks to have settled remarkably quickly. I am loathe to make calls based on one game (and a pre-season to boot) but it was highly encouraging to see him against Dortmund considering he'd probably only trained once or twice with his new teammates. He could be a genuine asset this season.
The less said about the murky intricacies of the loan deal the better though.
Alexander Papas: If I correctly predict that then it's not a surprise, is it? In all seriousness, it's important to agree on what we're expecting before we can answer. For example, I would think that most people would expect Henderson to add more goals to his game, but how many is "more"? 10? 15?
I am actually going to go for one of the new signings making a better impact than expected. I think most people expect Lovren and Lallana to slot straight in and few people expect Manquillo to, while Lambert is probably just expected to tick over with maybe a bit of cup heroics. I imagine that a lot of people want Markovic to hit the ground running (I certainly do), but I think he might be an example of the classic year to settle for foreign players, and at his age and fee (at least relative to some fees being spent this summer) I have no problem with that, so I'm going for Can. He seems to have a serious engine on him, so as long as he remains composed and focused I can easily see him displacing Allen as Henderson's main partner in midfield when Gerrard plays his Regista role.
Paul Grech: I know that I risk that he might be gone by the transfer window closes and there is an element of wishful thinking involved, but I think that Sebastian Coates merits another look. He has good physique and technically he's good so there are the basic elements needed for him to develop into a top level defender.
Si Steers: Jordan Ibe can have a similar impact to Raheem Sterling if he gets a chance. He seems to have gone up a level since last year based on pre-season, he has so much pace and strength – if he can add a bit of composure he can be a really useful option.
Barry Meehan: Jordan Henderson. I think most people have now caught up and understand Henderson's importance to the team so I don't think his overall performance needs to improve much. But I really expect him to improve his goal scoring record in the coming season. If he can contribute double figures this year he will have pushed on much more than most people considered possible.
Which young player will make his 1st team Premier League breakthrough?
Anthony Stanley: It really has to be Jordan Ibe but his problem will be getting into the side ahead of the likes of Lallana and Markovic. Over the past two seasons, Sterling has come on so much because we had very little options in his position – we now have a squad that looks swollen in Ibe's position. A loan deal to a Premier League club would probably be ideal but I expect to see him in the cups and, while the aforementioned duo are injured, I wouldn't be surprised to see him given a go.
A late cameo against Southampton on Sunday resulting in a goal for the young winger? Stranger things and all that.
Alexander Papas: Most people probably want to say Jordan Ibe, but personally I would much rather he gets a solid year on loan as a proper first choice player. Ideally you would want a PL team, but maybe the upper reaches of the Championship would serve him better in the long run – get a taste of fighting to win/qualify from a league, then take that experience to the next level up.
I also have my doubts about Suso. Not that I don't appreciate his talent and potential, because I absolutely do, but at the same time I have to wonder whether we have any room in our squad for him. He would seem to be best in the kind of static, Trequartista-style CAM role that somebody like Riquelme was so good at, but we don't often play with that role on the pitch, and even if we did Coutinho would surely add more pace and flair to that position. He's not fast enough for the flanks, not strong enough for the middle and doesn't have the goals in him (yet) for further up the pitch. I think he will be a wonderful player one day, but I don't think it will be for us (or in this country, for that matter).
Maybe somebody like Teixeira can make an impact this year, but realistically most of our top prospects (Sinclair, Rossiter, Chirivella, Canas) are at least a year or two away from the frontline, so I'm going for nobody. Loan them all out, I say!
Paul Grech: When people see players do well in the U21s, or even when on loan, they immediately assume that they are ready for the first team. In truth, there is often a huge gap and this only gets bigger the more successful Liverpool become.
Looking at the existing players, it is difficult to identify anyone who is ready to bridge that. Jordan Rossiter and Cameron Branagan are good players but – as central midfielders – it is tough to see them get a chance given how delicate that position is.
As such, there is only Jordon Ibe who is within touching distance, although I'm not sure that he'll get that many opportunities. Which isn't necessarily a bad thing but rather a natural evolution of the club.
Si Steers: Jordan Ibe – see my answer above!
Barry Meehan: To me the only player who seems fully prepared to make a breakthrough in the season ahead is Jordan Ibe. He is still very raw but it seems from pre-season that Brendan is ready to put some more faith in him this year. Hopefully due to a stronger squad his introduction can take place in a less risky way than when Raheem was given such responsibility.
How should the Reds approach the Champions League?
Anthony Stanley: To win it, pure and simple. If we get out of the group, anything can happen and Liverpool are capable of beating anyone on our day (although obviously two legs complicates things). If some of our fans are viewing the potential draw with trepidation, you can be sure that none of the big guns want us from Pot 3. You could even make the argument that our game is perfectly suited to away games in Europe. When we're playing top teams who will have a go, we tend to look better. Right now, I'd be delighted with reaching the quarter finals but I wouldn't be at all surprised if we actually won it.
The danger of course, is getting caught between two stools like so many teams – with more experience than ours – do.
Alexander Papas: It's the Champions League! No matter how important it is to maintain top 4 and qualify again next year (and that absolutely must be the main priority this season), you can never take the Champions League lightly. Obviously, we have to be realistic with our chances, since we're probably not going to win it, but we can and should still be ambitious.
A lot will probably depend on what sort of group we are drawn in, but we really should go all out to at least qualify from the group, just for the psychological boost of still having CL football to look forward to after January. Any further progression after that could be a blessing or a curse, depending on what's happening in the league.
Paul Grech: Much will depend on the teams against which Liverpool will be drawn but the aim has to be that making it out ot the group stage. It might seem like a minimal target but this is a side made up largely by people with little experience of football at this level – and managed by someone who has no such experience – so it is all a learning process. Anything beyond those six group games will be a bonus.
Si Steers: In it to win it – you don't spend all season trying to qualify for it and not put everything into it. I think it will be a learning experience for the manager and most of the squad, it will depend on the draw, but we have the game to make an impact. Winning it might be a big ask – but I hope both the players and fans enjoy it.
Barry Meehan: I think that our main priority for the season ahead needs to be securing Champions League qualification again, but almost as important is to put in a strong showing on our return to the competition. We need to show that we belong and deserve our place among Europe's elite. With our seeding we could find it difficult to qualify through the group, but we must give ourselves the chance to do so by playing our strongest eleven whenever necessary.
If we can reach the quarter finals we would have to say that is a good achievement in itself, and as we have learned before once you reach the knockout stages anything can happen.
How should the Reds treat the domestic cups?
Anthony Stanley: In the case of the League Cup, it should be used as a vehicle to blood the youngsters. Not an original answer but there it is. There is a caveat here though – if we get drawn against the likes of City in the third round, you'd want a strong team. The last thing we want for the likes of Rossiter and McLaughlin's development is to get a pasting off one of our rivals.
I'd like to see the FA Cup taken deadly seriously and we have the squad to put out a strong side – regardless of other commitments.
Alexander Papas: With disdain.
Well, not quite that bad, but we should certainly use them to give younger players a chance. I'm not one of those that gets overly emotional about first team players in cup games, though. What good is it to just play nothing but kids? They are already familiar with each other from playing reserve football together. It just becomes a meaningless friendly then. You need to have a blend of senior and youth – even if it is heavily weighted towards youth – to really see how ready the younger players are.
It's not a question of resting all the senior players for the cups, but which ones to rest. At different points in the season, some will be in need of a rest and some will be in need of a match. Telling one from the other is basically part of Rodgers' job, as well as the jobs of his coaches and medical staff, so if we can't trust them to make those calls then they won't be around for long.
Paul Grech: Although making it into the next Champions League has to be a priority, winning at least one cup competition isn't too far behind. This will be Rodgers' third season and he has reshaped the squad enough for that that to be a realistic expectation.
Si Steers: We have a much deeper squad this season so there is no reason why we can't take the FA Cup seriously. If I am being brutally honest I would have no qualms about opting out of the Carling Cup if it was an option – I think it's a distraction that serves little purpose when you are in the Champions League.
I think winning a cup would be good for Rodgers who will want some silverware to show for the team's efforts under his guidance.
Barry Meehan: Put simply we have prioritise Europe and the League, so we need to utilise our squad in the domestic cups.
Where will the Reds finish?
Anthony Stanley: The party line I normally use when asked this question is that it's between us, Arsenal and Manchester United for 3rd and 4th. Moreover, any finishing position from 1st to 6th wouldn't really be a surprise.
But here's the thing – we can win the league. Absolutely we can so I'm predicting first. Let's not even discuss our rivals – let them worry about us. Let them be terrified of Hendo's pressing, of Sterling running at them, of Coutinho threading balls to Sturridge. Let them worry about our England striker finishing top scorer as he embraces his status as the main man. Let them quake as they consider Markovic coming on in the sixtieth minute as their legs slowly turn to jelly, let them consider the nous and penetration of Lallana as he runs past their defenders. Let them worry about Can bustling through their midfield.
We're an unknown quantity again to the rest of the league – written off before a ball has been kicked as over-reliant on our now departed star player. And that suits us perfectly. By Christmas, the rest of the country will be sitting up, taking notice and indulging in revisionism.
Alexander Papas: It's going to be a decent battle for the top 4 this season, with arguably seven teams in with a realistic chance (City, Chelsea, Arsenal, United, Tottenham, Everton and us). I don't think there's going to be any teams either surging ahead or falling behind, and there may well be only a dozen or so points between the top seven at the end of the season.
I think that the title is ultimately going to be between Chelsea and City, but the optimist in me says that we just about have enough to top the rest of the pack and squeak into third. Mind you, the pessimist in me says that we will probably just miss out in some horrible, heartbreaking way right at the end of the season and finish fifth. So… fourth?
Paul Grech: Heart says fourth but there's a nagging voice at the back of my head that the loss of Suarez and his genius will see us slipping back to fifth.
Si Steers: The top 4 is going to be a huge tussle this season, United have no Europe which will be a massive benefit to them, Arsenal, City and Chelsea have all recruited well and will be very strong, Spurs will be better. I fancy us to sneak third – but, if we get the wind behind us and are lucky with injuries another title tilt isn't impossible.
Barry Meehan: I'm very confident of a top four finish this year but I find it hard to predict it more specifically than that. Right now I think we are better equipped to challenge for the league than we were at this stage last year, we also have experience of a title run in which can only be beneficial. I think the difference between 1st and 4th will be very tight again this year so top 4 in contention for the title at the end of the year is as specific as I can get.
How many points will the Reds finish with?
Anthony Stanley: 82.
Alexander Papas: I think that the title will be won with a relatively small amount of points – low 80s or even high 70s – but we will probably end up in the low 70s points-wise. I'll go for 72 based on no scientific work whatsoever.
Paul Grech: Plucking figures from the air, I have a feeling that it will be in the 75 – 80 region. With teams at the top improving so much, it might not be enough to get Champions League football.
Si Steers: North of 80.
Barry Meehan: I'm going to go for a repeat of our tally from last season 84 points, i think that could be enough to secure the title this year as there will be stronger competition below the top 4 this year.
Prediction for top 6, in order
Anthony Stanley:
Liverpool
Chelsea
Arsenal
Man City
Man Utd
Tottenham
Alexander Papas:
Manchester City
Chelsea
Manchester United (purely for the Van Gaal effect – still fucked long-term!)
Liverpool
Arsenal
Tottenham
Paul Grech: Know that it won't be popular but, here goes:
Arsenal
Chelsea
Manchester City
Manchester United
Liverpool
Tottenham
Si Steers:
Chelsea
City
Liverpool
United
Arsenal
Spurs
Barry Meehan: This is no more than a shot in the dark but let's go anyway:
1. Liverpool
2. Chelsea
3. City
4. Arsenal
5. Man U
6. Spurs