By Gary Fulcher.
Liverpool kick off their 2014/15 Premier League campaign with the visit of Ronald Koeman's Southampton to Anfield on Sunday afternoon; 13.30 kick off UK time. These two sides last met on the opening day of the season back in 1998/99 at the Dell, when Liverpool secured a 2-1 victory thanks to goals from Karl-Heinz Riedle and Michael Owen after Egil Ostenstad had opened the scoring for the Saints.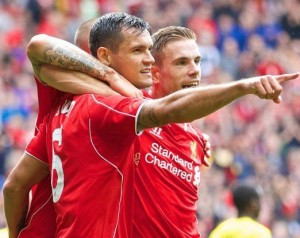 To add extra spice to this fixture, three of Liverpool's eight signings (once the Moreno deal is officially confirmed) were signed from Southampton: Rickie Lambert (£4.5m), Adam Lallana (£25m including add ons) and Dejan Lovren (£20m including add ons), with the latter two combining to score the only goal of the game in the corresponding fixture last season, as Southampton sealed a 1-0 win at Anfield after Dejan Lovren scored with a header from an Adam Lallana corner. That win was the Saints' third win from 15 Premier League matches at Anfield.
The Reds had an outstanding season in 2013/14 finishing 2nd and despite the sale of Luis Suarez to Barcelona, our squad is far stronger both in terms of depth and experience, so there's no reason why we can't challenge for the title once again. The added challenges that come from Champions League football with a manager and squad lacking experience in Europe's elite competition should add an extra layer of intrigue and excitement in the months ahead.
The rest of this article is for subscribers only.
[ttt-subscribe-article]
Liverpool's overall league record against Southampton:
Total – P: 78 W: 37 D: 18 L: 23 F: 117 A: 90 GD: +27
Home – P: 39 W: 25 D: 9 L: 5 F: 69 A: 29 GD: +40
Away – P: 39 W: 12 D: 9 L: 18 F: 48 A: 61 GD: -13
Liverpool's record against teams managed by Ronald Koeman (all competitions):
Total – P: 6 W: 3 D: 1 L: 2 F: 6 A: 3 GD: +3
Home – P: 3 W: 2 D: 0 L: 1 F: 3 A: 2 GD: +1
Away – P: 3 W: 1 D: 1 L: 1 F: 3 A: 1 GD: +2
The match-day officials for this fixture are:
Referee: Mark Clattenburg
Assistants: S Beck, G Beswick
Fourth Official: K Friend
TEAM NEWS
Lallana (knee – absent until mid-September), Flanagan (knee), Agger (knee) [he must be in Agger-knee – Ed! :)] and Markovic (tendon) definitely miss out, and Moreno's registration will not be through in time for this match. Borini (shoulder) and Assaidi (knee) are doubtful.
Jay Rodriguez (knee) is Southampton's only absentee.
Liverpool:
Goalkeepers: Mignolet, Jones, Ward
Defenders: Johnson, Skrtel, Toure, Sakho, Lovren, Enrique, Coates, Manquillo.
Midfielders: Gerrard (c),  Henderson, Lucas, Coutinho, Allen, Sterling, Can, Suso, Ibe
Forwards: Sturridge, Lambert, Borini (?),
Southampton:
Goalkeepers: Davis (c), Gazzaniga, Boruc
Defenders: Clyne, Yoshida, Fonte, Gardos, Hooiveld, Targett, Stephens, Bertrand
Midfielders: Schneiderlin, Davis, Ramirez, Wanyama, Ward-Prowse, Cork, Isgrove, Reed, McQueen, Tadic
Forwards: Mayuka, Gallagher, Pelle, Long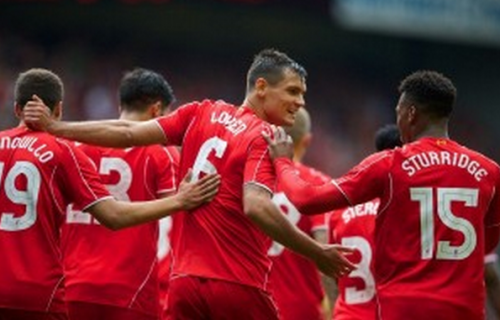 Clips of Southampton's New Signings:
Mihail's Tactical Preview
Liverpool start the new league campaign at home, again, against a team that is experiencing turbulent times in terms of bedding in a new manager and going through a massive squad overhaul. And like last season, the Reds will start the game without Suarez but with a largely settled team and style of play.
Two days ago it seemed this game would be if not a 'walk in the park' for Liverpool, then at the very least ending as a comfortable win. This is because of how unbalanced Saints' squad looked, missing quality in defence and up front, in addition to simply lacking the numbers in several positions. After all the major players have left through this summer, (as a result of their superb performances in the past two seasons), the new manager Koeman had a hugely unbalanced squad.  There were only three senior centre-backs (but with two of them – Hooiveld and Yoshida – arguably not anyway near the required quality to perform in the PL); only two natural full-backs (including the incoming Bertrand on loan), only one natural wide man (the incoming Tadic from the Dutch from Eredivisie); seven players who deem their best position playing through the middle (but with one of them – Schneiderlin – expected not to feature for the team again as he is also bound to leave); and only one fit senior attacker. All of this meant that either Koeman would have to take a hit by either playing players out of position or start with players lacking quality; or compromise the supposed formation and style of play he intends to implement for a much more pragmatic approach around formation fitting in all his senior and best players.
However, yesterday Southampton made two decisive transfers. In came the 25 year old, Romanian defender Florin Gordas, with the signing of Shane Long following quickly. With these two players secured, not only has Koeaman solidified three of his most undermanned positions (centre-back, wide areas and up front), but enabled himself to play closer to what his regular XI would be in the long-term formation (4-1-2-3), that he is likely to use at his new club.
Ronald Koeman, the tactical chameleon
Koeman is one of those managers who doesn't have a fixed playing philosophy and tactical style. Although he was schooled in the great teams of Ajax and Barcelona, he isn't a fanatic disciple of either the 'total football' or the 'tiki-taka' mantra. Instead he is much more versatile and pragmatic in that he moulds his vision around what he has now in terms of resources.
Southampton are the eighth club Koeman is going to manage in just 14 years, suggesting he has never fully settled in a job for more than a season in order to provide enough time for the observers to note what his long-term tactical plans would have been. Only at Feyenoord – his previous job – did it last more than usual, with the Dutchman spending three years at the former Rotterdam giant. And yet even in that spell, it was hard to clearly pinpoint Koeman's overarching philosophy and specific tactical vision. This was because, as was the case throughout his whole career up to now, he used a variety of formations and styles of plays, further fuelling the impression he is more of a tactical chameleon than a dedicated tactical visionary to a specific philosophy.
In his first years as a solo manager (he spent a spell being assistant manager at the Dutch national side and then at Barcelona) – at Vitesse and Ajax – Koeman tried to go down the route and implement the traditional Dutch way of playing. This meant using the 4-1-2-3 formation, implement total positional freedom to suit the demands of the 'total football'. He won the title with Ajax twice in the four years he spent there, but was quickly forced to resign in February 2005 after his initial impact steadily declined over time, to the point of being seen as more of a burden. What followed was short spells at Benfica, PSV, Valencia and AZ, with Koeman never lasting more than a season in any of these four clubs. In each of these clubs he used the 4-2-3-1 formation, counting on a much more defensive and counter-attacking style.
Between December 2009 and July 2011 Koeman took a break, supposedly to regain his focus after the rough four years before that. Being on the brink of financial collapse, Feyenoord took the chance with him in the summer of 2011. This proved a successful gamble for both sides, as the club managed rise from the ashes and steadily improve the point of finishing second and entering the CL after so many years of absence in Koeman's last season. Meanwhile, the manager successfully rebuilt his reputation to the point of announcing he wouldn't extend his contract and would leave Feyenoord this summer to pursue other ambitions and new challenges.
The big reasons behind Koeman's success at Feyenoord was that he was actually given time to settle in and weather the first stormy patch and then steadily build his team, counting on players he has introduced and coached in his mould to fit his ever growing tactical repertoire. In his three years at the Rotterdam club, Koeman used both the traditional (for Dutch teams) 4-1-2-3 formation, alongside the more European version of the 4-2-3-1 to then have a hugely successful spell with the 3-4-1-2 formation in his last season.
As much as using different formations on a regular basis, as much the flexibility and timing of his different tactical approaches were the main reason behind Koeman so drastically improving Feyenoord's fortunes. He was seen going all guns blazing in certain games, pressing and outpassing the opposition to death; while in other he asked his team to adopt more of a reactive style, waiting and luring the opposition in a false sense of superiority before hitting them hard on the break.
With all of the above in mind it could be argued that the 2014 version of Ronald Koeman is much more matured, relaxed and tactically impressive than he has ever been before in his career. In addition, his spell at Feyenoord and the club's financial troubles indirectly forced him to improve and pay more attention to his coaching skills, having been asked to mainly count on players for the team's Academy than securing those big-money transfers from abroad. All this bodes well for Southampton and the way they currently are in their overall progression as a club. Especially if Koeman is given the time to ride the initial storm that is widely expected to happen given the squad overhaul and that it'll be at least a few months into the season before the Dutchman would have had enough time to work with the squad he is going to use for the majority of this and perhaps next season.
Southampton's pre-season
It's always hard to predict how a new manager will approach his first few games in his first few games at his new club. This is especially true if we're talking about the very first game of the season, and when the manager is so tactically versatile and happy to use several formations and contrasting styles of play. As such it's the team's pre-season friendlies that give the best indication as to how the new manager might line-up and play in his first few games.
With this summer being full of transfer sagas, Koeman was robbed of the opportunity to quickly assemble his team and work with it on the training ground. As such the pre-season friendlies were largely nothing more than a simple fitness-boosting exercise. Still, the fact that in each of them the Saints played within a 4-1-2-3 formation, at least suggests this shape features heavily in Koeman's long-term plans. However, with Pochettino using this very same formation in his last six months at the club, it at least raises the question whether this was Koeman's way to simply keep the flow going and not change anything too much too soon, especially as he didn't yet have the majority of the replacements of the outgoing players.
As these were pre-season friendlies where the players were yet to be up fully up to speed, Southampton played in a more relaxed manner, counting on solid possession and directness down the flanks as their main routes to create threatening attacking moves. With the limited number of senior players, Koeman largely used the same starting XI with the second halves of the games always seeing plenty of the clubs' youth players coming in. The likes of Boruc, Bertrand (after he completed his transfer), Hooiveld, Yoshida, Clyne, Cork, Wanyama, Davis, Ward-Prowse, Tadic, Pelle and the youngster Isgrove all featured heavily in all of the games.
What made the most impression in the majority of these games was the midfield fluidity and the fact that the two more advanced midfielders (often Davis and Ward-Prowse and recently the new guy Taider) continually surged forward in support of the lone striker. This made sense as using two natural wingers meant if there was no support coming from deep, Pelle would be completely isolated as the team would have lacked additional attacking presence in and around the box. Another thing that springs to mind was that unlike Pochettino, Koeman favoured more often than not the ball-winner Wanyama than the ball-player Cork at the base of the 1-2 midfield triangle. Whether this was a hint of his tactical requirements (i.e. preferring a more defensive solid player over extra creativity) or just a case of Koeman wanting to do his best to play Wanyama into proper match fitness following the Kenyan player's injury-ridden previous season is yet to be fully established.
Logically, with Koeman favouring two natural wide men down the flanks – Tadic and Isgrove – the full-backs had fewer opportunities to bomb forward and join in the attacking moves deep into the last third as they did so often under Pochettino. This means that Koeman's Southampton are likely to be more structured and offering the centre-backs more protection, as the full-backs would initially join the build-up play and push forward only after the front five players and mainly the wingers are deep into the opposition's half. Still, this might have been just situational and following the players being on the pitch rather than indicate Koeman's long-term strategy. With the likes of Rodriguez, Long, Ramirez (if he is to stay) and Ward-Prowse all able to play on the flank but with the emphasis to roam infield, there would be plenty of free space for the full-backs to overlap powerfully and enjoy the freedom given down the sides.
Potential formation and starting approach
Even before the signings of Gardos and Long, Koeman was set to start the game with at least four of his new players – the keeper Forster, the left-back Bertrand, the winger Tadic and the centre-forward Pelle. This means that throwing in two more wouldn't be a so much of a problem, especially considering both Gardos and Long's seniority and overall quality is drastically higher than the players most likely to have started the game – Hooiveld and Isgrove.
In terms of formation it's still widely accepted that Koeman will start the season with the 4-1-2-3 shape, unless it proves hugely unsuitable or any of the yet to arrive new players' preferred position and specific quality will demand a complete shift in the manager's plans on that front.
The starting XI should resemble something like this: Forster between the sticks, a back four of Bertrand, Gardos, Jose Fonte, Clyne; Wanyama, Davis, Ward-Prowse; Tadic, Long and Pelle. Although the main problem remains the lack of enough time for Koeman to work with these players tactically, in addition to them only having a week with each other to gel properly, that line-up seems at the very least solid. There would be enough experience and sturdiness at the back, with Wanyama's overall physicality and ball-winning skills providing further cover. The front five unit has enough speed, trickery and capability to offer movement interplay to at least stand a chance to catch Liverpool's defence off-guard and be a constant threat on the break.
If Long isn't favoured to start on the flank – as his natural position is actually as the centre-forward – Koeman might prefer to use one of his midfielders down the right, as it seems less probable to see him handling Isgrove his first competitive debut in such a game. The options are several, with either of them providing different qualities and overall flavour to the role. Gaston Ramirez was from time to time used by Pochettino tucked in from the right flank, with the aim to give extra midfield presence and creativity in the last third. But the Uruguayan is one of the defensively lazy players, so it's seems unlikely Koeman will go down that route. The other variant is to use one of Davis or Ward-Prowse there, with both of them possessing the team ethic and work-rate to be trusted and not to shy away of their defensive responsibility to protect Clyne when the team is out of possession. The difference between the two players is in possession where Davis would be inclined to move, drop deep and narrow during the build-up play and arrive late in and around the box; while Ward-Prowse would prefer to dribble down the line and whip crosses into the box.
Still, it seems more probable to see Davis and Ward-Prowse retained as the midfield duo with their defensive bite, possession skills and inclination to push forward to support the lone-striker being the perfect combination for Koeman to use against this Liverpool side. This will clear the flank for Long, who although being more adept to play as the centre-forward, has experience of playing down the flanks, especially in games where his team would be expected to defend with plenty of players behind the ball and then use the wide men to prompt counter-attacks and latch onto through balls from deep. With Tadic comfortable on either side, it might be a case of Long playing on the left and using his sheer pace to cut infield and shoot on his stronger right foot. This would be further enabled if Rodgers continues with the cross-between a 4-1-2-3/4-2-1-3 formation seen in the Dortmund game with no permanently dedicated player down the right flank. Meanwhile, Tadic would be briefed to play against Johnson and use his pace and trickery to worry him on a regular basis.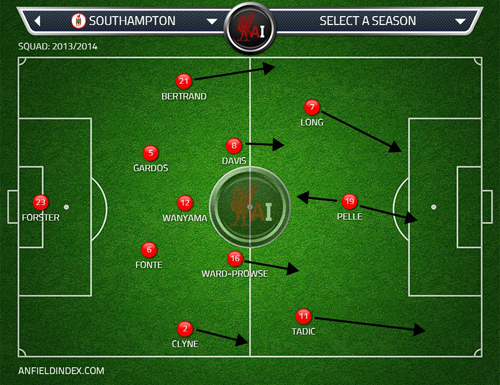 The last alternative that seems plausible would be for Koeman to prefer extra security through the middle and use a double pivot to further minimise the space between the lines. This would be even more likely if he believes Rodgers might continue with Coutinho used higher as the de-facto #10 with the likes of Henderson and Sterling also heading in that zone from their respective narrow-right and wide-left starting positions. As such the Dutch manager might go with a potential Cork-Wanyama pair with Davies sitting ahead of them and Ward-Prowse moved down the right flank. The double pivot would be asked to stay closer to the back four and close down that space between the lines, with Davies dropping just ahead of them further disturbing Liverpool's passing flow and ability to create dangerous attacks. Tadic and Ward-Prowse would then drop deep and help out their full-backs, creating a very solid 4-5-1 formation when defending.
This way Long would be kept on the bench, offering Koeman at least one attacker who is capable to offer something different if and when the team need it.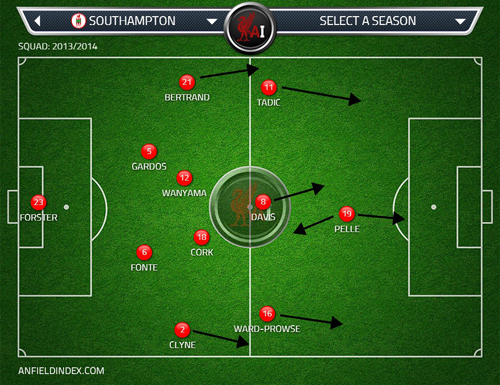 Anyway, Koeman's experience with using a 3-5-2 -ish formation should at least mean he is going to consider starting the game that way. Given he attended the Liverpool – Dortmund game, it's arguable that what he saw didn't leave him calm and optimistic. As such it might be a case of him concluding that it would be too hard for his team – with all the new players, the lack of proper gelling and enough time for him to work with all of them tactically – to prevent Liverpool showcasing their passing fluency and movement fluidity by simply matching them with either the 4-1-2-3 or 4-2-1-3 formation. As such, there is the possibility Koeman could decide to switch to sort of a 5-diamond-1 formation with the aim to provide a numerical advantage in midfield and at the back, even if this means taking a hit down the flanks.
The majority of the midfield quartet would have the same positional, defensive and offensive responsibilities as in the 4-1-2-3 shape. Wanyama would again sit as the deepest with the main aim to protect the centre-backs, with Davis and Ward-Prowse either side of him. That duo would be ready to press hard in midfield, getting tight to the likes of Henderson and Can/Allen, forcing Liverpool to go wide or chip long balls in attack. The two of them would be also freed up to push forward on the break, getting down the inside channels – precisely the space Liverpool are vulnerable, especially with Gerrard as their deepest midfielder. At the tip of the midfield diamond would be Tadic, who although starting centrally would be asked to continually drift towards the flanks, linking up with the wing-backs and stretching Liverpool's midfield, creating space for Davis and Ward-Prowse to push forward from deep. Up front, Pelle's physicality and ability to both hold up the ball with his back to the goal or getting in behind would come handy to Southampton, in that the team would be able to threaten in different ways, depending on where Liverpool would leave more space (ahead or in behind the centre-backs).
With a trio of centre-backs and Wanyama sitting solidly ahead of them, the Saints would have enough bodies at the back to both stick tight on their opponents and have enough positional security to offer the required zonal cover.  This will leave the wing-backs to largely focus on Liverpool's full-backs, safe in the knowledge any in-cutting wide men (mostly Sterling and Henderson) would be handled by the back three unit and the holding midfielder.
That formation looks like Southampton's best bet defensively – in order to stifle their passing flow and still have the bodies to cover their roaming attackers – but also offensively. Like hinted above, Pelle would be a double threat, while the moving laterally Tadic and the pushing vertically midfield duo would be an additional threat. These four players and the diversity offered by them in stretching Liverpool's midfield and backline in all directions and from different zones, would offer variety and unpredictability in how the home team would be put under pressure.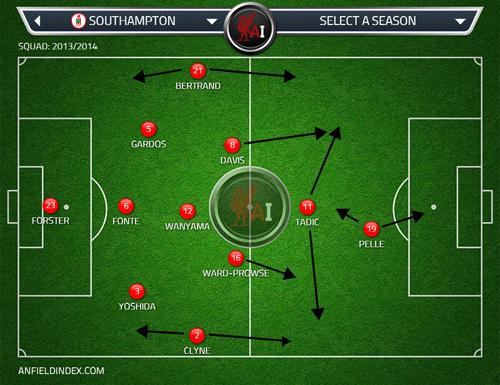 Liverpool
With Lallana and Markovic not going to feature and Moreno still to be officially announced as a Liverpool player, Rodgers' starting XI is largely well-known. There are only three genuine dilemmas: where exactly Johnson will start and following this, who between Enrique and Manquillo will be the other starting full-back; who between Can and Allen will complete the midfield three and where within the front three Coutinho will start.
To start from the attacking end, the absence of Lallana and Markovic, in addition to Ibe surely not going to start the league games (yet), means that Coutinho will start alongside Sturridge and Sterling in attack. However, his exact positioning – tucked in from the left (as he often did in the last season and a half), staying narrow on the right (as he spent a decent spell during this summer friendlies) or given full positional freedom on a more permanent central position, are all plausible possibilities. In addition, it's Coutinho's precise position that would determine the rough shape of how Liverpool will line-up. If he is playing off the left flank, this would mean Sterling will start on the right flank, making Liverpool a clear, even if lopsided, 4-1-2-3 team. If Coutinho and Sterling swap, we would see them in much narrower roles, making the team closer to 4-3-2-1 than a 4-1-2-3. But if the Brazilian starts ahead of the midfielders in a permanent central position, the shape would be more of a lopsided 4-2-1-3 (or a Dunga-esque cross between a 4-2-3-1 and a 4-diamond-2) with Sterling higher and wide on the left and Henderson deeper and narrower down the inside-right channel, as was the case in the last friendly against Dortmund.
The other two dilemmas – who starts at full-back and who completes the midfield three – won't have as much bearing on the team's tactical behaviour and overall tactical battle as Coutinho's exact position. No matter who starts at left-back – Johnson or Enrique – the player will have the same principle emphasis to first join the build-up play and overlap later on, giving freedom for the right-back to bomb forward and get ahead of the play early on. This is because both Johnson and Manquillo are proper wing-backs, looking to stretch the play and get up and down the line as quickly as possible. This means the other full-back would have to hang a bit deeper and offer more of an out-ball during the initial recycling process, before looking to join the attacking moves a bit later but with a higher chance of being left 'forgotten' and unmarked. Enrique is very adept at doing this, while whenever Johnson plays on the left he displays extra caution and is more reserved with his movement off the ball due to playing on his 'wrong' side.
And although Can and Allen are clearly different type of players, they won't offer too much of a difference in the grand scheme of the things in how the team would function. The German is the more physical player, focused on either storming past via surging off-ball runs or simply dribble past a few of them whenever he goes on yet another mazy run. In contrast, the nippy Welshman put greater emphasis on his possession work and linking up with his teammates with quick and sharp short passes, imposing himself via his passing rather his physique. Still, whatever the exact formation – but especially if Liverpool use the lopsided 4-2-1-3 (as in the Dortmund game) – both players would be required to be the 'in between' midfielder, acting as the de-facto connection between Gerrard and the rest of the midfielders and attacker. This means that player would be asked to stay a bit deeper, often coming near Gerrard to pick up the ball and sometimes even rotating with the captain about who collects the ball directly off the defence. This will provide the solid platform and will give the required freedom for both Henderson and Coutinho to operate in their specific roles. The former would be quick to push forward, sometimes drifting to the right flank to interplay with the bombing forward right-back; while the latter will stay higher up, waiting for the ball to come his way for him to quickly work his magic between the lines.
Which is why it could be argued if Rodgers indeed plans to just keep up the overall shape and patterns of play as in the Dortmund game, it would be tactically more useful to have Allen instead of Can as that 'in-between' midfielder. As we saw in the last friendly, the fact Can was asked to display a much more considered role, focused on possession play, meant his overall impact was diminished, as he is clearly player who thrives on being given the freedom to express himself in a much more physical role to run around, press fiercely before looking to surge forward in attack. But in that particular formation that role was fulfilled by Henderson, so Can had to play the reserved role. This is precisely what Allen is best at doing.
The lopsided 4-2-1-3
If we presume that Rodgers will start with that formation and keep Coutinho and Henderson in their un-fixated positions and roles seen in the Dortmund game, there are a few areas and personal clashes that could shape the whole game.
First of all, Coutinho's responsibility to be the team's main creative force would be particularly key. He would be up against a proper defensive midfielder, looking to minimise the space where the Brazilian will look to exploit – that zone between the lines. Not only is Wanyama a positionally disciplined player, but he has the physicality to stick tight on the little maestro and mark him out of the game. Which is why it'll be important for Liverpool's #10 to roam in a way that aims to get away from that zone, tempting Wanyama into the following dilemma: if the Kenyan player sticks too tight to the Brazilian and follows him all across the last third, this will open that zone between the lines for the likes of Henderson, Sterling and Sturridge to target, in addition to Gerrard being capable to accurately send the ball there very quickly. If Wanyama leaves Coutinho largely free to roam as he pleases, it will be still dangerous for Southampton, as the Brazilian playmaker is capable to provide his trademark, perfectly weighted through-balls from different directions and all angles.
In that formation, with the lack of a permanent player occupying the right flank, the attacking impact of the right-back (be it Johnson or Manquillo) would be hugely important. He will be expected to quickly get down the line and be a presence in the final third, providing the width on that side that otherwise would be missing with Sturridge working the whole width of the last third and Henderson having to do at least half of his work in central areas. The young Spaniard showed very good things in the Dortmund game, overlapping powerfully, not afraid to take on the opposition and continually providing well-drilled crosses into the penalty box. Perhaps he will keep up his place, with Johnson retained on the left (not least because he seems to have a perfect natural understanding with Sterling whenever they play on the same flank). With Southampton fielding two new players on that side – be it Bertrand and Long or Bertrand and Tadic – Liverpool should put emphasis on often going down the right and test the defensive resolve and mainly the understanding between these players.
What that formation as a whole would offer is a very suitable balance of how Liverpool would function. Not only will the majority of their players (especially if Allen and not Can is playing) be asked to execute roles that seem to best show their skill-set, but in overall the Reds would have plenty of diversity and different type of threats in attack. Coutinho would be utilised higher up, given full positional and creative freedom to simply pull the strings for his team. Crucially, he will be provided with plenty of players looking to offer different types of runs for him to pick out. Sterling would start on the left, but will continually look to dart infield and interplay with Sturridge, fulfilling the role of the much needed second striker, who will do the opposite of his partner. If Sturridge goes wide, Sterling will move infield. If the former drops in to join the build-up play, the latter will run in behind.  Meanwhile, Henderson would powerfully motor forward, looking to either directly surge vertically or initially drift to the right before looking to angle his off-ball runs and head into the box (as he did for his goal against Dortmund).
Not only this, but with two proper overlapping full-backs, Liverpool would finally have the resource to properly stretch the play and allow the wide men (in this case Sterling and the tucked-in Henderson) to roam between the lines, further overloading that zone and helping free up Coutinho in addition to them being able to penetrate off the ball.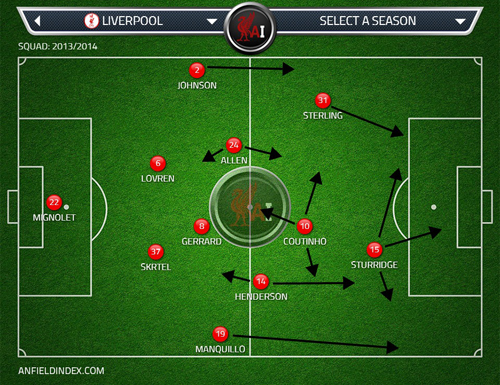 With Southampton expected to line-up in a 4-1-2-3 formation, that particular formation and starting personnel would help negate the onus on Gerrard performing well in defence. Or to say it another way – Gerrard's defensive struggles wouldn't be as important as they might have been. This is because, first, the opposition won't have a player designed to play permanently in his zone, looking to go either side of him, as would have been the case if the opponent were using a 2-1 triangle with either Ramirez or Tadic (in the 5-diamond-1 variant) playing up against Gerrard. Second, with Allen and Henderson being able to quickly get back and either press them early on or track their forward runs, Davis and Ward-Prowse's influence and direct threat on Gerrard should be severely minimised. It'll be a case of, in that scenario, Allen and Henderson positionally and defensively responsible to handle Southampton's midfield duo, with Gerrard left to do his best to assist defensively as best as he could, without being burdened in a specific way.
The lopsided 4-1-2-3 and 4-3-2-1ish variants
In case Rodgers goes to use Coutinho down the flanks, the players' roles and overall outlook of the team in attack would be roughly the same as in the above formation. There would be two main differences though.
First, Coutinho – no matter on which flank exactly he starts – would push infield, overloading the central area as he will look to get in that space between the lines from where to create. This will put extra emphasis on the full-back playing on that side to push forward even more in order to maintain the attacking width on that side. This might make starting Johnson and Manquillo a better proposition than Enrique and Johnson. Enrique is arguably the best player defensively, especially when it comes to 1-v-1 duels against natural wingers. So if Koeman indeed starts with Long (left) and Tadic (right), Enrique's defensive prowess would come handy for Liverpool against Tadic. But in the same time, the former Newcastle full-back is arguably the least threatening in attack player, as his end product (be it crosses or passes) are highly inconsistent and at times hugely frustrating. Which is why, with Liverpool surely going for the win, it might be better for Rodgers to start with the two players more capable to influence the play in the opposition's last third, and then adapt in-game once a comfortable lead is secured.
Second, it's about the change in the role of the 'in-between' midfielder. In contrast to the above discussed lopsided 4-2-1-3 formation, here – with Coutinho moving infield and making it, at times, a midfield diamond – the emphasis of the midfield duo would be to both surge forward and support the attack. This is because with Coutinho coming infield from his initial wide position, the midfield duo would be expected to be both comfortable and offer the reverse movement in order to keep the overall balance intact, in addition to keeping the opposition's defence guessing and confused. As discussed above, Can is much more adept to perform in such a role that demands extra attacking presence, due to his ability to surge past players and drive forward to support the attacking moves. He and Henderson would be the perfect duo that would be able to both drop in and help Gerrard play the ball into midfield or step forward to keep up the passing lines. Not only this, but both of them are capable to press hard when their team is out of possession or storm in and around the penalty area when the team is in possession. Furthermore, they can constantly rotate and interchange, swapping their positions and duties who is going to do what, where and when exactly.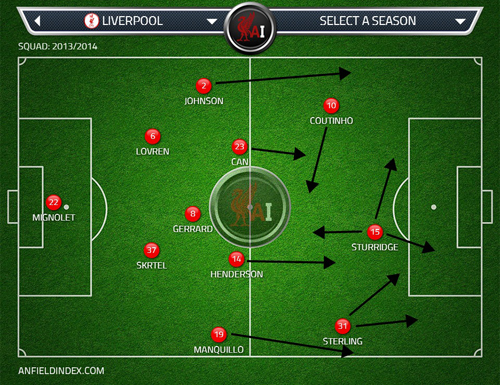 The 4-diamond-2 alternative
There is another alternative plan ahead of Rodgers for this game – compensate for the lack of a second proper wide man (Lallana, Markovic) – with the presence of a second forward. This might mean either Sterling starting alongside Sturridge, or Lambert getting on the pitch for his first competitive start at Liverpool.
That particular formation would make tactical sense if the following two main criteria are met. First, have two of the midfield quartet continually push forward in support to the attacking moves; and second – have the front two provide diversity in their overall movement.
Now, if two of the midfield quartet is under specific instruction to surge forward, there would be less onus on the front pair two provide different movement. But there would be extra emphasis on them being capable to drift wide and stretch the play to secure time for the ball-player's and the midfield runners to influence the play through the middle. This means Lambert won't be a suitable choice for Sturridge's partner, as mobility and dribbling skills are his main weaknesses.
With Sterling and Sturridge up front, the team would have the perfect player who would start inverted and initially look to drift wide before cutting in on their strong feet, providing the required angled runs. But such a front pair would need a proper creator in behind them to constantly feed them with good balls – which means Coutinho at the tip of the diamond. As a result of this, and following the requirement of having two proper midfield runners, Can and Henderson should start either side of Gerrard, looking to push down the inside channels.
Due to the nature of the formation, Liverpool's full-backs would be left on their own in both a defensive and attacking sense. And while the front players would be drifting wide to further help stretch the play in attack, they won't be tracking back and dropping back to help out the full-backs when the team is out of possession. This means the full-backs would be asked to do a lot more defensive work and overall running, for which Enrique and Manquillo seems more suitable.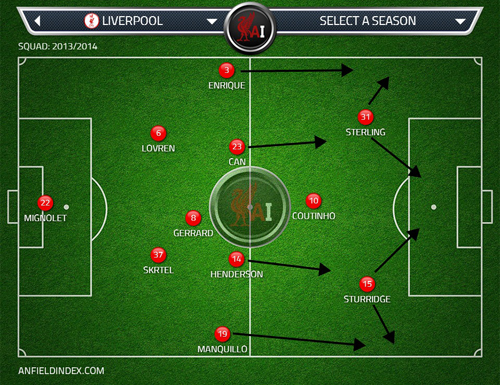 In case Rodgers insists on Lambert starting the game against his former club and partnering Sturridge in that formation, a different type of balance would need to be assembled. Lambert won't be capable to drift wide, but would be able to drop in and play as the de-facto creator, using his intelligence, vision and passing skills to supply Sturridge (who will be expected to now work the whole width of the penalty area and work both channels) with good passes. This means the identity of the player at the tip of the diamond should be different – instead of a proper #10, be more of a false #10. For this role Sterling is the perfect player. With Lambert dropping deep, Sterling would be able to push off or drift wide, complementing Sturridge's movement and compensating for Lambert's rather static role.
Sterling playing up top would mean less of a need for two midfield runners. Which in turns means Coutinho could slot alongside Henderson ahead of Gerrard. That 1-2 triangle would offer both the required diverse ball-playing presence (Gerrard from deep, Coutinho from his advanced position), in addition to having the required second runner coming from deep through the middle (Henderson).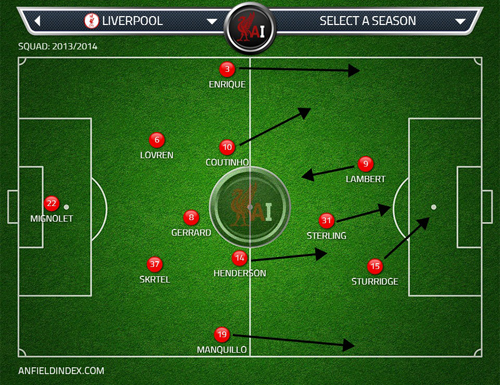 Conclusion
Liverpool should be going into this game with the single aim to win all three points. Despite the absence of Lallana and Markovic, Rodgers has enough quality and tactically versatile players to be able to construct a plan that is able to deliver that outcome.
The nature of his exact plan is unclear, which further shows the unpredictability and overall tactical flexibility his current squad possesses. Add to this that Koeman is also capable of springing surprises and it should make the game interesting and enjoyable. Still, Liverpool should have enough to eventually register their first rather comfortable win.
[ttt-subscribe-article]