By Dan Kennett, James Keen (jimtheoracle), Jon Rushton, Shaul Mitelpunkt (Serpico), Alun Evans (FirePhoenix23) and Daniel Rhodes.
We asked several of TTT's writers, contributors and top posters to dust off their crystal balls and give their thoughts on a number of questions about the coming season. This is the second instalment of their responses.
Who will be our most important player?
Daniel Rhodes: Daniel Sturridge. As it currently stands, we absolutely need him to stay fit and score 20+ goals in the league this season. Not only do I think he will score that amount of goals – I expect him to, because the only thing stopping him is the injury-record. If he plays 30 games in the league this season he'll score 22+ goals. No doubt about it. With Coutinho and Sterling replacing the Suarez-shaped havoc in behind him, Sturridge could thrive and at times keep up a goal-a-game ratio. Should also excel in the Champions League, but I'm not so sure he should be playing in that many of them, even though it seems impossible to drop him. One for another symposium!
James Keen: Jordan Henderson. I felt he was last season too and that opinion only got stronger after his suspension at the end of the season. Yes Suarez was clearly our best and most effective player but Jordan is most important to how the team plays. If we are to do well, he will need to play and give his teammates the space and security to play. The arrival of Can may mean it's less critical if Hendo is not in the team but his selflessness and willingness to learn would suggest he can improve again.
Dan Kennett: Daniel Sturridge. If Sturridge can play two thirds of the season then I think we'll be fine. The problem is that he's highly susceptible to soft-tissue injuries and I think he needs to be 100% injury free to play at his brilliant best. Even a very minor injury seems to have a big impact on Sturridge's performance.
Shaul Mitelpunkt: One way to look at most influential player is to look for the trend-setter: the one whose positive performance would frequently translate to a Liverpool victory. For me that player this season might be Jordan Henderson: if Henderson continues with his impressive development even further he would be considered among the 3-5 best central midfielders in the land. If he presses opponents the way he has throughout last season, I can see his teammates finding the inspiration, the energy, the opportunity, and the space to do what they do best, and score goals.
Jon Rushton: We're a team based around scoring more goals than the opposition, which is a pleasure to watch – reminiscent of the great Brazil teams in our joyful abandon of defence in the search for the next goal. The temptation is to pick Lovren, and suggest that we're about to get solid at the back too – but, frankly, I can't see it happening.
I think, more likely, we'll be seeing more of the same – and that makes Daniel Sturridge by far the most important player this season. His goals per minute on the pitch is already phenomenal – and, were it not for his injury issues, I would have him down as a 30 goals a season man. Certainly, I think he'll take the mantle of "Star Player" with a smile on his face, and go on to hit over 20 goals this season in the central striker role.
Rodgers says that Sturridge can step up to being a World Class player. I think perhaps there's a little motivational speak going on there – because, as far as I can see, he is already a World Class player and has been for the last 18 months. He will only get better.
As a parting note on Sturridge: He reportedly joined on a three-and-a-half year contract (according to the Echo) – so, although it's not massively urgent, I would hope to see a new contract signed over the next few months.
Alun Evans: The little magician, Philipe Coutinho. If he can reproduce performances like the one we saw against Dortmund on Sunday on a regular basis then there is every chance that we may be seeing the birth of one of Liverpool's greats and we'll be very soon wondering who this Suarez bloke was that people keep going on about. Even if he maintains his customary inconsistency then he is still going to be a key creative player, one of the only players on the side that can produce something that makes you rewind the television to try to work out how he managed it.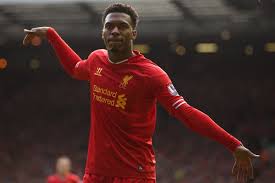 And Daniel Sturridge dances when he scores … key man this season?
A player to be phased out or sold
Daniel Rhodes: Glen Johnson. I suppose it's the wages primarily, more than having him in the squad. Because he's an excellent back-up to any potential upgrade on either side.
Unfortunately, there are no stats on a player's attitude for us to compare and contrast, but if I was in the business of making stats up on the spot, then Henderson is the benchmark with a maximum score of ten, and Johnson is the current wooden spoon holder at the club with a worrying five.
But what does attitude mean and how do you define it and explain it? Working back to defend after trying to burst forward; positioning on corners and when a cross comes in from his opposite side; not learning that cutting back and shooting with your left foot is a bad decision; at times, his distribution and first touch, especially when you see him thread superb weighted passes sometimes; failing to even attempt to block a cross from a wide player attacking his side, and probably the worst one, half-heartedly wafting a leg or turning sideways to the cross, and becoming a much smaller target. He managed each and every one of the above examples at least once last season, and that is restricted to a sample including the goals we conceded and nothing else.
I rated him before I went through all the goals, and one of the concrete conclusions I came away with was that Glen Johnson was a weak link for us last season. Which I never would've predicted before the campaign started.
Dan Kennett: Martin Skrtel. Skrtel has never really convinced me but here we are seven years on and yet another Liverpool manager looks to be building a defence around him.
James Keen: It pains me to say it but Lucas Leiva is done as a top level Premier League player. I love Lucas and wish him nothing but success but there's no place for him at Liverpool anymore. He deserves a huge thank you and a great deal of love from everyone associated with the club. He was so nearly the player we hoped he would be. But for him I suspect a move to Italy, Spain or France would do him good. He's a liability in the tackle now and we cannot afford to give away cheap free kicks.
Shaul Mitelpunkt: We are a young team so beyond Toure who might retire next summer, few jump to mind as 'phased out' candidates. Somewhat counter-intuitively to our generally sound strategy of grooming your players, I would say that should some young player perform decently but fall just short of really impressing, we should look to move them next summer for a relatively hefty (circa 15 mil) sum. Suso, Kelly, Coates, and maybe Ibe could be on that list.
Jon Rushton: Reportedly Kolo Toure will be on his way, which is no huge surprise. He started well enough, and is no doubt a great character to have around, but I don't think he's really at the same level that he used to be. If Kolo does depart, it raises an interesting question: given that Skrtel will be our only senior remaining right-sided centre-back​, will we then be back in the market for another?
I would assume Agger is going, and – even if not – won't be starting on the right hand side of centre defence. Lovren clearly prefers the left-side, with Sakho either rotating into the left or playing as back-up. And, in terms of players who could step up – Wisdom is already on loan, Kelly seems to only ever play as full-back (I'm not sure I'd want him as our only option if Skrtel was injured) and Ilori seems certain to be loaned. Coates could be an option, although that also seems a stretch.
My prediction is that Kolo and Agger will depart, and we'll be seeing another centre-back arrive.
Alun Evans: I am sad to write this but the player most likely to be phased out is Lucas. I actually don't think he'll be sold as Brendan has specifically stated that he want's strength in depth and having Lucas around gives us that, but with Emre Can performing well in pre-season and looking like he can offer everything Lucas does, and more, there doesn't seem much chance of the Brazilian troubling the starting 11. Maybe a farewell season with captaincy of the League Cup side would be a good way to show him we appreciated what he did and now we've moved on.
Who most needs to improve on last season?
Daniel Rhodes: If he gets a run of games, see my answer above. Otherwise, this is a tough one. All the players who played a majority of the league games just need to continue with the form they showed in taking us to the verge of the title. If I was to be ultra-critical, I'd say Mignolet, especially dominating and communicating with his defenders. Thankfully, he did this superbly in the Dortmund game; both he and Lovren were very vocal and constantly making gestures to the rest of the defence. Another factor was the diagonal ball to the full-back situated near the halfway line. This happened at least five times, and I'm sure we won four out of five. Is that the ability of the full-back heading it, or the keeper for picking him out? Probably a bit of both.
Dan Kennett: Simon Mignolet.
James Keen: Mignolet. I'm still not convinced he is the answer between the sticks, there's still a whiff of the temporary about him. He seems to have all the tools if only he can be persuaded to dominate the way his frame suggests he can. He is an excellent shot stopper and clearly a nice bloke. But is he nasty and shouty enough for a keeper? I'm not sure.
Shaul Mitelpunkt: Lucas can still reclaim his position as the best defensive midfielder in the league, and be our rock in a title-winning team for the next seven years. Alas, should he continue his form from last season (when to be fair he was still recuperating from bad injuries), he would struggle to find his name on the team sheet. Should Rodgers and the physios manage to bring 'the old' Lucas back we have earned something immense. Should Lucas not improve this season, I'm afraid club and player would need to move in separate ways.
Jon Rushton: Mignolet was pretty good and, to be fair, didn't get much cover in front of him. He also improved his ball distribution massively, which can't have been easy. But in terms of pure shot stopping and catching crosses (the goalkeeping "bread and butter"), he's not a top class goalkeeper on the basis of last season. This season is his opportunity to come in and prove that he has what it takes to hold onto the gloves for a number of seasons.
I do think goalkeepers are a bit like managers – if they are a disaster in their first season, sell them. If they are looking ok but not setting the world on fire, judge them on their second season. Goalkeeper can often be a role you grow into, especially if younger and having just changed clubs.
Alun Evans: Glen Johnson. The right-back was all kinds of poor last season. With little or no competition for his place it looks like the England man has fallen into bad habits and really needs a proverbial kick up the behind (I think he could do with an actual kick up the behind, but advocating violence against one of our own players is possibly outside the scope of this piece). Competition for places is being introduced and if Johnson wants to keep his place in the side he's going to have to get his head down and work.
What position in the first XI still most needs addressing?
Daniel Rhodes: We need a direct replacement for if Sturridge gets injured. Urgently.
Dan Kennett: Left-back.
James Keen: Left-back. A choice between Johnson, Enrique, Robinson and Flanagan is not really any choice at all for a Champions League club. If Moreno comes in, it would suddenly appear that we have depth there but I wouldn't want any of the above to be our first and only choice at left-back.
Shaul Mitelpunkt: With Enrique, Johnson, Flanno, Kelly and Manquillo all vying for the full-back spots, I would not be too concerned if we eventually fail to sign Moreno for left-back.
In central defence as well as in central midfield we have a real embarrassment of riches. On the wings we have Sterling, Coutinho (depends on the formation), Markovic and Lallana, and this is before we consider Ibe, and even Borini potentially. Borini aside, there is plenty of pace and imagination in that group to make things happen.
The one concern is a striker. Should Sturridge get injured (which will inevitably happen if hopefully not for long periods of time), we would currently need to rely on pace-less Lambert, or on Sterling, who is amazing but also a relatively unknown quantity when it comes to leading the line. Whoever it is needs to be fast, determined, and needs to have had at least 10 goals a season in him in the recent past in a decent league. I'm fairly confident we will sign *someone* for that position in the remaining weeks, though surely it won't happen fast enough for the league opener against Southampton.
Jon Rushton: Left-back is a bit shaky, although I ​appreciate both Johnson and Enrique have put in great performances in that position (as has Flanagan, in fact). But it doesn't feel like its obvious who would start there – there's room for someone like Moreno to come in and establish himself.
But, given how we play, the key area for me is striker. If Sturridge gets injured, I'd love to see Sterling given a go at centre forward – but there's no doubt we'd finish higher up the table if we went out and signed a versatile forward who has the ability to play up front.
Alun Evans: Prior to our business in pre-season I would probably have said that full-back and centre-back needed the most attention, but with the addition of Manquilo and now Moreno, along with a hopefully rejuvenated Johnson, a year more experienced Flanagan and a returning Enrique, the full-back spot now looks strong. Lovren will help to beef up the previously porous defence. So, it looks like we're just a striker short to replace Suarez (although you can never truly replace him, we do need someone who can bear the goalscoring burden along Sturridge).
Surprise package – which player will push on more than expected?
Daniel Rhodes: By the way the pre-season's shaped up, Coutinho looks awesome. He's like the new trigger for the rest of the team. As soon as he picks up the ball, Sturridge, Sterling and Henderson – as well one (or both) of the full-backs – push forward, making different runs but trying to offer plenty of options. He now, at will, seems to be able to find a team-mate, or just glide past his marker. I can't really say direct opponent, because that's the beauty of his movement, he drifts all over the place; in-between the lines, dropping deeper than the halfway line, he can pop up near both flanks and also presses well when required. It is pre-season, but if he carries this improvement into the season, then he could be a shoe-in for legendary status at the club or a £75m transfer to Real Madrid, depending how cynical my mood is at the time of writing. At this moment in time, he's going to be a hero, and take your breath away at least once during every match he plays in.
Dan Kennett: Joe Allen. He seems to be a largely forgotten man at the moment but I think he's going to have a big role to play throughout the season.
James Keen: Jordan Ibe can make a leap this year. He looks to have bulked out and looks strong and direct. We know he has the tools to succeed and hopefully Rodgers' team can push him on towards where Sterling is.
Shaul Mitelpunkt: He is hardly a surprise since he is one of our top billings, but I think Coutinho might move this season to the Mata/Silva/Hazard category of the most dangerous (and goal scoring) attacking midfielders in the league. His shooting is really close even when it misses – maybe Rodgers can calibrate that? If he does, Coutinho might be our brightest star come May.
Jon Rushton: Ibe! If he can push his way in, he's got it all. Although, I'm not sure he'd be a surprise at this point – we all know he's excellent and a potential future star. I get the feeling Emre Can has been bought to go straight into the first eleven – and he might be more important than we think. ​
Alun Evans: It's a tough one this, because I don't think there are many players who didn't perform last season as expected and those that did, have been replaced. Coutinho is ripe for a breakout season, but it would hardly be classed a surprise and I don't think there are any young players on the verge of breaking into the first team like Sterling did. So, taking all of that into consideration I think Enrique could be our surprise package. The forgotten full-back is fit again and will be shielding the ball out of play at a pitch near you soon enough. He may just be vital to our success this season. Then again, he may get injured and spend the rest of the season on the bench.
Which young player will make his 1st team Premier League breakthrough?
Daniel Rhodes: Rossiter if Lucas leaves; Yesil, if he recovers from his injury; Suso, if he doesn't go out on loan.
Dan Kennett: Jordan Ibe.
James Keen: Teixeira is now 21. We must be getting to the point where a decision has to be made one way or the other. If he's not a regular at some point this season then I would expect him to move on before next season.
Shaul Mitelpunkt: Obvious candidate here is Ibe. I rarely saw him play but the consensus seems to be that he is special. I would just add that I think Emre Can looked very comfortable in preseason and could be what Matic has become for Chelsea. I can easily see him fortifying his position before Allen and Lucas in our 3-man midfield.
Jon Rushton: Ibe! Although, if the question is which player will make his debut (rather than breakthrough) – then Jordan Rossiter might get a chance.​
Alun Evans: As I mentioned in the previous question, I'm not sure there are too many youngsters ready to make the break into the first team. Markovic and Manquillo are both youngsters who will make an impact on the team this season, but as they've both been playing first team football for their respective clubs I don't think they can be classed as a breakthrough. Which leaves us with Jordan Ibe. Probably the only youngster likely to make a significant dent in the first team plans, assuming he's not shipped out on loan (he may have already, I haven't been paying attention!) but if not there's a chance that Ibe could "do a Sterling" and terrorise unsuspecting premier league defences.
How should the Reds approach the Champions League?
Daniel Rhodes: Consensus seems to be Rodgers will adopt a more reserved attitude, changing the pace, tempo and focus on attacking to a more balanced approach… I say we blitz each team, regardless of the opponent. Why not? Because we'll lose? Common consensus also said we'd never score a hundred goals or challenge for the title, so let's try it, and maybe get turned over – but at least it'll benefit us long term and the players will constantly know how to treat each game.
Many better minds than mine though seem adamant that it will be a humiliation, and that might be more detrimental than attempting to win a few cautious one-nils.
Dan Kennett: Very seriously. We need to see full strength teams throughout the group stage until we've either qualified or been eliminated.
James Keen: We should prioritise the league but the Champions League should not be dismissed. We are not yet in a position to guarantee Champions League next season, until we are we cannot take our eye off fourth spot. We need to have a go at the Champions League this year but if it's a choice between players playing a Champions League game or an important league game, the league game wins every time for me.
Shaul Mitelpunkt: Go for glory. In order to entice the biggest prospects we need to not show ourselves as also-rans, but to make headlines across the world. Beat Real Madrid, defeat Juventus, outsmart Bayern. This is the difference that might make the next Alexis Sanchez decide he has always loved the Beatles.
In practical terms – I would take top-4 finish with group stage elimination over 6th spot and half-final exit. Nevertheless, I could be convinced to accept 6th spot and CL trophy number 6…
Jon Rushton: All guns blazing, as they approached the Premier League last season. No-one will begrudge the team an early exit if they get the fans off their seats and remind us why we love those European nights. And that would be playing to our strengths.
​Frankly, we could win the Champions League this season. ​
​That might sound fanciful after City's struggles since qualifying, but we're a very different beast – there's no team in the competition that we couldn't beat on our day.
Alun Evans: With caution. We have a manager who has never coached in the Champions League before and a team that have very few experienced at that level. Of course, we want to win it, or at least to go as far as we can, but we need to appreciate that this season should be seen as a fact-finding mission for future forays onto the continent. However, success in the Champions League is the way we will attract better players to the club, so it shouldn't be written off too easily.
How should the Reds treat the domestic cups?
Daniel Rhodes: With a huge dose of fringe and youth players.
Dan Kennett: League Cup should make full use of the squad.  FA Cup should be prioritised much more seriously.
James Keen: As opportunities for the fringe and youth players. Again we cannot allow anything to jeopardise our qualifying for Champions League again. It'd be nice to win something but we cannot have another season like Kenny's. It would set us back again and we cannot allow that to happen.
Shaul Mitelpunkt: Personally I cannot work myself to be bothered in the abstract. I want to see us play to win and I think we have the squad to compete, but I never want it to seriously jeopardise our league or CL runs. In other words and without beating around the bush, JoeP has converted me…
Jon Rushton: Training for the youth and fringe players. Its a well worn debate, so that's all I'll say!…
Alun Evans: On the other hand, nobody ever said they wanted to join a club because of their rich history in the Capital One Cup. Crap pitches, potential banana skins, lower-division clubs wanted to kick five shades of the brown stuff out of our players because they can't get near them. Let's leave the cup campaigns on the shelf this year and concentrate on consolidating ourselves as a top four side and improving our experience and reputation in Europe. Give Lucas the armband, Brad Jones the gloves and see which of the fringe players fancy pushing themselves into contention for a place in the proper match day squad. First team players should stay at home.
Where will the Reds finish?
Daniel Rhodes: Heart says top, head says third.
Dan Kennett: Third. I don't see how we finish above City or Chelsea over 38 games but I fancy our chances against all the other contenders.
James Keen: Very very difficult this one. It could realistically be anywhere between 5th and 1st. I will stick my neck out and say 3rd though.
Shaul Mitelpunkt: As Paul's work has shown, title-winners in PL era were almost always either the winners or second place the preceding season. So… why the hell not?
In important ways you could say we got stronger across most positions during the summer. Anything can happen with that many good teams out there, but I think that with the pressure again mostly on our rivals, we just might win the league…
Jon Rushton: 1st. We're going to win the league. I won't be disappointed if we don't, and I understand how difficult it is – but I have belief for the first time in years. We're an awesome team, we're going to do it.
Alun Evans: It's difficult to tell. There is a massive amount of change going on with 8 (EIGHT) new signings, most of whom can be expected to feature at some point in the league squad. How those signings gel together and gel with the existing squad is going to be key. That's not even taking into account the other teams in the division and the likelihood that United are going to hoping to get back in the mix after a year in the wilderness. We're a young squad so will say a small step back positionally but a step forward in experience and cohesion. I'm going to say 3rd.
How many points will the Reds finish with?
Daniel Rhodes: 78.
Dan Kennett: As always I'm going to give a range. Based on our long term performance since the outstanding January 2013 transfer window, we should be looking at 76 points as the minimum target for this season. As much as we all want to think we can improve on last season's amazing points return, I don't see that as very likely. For me, if we get 84 points again this will be a massive achievement and very much above expectations. I think a 'par' score for us this season will be 76-79 points. Anything over 80 will be a good campaign. If we slip into the 72-75 point range then I think that will be a disappointing return. If we slip to less than 72 then Rodgers could be in trouble when it comes to his end-of-season review with John Henry.
James Keen: We have to aim for 90 I think. I suspect the points totals for the top 6 will be higher this time so we should look to pull in mid 80s again. So 85.
Shaul Mitelpunkt: I looked at the stars last night, and I saw Saturn was retreating. I also read in my coffee this morning and recognised the face of Bob Hope. Therefore, I project the not very modest 85 points!
Jon Rushton: 88.
Alun Evans: Somewhere in the mid-70s… I'll plump for 74
Prediction for top 6, in order
Daniel Rhodes: 
1)    Chelsea
2)    Man City
3)    Liverpool
4)    Arsenal
5)    Man Utd
6)    Spurs
Bonus:
7)    Everton
Dan Kennett: 
Man City
Chelsea
Liverpool
Arsenal
Man United
Spurs
James Keen:
Manchester City
Chelsea
Liverpool
Arsenal
Manchester United
Tottenham
Shaul Mitelpunkt:
Liverpool
Arsenal
City
United
Chelsea
Spurs
—-
Oh my, Chelsea falling to 5 would be the cherry on the cake of our league title!
Jon Rushton:
Liverpool
City
Chelsea
Utd
Arsenal
Tottenham ​
Alun Evans:
Manchester City
Arsenal
Liverpool
Manchester United
Chelsea
Tottenham Hotspur