By Paul Tomkins.
Perhaps it's my eyes, but last night I didn't witness a game in which Liverpool were totally destroyed by Manchester City, but instead saw a generally tight contest – bar a period of City domination in the second half – where the Reds had a number of good opportunities. Once in on goal, they either picked the wrong decision (Lambert) or were denied by good goalkeeping (most of Sturridge's efforts). At the other end, Alberto Moreno, who had been enjoying a fine debut, made the cardinal sin of waiting for the ball to arrive at him as opposed to attacking it, and Mignolet didn't do enough with the third goal, with Lovren's aggressive game also leaving him slightly out of position in all three goals.
In short, both teams played good football in stages and created chances, but City were more clinical, after Liverpool had failed to make the most of being on top in the first half. It's easy to bandy about the name of Suarez, but Sturridge has proved the more clinical finisher, and didn't do a lot wrong with his chances. Joe Hart had a better game than Simon Mignolet.
Liverpool lost, but it wasn't really the 'new' team, with most of the signings yet to start. Those who have started have mixed good performances with defensive errors, to help us pretend that this is still 2013/14.
This post is for Subscribers only.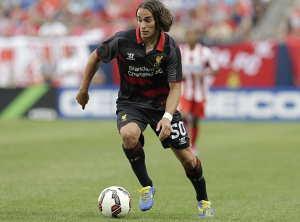 [ttt-subscribe-article]