By Chris Rowland.
Welcome to today's daily digest, listing the day's Liverpool FC news, the latest LFC transfer news, other major football news and also providing links to the best posts on the site's debate section and the most active debate threads during the day.
This article is for Subscribers only.
[wcm_nonmember][ttt-subscribe-article][/wcm_nonmember][wcm_restrict]
LFC News:
Liverpool Football Club have today completed the transfer of versatile 20-year-old midfielder Emre Can from Bayer Leverkusen.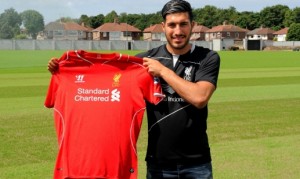 Adam Lallana will be a perfect match for Liverpool's explosive attacking style of football, according to ex-Reds and Southampton star, Jimmy Case.
The former European Cup winner is a big fan of the England international having watched him regularly down on the south coast, and he believes the Reds have got a bargain signing.
"I'm more than pleased Liverpool have bought him," Case told the Liverpool Echo.

"To be honest, I have always had a suspicion they may make a move for Lallana. He is a Brendan Rodgers type of player.

"He can play anywhere. Lallana is such a versatile player. Some of the skills he has on the ball, the way he receives it and controls it, are a real joy to watch.
And Lallana can't wait to play in front of the Kop in a red shirt and witness the famous passionate support, according to his friend and former Liverpool striker Neil Mellor.
"He's absolutely buzzing and can't wait to play for Liverpool," Mellor told Liverpoolfc.com.

"He is really excited by that and he can't wait to play in front of the Kop. I think we've signed a fantastic player who can play in a variety of different positions. His movement is excellent, he has great ability on the ball and can make things happen. He is creative and I'm excited at the prospect of seeing him in a Liverpool shirt.
LFC Transfer Talk:
Luis Suarez could be on the verge of a move to Spanish giants Barcelona. Reds chief executive Ian Ayre spent much of Wednesday in discussions with senior Barcelona officials in London with talks described as "productive". And Fifa's disciplinary chief has confirmed that Suarez will be allowed to have a medical ahead of a transfer under the terms of his four-month ban for biting. The striker has been banned from all football-related activities but it will not prevent him moving clubs if a transfer deal is agreed.
Arsenal and Liverpool are set to compete for the signature of Chile and Barcelona striker Alexis Sanchez, with the 25-year-old striker set to cost at least £30m. Daily Mail
Southampton are determined to keep hold of Croatian centre-half Dejan Lovren, 24, despite interest from Liverpool, Tottenham and Arsenal. Daily Express
But The Times' football editor Tony Evans claims Liverpool will make a renewed bid for Lovren this week. talkSPORT
The Reds have had an initial offer rejected for the Croatia World Cup star, who has since handed in a transfer request, and have seen Arsenal and Tottenham join the race to land the 24-year-old. 
Liverpool will look to strengthen their defence with moves for Dejan Lovren and Ryan Bertrand as they continue to bolster the squad after signing midfielder Adam Lallana this week. Metro
Rodgers wants to continue the reshaping of his squad by bringing in left-back Bertrand with whom he worked with during his time as youth coach at Chelsea.

The Croatian centre-back is rated at around £15m by the south-coast club and it is believed he wants to follow his former teammates Lallana and Rickie Lambert to Anfield.
Later in the day, Metro reported:
Southampton have reportedly rejected a £20m bid from Liverpool for Dejan Lovren. The Saints are determined to stop the mass exodus continuing despite strong interest in Lovren.
Liverpool have opened the bidding with a £20m offer, according to the Southern Daily Echo, despite the 24-year-old having only moved to St. Mary's on a four-year deal last summer.
Lille are insisting that Divock Origi is loaned back to France next season as a condition of a transfer to Liverpool, Arsenal or Tottenham. Daily Express
Arsenal, Liverpool, and Newcastle are in the race to sign Manchester City's 26-year-old defender Micah Richards, who has been allowed to leave the Etihad, Express reports. FootballFanCast.com
Hillsborough Inquests:
Police motorcyclists monitoring traffic outside Hillsborough in 1989 were called away from the ground for a refreshment break shortly after kick-off, the inquest into the tragedy has heard.
Malcolm Hodgson, then a police constable with South Yorkshire Police, recorded that at 3.02pm he had finished escorting coaches to the match and had sent a message to force control asking what he should do next.
He told Stephen Simblet, representing some of the bereaved families of the 96 Liverpool fans who died in the disaster, that he was told to go on the planned break for traffic officers.
The barrister asked: "Nobody was saying 'we have got a problem, we have got an emergency, you need to attend'. You were being sent off on your break as expected?"
Mr Hodgson replied: "At the time, yes."
The witness said he travelled three and half miles away from the ground en route to a South Yorkshire Police outpost before he was told at 3.15pm to return immediately to the ground.
He said he arrived 10 minutes later and was met by an ambulance containing two casualties which he then escorted to Sheffield's Northern General Hospital.
Mr Hodgson said at that stage he had "no idea of the magnitude of what was taking place" because he could not access his basic VHF radio.
He said: "The ambulance service just briefly said a barrier had collapsed and there were some injured people."
He then escorted four or five ambulances from the hospital to the football ground – which was hosting the tie between Liverpool and Nottingham Forest – and arrived at 3.50pm where he recalled the scene was then "chaotic" with police officers "in a daze" and a change in the crowd atmosphere.
Mr Hodgson said: "My most poignant memory is a man who was completely upset…he came and literally screamed in my face 'you caused this'.
"I thought at that point I was going to be pushed off my motorcycle and possibly injured. I was afraid slightly for what might happen."
On his next return convoy visit he said traffic on Penistone Road was gridlocked and he joined ambulance staff on foot to try to get to the ground.
At that point he said there were about 100 ambulances in the vicinity.
Mr Hodgson told Fiona Barton, representing South Yorkshire Police, that the radio problems did not affect the performance of his duties on the day as he followed his training.
He agreed with Paul Greaney, representing the Police Federation, that South Yorkshire Police in the 1980s was "highly regimented" as an organisation and that in fact he had completed his initial force training at an RAF base.
Officers were expected to stand to attention when a senior police officer entered the room and even salute them, he also agreed.
Mr Greaney asked: "Do you agree that within South Yorkshire Police there was in no sense a culture in which junior officers were encouraged to question or challenge orders they were given by a more senior officer?"
Mr Hodgson said: "Yes."
Mr Hodgson said he had witnessed scenes of hooliganism during his policing of football matches in the 1980s and agreed that such experiences would be on his mind when he was on duty.
http://www.liverpoolfc.com/news/latest-news/165605-hillsborough-inquests-july-2
Other Football News:
Algeria's players will donate their prize money from reaching the last-16 of the World Cup to people in Gaza.
An extra-time defeat by Germany sent the African side home, but forward Islam Slimani confirmed the gesture he and his team-mates were making, saying "they need it more than us".
Alvaro Negredo wants to leave Manchester City and return to Spain. City have insisted the 28-year-old striker is not for sale but it is understood he wants to join Atletico Madrid. Daily Mail 
Manchester United have been told they can sign Sporting Lisbon's defensive midfielder William Carvalho, 22, as long as they meet his £37m buyout clause. Daily Express 
And now two oddities from the far reaches of Planet Football:
Goalkeeper Paddy Kenny, 36, has been dropped by Leeds because the club's owner Massimo Cellino hates the fact the goalkeeper is born on 17 May. Cellino believes 17 is an unlucky number. Daily Star 
Tottenham striker Emmanuel Adebayor has already begun training for the new Premier League campaign, by practising some new goal celebrations. Metro
Articles Published Today:
How Pascal's Triangle Led to a Mental Season, by Joe Pepper.
Welcome to Emre Can, by Chris Rowland.
Threads Most Active Today:
Suarez Sale? A Blessing and a Curse
How Pascal's Triangle Led to a Mental Season
Best/Most Interesting Posts Today:
Robbie36 finds irony in the proposed transfer of Suarez to Barcelona:
There you have Suarez that is apparently banned from doing anything football related apart from negotiating his only transfer. And then negotiating his own transfer to Barcelona, who are supposed to be banned from making transfers.
Duke Silver bemoaned LFC's misfortunes that have consistently followed seasons of being runners-up:
In 2002 we finished 2nd and appeared to be on the cusp of a glorious return to the top table of English football. What happens? Houllier chooses not to keep Anelka or buy Damien Duff and instead goes for Diou and Diouf. We all know how that ends up.

Jump forward to 2009 and yet again we've just finished 2nd. Torres and Gerrard have come so close to firing us to the title and now we just need a few tweaks to go that next step. What happens? Alonso leaves, we sign an injured replacement (of sorts) in Aquilani and then The Two Cowboys tighten the purse strings on Rafa.
The enigma of Luis Suarez was summed up by Daniel Rhodes:
Suarez is the human representation of last season. Two extremes of emotion and never just run-of-the-mill, sensible, feelings. Heart skipping a beat, legs unable to function, hands-shaking, head-sweating, rollercoaster ride of emotions. Never just a slow, consistent, trundle around the carousel.

….

I don't know why this is, but I've felt more emotion about Suarez, than possibly any other player in the history of the club. Not always good, or positive, but huge highs and lows. I've defended him, criticised him, loved him, got him sent-off on FIFA against a MUFC team when I was 5-0 up, to clap him off, said he should be sold, said he ruins the balance of the team, said he's a great influence on those around him but most of all, it seems it is time to say:

"Thank you, Luis Suarez, it has been emotional, and we will never forget you, you'll never walk alone. Good luck to you and your family." 

  
Bobbypits sees plenty of positives in a post-Suarez LFC:
I have spent far too much time discussing Suarez (the man with demons) with other supporters than soaking up the righteous adulation for the quality attitude and football being played by my beloved reds!!!

Good luck to Barca and Suarez I hope they are all very happy – and I really mean that. Me? I'm settling down to watch what unfolds next and how my club moves forward.

Suarez is in my rear view mirror – it's been a thrilling and frustrating ride at times but I'm moving on… see ya!!!
DCronin put aside the demands of his new arrival for long enough to make this excellent and wide-ranging post with Suarez at its heart and a roving appeal for words that rhyme with 'Sturridge' for a song!:
Let's be clear, if we sell Suarez, it shouldn't be because of morals.  It should be because the club believe it is in the best interests of the club and by that I mean its long-term success on the pitch.  There are many arguments that can be put forward to support that stance though, of course, time will be the judge.

Whether Suarez stays or goes, he is what he has always been: flawed, brilliant, entertaining, divisive and the finest player to wear the Liverpool No.7 in the Premiership era.

I personally hope he stays but if he goes, I hope the men who make that decision maximise the potential of such a decision for our football club.  And either way, I'll still be here supporting the club.  To paraphrase Mr Tomkins: Players are transient.  The club is for life.
El Eighteen, also on Suarez:
Personally, I don't think it's the end of the world, though I would have loved to have seen Liverpool with LS in the CL, I also think we could do with putting this crazy few years behind us, as it tends to get a bit toxic constantly firefighting. Ironically we bought him whilst he was serving a ban for biting and it looks like he'll be sold whilst serving a ban for biting

Good luck to him, great player, nice fella (by all accounts) and a bit of a nut job (by all camera angles)
Daniel Rhodes again, this time on the subject of the interdependency of defence and attack:
It is all linked. We can't separate our team into little sections and praise one without considering the influence they all have on each other. And attacking, often error-ridden football, was so close to pulling off the greatest league title of them all.
Jeff explained with great clarity how FSG operate with regard to the asset value of Liverpool players and transfer targets:
They will run Liverpool as a business and any decision regarding Luis Suarez will be viewed from what is in the best interests of Liverpool FC.

People have criticized them in Liverpool for not going over what they value a player which is exactly how they operate in Boston. In regard to Luis Suarez, they have placed a value on Luis Suarez and if someone meets their valuation he will be sold. This is how they operate. In their world, Luis Suarez is a valuable asset and the idea that what did happen in the World Cup will cause them to lower their valuation of him is simply wrong. Will they sell him? I have no idea. Will they sell him for less than they value him? No.

Therefore, if Barcelona or anyone else wants Suarez they will meet Liverpool's valuation. In the world of FSG any player will be sold if someone wants to pay the price Liverpool are demanding.  More particularly, what we are talking about is how to run a business. In this world FSG look at Luis Suarez as an asset and if keeping the asset makes sense, they will keep him but if selling the asset makes sense they will sell the asset. Conversely, they will not pay over the odds for any player. This is how everyone needs to look at how FSG will run Livepool. Simply put, they want to buy assets at a low price and sell assets for a huge price because this is how John Henry has run his businesses for day one and this is how he continues to run his businesses.
[/wcm_restrict]