By Paul Tomkins.
Finally I've given into demand (at least three people were interested) and agreed to do a TTT podcast, which will be broadcast via Anfield Index's podcast feed, and also available on this site for Subscribers. We're not looking to go toe-to-toe with a professional operation like The Anfield Wrap; merely to give content to those who are keen to hear what we have to say.
I've always made it clear that I'm someone who prefers to write rather than speak about football, but in approaching us to broadcast as part of their network, Anfield Index hit upon a format I am happy with. The podcast is hosted by Bob Pearce, long-time Liverpool fan and interviewer of people like Morrissey and Matt Johnson for a London radio station back in the early '80s.
The first episode of our podcast features Chris Rowland and Daniel Rhodes: TTT's engine room; plus me, it's greedy centre-forward. Future episodes will feature other writers.
TTT Subscribers will be able to discuss the podcast with the contributors via the comments section.
Brief overview of episode 1:
Suarez leaving, and how we replace his goals/assists. The number of team goals Rodgers will be aiming for next season. Our favourite Suarez memories. Discussing the Markovic transfer and other incoming players. Paul talks about The Transfer Price Index, the methodology behind it and the difficulty of spending money wisely. The potential youth players who could step up to the first team. Discussing the book 'They Dared to Dream' and why we wrote it.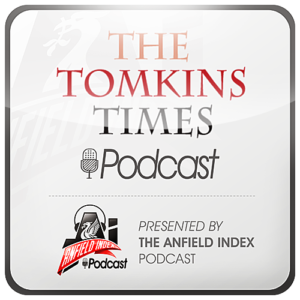 Host: Bob Pearce
Guests: Paul Tomkins, Chris Rowland and Dan Rhodes
You can listen to the podcast by using the embedded player or you can use the links beneath it.