By Mihail Vladimirov.
Due to their two quite different objectives for this game, each manager approached it in a different manner in terms of selection and deciding how many players to rest and rotate.
Costa Rica needed at least a point to ensure they finished first and avoided facing Colombia in the next round. Therefore Jorge Luis Pinto made only two changes, largely keeping the same side in the same 5-4-1 formation. The left-sided centre-back Umana was replaced by Miller, while one of the key attackers, the left winger Bolanos, was given a rest, with Brenes taking his position and tactical role.
England had nothing to play for in this game, other than their proverbial 'pride'. As a result Hodgson unsurprisingly made wholesale changes, rotating no less than nine players, with only Cahill and Sturridge retaining their starting positions from the XI that began the previous two games. Perhaps more surprising was that Hodgson also opted to change the team's formation, going to what was closer to 4-1-2-3 than the previously used 4-2-3-1.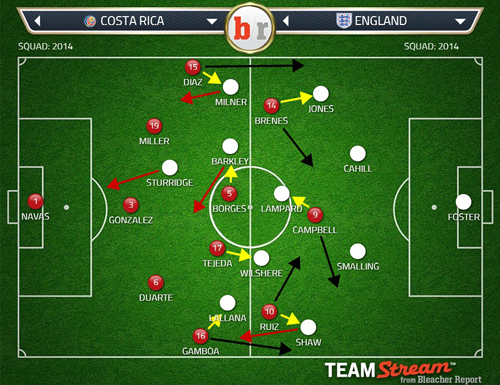 The game was largely uneventful, with little excitement from either team for long periods of it. Although there was little progression during that contest, at least there was enough happening on the pitch from a tactical point of view to make the match bearable.
Costa Rica replicate their Italy approach
What defined the game tactically was the fact Costa Rica looked to use largely the same approach they employed against Italy, but executed here with less aggression and intensity.
Against Italy the first notable feature was how aggressive the Costa Ricans were in pressing Italy in both open play and when Buffon tried to play out from the back from goal-kicks. Here, with Foster often thumping the ball forward, there was no need for Costa Rica to waste energy on closing down from goal-kicks. But they started the game putting efforts into pressing the Three Lions in open play.
What was interesting though was that against Italy, Costa Rica pushed extremely high up the pitch and used their front three to close down the Italian centre-backs and De Rossi, with the wing-backs getting tight on Darmian and Abate. To completely suffocate Prandelli's team for time on the ball, Borges and Tejeda were quick to mark Pirlo and Motta, resulting in Costa Rica occupying man-for-man Italy's back seven unit (who were tasked with bringing the ball forward from deep during Italy's initial build-up play).
Against England, Pinto ordered his team to press in a different manner. It was a case of Costa Rica still pushing high up the pitch to pin England back and force them to build-up their play from deeper, not giving them easy time to gain territory. But meanwhile they completely stood off Smalling and Cahill, and instead sprung quickly into life to swiftly close down the ball whenever it was played to the full-backs or Lampard. The similarities to the Italy game were that the Costa Rican players appeared to have individual instructions to man-mark specific players. Campbell often dropped onto Lampard, with the wide men trying to quickly press Shaw and Jones. Meanwhile Borges and Tejeda stuck tight on Wilshere and Barkley, trying to prevent them receiving the ball and connecting the side.
The rest of this analysis is for Subscribers only.
[ttt-subscribe-article]