By Andrew Mckay (TTT Subscriber orton992000).
"Affliction is enamoured of thy parts and thou art wedded to calamity"

Romeo and Juliet
It is a truth universally acknowledged that a football manager in possession of a league championship must not be in want of good fortune. George Kay certainly had his share as he led his Liverpool team to the first post-war championship in 1947 and then an FA Cup final three years later, but across his career as a whole he was a man that Fate sneered at as often as smiled. What gifts it gave him with one hand were usually snatched back with the other, which meant that no other successful Liverpool manager had to endure more slings and arrows in order to be successful in the first place. If Bill Shankly can be seen as a Lear-like figure, a great man ultimately brought low by the ironic flaw of his own obsession with the game as he struggled to fill his time in retirement, then Kay is Romeo, undone as much by misfortune outside himself as anything he carried within. Indeed it is Kay, even more than Shankly himself, who tragically epitomises the Scot's most famous line about football being much more important a matter than life and death.
His troubled relationship with luck began with the curse of his 1891 birth, which dropped him into the generation sent to the trenches during World War One. He was both wounded and gassed while serving with the Royal Garrison Artillery and eventually invalided home in 1917 suffering from shell-shock. It is quite likely that his harrowing experiences on the Western Front contributed to the anxiety to which he would frequently be prone throughout his future managerial career. Nonetheless, he resumed playing after the war with West Ham and in 1923 captained them in the famous "White Horse" Cup final against former club Bolton, although unfortunately it would not be the last time he'd be on the wrong end of a 2-0 scoreline at Wembley. His career, with harsh irony for a supposedly fit and healthy professional sportsman, was ended by illness when he became sick while on a pre-season club tour to Spain in 1926 and he was forced to stay behind for an extra three weeks to recuperate, retiring from playing soon afterwards. Now there was illness of the body to go with illness of the mind: the seeds of Kay's future health were being ominously sown.
His managerial career took him initially to Luton Town and Southampton before Liverpool gave him his chance in the top division in August 1936 as a replacement for the overwrought club secretary George Patterson. Neither the board nor the shareholders thought much of his appointment. The board simply saw it as enabling Patterson to return full-time to his more important administrative work, while shareholders were more concerned at the prospect of the club paying two separate salaries again, given that Patterson's at least financially efficient combination of both jobs had been a main reason why managerial duties had been added to his secretarial ones in the first place. Fortunately for the club, Kay's hiring worked out rather better than such indifference deserved.
To begin with, he was a real manager in comparison to his clerical predecessor, so his appointment instantly restored some dignity to the role. He was also the first incumbent to have his own office, something which both added to his authority and showed how lightly the directors had previously regarded the position. However, if Kay was going to be successful then he was going to have to get on with such men.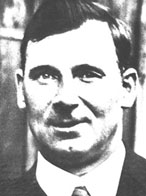 The problem all managers in his era faced was that the mainly middle-class directors at football clubs assumed they knew better than their mainly working-class managers did and so held far more power, including the crucial one of team selection. This required a manager to approach his club's board like a medieval nobleman seeking the King's favour, hoping to be granted sufficient powers to do most things before making allies on the board as surrogates for the rest. As the dismal eras both before and after Kay all too painfully proved, how successfully any pre-modern Liverpool manager could do this went a long way towards deciding how successful the team he led would ultimately be. Kay therefore wisely ensured the board could identify with him by always wearing a suit and tie at work and further endorsed this image by sending both his sons to fee-paying Winchester School. In truth his playing career and left-wing political sympathies meant he was never a native of the boardroom, but he could speak the language when he had to. This astute strategy soon paid off as he found his crucial ally in Billy McConnell.
A caterer by trade, McConnell had joined the Liverpool board in 1929 and distinguished himself from the rest of the directors by an ambition for his hometown team that matched Kay's own. They were therefore able to forge an excellent working relationship, which was seen at first hand by a young Billy Liddell when they both arrived at his parents' house to sign him in 1938. Liddell would later recall that they were "a wonderful pair", with McConnell being "quick and volatile" and Kay "inclined to introspection", making "the one the ideal foil for the other". Nor was this approach unique, as in due course post-war goal-scoring hero Albert Stubbins would also be signed by the two of them together.
However, McConnell's ambition and willingness to spend when required only counted for so much while he was just one voice in the boardroom and would not be fully harnessed in Liverpool's cause until his election as chairman in 1944. Until then, success would have to wait as first an eighteenth place finish in 1937 and then two mid-table ones in the last seasons before the outbreak of war amply demonstrated. Being hindered by things he couldn't control was by now an established theme in Kay's life: he'd had to go to war, illness had hastened the end of his playing career and now the conservative culture of his employers was harming his chances of succeeding at his job. He nevertheless responded by giving his best to the things he could control.
Right-half Matt Busby's observation that Kay "worked like a Trojan to put things right" accurately described his manager's all-hours devotion to the role and willingness to learn if it furthered the club's cause. For example, he and his whole staff attended a coaching course in Leeds in 1938, at a time when a mistrust of the theoretical was deeply embedded in the English game. The resulting knowledge gained, either from such courses or Kay's own studying of tactics, was then not just disseminated to his players as actively discussed with them. As Kay himself explained, he had the "willing co-operation of all players in pre-match practical work-outs and theoretical discussion", which was a startling statement to make in an era when lines of demarcation between the various levels at a football club were so heavily drawn.
His great Edwardian predecessor Tom Watson had similarly put his own tactical stamp on the team, but there was certainly nothing like this in Liverpool's recent past when Kay arrived in 1936 and there was probably little like it anywhere in English football at this time either. He wasn't quite an early "tracksuit manager" however, as he only seems to have got directly involved when he had the team together, both at the hotel before a game or in the dressing room. He was instead therefore more of a CEO who directed the overall tactical policy but left its daily implementation to his coaches. Even so and regardless of who did exactly what, in overseeing all this Kay was giving Liverpool a tactical sophistication it simply hadn't had under the previous regime and one that would prove crucial in the run-in to the 1947 championship.
Nor did his studying stop at how his team played. It extended to how they thought too, as he also read books on psychology to help his players. He was therefore sure of his ground on points such as banning "soccer talk" for the last 48 hours prior to Liverpool's FA Cup semi-final replay against Burnley in 1947 in order to ease the tension or preferring to boost his players rather than criticising them if they weren't playing well. Arguably his most inspired piece of applied psychology was to promote forward Jack Balmer to the captaincy in the autumn of 1946, reasoning that the honour would repair the confidence that was too often damaged by a barracking Anfield crowd suspicious of his perceived middle-class background. Balmer responded by scoring a hat-trick in three consecutive games, a feat that no-one has matched in England's top division since.
Innovation was also seen in a number of practical ways during Kay's tenure. Liverpool's local scouting practices were reorganised by the insistence that prospects now needed to have been vetted by the club's scouts before being invited for a trial, thus ending the chaotic "open house" arrangements of the pre-war years. He instigated occasional short getaways before big matches to either Birkdale in Merseyside or the Derbyshire spa town of Buxton, which can be seen as austerity versions of the mid-season breaks Brian Clough would supposedly pioneer with Derby County a generation later. He even astonished the crowds at the start of the 1946/47 season by sending his players out for a pre-match warm up, which had never been seen before in conservative England. Kay freely admitted that he'd borrowed the idea from Moscow Dynamos, who'd done the same thing on their barnstorming UK tour a year earlier, but added that he was open to anything that might help his team. Ironically the most well-known example of lateral thinking from his time, the decision to tour the US prior to the 1946/47 season and so enable the players to eat properly away from ration-book Britain, was actually McConnell's idea but Kay needed little convincing it was worth trying and, given his relentless searching for improvement everywhere else, it doesn't seem too fanciful to wonder if this was simply a case where his chairman thought of it before Kay had a chance to do so himself.
But where George Kay really stood out from his generation of managers, and in an industry traditionally loath to accept contrary ideas to boot, was in the way he treated his players. His contemporaries were usually martinets and perhaps even bullies, thus replicating the sort of no-nonsense factory foreman figure that their working-class charges would have been familiar with, but Kay instead treated his men with consideration and sympathy which in turn inspired tremendous loyalty from them.
Albert Stubbins would later recall his former manager as "a fine man" and say that his calmness at half time when the team was losing, doing no worse than simply pointing out where his players were going wrong, made them want to put things right in order to repay his faith in them. He had particular reason to remember his manager warmly, because when Stubbins missed a penalty against Leeds United and so a first home goal Kay felt so bad for him that he took him out for a cup of tea afterwards, instead of feeling bad towards him and throwing the cup at him as might have been expected.
Billy Liddell agreed that Kay possessed something that made men want to play for him, pointing out that both regular and guest players alike would willingly make long journeys to play for Liverpool during wartime matches. Like his fellow forward he had also seen his manager's kindness up close and particularly when he first signed. He had been allowed to return to Scotland for a few weeks when he suffered his first injury rather than dwell on it in a strange city far from home and even continued his accountancy studies with Kay's blessing, who agreed that a back-up plan was needed in the precarious world of professional sport. This was an admirable attitude from Kay, not only because it showed a concern towards the wider life prospects of a young player that has too often been beyond professional clubs, but also because it ran counter to the disdain for education that has been part of the English game since its earliest days.
But the most historically significant tribute came from a managerial great in Matt Busby. He was so impressed with the humane regime Kay ran compared to the brutal one he'd known at Manchester City that he would later acknowledge the influence this had on his own style at Manchester United. The net result of all this consideration is that Kay became, in the words of Red Men author John Williams, "a good friend to his players, a very human confidant for them almost as much as a boss". In fact, the esteem they had for him is illustrated by how he could even make unpopular decisions, such as banning his team from playing cricket in the off-season, and yet still see them accepted without complaint.
The benefits to his players of such benevolence were clear, but Kay paid a heavy price as it became a personally bitter demonstration of the Newtonian law that says for every action there has to be an equal and opposite reaction. Williams' summation of him as "kindly but usually unsmiling" contained far too much truth. The compassionate and conscientious nature that enabled him to treat his players so well and in turn meant they were so loyal to him also left him vulnerable to the job's worries, to the point where he often had trouble sleeping. Liddell acknowledged in his autobiography that such problems beset all managers but inauspiciously added that they "can be a curse to the over-sensitive or excessively conscientious ones", implying that was exactly how he saw the brooding Kay.
His wartime experiences probably contributed to this, although even here Kay was still his own man as the way he internalised them instead of turning them outwards to his players was unusual. The more typical effects of war on English managers and coaches were notoriously seen in the 1960s generation, most members of which developed a hard and unsympathetic edge towards their players. Bill Nicholson's assistant at Spurs Eddie Baily was unexceptional in his habitual refusal to praise the team and once replied to concerns that he'd been too hard on a young goalkeeper by disgustedly pointing out that he'd had a gun in his hand at the same age.
Nonetheless, one way in which Kay's stress manifested itself was unfortunately all too typical. Making decisions was something he sometimes found difficult and especially so if they were ones that adversely affected players. Bob Paisley's grievous disappointment at being left out of the 1950 FA Cup final team is famous, but less known is that his manager found it almost as distressing to have to tell him in the first place. Seen that way, Bill Shankly's apparently warming recollection that before a game Kay "…didn't speak. He just went round touching people on the shoulder. If he touched you then you were playing" looks very different. It initially portrays Kay as a fatherly figure, but on closer inspection actually depicts a man who felt so bad for those not playing that he couldn't bear to directly inform them.
Worse still was the terrible anxiety he suffered from during matches, with Matt Busby observing that he would regularly be seen "wringing his hands", "holding his head in apparent anguish" and "making an excellent attempt to head and kick every ball in the match". In another context the latter remark could almost be funny and indeed was when Shankly once claimed in a TV interview he could transmit thoughts to his players ("I'm certain I've headed some balls that were going into the net, I've kept them out. And I've scored a few goals as well. So that I willed somebody to do something and they've done it"). With Kay however, it instead sounds appalling. His helpless pacing along the touchline during matches, tormented by demons only he could see, sounds almost as traumatic for spectators as it doubtless was for him.
What's more, Busby's Liverpool never finished higher than mid-table while a reporter also noticed the same behaviour in Kay during his time at Southampton, despite the team's similarly average league finishes, both of which remove even the relative comfort that he only suffered like this during big matches. After all, we might reluctantly and rhetorically ask, how many big matches did these pre-war Liverpool and Southampton teams actually play? Had the generations been swapped over and Kay had been in Dalglish's place the night in May 1989 when Arsenal came to Anfield and stole the family silver with the last kick, you might have genuinely feared for his well-being.
Seen in that light, Stubbins' comments on his manager's manner in the dressing-room acquire a much darker hue. Kay's habit of never taking his nerves out on his players may have maintained morale, but never releasing the tension must also have taken a dreadful toll on him and it's a wonder that he lasted as long as fifteen years in the job before the stress finally claimed him. This further illustrates the tragic irony at the heart of Kay's story, that his sensitive nature was the source of both his greatest strength and his greatest weakness. However, there would at least be one triumphant balm for his chronic distress.
The team that would win the first championship after the war was already being assembled before it, although for the most part the board gave little financial assistance. Only the £8,000 purchase of Willie Fagan in 1937 was expensive, while the acquisitions of Bob Paisley, Laurie Hughes, Bill Jones and Cyril Done were all free. Even Billy Liddell only cost a nominal £200. However, the fiscal climate changed once McConnell became chairman, as the total fees paid for the next two players were roughly equal to the combined amount of the previous six purchases. Goalkeeper Cyril Sidlow arrived in February 1946 for £4,000, while perhaps most important of all for the championship win was the club record £13,000 fee handed over to Newcastle United in exchange for forward Albert Stubbins and what would be his crucial 24 league goals.
The epic story of Liverpool's 1946/47 championship win is fittingly told by Gary Shaw and Mark Platt in their book At the End of the Storm, but suffice it to say that Kay's strengths as a manager were superbly showcased throughout the season. His motivational powers and ability to keep calm in a crisis – outwardly, at least – were strenuously tested as two bad runs in particular, first a miserable sequence of five defeats in eight games from Christmas onwards and then three draws and a defeat when Liverpool could hardly afford them as March turned to April, threatened to undermine the title challenge altogether. Then there were the demoralising heavy losses to fellow contenders Manchester United and Wolves in September and December, not to mention an agonising late defeat to Burnley in the replayed Cup semi-final and the club's daunting run-in where five of the last seven games were away from home. Shaw and Platt described Kay as a "supreme motivator of men" and for successfully guiding the club through the ups and downs of this season he undoubtedly was.
Furthermore, the value of Kay's tactical trust in his players was worth its weight in silver during those vital final games. The manager himself was actually away on scouting duties for the last few of them and although various sources naturally express astonishment at this, an almost equally obvious point doesn't seem to get raised: whisper it, but was this also an accidental mercy for Kay, who would have found a nerve-shredding title run-in a torture too far? Whatever the truth, the players were without their manager but far from helpless as they plotted their own course through the last two matches, a narrow 2-1 comeback win at Highbury and then the same scoreline in what was all but a title decider against Wolves away at Molineux. This was a team that could run itself if need be and it was all thanks to the innovative way Kay approached his job.
The championship win was clearly his finest hour, but it's also sadly in keeping with his story that it was soon followed, before the next season had even begun, by the loss of his chairman and most enthusiastic champion when McConnell died in early August. The two men worked well together for over a decade, but Kay only had the maximum use of McConnell as chairman for a mere three of those years. Moreover, there would in due course be an unintended consequence of McConnell's death that would undermine Kay's own legacy to Liverpool. To lose his crucial boardroom ally when the championship bunting had barely been taken down was a gratuitous blow, even by the previous standards of the ill fortune he had to live with.
The following two years saw nondescript mid-table finishes but his final full season in charge, still with largely the same team, was one of the most tantalising in the club's history as they nearly won the Double. The 2-0 defeat to Arsenal in the 1950 Cup final is indelibly written into history as Liverpool's first ever appearance at Wembley, but  the league campaign is usually forgotten because the apparently unexciting eighth place finish disguises how close to the title the team actually came that year. They opened that season with a then-record of 19 games unbeaten and were still top of the table as late as Good Friday. However, four defeats in the last five ruined their chances although even then Liverpool were still in the title race with two games remaining.
The accumulated worries were eroding Kay's health by now, as photos from this time show a rapidly greying, drawn-looking man, in disquieting contrast to the largely dark-haired and robust figure he'd presented on the US tour just four years earlier. However, he was still capable of lateral thinking, such as persuading the FA to let him take his players on a tour around Wembley before the date with Arsenal to familiarise themselves with their imminent surroundings – only Willie Fagan had Cup final experience – and insisted they wore their white kit away at Portsmouth the week before to get used to it.
Unfortunately, such ideas did not propel his team to success, while Kay also had his own problems. He sounded proud beforehand, saying that he had "…a splendid lot of players, grand sportsmen every one of them. No manager ever had charge of a happier team", but this tribute to his men said nothing of the intense strain he'd put himself under in the weeks approaching the game, which culminated in his being unable to lead them out on the day due to illness. The burden of having to inform Bob Paisley of the directors' decision to drop him wouldn't have helped either, although the temptation of starting with Paisley's amazing managerial record and then working backwards to conclude that this must have been an awful and match-costing mistake needs to be resisted. John Keith argued the point in his biography of Paisley, but the evidence doesn't really support it. Excruciating as it undoubtedly was for him, the fact is that everyone who played at Wembley appeared more times for Liverpool that season than Paisley did, leading the Liverpool Echo to comment that he was the natural, albeit unfortunate, "twelfth man". The key to Liverpool's defeat probably lay far more in the cynical way their flair players were treated that day and especially Liddell, even though Liddell himself gallantly and somewhat amusingly tried to insist that hadn't been the case in his autobiography. Opinion was divided on the matter: he thought Arsenal had conducted themselves as gentlemen whereas everyone else thought they hadn't.
Just six more wins in the right places across the near-100 competitive games played in 1946/47 and 1949/50 would have seen Liverpool win the Double twice at a time when doing so even once was thought almost impossible, yet the extra bit of luck required was not forthcoming. Furthermore, the standard telling of Kay's story lauds his league title and FA Cup final appearance while also overlooking just how close he and his team were to even greater achievements, as if even historians connive to give him some credit but not as much as he deserves. By this stage, it all sounds unhappily familiar.
The 1950 FA Cup final was nearly the end of the road for Kay, as the cumulative stress finally became too much. He did not officially resign until the following January, but had already been in hospital for a few months prior to his telling the club he couldn't continue. By a strange coincidence he therefore became the third consecutive Liverpool manager to step down on health grounds, following Matt McQueen in 1928 and George Patterson in 1936. This proved a tonic for both of them, with McQueen living on for a further sixteen years after leaving the job and Patterson for nineteen. With a forlorn inevitability, Kay would be the odd one out.
There's a strong desire to pretend that he did recover once away from the daily pressures and lived long enough to see his old club rule Europe, perhaps appearing as a frail but happy guest at the 1977 homecoming before passing peacefully away at over 90 in the early 1980s, but it didn't happen that way. His health continued to deteriorate and former players found it upsetting to visit a man who was now a shadow of the one they remembered striving for. The years of heavy smoking and nervous exhaustion incurred by wearing himself out in the service in Liverpool FC resulted in his death at the age of 62 in April 1954.
Sources disagree slightly on whether this took place on 18th or 19th April, but the sadly salient point is that both dates mean he lived just long enough to see the 1-0 home defeat to Cardiff City on Saturday 17th that confirmed Liverpool's relegation from the top flight for the first time in half a century. Of course, whether Kay was actually aware of this final cruelty is another matter entirely, but the symbolism is clear enough that he died as he'd too often lived, with misfortune mocking him. He deserved a much better end than that. The Echo would point out the "bitter irony" that the game he loved ultimately killed him, but that he saw his former club relegated just before he died and so wipe out everything he'd worked and given that life for was scarcely less so. His greatest player Billy Liddell proved prescient in observing that "something vital had gone from Anfield" on his former manager's passing as his death emphatically brought the brief era of post-war success to a close and heralded eight lost years in the Second Division.
George Kay was one of Liverpool's managerial greats and not solely for the 1947 title win. He gave the role a gravitas that it probably hadn't had since Tom Watson's time before the First World War and was as committed to the job as anyone who's ever held it. By the standards of his day he modernised Liverpool as an institution by introducing coaching, trusted his players enough to involve them in tactical discussions and brought an almost intellectual rigour to the task through his study of tactics and psychology that makes him seem very modern. He also did things his own way, which was no small achievement in an English game which has always been wary of individuality in any form.
In addition, he achieved all this despite a relationship with Fate that bordered on abusive. He had the physical gifts to play football professionally, but his career was ended by illness. He participated in two FA Cup finals, but lost them both. He and his team won the biggest prize his era offered, but with just a little more luck could have achieved even more. He had the benefit of a forward thinking and ambitious chairman, but only temporarily. He had a sympathetic nature that benefited his players and inspired fierce loyalty from them, but it came at a ruinous personal cost.
Kipling famously described triumph and disaster as "those two imposters" in If and the course of Kay's life in football meant he had to meet with plenty of both; by such a measure he was a Man indeed. Even in death he continued to struggle against forces beyond his control, as they conspired to deny him a lasting legacy and so give the wholly misleading impression that he was one of the club's lesser managers. The board's reversion to parsimony after McConnell's death meant that his ageing title winners were never replaced with younger players their equal. Wider changes in football such as new formations supplanting those Kay had known and the rise of the pressing game as fitness levels improved meant that Shankly and his lieutenants revived Liverpool's fortunes with their own methods and not Kay's. Even his impressive personal skills were soon rendered obsolete. The shrewd way he had shared efficacy with his directors became unnecessary once Shankly had finished expanding the manager's power at the board's expense, while the coaching generation that fought Hitler and subsequently took their acquired toughness out on their players trampled all over Kay's kinder ways. By the time Liverpool returned to the First Division in 1962 it was almost as if he'd never been at Anfield, bar a few fading photos on the wall. Given what the job had cost him, this was the unkindest cut of all.
But perhaps there was one significant, albeit posthumous, consolation. Jonathan Wilson posited in his recent The Anatomy of Liverpool: A History in Ten Matches that "Had it not been for Kay there would have been no sleeping giant to awake", arguing that without the 1947 championship Shankly might not have been interested in a club that would have been thirty-six years past its last league title by 1959. It's an intriguing suggestion although a hard one to prove: on the one hand he simply wrote in his autobiography that Liverpool's "potential" attracted him to the job and said nothing specific either way about trophies, but on the other a Liverpool that far removed from their last silverware might have looked little different to his current employers at Huddersfield Town and so it certainly could have swayed his decision on whether or not to move.
Did George Kay's achievements help bring Bill Shankly to Liverpool? It would be a hard-hearted observer who wouldn't wish to give him the benefit of the doubt and so, in this respect at least, a happy ending.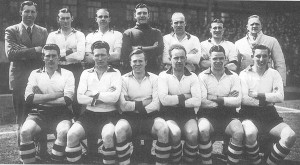 Champions 1947. Back row, 2nd from right – Bob Paisley. Front row, centre – Albert Stubbins. Front row, 2nd from right – Billy Liddell. Back row, far left – Tom Bush, in charge of youth development. No sign of the manager in the photo.