Interview by Paul Grech.
Given the proliferation of sites where the sole aim is to increase the number of hits through the propagation and invention of transfer rumours, it is easy to give into the temptation of despairing about the current state of football writing. There are so many out there for whom the term 'football journalism' means copying and pasting what others are speculating and put it under an alluring headline – often without checking even the most basic of facts – that the risk of tarring all writers with the same brush is huge.
Yet, whilst those who look for an easy path to success by fooling others with their supposed insider knowledge is definitely on the increase, the same is true of good quality football writing. That much is evidenced by the this very site, the Tomkins Times, with its high quality not just by Paul Tomkins but also the array of writers who contribute to it.
It can also be found in the rise of publications like Blizzard and Howler, two quarterly magazines that bring together some of the best writers in the world with a variety of stories that would have never found publication at any other time.
Pickles is another quarterly magazine that has the same objective even if it intends to go about achieving this in a slightly different manner. That much is immediately obvious with the highly visual format it adopts, where the quality of the illustrations more than matches the high quality of writing that can be found within its pages.
Such an approach is hardly surprising given that Ned Read, editor and one of the creators of the magazine, is a graphic designer who has brought together his love of the game and the instinctive desire of his profession to produce something that looks good.
Are there any magazines that you read on a regular basis? Are they only football related?
On a regular basis, I read Esquire, Little White Lies, and Wired. I used to read a lot more design magazines like Creative Review and Design Week but I tend to get a daily fix now from their websites or blogs.
In terms of football publications, I guess I would go for When Saturday Comes, Four Four Two or World Soccer. I can't say your mainstream football magazines would be my first choice for reading matter; I've normally digested the most current stories and I'll get my opinion pieces elsewhere. I should probably be promoting loyal readerships and subscriptions to all of these magazines but honestly, I'll grab whichever takes my fancy.
Obviously these are all well-established titles and I see independent magazines slightly differently. They often seem to have a bit more soul and you know the effort that goes into each issue is immense. Halcyon is a decent magazine and I'm a big fan of OFF LIFE, which is a comic anthology. I really admire what the guys have done with STAND as well; with a magazine like that, it has really strong principles behind it and it creates a great identity.
Even if you don't agree with everything in these magazines, you have to appreciate the spirit behind them. I admire the originality and desire to create something from scratch. Having vocal readers is really important for independent magazines though and 'word of mouth' advertising is usually how they build a readership.

Did these magazines have any influence on your decision to start Pickles magazine? What is its origin story?
The first issue of Pickles was printed in January 2012 but I guess I had been playing around with the concept of a football magazine that combined football, design and illustration since 2010. I hadn't come across anything that was remotely similar, but that's not to say there wasn't something out there.
The mainstream magazines all seemed to have quite a tabloidy feel and weren't really embracing design in any apparent way. A friend had a football blog so for the first couple of issues I was taking his articles and designing the issues around the content. The only football magazine that I was aware of at the time that had real design principles was Green Soccer Journal. I think they launched their first issue in the summer of 2010 and it was clearly a high end publication, featured some big names and a great looking mag. I was definitely impressed by their first issue but I think it encouraged me to do something different with Pickles.
Our focus was always going to be on art and illustration rather than photography and we decided early on that we would use quality newsprint. It was important to do something different and I wanted to make reference to all those great fanzines that had gone before. But certain magazines have definitely influenced some of the design decisions and the editorial content; Esquire, Monocle, LWL, they're great, contemporary magazines.
Many of the decisions were also determined by our own circumstances, we clearly weren't going to get access to some of the biggest names in football with issue one, so the magazine was led by opinion pieces rather than interviews. From those first two issues, the list of contributing writers and artists has grown and I really enjoy the process of putting the mag together and working with some great people. I'm always chuffed when someone says they've enjoyed it.
We're seeing a number of football magazines pop up recently. First of all, to what do you attribute this?
I think as I was putting issue one of Pickles together, I was aware of the US soccer magazine, Howler, and that they were looking for funding on Kickstarter and Green Soccer Journal had already launched their first issue. Since then there seems to have been a steady flow of new football magazine titles…. Rabona (UK), Eight by Eight (US), Thin White Line (AUS), Tifo (CAN).
I couldn't tell you what has inspired the creation of each of these magazines but I'm sure they all have their own interesting story of how they came about. I just think football is an inspiring game.  It inspires writers, artists, designers, and a magazine is the perfect way to bring it all together. I would also attribute it to advances in affordable printing presses that encourage self-publishing.
I think social media has meant that you can judge public interest and the same with an online presence.
What is it that differentiates Pickles from the rest of the magazines out there?
I think the journey that Pickles has gone on and its modest start differentiates it from the other titles around at the moment. It has developed with each issue, found its own voice and I think it reflects a certain type of football fan. It can be cynical and sarcastic but I think it is honest. Many of the stories featured are poignant and transcend any footballing stereotypes.
We're not oblivious to how disenchanted many fans are with the 'modern game', but there are still fascinating stories that have cultural significance. It's these stories that we find interesting and have a broader appeal. I would have said that our use of illustration or focus on great art differentiated us from the crowd but other titles seem to have adopted that approach recently. It just pushes us to produce something original and unique.
Each issue of Pickles has a different theme.  Why did you opt to take that approach?
The idea of using a theme to tie each issue together made sense. It means that from the very outset of each edition, we can give contributors some direction but they can also come back with their own ideas. It gives the issue some structure and helps create a narrative.
It also helps when it comes to illustrating the articles as well. With a theme like 'Lust' (Issue 08) the imagery and references are always going to be really strong. The theme isn't always something that I promote heavily but it is definitely useful and I'm not sure how many football magazines would say they do it.
What is it that determines which story goes in and which doesn't?
I'm very selective when it comes to the writers involved with Pickles. I try to get an understanding of what their style of writing is like before I approach them or give them the go ahead to write something. I don't like to waste people's time so it is important to get some idea of the story they're telling but I also trust them to do a good job. If an article is not up to scratch, doesn't quite fit in with the theme or isn't in keeping with the tone of Pickles, it won't feature. If you're going to invest five minutes or more reading an article, you want to learn something, read something original or something that might challenge your existing view.
One criticism of football writing can be that it is too eager to agree with the majority, to be one of the 'lads' and avoid any controversy. But it's vacuous rhetoric and actually pretty condescending to 'football fans'. I think Pickles offers a different voice.
The magazine has a lot of focus on the design side with a heavy element of original illustration.  How has this approach been received?
I'm primarily a designer rather than a writer and that's how I approached the project. The emphasis was always going to be on great design, illustration and typography. I've worked at newspapers and magazines for the last eight years. Design and illustration can sometimes be undervalued or of secondary importance to the articles.
Clearly, the writing has to be strong but I wanted to back that up with original artwork. It's been well received and I think it's appreciated by the reader and definitely a key part of the magazines identity. It was great to work with Giacomo Gambineri and create the Pickles illustration, a character that would represent the magazine in the same way that 'Esky' represents Esquire or MAD magazine have Alfred E. Neuman. We have a great team of artists involved in the magazine and the standard is really strong.
We've featured on a number of great design blogs and we've taken part in exhibitions around the world, this summer Pickles is going to be exhibited in Brazil.
How do you choose the illustrators who are featured? And the writers?
Many of the writers featured in Pickles are friends or friends of friends, contacts I have made working in the industry or freelance writers that have approached the magazine. Illustrators featured in the mag have contacted Pickles via Twitter or Instagram, but I'm obviously very selective when it comes to the people we work with. I have a list of artists that I would love to work with and if I think their style would be appropriate, then I'll get in touch. It's really about the planning and pairing of articles with illustrators, I like a mix of styles and keep every page fresh and interesting.
The pace is really important and how the reader engages with the mag.
You actually publish a physical copy of the magazine apart from an electronic copy. Do you think that there is still a desire for a physical copy?
I really hope there is still a desire for a physical copy. We haven't produced massive print runs or dished them out at games or outside tube stations, we are selective about where you can pick up a copy. I think this changes the way readers engage with the magazine, a lot of heart goes into each issue, we value each copy and I like to think we're reaching people who appreciate our effort.
Pickles is free and even though it is printed on newspaper stock and it may have a more tactile and friendly feel, it is a quality product.
Without the printed version, the website and our online presence would be completely different. The printed version determines so many of our design decisions and we transfer many of the reference points to the website.
Is an app the next step for you?
The app thing is interesting. I've worked on apps and they clearly appeal to a lot of people. Maybe I'm a Luddite but I like reading a printed paper/magazine, I like the feel of it and prefer to digest information in that way. We place greater value on printed magazines than we ever would a digital download and when your magazine is rich with art and illustration, I think you should value it.
I guess the arguments for apps would range from environmental considerations to how much slicker the design would look in hi-definition but I'm old school, I like print. I'm not opposed to a version of Pickles as an app but it won't come before the printed edition.
The designer Neville Brody made an interesting point. He's pro digital and believes we're in the midst of a digital revolution but rather than signalling the death of print, it will actually make print a luxury product, something that should be valued and considered. I think I agree.
People can access the magazine for free. Is that sustainable in the long run?
In the initial stages of creating Pickles and researching the market, it was clear that to differentiate ourselves from the other magazines out there and to stick to our own values, we should try a different model. I didn't want to create a magazine that was out of the price range of average football fans. Is it sustainable? Through advertising and sponsorship, sure, we have to prove ourselves though and maintain our readership. I hope it will be sustainable.
Where do you want to see the magazine going?
That's a big question. As long as we improve with each issue, keep producing an original and unique magazine and as long as there is a demand, we'll keep producing the mag. We are really proud of the story behind Pickles and the journey.  From one designer and writer, we now have a team of regular contributors, artists and writers. The current issue features our first major interview, with Ashley Cole, and the magazine is getting better and better.
I hope to get more people involved, showcase more fantastic artists and push the boundaries with our writing. This is just the start for Pickles.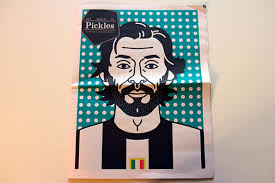 Further details on Pickles magazine can be found here (www.picklesmagazine.co.uk).
You can follow Paul Grech on Twitter (http://www.twitter.com/paul_grech) or on Facebook (https://www.facebook.com/pages/Paul-Grech/1392955837632861).
Full disclosure: Paul Grech contributed an article to Issue 8 of Pickles magazine.