By Gary Fulcher, Daniel Rhodes and Mihail Vladimirov.
Liverpool bring their 2013/14 Premier League season to an end on Sunday with the visit of 9th placed Newcastle United to Anfield; 3pm kick off UK time. Victory for the Reds will at the very least guarantee us a 2nd place finish, while if City do the unthinkable and lose at home to West Ham, a Liverpool victory would over the Magpies would see us end the season as champions. Regardless of what happens on Sunday and what our final position in the league is, it has been an incredible season  for LFC.
A single goal will see us hit triple figures in the league for the first time in our top flight history. The only other occasion where we've scored 100 league goals or more was in the 1895/96 season when we scored 106 goals in the 2nd Division (that total was reached in just 30 games). It's been a phenomenal season which has exceeded most people's expectations. Breathtaking football, crazy scorelines, numerous individual and club records set and Champions League football secured for next season, without the need to navigate through the perilous 3rd qualifying round.
At the beginning of the season all I wanted was for us to be amongst the teams fighting it out for a 4th place finish. At no stage did I think we would break in to the top three, let alone be fighting it out with the mega rich and mega squads of Chelsea and Manchester City for the Premier League title and being one of only two sides in with a shot of winning the title on the final day of the season. From 7th to 3rd/2nd/1st is a truly remarkable achievement and to do it playing the football we have and on a smaller budget than the teams currently in 1st and 3rd should not be under-estimated by anyone. The challenge now for Brendan Rodgers and LFC is to build on what we have achieved this season and show that we are a team to be feared both home and abroad on a consistent basis. Summer 2014 like every summer before it is going to be an interesting one.
Victory over Alan Pardew's Newcastle would be our 16th home win of the season, making it the first time since 1985/86 that we've achieved that total but the first time it would've been done in a 38 game season. Both sides have kept 10 clean sheets (home and away) but Newcastle have failed to score in 16 matches compared to our tally of three. The Magpies have a decent record away from home, having won seven (most away wins outside the top seven), drawn one (the lowest total in the division) and lost 10, scoring 19 and conceding 29. Their 3-0 victory over Cardiff City at St James' Park last weekend stopped a run of six consecutive defeats, a sequence that saw them score once and concede 17.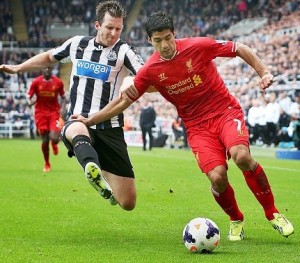 The two sides played out a 2-2 draw in the reverse fixture back in October, with a Gerrard penalty cancelling out Cabaye's opener before Dummett put the Magpies back in front only for Daniel Sturridge to level matters once again with 18 minutes remaining. The corresponding fixture last season also ended in a draw with Suarez equalising Cabaye's opener. Liverpool failed to find a winner despite Newcastle being reduced to ten men following Coloccini's wild lunge on Suarez. That 1-1 draw was the first time we've failed to score fewer than two goals at Anfield against the Toon Army since 2004 and only the third occasion in this fixture in the Premier League in 19 matches.
The rest of this article is for subscribers only.
[ttt-subscribe-article]
Liverpool's overall league record against Newcastle Utd:
Total – P: 152 W: 74 D: 39 L: 42 F: 275 A: 193 GD: +82
Home – P: 77 W: 51 D: 15 L: 11 F: 176 A: 78 GD: +98
Away – P: 78 W: 23 D: 24 L: 31 F: 99 A: 115 GD: -16
Liverpool's record against teams managed by Alan Pardew (all competitions):
Total – P: 12 W: 7 D: 3 L: 2 F: 27 A: 16 GD: +11
Home – P: 6 W: 4 D: 2 L: 0 F: 13 A: 5 GD: +8
Away – P: 5 W: 2 D: 1 L: 2 F: 11 A: 8 GD: +3
Neutral – P: 1 W: 1 D: 0 L: 0 F: 3 A: 3 GD: 0*
*2006 FA Cup Final against West Ham won on penalties
The match-day officials for this fixture are:
Referee: P Dowd
Assistants: S Ledger, S Child
Fourth Official: A Marriner
TEAM NEWS
Jose Enrique (knee) is absent for the Reds.
Newcastle Utd are missing Papiss Cisse (knee), Davide Santon (hamstring), Sammy Ameobi (ankle) and Ryan Taylor (ACL).
Liverpool:
Goalkeepers: Mignolet, Jones, Ward
Defenders: Johnson, Flanagan, Kelly, Skrtel, Toure, Agger, Sakho, Cissokho
Midfielders: Gerrard (c),  Henderson, Lucas, Coutinho, Allen, Sterling, Luis Alberto, Teixeira
Forwards: Suarez, Sturridge, Aspas, Moses
Newcastle Utd:
Goalkeepers: Krul, Elliot, Alnwick
Defenders: Coloccini (c), Yanga-Mbiwe, Haidara, Debuchy, Taylor, Dummett
Midfielders: Sissoko, Anita, Ben Arfa, Gosling, Bigirimana, Marveaux, Tiote, Obertan,
Forwards: Gouffran, Remy, de Jong, Shola Ameobi, Armstrong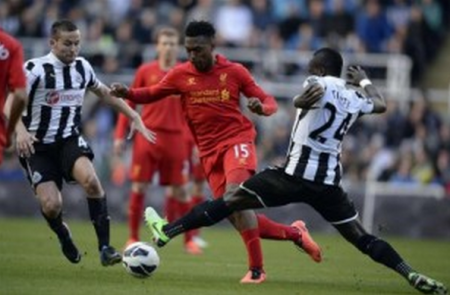 Liverpool's Second Half Goals vs Crystal Palace from Daniel Rhodes on Vimeo.
LFC goals conceded vs CPFC and NUFC from Daniel Rhodes on Vimeo.
Liverpool's goals vs NUFC – including foul on Suarez and build up to the second goal by Sturridge from Daniel Rhodes on Vimeo.
Mihail's Tactical Preview
From a historical point of view the Liverpool-Newcastle clash has always been one of the classic Premier League encounters. Many of the games between these two teams have produced high quality entertainment, full of scintillating football and drama to the last whistle. In the past half-decade or so, with both teams experiencing a drop off in their quality and league stature, the games started to lose some of their previous gloss. The matches produced either a hugely one-sided result (such as the last season's trashing Liverpool inflicted on Newcastle at their own ground) or some scrappy and low-quality displays resulting in either one team narrowly winning or both teams settling for the point.
Theoretically Liverpool enter this game still having a chance to win the title, while for Newcastle the season was basically over a few months ago (arguably around Christmas). As such this game is expected to be similarly one-sided with the Reds putting in one last inspiring performance to see out the season properly in front of the Anfield crowd.
Newcastle's mid-season collapse
It could even be said that the Magpies' season ended shortly after it started. Last season Newcastle endured the Europa League 'curse', and had to battle right to the last few games of the season to avoid unexpected relegation. This season the expectancy was to see Pardew and his players re-grouping and, by narrowing their focus solely on the Premier League, see a much improved domestic campaign. However, the way the season started it wasn't to be the case. From their first nine games, Newcastle registered only three wins, drawing two and losing four. Points wise, Pardew's men were closer to the bottom three than the top seven.
Surprisingly though, what happened next is that Newcastle managed to pull together and from their next nine games they lost and drew only once, winning a whopping seven games (including Chelsea, Tottenham and Man Utd). This lifted the Magpies to sixth place, just three points behind Liverpool in fourth. Halfway through the season it seemed Pardew may manage to steer his team towards a challenge for a Champions League place similar to their impressive 2011-12 season (when they finished fifth, four points behind fourth placed Spurs).
However, depsite the sudden surge of optimism, Newcastle lost their next three games and quickly slipped down the table. They managed to recover briefly, winning four points in their next two games. But then came the biggest blow in their season when the end of the transfer window arrived and Yohan Cabaye , their best and most influential player, departed by joining PSG. He was not only their main conductor and chief play-maker but, after Remy, Cabaye was their most potent attacking weapon.
In such a crucial moment in their season and after the recent struggles for consistency and clear direction, Pardew had to re-build his team and compensate for the loss of both Cabaye the creator and Cabaye the goal-scorer. What followed next was a highly unimpressive series of games where Pardew's team looked simply bereft of ideas, totally losing their spark,  Newcastle's season quickly slumped and deteriorated into a total collapse, and they seemed resigned to this being yet another hugely disappointing season.
Since Cabaye's transfer to PSG, the Magpies played 15 games, registering ten loses, one draw and four wins. What's more from the end of March to the end of April there was a run of six consecutive loses, with 17 goals conceded and only one scored. This run was brought to an end with the 3-0 victory against Cardiff last week.  This 15 game run saw Newcastle failing to score in ten, while keeping just four clean sheets. The total goal-difference was 10-29, which speaks volumes for the frequency and ease with which Newcastle have shipped goals. Eight of games saw them concede two or more, with seven of these actually seeing three or more being put past Krul.
These numbers categorically describe the collapse Newcastle have endured since the end of January. This in turn suggests that Pardew has done a very poor job preventing his team falling so drastically, to say the very least. Clearly Cabaye's quality and importance to the team meant he wouldn't be easy to replace job midway through the season, especially without incoming players. It's hard to replace like-for-like your star player unless you quickly buy a similar player who will match his input right away. But there is the argument that quite possibly Pardew had players in his current squad capable of covering his dual input by dividing his role. Cabaye's playmaking role could have been now given to Ben Arfa who could have been slotted into the #10 role on a permanent basis. Meanwhile Cabaye's other role as the team's secondary attacker arriving from deep may have been executed by Sissoko. Instead of Sissoko's quality being largely wasting down the right flank, he too could have been moved centrally to form a powerful double pivot with Tiote, that would be balanced and with clear diverse roles. In addition, the presence of Anita meant that whenever Pardew might have wanted more solidity through the middle, he could have switched to using a Tiote-Anita double pivot with Sissoko used as the advanced midfielder (as the secondary attacker) and Ben Arfa moved to the right (as the wide creator).
However, this wasn't what Pardew did. He largely kept chopping and changing his side, shifting between 4-4-2, 4-2-3-1 and 4-1-2-3 on a regular basis, with the players used in various positions and roles. There was not even a single time where Pardew went with 4-2-3-1 (the formation used most often when Cabaye in the squad) and used Ben Arfa as the #10 and Sissokho as the central runner from deep, giving him the freedom to shine as the box-to-box midfielder in a Yaya Toure-esque fashion. Sissoko continued to be used largely on the right, while Ben Arfa spent more time on the bench than on the pitch. Instead of trying to merge Ben Arfa's creative talent with Sissoko's physicality and attacking nous as a way to compensate for Cabaye in a more sophisticated and fluid tactical style, Pardew kept counting on a basic approach based on being solid at the back and hoping to threaten on the break. But as the results show, Newcastle weren't successful in either being solid in defence or being efficient in attack.
Newcastle's formation, starting XI and approach
For this game Pardew has few injury worries. Santon and Ben Arfa missed the last few games due to slight injuries, but are expected to be fully fit for this match. So, the only definite absentees would be Papis Cisse and Ryan Taylor, but neither are generally regarded as important players by Pardew anymore. As such he will have almost a fully fit squad to choose from. The main criteria he might be basing his selection on is expected to be the exact formation he would prefer to start with.
The first option is to see Pardew continuing with the 4-4-2 he has used so often throughout the season and that brought Newcastle's losing streak to an end with the win against Cardiff last week. If so Pardew's approach would be to defend with two deep banks of four and have even his two forwards behind the ball. The aim will be to try and restrict Liverpool for space, while maintaining a counter-attacking threat with Ameobi capable of dropping in and holding up the ball, and Remy being a menace with his pace and directness.
Having Tiote and Anita as the midfield two should lead to greater solidity between the lines, as they both would be presumably be tasked with staying deep and not venturing forward too much (if at all). On the flanks the presence of Gouffran and Sissoko would ensure they have hard-working players who are willing to get behind the ball and support their full-backs. In addition, both of them are physical and mobile enough to offer a counter-attacking threat when Newcastle do regain the ball and look to transition forward swiftly.
At the back, the usual back four should be retained. Coloccini and Williamson would be the centre-back pair with Debuchy sure of his place at right back. The only question mark would be who starts at left-back given that Santon is expected to be fully fit again. If Pardew won't risk him, Dummett would continue there.
Given the potential personnel to start the game in that formation, it's easy to conclude that Newcastle might look to defend in a similar manner to Chelsea and create a 4-2-4-0 formation without the ball. The full-backs would be expected to tuck in and come closer to the centre-backs, in order to prevent Liverpool's tricky forwards having any chances to isolate Coloccini or Williamson 1-on-1. As noted above, the midfield duo would be briefed to stay deep and stick between the lines and do their best to limit the space for Liverpool's technicians to pick out the killer pass. This will then leave Gouffran and Sissoko to drop in and defend the wide zones as auxiliary full-backs, before looking to sprint past Johnson and Flanagan respectively. The front pair's job would be to mainly prevent Liverpool playing the ball quickly out from the back. To achieve this they may position themselves around Gerrard, forcing the centre-backs to pass towards the flanks rather than go through the middle.
Without a true ball-player in midfield that potential line-up is bereft of technical abilities on the ball. As such, Newcastle's best hope for dangerous counter-attacks would be simple balls down the channels for the wingers to chase, Ameobi to be at his best when it comes to receiving the ball, holding it up and laying it off purposefully for a teammate on-rushing beyond him; or simply that Remy would roam the channels successfully, collecting the ball in a pocket of space and then beat Sakho or Skrtel with his pace and directness to open up a clear route to goal for himself .
A more creative version of this formation would be to see Luuk de Jong instead of Ameobi as the deep-lying forward. He could similarly act as the focal point for long passes from deep, but being more technical and creative with the ball at his feet de Jong has that knack to drop between the lines and look to feed the runners coming from deep with intelligent through balls.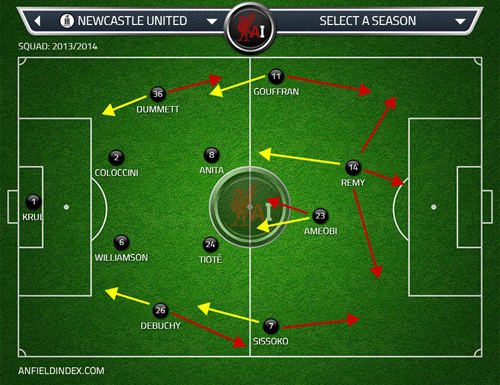 However, if Pardew decides going 4-4-2 against Liverpool is too much of a risk due to the danger of being heavily outnumber 4-v-2 in midfield, he could go with a proper midfield three. There are two variants. Either use 4-2-3-1 with Sissoko ahead of the double pivot, or use Tiote as the deepest midfielder behind Gosling and Anita in a 1-2 midfield triangle.
The first option could see Ben Arfa returning to the starting XI occupying the right flank. The difference to the 4-4-2 by having Sissoko central here is that the team won't suffer in attack, but would gain an extra hard-working midfield body. With Sissoko dropping deep behind the play (deeper than either Ameobi or Remy would do, given they would be forwards and him midfielder) Anita and Tiote will receive extra positional support and won't be as easily dragged out of position or outnumbered as they might if they play as the midfield pair in 4-4-2.
Going forward, Sissoko's surging runs would complement Remy's lateral movement more. In addition, if Ben Arfa indeed starts on the right the team would gain that extra creativity and flair on the ball. If, as is often the case, Pardew doesn't start with him we can expect to see Remy moved to the left, Gouffran used on the right, and one of Ameobi or de Jong being the centre-forward. Such a front three would provide even greater counter-attacking ability due to Remy's darting runs on the inside of Johnson, with Gouffran sure to give Flanagan plenty of troubles both on and off the ball. Plus, with Ameobi or de Jong dropping deep, the team would gain extra movement fluidity and ability to freely interplay positions as the counter-attacks unfold.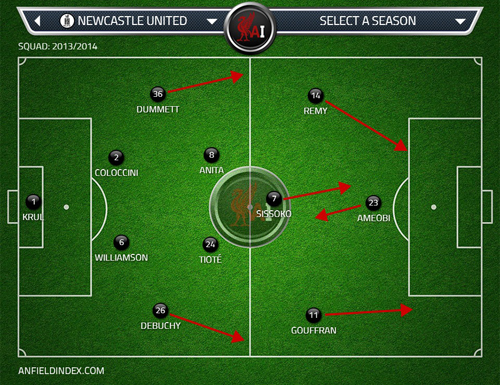 Having Gosling in midfield would allow Tiote to stay as the deepest midfielder, counting on his energy and tenacity to patrol the space between the zones. He would be granted the extra support of having both Gosling and Anita sitting firmly just ahead of him. This should lead to even greater possibility of Newcastle defending the midfield zone better, while affording greater protection for the positionally solid but rather immobile centre-backs.
The 4-1-2-3 would be actually 4-1-4-1 with Gouffran and Sissoko likely to be used on the flanks. Their job would be similar to that in the 4-4-2 variant but, due to having a proper midfield trio, they might be freed to attack more. They would need to have greater role on the counter though, otherwise Remy (presumably to be used up front) could be easily outnumbered and suffocated for space.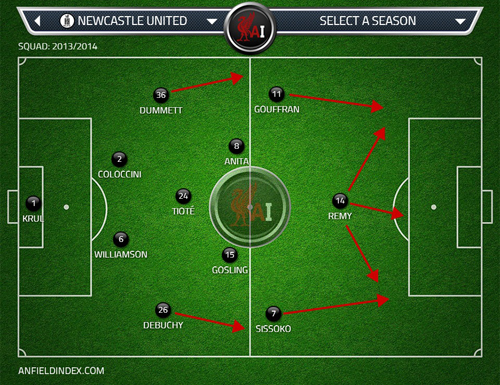 The final possible alternative is to see Pardew going for a 3-4-1-2 formation (which will be 5-3-2 out of possession). This might be the case if he believes Rodgers will continue with the 4-3-1-2 as Pardew may be keen to have extra protection against Suarez and Sturridge. In such a case we may see Steven Taylor joining Coloccini and Williamson at the back with Dummett and Debuchy as the wing-backs, who will be expected to make it a back five as soon as Newcastle lose possession. In midfield the double pivot of Anita and Tiote should be retained with the big question being who will form the front three.
One option is to see Sissoko just off Remy and Gouffran. This will offer Pardew the best blend of pace and physicality and players roaming the channels and coming forward from deep. Remy and Gouffran playing 2-v-2 against Skrtel and Sakho on the break would be particularly promising, with the addition  of seeing Sissoko bursting past Gerrard. The possible but less probable alternative is to see Ameobi used alongside Remy to add extra physical presence and ability to hold up the play and bring others into play.
In this variant Newcastle would aim to do something similar of what Aston Villa set out to achieve at the Etihad in mid-week. They defended in a 5-3-2-0 fashion with the back five occupying the space across the penalty area, the flat midfield three looking to deny space between the lines, while the front pair's aim was to prevent the opposition build-up quickly from the back.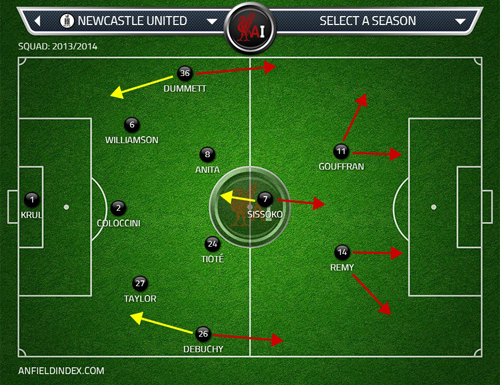 Anyway, for all the possible tactical variations in terms of formation and personnel Pardew might choose from, the fact remains that Newcastle are currently in very bad shape, including mentally. So this game could be all about whether they can manage to be 'up for it' as if this isn't the case no matter their exact tactical approach, Liverpool would find it easy to blitz them away. On top of Newcastle struggling to find a reason to perform close to their abilities, they remain a side bereft of creativity and an extra spark going forward. Their attacks are largely one-dimensional, with the main hope being to score on the break or from set-pieces. They are also not very solid at the back, as they are currently in a vicious cycle of having nothing to play for, being unable to motivate themselves, and remaining focussed and concentrated, which if you are to have a stable defence is the minimum requirement.
If Newcastle concede the first goal (especially if it's early) expect the game to be all about how many Liverpool would score. The game could turn out to be something close to a contest only if Newcastle somehow manage to open the scoring. This might give them something to fight for, although it's still debatable whether this will sustain them for the whole game.
Liverpool
Even without considering Newcastle's poor current state, it's easy to conclude the game will be all about Liverpool. The Reds are the team that still have something to play for and they are the team that are playing in front of their own fans. It's hard to imagine Rodgers' players giving anything less than 100% to see out the season properly by winning in style.
If the game was meaningless, it would have been possible to argue Rodgers may be keen to rest some of his players and experiment slightly, in terms of both shape and personnel. But given there is still even a slight chance to see this game being pivotal to how the season ends, it's hard to imagine Liverpool's manager being willing to gamble and risk see his side failing to sieze their chance in the unlikely event of West Ham pulling off what would be the biggest surprise of the season by beating Man City. As such, expect to see Rodgers name his best XI, with the only question mark being about what formation exactly they line-up in.
Continue with 4-3-1-2
With Henderson returns from his suspension and surely to return to the starting XI, the main dilemma would be who to start on the bench between Allen, Coutinho and Sterling. Coutinho received a break in the Palace game, playing only around fifteen minutes due to having a knock that prevented him starting. This means he should be fresher than the other two. Then with Sterling being replaced late in the last game, he should be fresher than Allen. So it might be a case of seeing Coutinho and Henderson re-uniting with Gerrard to form a 1-2 midfield three, with Sterling in the narrow front three, just off the Suarez-Sturridge pairing.
With Newcastle expected to mainly defend en masses and look to sporadically threaten on the break, Liverpool would encounter a similar challenge to the one they faced against both Palace and Chelsea. With this in mind they are certain aspects in their play they need to improve in order to see the increased tactical prowess required to break through packed defences when using the 4-3-1-2 formation.
The first thing needing to be addressed is the surprising lack of cohesive and fluid movement off the ball within the front three unit. Against Palace all three largely stayed in their positions, without roaming and interplaying freely as they had already shown they were well capable to do throughout the season. A way to see such improvement is to have Suarez and Sturridge pull wide before attempting to dart back infield, providing the required angled runs. The initial drifting out wide should also result in dragging Newcastle's centre-backs out of position, opening up more space for Sterling to exploit with his vertical surges from deep. The alternative way is to see the front three teaming up together in one specific zone, creating positional overloads there before working the ball out towards one of them who will be expected to eventually move in a free pocket of space.
Additionally, with the likelihood of Newcastle being outnumbered in midfield (be it 4-v-2 or 4-v-3), Gerrard should be encouraged to exploit that advantage and push forward to more readily join the team's attacks. This will be particularly useful during the situation when inevitably either or both Coutinho and Henderson move towards the flank to try and provide additional width in order to open up more space for someone else through the middle. In the moments when Henderson and Coutinho would both be central, Gerrard could concentrate on sitting deep and pulling the strings from there.
With Henderson instead of Lucas in midfield Liverpool would be also receiving the boost of having someone able to regularly drive powerfully from deep. This will leave Coutinho to concentrate solely on providing the on-ball incision. With Gerrard pinging accurate passes from deep and the Brazilian sending through balls all over the place, Liverpool would have greater chance to open up Newcastle's backline.
In case Newcastle indeed start with three at the back, not only will the front pair need to roam the channels more often, but as a whole Liverpool would need to concentrate more on creating wide overloads. The key for this will be the side midfielders, who will be expected to push wide and support the full-backs in trying to overload Newcastle's wing-backs and either 1) win territory and work the ball in good situation, suitable for cut-backs or neat, angled, through balls, or 2) if they are left unattended, exploit the free space and do something purposeful with the ball.
As a whole, the positional morphing from 4-3-1-2 to 2-3-5 during the early build-up is something that Rodgers might be keen to use here again. Like Palace, Newcastle might defend with a narrow back four with wingers being asked to play as auxiliary full-backs. Liverpool's full-backs, and especially Johnson, should then concentrate on occupying that space between Newcastle's full-backs and wingers, resulting in the same type of attacks with the ball being lofted for him to run in behind.
Defensively, Liverpool should be mostly concerned with stopping Newcastle's counter-attacks. The first thing to do to protect against this is to simply use the ball, create prolonged spells of possession and simply pin back Newcastle deep in their half. This will allow Liverpool to spread out in attack and be in suitable positions whenever they lose the ball to focus on aggressively pressing Newcastle in order to both deny them easy chances to spring a dangerous break, while also aiming to win the ball back as quickly as possible.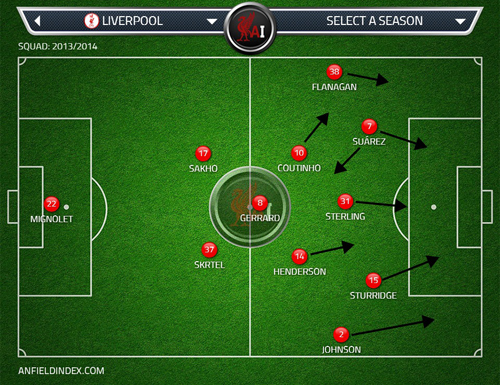 Go back to 4-1-2-3
There is also the possibility of seeing Rodgers go back to the previously successful 4-1-2-3 structure with Suarez and Sterling flanking Sturridge in addition to Coutinho and Henderson playing ahead of Gerrard in midfield.
In a way that formation will aim to morph in 2-3-5 going forward, in a similar way to the 4-3-1-2. In contrast to the diamond formation they will do this differently in terms of having the wide forwards starting initially wider before attempting angled runs to end up in a narrow position on the verge of the penalty area. This might help Liverpool more in providing those required decisive diagonal runs off the ball, especially if combined with Suarez and Sterling's ability to dribble past players.
As a whole the 4-1-2-3 should deliver more natural fluidity, especially with this starting XI. In addition to the front three all having the freedom to roam and interplay freely as they please, the midfield duo of Coutinho and Henderson should have greater impact. This will simply be because they would have more space to operate in through the middle, with Henderson concentrating on providing the bursting runs from deep, and Coutinho concentrating on being the main creator from his advanced position between the lines.
In contrast to the 4-3-1-2, the 4-1-2-3 would count on that extra fluidity and natural positional interplay in order to unlock Newcastle's defence. The front five would be initially spread out across the pitch before all switching positions and drifting in all directions looking to exploit any free space in the last third.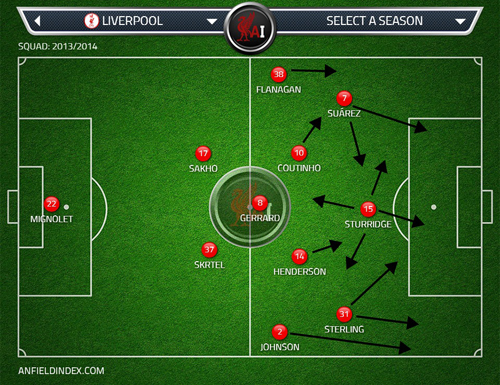 Use Man City-esque 4-2-2-2
A third option available to Rodgers is to try and provide some freshness in how his team will line-up by re-shuffling the pack a little bit. Going for something slightly different that he has not used in the past few months may just be the tonic for Liverpool's players to feel rejuvenated and perform better.
Using a 4-2-3-1 formation, that will play out as a proper 4-4-2/ 4-2-2-2, could do the trick. The availability of Henderson would enable this with him slotting alongside Gerrard in midfield. The captain will be expected to be the link between the defence and midfield, dictating the tempo and channelling the team's passing flow from his deep position. The well-rested Henderson will be expected to be the non-stop midfield dynamo, linking the midfield with the attack and having the dual role to both provide additional attacking angles (with late runs into the last third) and the extra positional cover (doing the leg work for Gerrard).
In attack, Suarez would be sitting alongside Sturridge, with both given the license to roam and exchange positions as they see fit. In any given moment we could see one of them dropping deep, with the other pulling wide or trying to get in behind. The two of them are equally able to provide the killer pass or to apply the finishing touch. They would be eagerly supported by Coutinho drifting infield from the left to add another body in midfield, ending up in his favourite zone between the lines from where to thread his passes around. On the right Sterling will be expected to both provide the extra width, and working in tandem with Johnson be an additional threat with his in-cutting runs.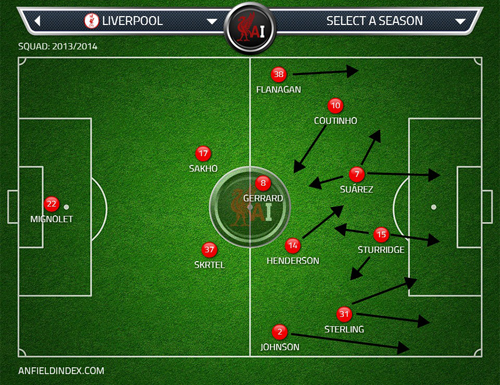 Conclusion
It's hard to talk about the specific tactical battle too much for a game expected to be no more than a 'training exercise' for one of the two teams. Such is Newcastle's current state that no-one, surely even themselves, believe they are capable of achieving anything more than a respectful defeat in this game.
The onus is clearly on Liverpool to be as dangerous as possible in attack, simply taking the game to Newcastle and trying to score as many goals as possible to suitably celebrate the end of a wonderful season with their fans.  Compared to recent weeks the pressure is reduced and Liverpool might end up playing better, resulting in a display that is up there with their best performances of the season.
[ttt-subscribe-article]