By Gary Fulcher, Daniel Rhodes and Mihail Vladimirov.
Chelsea ended our 11-game winning streak and put a dent in our title challenge with their victory at Anfield last Sunday but it's still all to play for as we head into May top of the league, two points above Chelsea and three above Man City who still have a game in hand. Our penultimate game of the season sees us travel to Selhurst Park on Monday evening, 8pm kick off UK time, where Tony Pulis' Crystal Palace lie in wait. Before then, Man City travel to Everton in Saturday's late kick off, with Chelsea hosting Norwich on Sunday afternoon. Everton still harbour Champions League ambitions of their own so on paper at least, this looks likes City's toughest fixture of their remaining three league games, although the Toffees do have a growing injury list.
The Eagles' winning streak also came to an end on Sunday with Manchester City claiming a 2-0 win – ending their five-game winning run – although with Palace already securing their Premier League safety there was less at stake for the home side compared to title-chasing City boosted by the result at Anfield just minutes before they kicked off. Tony Pulis' side have won eight times at home this season with five of those eight victories ending in a 1-0 scoreline. Their tally of 15 goals scored at home is the lowest in the top flight (their overall total of 28 goals scored is the joint lowest in the league shared with Norwich City), while only Cardiff City have failed to score in more games (18) than Palace's total of 17.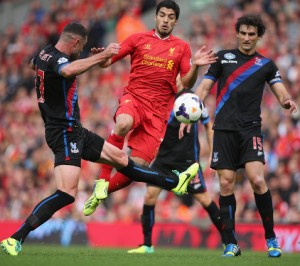 Liverpool have yet to win in the league away from home against a side managed by Tony Pulis in five attempts. Our only away win prior to this match was a 2-1 victory against Pulis' Stoke City in the 4th round of the League Cup in October 2011. We did secure a 3-1 win in the reverse fixture back in October (when Palace were under the management of Ian Holloway) thanks to first half goals from Suarez, Sturridge and Gerrard, with Dwight Gayle pulling back a consolation with 14 minutes remaining.  Our last visit to Selhurst Park saw us lose 0-1 during the 2004/05 season.
The rest of this article is for subscribers only.
[ttt-subscribe-article]
Liverpool's overall league record against Crystal Palace:
Total – P: 27 W: 16 D: 6 L: 5 F: 60 A: 18 GD: +42
Home – P: 14 W: 11 D: 2 L: 1 F: 41 A: 8 GD: +33
Away – P: 13 W: 5 D: 4 L: 4 F: 19 A: 10 GD: +9
Liverpool's record against teams managed by Tony Pulis (all competitions):
Total – P: 12 W: 4 D: 5 L: 3 F: 12 A: 9 GD: +3
Home – P: 6 W: 3 D: 3 L: 0 F: 8 A: 1 GD: +7
Away – P: 6 W: 1 D: 2 L: 3 F: 4 A: 8 GD: -4
The match-day officials for this fixture are:
Referee: Mark Clattenburg
Assistants: S Beck, S Long
Fourth Official: A Taylor
TEAM NEWS
Jose Enrique (knee) is absent for the Reds, while Jordan Henderson serves game number three of his three-match ban.
Crystal Palace have no injury concerns or suspensions.
Liverpool:
Goalkeepers: Mignolet, Jones, Ward
Defenders: Johnson, Flanagan, Kelly, Skrtel, Toure, Agger, Sakho, Cissokho
Midfielders: Gerrard (c),  Lucas, Coutinho, Allen, Sterling, Luis Alberto, Teixeira
Forwards: Suarez, Sturridge, Aspas, Moses
Crystal Palace:
Goalkeepers: Speroni, Alexander, Hennessey
Defenders: Ward, Mariappa, Parr, McCarthy, Dann, Gabbidon, Moxey, Delaney
Midfielders: Bolasie, Dikgacoi, Ince, O'Keefe, Puncheon, Thomas, Jedinak (c), Ledley, Guedioura, Bannan
Forwards: Gayle, Murray, Wilbraham, Chamakh, Jerome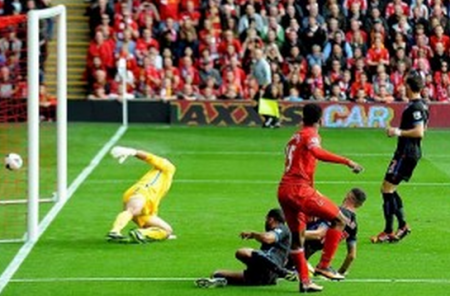 John Terry's own goal against Palace, securing all three points for Pulis' side, and one to make you giggle, every time. Never gets boring:
Edin Dzeko opens the scoring, in the first five minutes, to give City the lead in their crucial tie against the Eagles – how good would it be to get one early on Monday night?
And finally, Yaya Toure scoring a cracking goal, but also exposing a lack of pace down Palace's left side, something for Sterling and Sturridge to exploit?
View from the Other Side, by Krishen Bhautoo (krishaldo):
Interview with Chris Waters at http://palacetrust.org.uk/
How has your season gone so far and where do you expect or hope to finish?
Better than anyone could have hoped or dreamed. To lose 9 out of the first 10 league games and be in with a good chance of finishing as high as 9th in the league is nothing short of miraculous. It would be brilliant to finish in the top ten – that would equal our second best ever position in the top flight.
How do you feel about how Pulis is doing and what he is doing differently from Holloway?
Pulis is a superb manager who has squashed the reputation he had as a long ball merchant. He was able to give the players simple, easy jobs to do and engender the team spirit we had been lacking since we got promoted. He built from the back, making us hard to beat, and then improving our attacking play. Individual players have really improved under him.
What is your opinion of LFC's season so far and where do you think we will finish?
Liverpool have done amazingly well, and have really benefited from not being in Europe (it will be interesting to see how they cope next year!). They have played entertaining football, though still look suspect at the back. Brendan Rogers was an excellent appointment and to be in with a chance of the title is a great achievement. Sadly for you, I think you will fall just short.
Which of your players should we look out for?
Our goalkeeper Julian Speroni has been heroic this season, and saved many points for us. Our right-back Joel Ward has been excellent this year, and can play in midfield as well as left-back, and will go on to have major success in his career, and might well win our POTY. Finally midfielder Mile Jedinak has been a rock, playing every single minute of the campaign, and looking to captain Australia at the World Cup.
Which LFC player(s) are you least happy about facing and why?
Obviously Suarez is a problem, but hopefully our defence will be able to cope.
What do you think your probable line-up will be and how do you expect to set up tactically?
I am sure the line-up will be the same as for the Manchester City game, I can't envisage any changes except for KG coming into midfield and Ledley in the hole behind Jerome with Chamakh (who has been struggling for fitness) dropping to the bench.
What is your prediction for the match?
1-1, we have a good recent home record against Liverpool, and under the lights with a cracking atmosphere and Liverpool under a lot of pressure to perform I can see us sneaking a draw.
Mihail's Tactical Preview
The main story in this game is whether Liverpool will continue putting pressure on their direct title rivals Man City. With yesterday's win against Everton, the Citizens are in pole position to land the title. Pellegrini's team have the advantage of a better goal difference, meaning if both teams win their two remaining games, the title will go to the Ethiad – just like it did in 2011/2012. Liverpool not only needs to win their games, but hope The Sky Blues drop points either against Aston Villa or West Ham.
And let's not forget the unlikely, but still probable, scenario of both Liverpool and Man City losing one of their remaining games. This will allow Chelsea to sneak in and, with wins against Norwich and the already-relegated Cardiff, lift the title.
The sub-plot to this game is the clash between Pulis and Rodgers. Both are arguably the anti-thesis of each other. The former is all about defensive resilience, laying brick walls behind the ball and completely suffocating the opposition for space closer to his penalty area. The latter is very progressive and attack-minded, total football disciple, who insists on a free-flowing and creative brand of football. And yet, Pulis and Rodgers have something in common – the fact they have both massively overachieved this season. Crystal Palace was labelled as the poorest team in the division at the start of the season, touted for sure relegation. And it was obviously heading that way at the start of December until Pulis was appointed to replace Holloway. Liverpool, meanwhile, finished seventh last season, and without any significant injection of 'world-class' players this past summer, were expected to merely fight for a top four spot, with their ceiling being just achieving CL qualification.
Fast forward to the start of May and it's clear both Pulis' and Rodgers' teams surpassed the initial expectations. Pulis' Palace are about to finish comfortably in mid-table, while Rodgers' Liverpool are on the brink of landing the title, or in the worst case scenario – being a team challenging for it until the very last day. Both achievements were delivered with minimal investment in terms of players – although both managers refreshed their squads (Rodgers in the summer, Pulis during January) – but with huge amount of effort in terms of coaching and changing the mentality within the clubs and among the players.
As such it's only appropriate to see these two managers being one of the top candidates for landing the prestigious– if rarely objective – award of 'Manager of the Season'. Individually, Pulis and Rodgers would have a greater chance to land the award if they manage to win here. A win for Palace would mean the Welsh would most likely put the final and decisive dent in Liverpool's title charge. This would surely be acknowledged as the 'cherry on top of the cake'  for Pulis, yet another big scalp he has taken that eventually had a decisive role to play in the title battle (a few weeks ago Palace beat Chelsea). As for the Ulsterman, a win here would guarantee last day drama in terms of who is going to win the top league prize, something that the FA and the British media just live and die for. This and the fact it will mean Liverpool are literately 'in it' until the very last second of the season might just pip Rodgers for the individual award, even if his team fall short in the title fight.
From a different point of view, it's true that Palace have nothing to play for in their remaining two games. They won't be able to finish in Top 10 and are unlikely to be usurped by West Ham for their current 11th place. However, there is the issue that Pulis is reportedly requesting a vast sum from the Eagles' owners for a huge summer rebuilding job. Obviously, finishing the season on a high – both in terms of performances and results – would be yet another reason for him to insist on this, challenging the owners and backing up his request with evidence for tangible progress achieved by him this past half-season.
The Pulis effect
Holloway was sacked at the start of November, swiftly after the 2-0 Palace defeat to WBA. Under his watch, the Eagles clearly played passing football easy on the eye. But, as was the case with his previous stint in the PL with Blackpool, Holloway displayed an alarming lack of tactical acumen to make his team either more clinical going forward – to top all the pretty possession and build-up play – or defensively more resolute.
As a result, from the ten games Palace played with him in charge, the team registered nine losses and one win. The defensive stats were appalling – no clean sheet, 21 goals conceded. The attack was clearly no better – six out of these ten games saw the team failing to score, with only six goals registered from these 10 matches. The paltry total of only three points won placed the Eagles firmly at the bottom of the league table. It looked like Crystal Palace were doomed to once again quickly get relegate following their promotion from the Championship, confirming the feeling of being nothing more than a 'yo-yo' club.
But then, in came Keith Millen who served as the caretaker manager between Holloway and Pulis. He managed Palace for three games – against Everton, Hull and Norwich – registering four points and keeping the team's first two clean sheets. Pulis' first game in charge came at the start of December, a 1-0 home win against West Ham.
Since his debut as a Palace manager, Pulis played 23 league games. Opposite to Holloway's regime, Palace is play football that isn't as aesthetically pleasing under Pulis, but the efficiency is similarly stark in contrast. Pulis' Palace registered 11 wins, three draws and nine defeats; 10 clean sheets and nine games where the players failed to score; equal numbers of goals scored and conceded (21). The home record – as was always the case with Stoke under the Welsh manager – has been the key for Palace's survival and recent surge up the table. From the 12 home games up to now, the Eagles registered nine wins, one draw and four defeats. These games saw the team keeping six clean sheets, failing to score only four times with a +1 goal difference (11 scored and 10 conceded). The interesting thing is that at home, Stoke are hugely efficient – the seven wins saw five 1-0 wins, a 2-0 win and a 3-1 win. The draw was 1-1 (with Norwich), with the four defeats being against Newcastle (0-3), Man Utd (0-2), Southampton (0-1) and recently Man City (0-2).
Tactically, Pulis' approach hasn't changed from what he showed at Stoke. The main theme is being defensively solid, keeping a very tight, two banks of four, shape without the ball. The team is so tight and narrow, with the players keeping such positional discipline, that there is rarely even an inch free space in behind the defence, between the lines or around the players. The back four sits deep and compact, with the midfield unit being the key as to how and why the team is being so defensively resilient. The full-backs are often used as additional centre-backs, tucking inside to make a very narrow back four unit with the wide men then expected to drop in and cover the wide areas.
Even since his Stoke days, Pulis insists on his midfield quartet acting as one whole when the team is out of possession and defending in their own half. The four players are expected to be close together, not conceding space between them in order to be in touching distance to be able to support and cover each other.  When the opposition has the ball, the midfield four is expected to move as a unit towards the zone where the ball currently is. This enables them to both have a player or two in close proximity to the player in possession, putting pressure on him, without sacrificing positional solidity and gifting space in behind or around them. This means that if, for example, the opposition is currently attacking down the left, Stoke's left winger and left-sided midfielder are closing down the man in possession, with the right-sided midfielder and the right winger tucking inside to keep the distance between the players minimal, continuing to keep the shape narrow and compact both vertically and laterally.
That constant movement towards the ball, while maintaining the defensive shape, is what makes Pulis' teams so hard to penetrate. There is rarely space around where the ball currently is, with the space often being only down the opposite side but near the touchline. And as Pulis always has strong and tall defenders and defensive-minded midfielders, he is happy to see the opposition being forced out wide with the single option to either whip in the ball or play endless sideways passes in front of his two defensive walls. Both variants are good for Pulis as the crosses is the one thing his teams have always been brilliant at dealing with; while the non-stop passes ahead of his defensive units rarely offer direct penetration unless one of his players makes a positional error or simply switches-off and leaves an opponent to freely move into space.
That midfield solidity is often maintained and at times made stronger due to the insistence of the player playing just off the front man to also drop deep and stay behind the ball. It doesn't matter if that player is Ledley – a natural midfielder – or Chamakh – a natural striker. Either player is often getting back near the midfield line, helping to create a flat midfield five. The presence of an additional player in that zone simply helps the team to even better and more efficiency cover the space, further making it difficult for the opposition to turn their possession into genuinely dangerous attacking moves.
In attack, Pulis' tactics are very simple but also efficient. Apart from being masters at creating chaos during each set-play, which then often leads to someone putting the ball into the back of the net, Pulis' teams are dangerous on the break. It could be said that given the personnel at his current disposal, Palace are more dangerous, thus efficient, on the break than Stoke were. At Stoke, the players too often directed the ball towards Crouch or Walters, waiting for the two of them to muster something out of nothing. The wingers – most of the time Etherington and Pennant – were simply additional crossers of the ball, not players used to offer greater movement interplay on the break.
At Palace, the case is different, as currently Pulis has players like Bolasie and Puncheon playing on the flanks, with Ledley being used either in midfield or just off the front man. In addition, although Jerome and Chamakh are good headers of the ball and can play with their back to the goal, both of them prefer the ball to be played to feet rather than in the air towards them. In contrast to Stoke's wide pairs, Palace's are both capable to carry the ball forward but also dart diagonally and offer a direct goal-scoring threat. This is especially true for Puncheon who is particularly adept to drive at goal on and off the ball due to being a left-footer playing on the right. If Ledley is in midfield with Chamakh playing off Jerome, Palace is also granted extra verticality coming through the middle. The front pair rotate who will drop deep and who will push slightly wider, with Ledley capable to time his late runs very well to receive knock-downs or count on rebounds to fire the ball at goal.
And while defensively it doesn't matter if Ledley or Chamakh is the player just off the main striker – in that both of them spend a lot of time closer to the midfield quartet – in attack there is a subtle difference. If it's Ledley in midfield and Chamakh closer to Jerome, Palace often plays like a pure 4-4-2 team in attack. The team aims, more often than not, towards the front pair who then look to feed each other or knock the ball down for the on-rushing wide men. In this scenario Puncheon concentrates mainly on being a wide presence, receiving the ball out wide and then dribbling his way into good crossing positions. The midfield two are generally expected to stay deeper and keep enough bodies in central positions to prevent easy counter-attacks being organised by the opposition.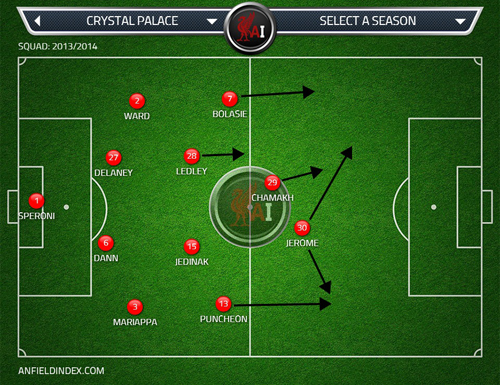 Alternatively, if Ledley is playing as a second forward, be it either alongside Jerome or Chamakh, the team is capable to offer that extra movement fluidity and emphasise interplay between the three players playing off the main striker. With Ledley used higher up, Dikgacoi is played alongside Jedinak. With the two of them proving the stable platform and using only one natural forward up front, there is now a bigger responsibility on the band of attacking midfielders to provide that extra incision and penetration in attack. Here, the wide men are more prone to be darting infield off the ball with the full-backs (although not being natural wide men – Mariappa is a centre-back while Ward is a holding midfielder) expected to push forward and overlap a bit more. This gives Ledley more room to conduct the play for his team from higher up, having enough bodies around him running in different directions and threatening with an off-ball run. As such it could be said that in this variant Palace are attacking within the 4-2-3-1, but one who is not so focussed on ball retention, other than simply searching for the quickest and most direct way of putting the opposition defence under pressure.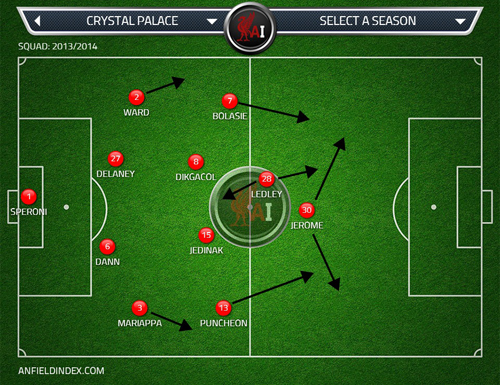 Potential formation, starting XI and strategy
It's easy to guess what Pulis' formation and main strategy will be for this game. He rarely changes the main emphasis of what his team is told to aim for from a tactical point of view. The only thing that is subject to variety is how aggressive his team would be when it comes to behaviour when out of possession.
During his Stoke days, sometimes he is prone to use fierce pressing against passing teams he believes he could unsettle from early on. This is something his current squad perform very well, with the forwards and the wide men being mobile and hard-working enough to pull off such an active closing down process, deep into the opposition's half. In addition, the midfield duo – be it Jedinak and Dikgacoi or Jedinak and Ledley – are capable to quickly cover a lot of ground, with Jedinak in particular topping the season charts for both tackles and interceptions. In addition, while not speedy per se, the centre-backs Delaney and Dann are not as immobile as the majority of Pulis' centre-backs were at Stoke. This means the team could play with a reasonably high defensive line without worrying simple balls over the top will catch them off guard.
However, it makes little sense for Pulis to employ such a tactical move in this game, at least from the start. Liverpool have grown more and more adept at dealing with being closed down, while the technical skills of their midfield, coupled with the pace and directness of the front unit, poses just too much risk on the break. It seems much more probable to see Palace approach the game in an overly reactive manner, sitting deep and concentrating on denying Liverpool even a pocket of space in their half, waiting for suitable moments to steal the ball and break away dangerously. The home team could look very similar to what Chelsea showed at Anfield last week. Narrow back four, deep lying midfield three, wide men as auxiliary full-backs – all forming a ten-man wall behind the ball ready to nullify Liverpool's attacks and waiting for chances to hurt them on the break or via some set-play.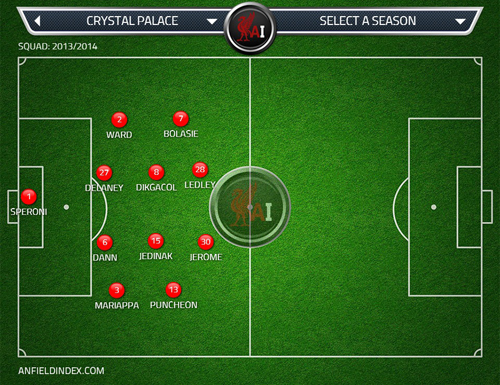 In terms of formation Palace will surely start with their 4-4-1-1 look alike. Pulis' whole squad is fully fit, so the usual starting XI should continue here. In defence, from left to right, Ward, Delaney, Dann and Mariappa will form the back four. Bolasie and Puncheon will continue down the flanks with Jedinak holding in midfield. The main dilemma ahead for Pulis is how to construct his front pair, something that will have an influence on who is going to partner Jedinak in midfield. With Liverpool surely to dominate in terms of possession and territory, the Welshman might prefer to continue with Jerome up front, due to his better mobility and knack to roam the channels well, hoping he will have more space to do so against a defence pushing higher. Then the question becomes who between Ledley and Chamakh to partner him in attack.
Chamakh started against both Everton and Man City – similarly possession-oriented, highly technical and dangerous attacking teams like Liverpool – and did a good job defending closer to the midfield unit in addition to linking up the team with good hold up play. Pulis might prefer to replicate that effect against Liverpool, using Chamakh as the deep-lying target-man who would act as the main out-ball and the connector between the deep-lying back six, the on-rushing wide man and Jerome staying higher up the field. Here the question will be who, between Ledley and Dikgacoi, will partner Jedinak in midfield. The latter sat out the game against City due to a slight injury, but is generally the preferred option due to his physical build and no-nonsense defensive approach. Equally, with Liverpool having some tricky and mobile players in midfield, Pulis might prefer to have the more energetic and mobile Ledley sitting alongside Jedinak.
Alternatively, with Gerrard playing as Liverpool's sole holding midfielder, Pulis could decide the best approach is to have players capable to exploit the space in the zone between the lines. Ledley is naturally a busy player, looking to drop in or drift wide from his advanced position. This will pose Gerrard bigger positional problems than the physically stronger but also more static Chamakh. With Ledley roaming around, dragging Gerrard out of position, Puncheon and Bolasie could be urged to cut infield and look to present themselves in goal-scoring positions down the inside channels.
Liverpool
Simply said, this game for Liverpool would be a continuance of last week's 'break through past the parked bus' exercise seen at Anfield. Palace's probable defensive shape and overly reactive tactical behaviour would be reminiscent of Chelsea's 4-2-4-0 in addition to their on-pitch defensive antics. Similarly to Chelsea, Palace dropping so deep would mean minimal – if any – space in behind them, while their defensive formation being so narrow, tight and compact would lead to hugely compressed space through and around them. The only free space is likely to be down the flanks, near the touchline. But in contrast to last week, Liverpool would do everything in their power to prevent a similarly unimaginative approach; other than simply whipping the ball into the box with an endless stream of poor crosses.
Due to Liverpool absolutely needing to win this game, with every passing minute they struggle to open up Palace, their players are likely to feel the nerves and tension with the hosts growing in confidence and settling in into the game nicely. That's why the absolute vital thing for Liverpool to try and prevent last week's attacking debacle is to see the players drilled better and this time with clear purpose in their play, resembling a specific and tactically sound plan as to how the manager expects them to open up and penetrate the opposition. For this, obvious lessons should be learnt with the players keeping their composure and patience, showing a drastically improved intelligence on the ball to then show the required awareness of where the free space is and how to better exploit it. In addition, quicker tempo with the ball being swiftly moved from side to side and up and down the pitch, would be needed to more decisively direct the ball towards the zone currently Stoke are undermanned and there is the possibility to leave Liverpool players 1-on-1 or 2-v-2 in certain zones. This rarely happened in the Chelsea game with the Reds' sluggish ball retention leaving plenty of time for Chelsea to re-group and quickly crowd out the incoming attacking players.
All of the above would be particularly needed if Liverpool fails to find an early breakthrough and score a goal inside the opening ten to fifteen minutes. Last week, as much as Chelsea defended superbly – tactically as a group and technically as individuals – Liverpool's main enemy was their own impatience, being bereft of ideas on the ball with their movement off the ball strangely not elaborated and cohesive as usual. There is every reason to believe that no matter how well Palace are going to defend in this game, if Liverpool are anywhere near their tactical and attacking best, it's hard to imagine the Reds being so toothless in attack and failing to score at least once from open play, in addition to their usual prowess from set-plays.
Tactically, with Palace expected to sit deep and narrow with at least eight men behind the ball, the key for Liverpool would be to count on ability to create positional overloads (something that was horribly missing last week too). The two main zones two do this is down the flanks and through the middle, with Rodgers' choice of formation dictating where the main emphasis would be.
Going wide with 4-1-2-3
As it's likely Palace will leave minimal space between their lines and in behind, the logical approach for Liverpool would be to try and go around them, rather through them. The 4-1-2-3 is inherently capable to provide extra attacking width due to the possibility of counting on overlapping full-backs in tandem to wide forwards.
This means it'll be easier for Liverpool to push on a pair of players down each flank, with the aim to try and drag Palace towards the flanks in a bid to open up space through the middle. The matter could be taken further if the midfielders are also geared up towards initially moving down the flanks to create triangles within which the ball could be quickly circulated and worked into situations suitable for attempting cut-backs or little angled passes. What's more, with the lone striker also drifting wide, the formation is capable to create wide diamonds with the full-backs sitting at its base, the lone striker spearheading, with the winger and the midfielder being the side players.
Creating wide diamonds would first have enough passing angles to move the ball with incision and second provide the required extra bit of movement interplay with players first drifting wide to participate in the build-up play before looking for ways to sneak infield off the ball.
There were official reports saying Sturridge hasn't been training during the whole week, entering training only on Friday. But this still should give him plenty of opportunity to regain closer to full fitness and start the game. With him on the pitch Rodgers would be able to return to the previously attack-minded 4-1-2-3 formation with him spearheading the front line with Suarez and Sterling either side of him. This will leave Coutinho and Allen ahead of Gerrard in the midfield three. Such a line-up will provide Liverpool with enough capability to retain the ball solidly, combined with enough direct attacking presence in terms of dribbling skills, ability to thread through balls and move sharply off the ball. Suarez and Sterling on the flanks would provide that extra ability to dribble past players, while having Coutinho in midfield would at least partially compensate for the loss of Henderson's verticality. The Brazilian is adept to carry the ball forward and provide that extra incision with his through balls.
Due to sitting so deep and narrow, it is unlikely Crystal Palace would pay particular attention to Gerrard in terms of assigning someone to stick tight on him and close him down in possession. That freedom should be used by Liverpool with Rodgers encouraging Gerrard to roam forward in the way he did in the second half against Chelsea. Having Gerrard initially deep to pick up the ball and quicken up the tempo by switching the ball down the flanks would still be needed. But once this first phase of the build-up play is done, Gerrard should focus on pushing forward and going deep in Palace's half from where he could be a menace with either his long shoots or his ability to unlock the defence with some killer passes. He and Coutinho supplementing the front line with a constant stream of through balls would be better than having only the Brazilian trying to feed the attack.
Then depending on how Palace precisely to line-up and how much ambition they show in attack, it would be either a case of Allen hanging a bit deeper and using his mobility to quickly cover for Gerrard's advanced positioning by dropping near the centre-backs (if Palace play with Ledley in the advanced midfield position and are keener to interplay more freely on the break). Or in case Chamakh starts alongside Jerome up front and Palace show signs of being happy to simply lump the ball forward, Allen could concentrate on bursting forward from deep too, providing that extra attacking presence with his late runs. To offer the centre-backs some kind of additional protection though, Flanagan would be assigned to sit relatively deep on the left and always being ready to tuck infield and use his tenacity to fight hard with Palace's front pair.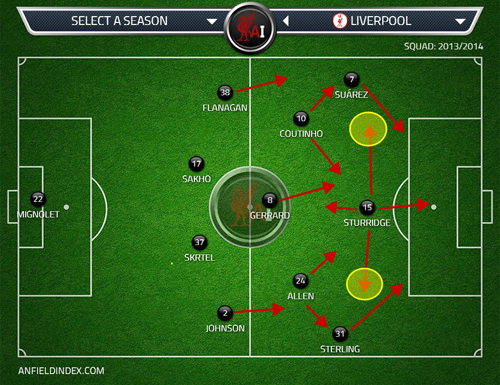 Going through the middle with 4-3-1-2
The alternative solution is to see Liverpool insisting on going through Palace and putting emphasis on creating central overloads. Tactically this seems less suitable but there are certain moves Rodgers might decide to make in order to improve the chances to actually see his team succeed in making the central areas the decisive battle.
To do this Liverpool would need extra guile on the ball, additional dribbling skills and much improved ability to interplay off the ball. These three factors should theoretically improve by simply starting with Sturridge and Aspas instead of Lucas and Allen respectively. This would mean Gerrard continues to sit at the base of the midfield diamond with Coutinho and Sterling either side of him. Such a midfield three is capable to both offer passing incision from deep (Gerrard) and a bit higher (Coutinho) in addition to extra forward runs and dribbling skills (mainly due to Sterling starting in Lucas' place). In addition, having Aspas just off Suarez and Sturridge should enable the team to offer that extra bit of dangerous movement off the ball, with the three of them capable to drop deep, drift wide or get in behind. In any given moment one of them could be on the ball, the other making the naturally attacking decoy run with the third aiming to get into the pocket of space created somewhere across the final third.
Johnson quickly getting ahead of the play on the right and Flanagan's late runs on the left would be Liverpool's prime source of width. But all players within the front five unit are naturally capable to also drift wide and help provide that extra width to stretch the play and force one or two of Palace's players to go wider. As above, Gerrard should be completely unoccupied, resulting in being encouraged to step forward and help his team attack en masse.
As a whole, that front five unit actively supported by Gerrard coming from deep, should result in Liverpool boosting six players through the middle all of whom are capable to provide the killer pass, offer the final run or deliver the piece of individual magic – be it dribbling run, long shot etc. to unlock Palace's defence and help the team score a goal or two. It might result in congestion and emphasis on play towards the middle, but it would also result in overloading that particular area. In such a scenario Liverpool should back themselves to benefit more due to their greater individual quality and technical ability to both pass and run on and off the ball in a manner that will create and then exploit even the tiniest pocket of space available. If this is topped with the required patience and tactical intelligence, it should result in an unstoppable combination.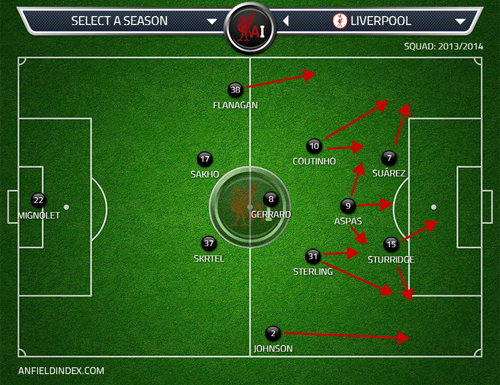 Combine all in a 4-2-3-1 framework
The alternative to both the 4-1-2-3 and 4-3-1-2 formations is the 4-2-3-1 framework. Naturally, it would allow both approaches – going wide or through the middle – to be implemented simultaneously, resulting in a highly fluid and attacking approach.
With Suarez playing off Sturridge and Coutinho coming infield from the left while Sterling maintains his wider position on the right, Liverpool would have a front unit capable to create both central and wide overloads. Suarez and Sturridge playing as a proper front pair should mean Palace's narrow back four is occupied; meaning Coutinho in-cutting from wide and Allen pushing from deep would be tasked to provide the additional presence through the middle. Meanwhile, Sterling and Johnson combining on the right should result in that flank being a constant worry for Palace, especially given Liverpool's pair is capable to mix their approach and in any given moment rotate who between the two would stay wide and move diagonally on and off the ball.
In short, this approach would allow Liverpool to offer the required overloading process full of fluidity off the ball and incision on it through the middle, in tandem with the right flank providing the attacking width to initially stretch the play before also supporting the attack by sending an additional player into threatening positions in and around the penalty area.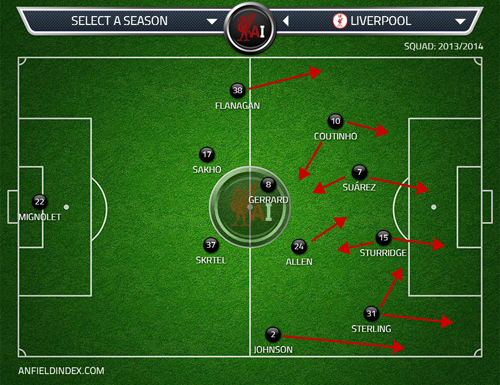 And while the above scenario will make Liverpool look like playing in a lopsided 4-4-2 formation (a-la Man City under Pellegrini), the following alternative aims to spread out the front line and offer diverse and rotating points of attack.
Starting with Suarez and Sterling down the flanks and Coutinho ahead of Gerarrd and Allen will result in a 4-2-1-3 formation. The main attacking approach here will be very similar to that of the above 4-1-2-3 variant, in that the front line will be spread out rather congested in one particular zone. The difference is that instead of aiming to create wide overloads – be it via triangles or diamonds – the emphasis here would be simply on creating a whirlpool of non-stop movement dynamism full of interplay and runners, coming from different zones, roaming in all directions.
The only 'static' players would be the advanced playmaker Coutinho and the deep-lying playmaker Gerrard. The Brazilian will be sitting between the lines, looking to drop deep or drift wide in order to move into free space to receive the ball, from where to look and turn the possession into something penetrative. Meanwhile, the captain would be expected to conduct the play from deep, picking up the ball from the centre-backs and looking to quickly feed it towards the front players. Around the two of them, Allen coming from deep, Suarez seeking to move infield, Sterling initially staying wider before looking to break the lines and darting in behind, on top of Sturridge simply roaming wherever he sees fit, should result in the required steam of cohesive and dangerous movement off the ball that aims to break down Palace's defensive shape. Johnson motoring forward on the right and Flanagan joining later on down the left should also help Liverpool put Palace under sustained attacking pressure, full of passing fluency and movement fluidity.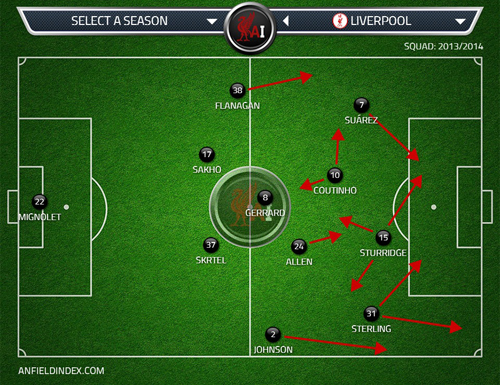 Conclusion
No matter the exact approach in terms of formation and players' positioning, Liverpool have the tactical and technical resources to win this game, but it depends on how much improvement Rodgers will manage to extract from his players following the Chelsea game.
The fact Liverpool need to win here at all costs in combination with Palace expected to continue look overly reactive and defending with huge numbers of players behind the ball, should result in Rodgers being tactically braver, right from the start, and approaching the game with a formation and personnel allowing for drastically increased attacking potential. Rodgers prides himself of being an attack-minded, progressive manager and this game gives him the perfect opportunity – and a reasoned one – to fully showcase his beliefs aligned with his coaching nous to drill his players properly. Once a goal or two is scored it'll be easier for the manager to gradually solidify his team defensively and seek to close out the game instead of trying to figure out ways to break down an increasingly confident and motivated opposition (especially if Palace manage to open the scoring) with time running out fast.
Win this game and Liverpool will continue to dream of landing the 19th league title during the last day of the season. Fail to win it and it's largely out of their reach, unless Man City miraculously lose against one of Aston Villa or West Ham. Lose it and the title fight might simply be over for the Reds.
[ttt-subscribe-article]