By Mihail Vladimirov.
Both managers went with, to an extent, the expected starting XIs. For Rodgers, the main dilemma was whether to stick with the 4-3-1-2 seen in the last four games or revert to the previously used 4-1-2-3. He opted for the latter, putting increased onus on creativity and penetration by starting both Sterling and Coutinho – therefore there was no place for Allen who sat on the bench.
Sherwood stayed true to his word and didn't risk Adebayor, so Soldado continued up front in their usual 4-2-3-1 formation. There was only one change following the game against Southampton – Sigurdsson replaced Dembele alongside Bentaleb, meaning Sherwood went with an extremely attack-minded side lacking any defensive cover.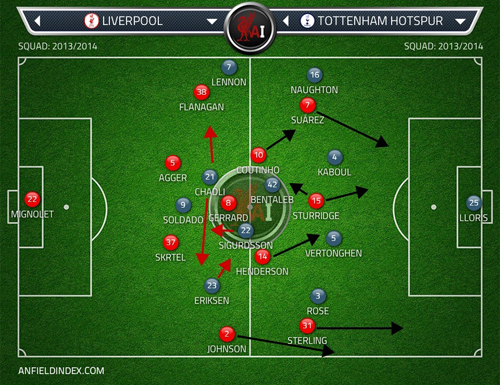 Rarely is a game so damning with regard to one side's weaknesses, further magnified by its manager's starting selection and lack of a clear tactical game plan. Nevertheless, this is exactly what happened, as there was barely anything that made sense or went right for Spurs tactically. From the moment Rose's punt of a forward pass gifted back the ball to Liverpool and gave them the chance to start a passing sequence of more than 20 passes during the build-up for the first goal, it was crystal clear what, where, when, how and why this game was going wrong for the visitors' starting approach.
Sherwood undermines Spurs defensively, again
Even for a self-professed tactical-layman, Sherwood's game plan in this match was extremely naïve and so atrociously poor that it bordered on being a sack-able offence in its own right (especially if coupled with his pre-game comments). There is nothing wrong per se in playing down the importance of tactics and trying to emphasise other parts of managerial duties – such as man-management or training. Often such media behaviour could be labelled as a PR trick and a way for the manager to direct the conversation towards a sphere where he is more comfortable. Harry Redknapp often enjoyed portraying himself as not particularly interested in 'the whole tactical stuff', but he rarely got things so wrong, on such a regular basis, when it comes to managing his team tactically pre and during the games.
A problem would definitely arise if a self-professed tactical layman actually lives up to his own words, delivering so much evidence of his tactical ineptitude. Especially if there is also enough proof for him being a poor man-manager and evidently not having any input on the training ground. The matter gets even worse – bordering on diabolical – when we talk not about some semi-professional manager but actually the manager of one of the leading clubs in one of the most competitive leagues in the world.
In a way, Sherwood's starting XI was brave and suggested he wouldn't simply lay down to Liverpool, but was prepared to give them a real battle in a game where Spurs had nothing to lose and only to gain. Following this it could be argued that the manager's logic was that he knew, sooner or later, Liverpool would muster a goal, so Sherwood's plan was to actually put emphasis on what his team is better at – attacking – in order to exploit what Liverpool struggle more with – defending. All of this is fine on a theoretical level and seemed to be the only way this starting XI would be worthwhile.
From an attacking point of view, Spurs had the weapons to worry Liverpool. Eriksen cutting infield from the left, Chadli drifting from side to side and Sigurdsson pushing forward from deep with Lennon staying wide on the right to stretch the play; this could have created that type of movement whirlpool that at the very least promised to put Liverpool's midfield, and especially its anchor-man Gerrard, under real pressure. There was the possibility to see Gerrard continually overloaded and unable to deal with all the threats coming in between the lines. This would have forced Henderson and Coutinho to repeatedly drop deep and support, something that would have pinned the whole Liverpool side deep and forced them mainly to defend. This would have benefited Soldado in terms of offering him greater support. Meanwhile, the full-backs would have had the chance to exploit the space vacated by Liverpool's deeper midfield, and further put pressure on the opposition. All of this would have then left Spurs' defensive midfielder to stay in behind and in touch with the centre-backs, providing that extra support against potential Liverpool breaks. All in all this would have been very similar to what, for example, Man City did to Liverpool in the game at the Etihad.
But for all of the above to be true, Spurs' players would have needed to offer not only reliable ball-retention in possession but also aggressiveness when out of it to try and quickly regain the ball, or at the very least deny Liverpool time on the ball to proceed with their counter-attacks.
However, simply said, this is not what Tottenham's starting XI were evidently trained, prepared and instructed to do; if there were any kind of specific preparation and instructions issued by their manager. As a result the visitors' overall behaviour was in a stark contrast to what the selected starting personnel was capable to offer.
The first obvious disconnection between actual behaviour and the starting XI's capabilities was that Spurs weren't pressing and instead looked to drop into a solid defensive shape. The problem was that with the attack-minded selection: the full-back (Rose) in defence, who was formerly a natural winger; an inexperienced holding midfielder, who is actually better closing down the space of the opponents rather than staying in behind to cover (Bentaleb); a proper false 10-type of attacking midfielder (Sigurdsson); a proper #10 playing out wide (Eriksen); a natural wide man playing centrally (Chadli); and a defensively-capable but only if in the right frame of mind winger  – which is a problem as he is an overly moody player (Lennon). It was overly optimistic at best and simply suicidal at worst to hope your team would be able to offer the required positional stability when defending. Which was evident as soon as Liverpool managed to get hold of the ball, and spend the minute and a half between when Rose gifted them the ball and Kaboul comically scored the own goal. In that situation, it was obvious how Spurs had too many players simply jogging around, not bothering – or able – to get back into suitable defensive positions to cut-off the passing angles for Liverpool on top of defending their own zones. It resulted in too much time and space for Liverpool to first steady and then gradually develop their passing move, resulted in the overloading of the right flank from where Sterling found Johnson in behind, who then put a good cross into the box for Kaboul to 'oblige' with a tap in.
The rest of this article is for Subscribers only.
[ttt-subscribe-article]