This was one of those posts that was asking to be made into an article. It first appeared on the Brendan Rodgers thread and is now reproduced, with only the merest editorial tweakage, for the enjoyment of anyone who missed it first time round or who simply wants to read it again; nice one Jim.
By James Haydon (TTT Subscriber JimH).
According to many LFC articles and comments since 2012, "Brendan Rodgers has no Plan B."
This blindingly obvious accusation seems to have first arisen in relation to Andy Carroll, hence a stick to beat Rodgers with, as he didn't believe the Geordie realistically had a future at the club.
Can I ask those of you who haven't "written England off" for a tournament in Brazil this summer: Should Andy Carroll be looking forward to a place in the first team, ahead of Daniel Sturridge and the amazing Danny Welbeck? (There are several amazing facts about Welbeck, which may not all relate to his footballing ability).
Well, when Plan A is this bloody good, you can keep all your Plan B. C, D, E, Z's (American pronunciation, for once   ).
Except it's wildly inaccurate, isn't it?
433, 4231, 352, 442 featuring a diamond….. No plan B?
Jon Flanagan at left-back (Incidentally where I'd put him in our next game)…. No plan B?
Raheem Sterling at right wing-back….. No plan B?
Having Coutinho playing deeper than before, closer to a deeper Steve Gerrard….. No plan B?
Have you considered all of LFC's defensive options recently?
A number of different styles can be deployed; as with the varying formations mentioned above, but also with an eye on each specific match, which is why I would play Sakho if fit, at Old Trafford – you know there will be high balls, dead balls, and crosses, into our penalty box, versus Man Utd, don't you? Especially if there have been no changes in administration before the LFC coach passes through Old Trafford's gates on 16th March.
We've returned to Skrtel/Agger for the last two matches, and against a very good Saints side who play some lovely football, they looked very good, albeit that Southampton could have been more clinical; or perhaps Mignolet hadn't had such a good game, or Lallana's shot after a lovely move by them had squeezed into the back of the net.
Having said that, we could have been out of reach by that time if we'd put all our chances away. I believe so, anyhow.
What about the substitution yesterday, Sterling for Coutinho? Just how good was that? We looked more solid after RS came on, and Lallana seemed to fade as the game went on, so when Sterling scored, that almost seemed to settle the match, no?
What about a plan B for Luis Suárez, is there one? Probably not, but hasn't he played in four positions this season, or something close to it? Part of a front two, through the middle in a 433, from the left in a 4231, and up front in the same? How about playing him behind Sturridge in a 4231 at Old Trafford? I certainly wouldn't mind seeing that, what would you say?
Whichever way you look at it, Suárez seems to be the ultimate Plan B, such is his genius: scoring whatever kind of goals you fancy, headers, free-kicks, tap-ins, solo goals, exquisite team goals, or goals of the season – which do you want exactly? Or maybe you'd like him to be a top creator, a sort of England cap generator, ahead of their campaign for the World Cup? You know, a very different kind of player to that which you'll find playing at Manchester United right now, whose attackers seem to bump into each other, and struggle to get on the end of clear-cut chances, or even pass to one another (notwithstanding crosses, of course).
Maybe you'd like the Suárez that gets managers sacked, because let's be honest, it is him, isn't it? Maybe that's Plan B, because if you've sacked your manager, it's not very likely you're playing very well against us, is it? Who's next on his list? Moyes, Pellegrini…. blimey – The Special Narcissistic Offensive Hypocritical Moody Prodigal One? Sorry to disappoint, but even Suárez probably can't get him sacked, just yet. Maybe that's reserved for when LS will be world player of the year, in a year or two.
For now, let it be that Brendan Rodgers has a decision to make:
BR: "You might as well get Moyes sacked in the next game Luis, even the Glazers are waking up to just how bad he is…"
LS: "Really boss? Steady on…"
BR: "What did you just say?"
LS: "Nothing…"
Perhaps plan B is simply not being afraid anymore:
Not being afraid to say what you think, not being afraid to have possession and to keep passing to each other. Having no fear to allow players off a metaphorical leash, with Henderson scoring beautiful goals, Flanagan arriving in the box as well as sending penetrating passes into our attackers, or instilling into players like Sterling and Coutinho that they shouldn't fear to be physical, as though having certain technical ability should quell more combative attributes – such attributes are not mutually exclusive, as Suárez himself often shows.
There is undoubted significance in Rodgers' "possession, penetration, pressure and patience" philosophy, and aren't we now seeing results as a consequence? I say yes, undoubtedly.
There is such a thing as healthy fear of course, i.e. Rodgers feared what Southampton could do to us in the middle of the park yesterday, which no doubt contributed to his decision to play a 442 diamond. I believe this lead to them sending more crosses than against any other team, despite them not definitively being set up to play that way, no? Whatever the case, they were ultimately unsuccessful, which is what really matters.
Has Rodgers instilled a 'no fear' mentality into LFC? It looks that way to me – even the fanbase seem to be reflecting that now, with some of those great songs reverberating around Premier League stadia, and with plenty of us allowing ourselves to dream. Isn't that what LFC is about, firstly and foremostly? Jocky himself said "They are right in it and I would love it love it love it if they won!" Even Robbie Savage nearly choked when he had to agree that we "can win it"!
We're probably not going to win it, but we certainly don't have to fear dreaming that we can. What else is a "bastion of invincibility"?
Plan B? Pah!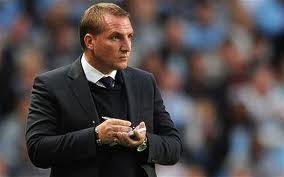 Plan B, first draft ….