By Neil Mundy (TTT Subscriber NeilM).
Cue 'Closer each day…' – Home & Away theme tune.
OK, erm, apologies – rest assured this article isn't actually going to be about naff Australian soaps. (Though let's not forget that Alan Fletcher of Neighbours, aka Doctor Karl Kennedy, is a massive Red, so there's a link of sorts …!)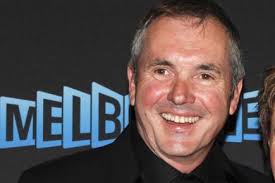 Dr. Karl Kennedy's a red  
Given Liverpool's recent scintillating League form, there has been talk of the Premier League title in some quarters. Whilst this seems premature for a side which finished 7th last season, a look at the table reveal that Rodgers' Reds are currently only four points off top spot – the closest they've been at this stage since 2009, when they ended up finishing an agonising, yes, four points away from their 19th league title. But is talk of a title tilt justified? Despite the manager's recent comments trying to underplay the Reds' involvement in any title race, his skipper is clearly not reading off the same page. Steven Gerrard's celebration after his last-minute penalty winner at Fulham recently was, yes, the reaction of a man who's just scored a last gasp goal, but also possibly one of a man who believes a League Championship medal might be destined to finally come his way in the unlikeliest of fashions.
One thing which we're often told comes into play for a title challenge is good away form. But does it really have a massive bearing on the destination of the title, compared to being strong at home? I decided to look at the form of the top 4 over the last ten years, both home and away (hence the cheesy title and epigraph –apologies once more), to see if one appeared to have a more positive effect on both finishing in the top 4 and winning the title than the other. Which is the more decisive, and how are Rodgers' Reds measuring up in both categories?
Counter intuitively, I decided to look at away form first:
The rest of this article is for Subscribers only.
[ttt-subscribe-article]