By Mihail Vladimirov. 
For Liverpool, Rodgers unsurprisingly decided to keep the same formation and personnel he used against Cardiff. In stark contrast, Poyet made several changes to his starting XI and opted for a 3-4-1-2 formation.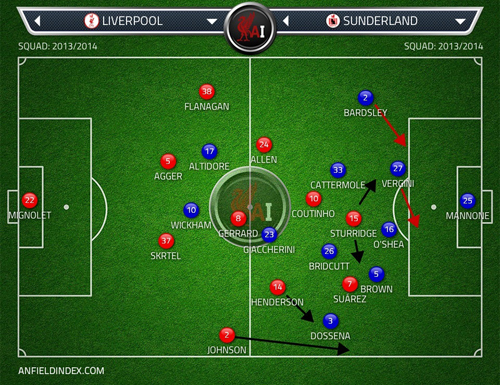 Poyet's selection choices
On first glance, Sunderland starting with a back three system was solely to account for Liverpool's formation and specifically to try to deal with the threat of Suarez and Sturridge up front. As much as it was surprising to see Poyet deviate from his usual 4-1-2-3 formation, it was logical to see him worried about the home team's front pair and wanted to have the added security of a spare man against them. Then, presumably, Poyet knew he couldn't rival Liverpool for possession, he opted to field only three midfielders but put two forwards up top to play 2-v-2 against Agger and Skrtel. Obviously he regarded this as a better perspective than matching Liverpool's midfield quartet but using only one forward. If Borini – or a similar striker, who has the mobility and the ability to work the channels as well as to provide a threat in behind – was available, Poyet might have been happier to use only one striker. However, neither of the available forwards – except Scocco, who remains bafflingly underused – was able to play on his own, without the support of at least two midfield runners. Nevertheless, with neither of Sunderland's midfielders naturally being capable of playing that role, it was understandable to see the Uruguayan manager counting on the Wickam-Altidore duo, and hope the two of them would help each other in attack and combine well to worry Agger and Skrtel 2-v-2.
Anyway, there was another reason – apart from the obvious tactical consideration – which perhaps played a big role in Poyet's thinking about his team in terms of formation and starting XI. In the last game against Norwich, Sunderland's manager was forced into two changes towards the end of the first half. Colback and Ki were subbed for Cattermole and Larsson. However, neither of the replaced players had injuries and obviously it was a drastic reaction from Poyet following his side's enormous under-performance. Apparently, after the game he clarified that if he could, he would have replaced between seven and nine of his players, such was the extent of his disappointment with his players. With this in mind, it was somehow logical to see Poyet's choices here reflecting this and being reactionary to what happened in the last game. Colback and Ki were kept on the bench and with Gardner (who again wasn't even on the bench) not generally fancied by the manager, it was a case of only Bridcutt and Cattermole remaining as choices for the midfield spot.
Overall, Poyet made five changes following the Norwich game. Alonso (suspended) and Borini (ineligible to play against his parent club) were unavailable – Dossena and Wickham came in their places. Colback, Ki and Johnson were the other three casualties, with all three benched for this game. Vergini (to allow for a back three) – Cattermole and Giacherrini came in their places.
Sunderland's defensive approach working nicely
Based on the starting XI and the shape they were lined-up, it was quite clear what Sunderland's starting approach would be. Obviously it was overly reactive with the back seven players all being defensive-minded players. In addition, even the front three players are generally hard working and not 'flair' players – further suggesting Poyet came here to completely shut up shop and frustrate Liverpool's narrow formation. In addition, it could be legitimately said Sunderland's approach proved extremely efficient – this game was the first time Liverpool were so toothless at Anfield this season.
Several factors enabled Sunderland to perform so well defensively. Starting from the back, what was initially interesting was the specific positioning of the three centre-backs. Given the type of players they are – and their respective qualities – it was to be expected that O'Shea (left) and Brown (right) would slot in as the side centre-backs, trying to stick tight on Liverpool's front pair whenever they drifted wide. This would have left Vergini – who is Mertesacker's lookalike in that he lacks pace but is a very good reader of the game and generally positions himself well – to slot in between them with the aim of dropping deep and mopping up in behind. However, as soon as the game started and it became clear how and why Poyet thought differently.
In reality, Sunderland's back three lined up as follows – Brown as the left-sided centre-back, O'Shea placed centrally with Vergini on the right side of the trio. Evidently, this was Poyet's reaction as he obviously anticipated Liverpool would again try to overload the right side of the pitch and look to channel the majority of their attacks through Johnson and Henderson, with the two forwards often drifting wide to help too. Using Brown and O'Shea in these positions suggested Poyet specifically wanted to have his two most positionally-savvy and experienced players over on that side. Brown (the better man-marker since his Man Utd days) was often seen sticking tight on whomever was going through his zone with O'Shea (who following his experience in different positions, is the better covering defender) often just behind him ready to sweep up. The peculiar thing with these two players was that actually they acted as a proper centre-back duo playing against a lone striker – Brown marking tight and engaging the opponent from higher up the pitch with O'Shea always ready to cover in behind him.
The rest of this article is for Subscribers only.
[ttt-subscribe-article]