By Paul Tomkins.
Let's get one thing straight: there's absolutely nothing brave about giving it a go when you've got nothing left to lose. The hard part in football is when you're expected to win, when qualification is taken for granted.
Like Roy Hodgson, David Moyes starts each game feeling like his team are 3-0 up; the 0-0 scoreline, in his world, feels safe and reassuring. It takes a big deficit to throw caution to the wind. In the game last Sunday, Moyes waited until his team were 2-0 down with 15 minutes left before making alterations. He spoke about being the underdog, at Old Trafford.
Brendan Rodgers, rightly, said he'd never think of saying such things about Liverpool at Anfield.
Once you are out of a game, or a tie, you can get adventurous; you can't be nervous about losing when you're already losing. The key is to be brave when it's 0-0, or you're 1-0 up. Bravery is about keeping the ball, and trying things, when it's in the balance and it's yours to lose. There's nothing brave about playing when you're 2-0 down or 3-0 up. Bravery occurs when the game is on a knife-edge. We can all chase a horse once it's bolted.
Anyone can give it a go when all is lost. Liverpool did so under Souness against Auxerre in 1991, turning around a 2-0 away defeat with a 3-0 home win in his first season, as the Reds sat well off the pace in the league. Sound familiar? Of course, we all know that it was the turning point for Souness, and Liverpool won the title in the next eight seasons.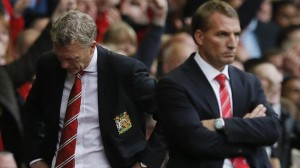 Last night Clive Tyldesley and Andy Townsend called Spurs "brave" for their late rally in Portugal.
Brave. Really?
(Simon Burton on the Guardian's match feed summed up what's wrong British commentators commenting on British managers:
"Clive Tyldesley and Andy Townsend discuss Tottenham's management on ITV4: "I think you'd like Tim to still be there next season," suggests Clive. "I know I would."

"Yeah, I think Tim's got the right character, I think he's got the belief of those around him, that he can make a decent fist of this job. And I think he will, given the opportunity," says Andy.

These people should simply not be allowed to talk about British people, because they are unable to judge them in any rational way. I just don't believe they would talk about, say, a highly-promising young Portuguese coach in the same way, no matter how many gilets he threw around.")
Won, Drawn and Quartered
Ever feel like the world has been tipped on its head? Re-watching Liverpool's win at Old Trafford, it struck me – given that nerves no longer played a part in the experience – just how utterly one-sided it was. It was like an invading army raping and pillaging a helpless village, the men giving up their women and children without a fight. I mean, have you ever seen so many bad challenges inside a team's own box?
It also continues to strike me how Liverpool have turned into something approaching the exciting United side of a few years back, with pace and skill, allied to a will to win – the ability to play like Champions – while United become ever more like Hodgson's Reds, with a favourite (failing, Fellailing?) midfielder shoehorned into the side, and passing patterns as basic as seen in your average under-9s match.
Once you've lived through something – once you know it – you can spot it again a mile off, and Moyes' shortcomings, like those of Hodgson, are not the kind that can be overcome with time. You can give a painter and decorator fifty years, the finest brushes and the most exotic pigments, but he'll still whitewash the Sistine Chapel with emulsion. In fairness, he might at first try a few tentative flourishes with those fine sable hairs, before reverting to the big tin of white paint and the spongy roller. You won't get The Creation of Adam, but if you're lucky he might be brave and go for beige or eggshell-white.
Liverpool had to get rid of Roy Hodgson because he was Roy Hodgson. Time wasn't going to make him Pep Guardiola, or even Brendan Rodgers. A few years back, during the depths of Hodgson's Anfield tenure (late 2010), I wrote a piece for the inaugural issue of the Blizzard magazine, talking about how almost every British coach promoted to a bigger club in recent history simply mirrored his achievements at the smaller club; indeed, often falling short of what was achieved on a shoestring budget when given greater funds.
Allardyce at Newcastle? – he was better at Bolton, whom he took to the top six, and the same relative failing applies with West Ham. Hodgson at Liverpool? – not even as good as his decent-but-unspectacular Fulham side, despite far better players. Curbishley at West Ham? – never matched his Charlton high once at the bigger London club. Mark Hughes at Man City? – choice of the world's best players, but couldn't even match his best league position from  Blackburn.
Right now, Moyes has an identical league record at United to the one he posted last year at Everton. Identical – to within one goal of goals conceded, the same amount having been scored. The list goes on and on in the modern, cosmopolitan world of Premier League football, where most British coaches got left behind. Brendan Rodgers is one of few, if any, to travel abroad for an education. Like our players, our managers are often too insular.
Despite what Andy Townsend may imply about them not getting a chance, British managers have been given a fair few bigger jobs in the past fifteen years, and aside from a fairly successful (but trophy-less) Harry Redknapp spell at Spurs, and before the increasingly exciting emergence of Rodgers at Liverpool, which of those appointed in that time has even looked remotely comfortable, let alone capable of taking their club to greater heights?
In that same time foreign managers have also failed, of course, but plenty have succeeded too, earning a far better hit-rate at bigger clubs. Even though some may not speak the language that well, they've never looked as lost for words as Moyes or Hodgson – the kind of managers unable to even explain what's happening. How can a manager address the problems if, after every game, he says he doesn't know what they are?
The rest of this post for Subscribers only.
[ttt-subscribe-article]