By Paul Little.
While some have likened David Moyes's problems at Old Trafford to Anfield managerial misery of Graeme Souness, for me, the happenings down Manchester way are more redolent of Roy Hodgson's nightmarish Liverpool tenure.
In fact, while Manchester United's struggles very often illicit chuckles and the odd hearty laugh, they also from time to time result in flashbacks to our own brush with managerial mediocrity and the current England manager.
There are no easy home wins in the Premier League, you have to fight for everything. The way we came back from 2-1 down was very commendable and towards the end of the game we were creating a lot of chances. We deserved our point. 

Roy Hodgson, 25 September 2010, Liverpool 2 Sunderland 2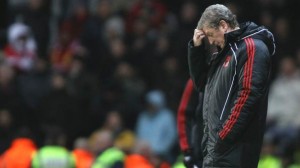 Obviously there are the results – the lurching from one shambles to the next and the gradual realisation that any apparent positive step forward will be quickly followed a two shambling steps back.
And then there's the football – that predictable, conservative, fear-laden approach to the game that defines both Moyes and Hodgson. That cosseted outlook that puts not losing first, that can't see beyond shifting it wide and getting in the box as often as possible, that seeks to somehow organise the ball away from your own net and into that of the opposition, and that even sees the football itself as a bit of a worry. Practical, robot football where nuance and inspiration are marked absent.
That was as good as we have played all season, and I have no qualms with the performance whatsoever. I only hope fair-minded people will see it the same way. 

Roy Hodgson, 17 October 2010, Everton 2 Liverpool 0
Oh, and when it comes to the similarities, one mustn't ignore that bewildered lack of understanding as to what is going wrong, the uncomprehending denial that methods that worked elsewhere – at Neuchatel Xamax, in Scandinavia, at Preston, at Everton – do not, will not, cut it at bigger clubs and at the higher level where winning and not just avoiding defeat is so critical.
I don't know what we have to do to win. I thought we were extremely unlucky. We played well but for their first goal it was an incredible deflection and the second was a worldy.

David Moyes, 2 February 2014, Stoke 2 Man Utd 0
Just think of those times, following a disappointing defeat or draw against middling opposition, when Hodgson or Moyes will lament that they do not know what else they could have done to win the game. Initially, you feel that they are cursing their bad luck – and indeed they are, in part. But then you realise that they are actually telling the truth – they really do not know what they could have done different or better, or what went wrong and how to fix it.
They don't actually know, because they are completely out of their depth.
And yet, Moyes is manager of Manchester United and Roy Hodgson was manager of Liverpool – the two most storied football institutions in the English game. It beggars belief in so many ways.
I can't do more and the players can't do more so we hope that work will turn our fortunes around and we get some batter results.

Roy Hodgson, December 2010
Whatever way you want to cut it, Hodgson's entire 35-year career suggested he had little or nothing to offer Liverpool – despite what a certain jingoistic cadre of the media chose to believe at the time. But Moyes's appointment in many ways is the more perverse. Liverpool were in the midst of a catastrophic civil a war that threatened the very existence of the club – that is the context in which Hodgson got the job, and in some ways, it is an extenuating circumstance, as the club, such as it was, was not in its right mind.
But what is United's excuse? Yes, Ferguson's retirement was always going to be disconcerting and was sure to create upheaval. But there wasn't a single big club in Europe, and I'm talking the really big clubs of which United are certainly one, that would have looked to employ Moyes. Jose Mourinho, Carlo Ancelotti and Pep Guardiola – three of the best managers in the game – were known to be available when Ferguson was making plans to leave. A club of United's size should surely have been looking to operate in that kind of managerial market? Or they should have at least been looking at some of the emerging managerial talents in the game – the likes of Klopp at Dortmund, for example, who appears to have the kinds of progressive coaching outlook and charisma that would at the very least have excited Manchester United fans. But they chose Moyes.
So now United fans find themselves in a most peculiar situation – supporting a manager largely on the say of the previous incumbent. Loyalty to Ferguson means they are torn between trusting his judgment and the evidence of their own eyes. And that respect for Fergie's wishes seems to be buying Moyes time, for now at least.
So let's look at the issue of time – something many Liverpool fans, myself included, were scolded about when we struggled in our hearts to afford Hodgson any.
Ferguson's own troubles in the first six years at Old Trafford is currently being used as the basis for arguing that new man should be given time. But so much has changed in the intervening period, not least the financial imperatives of the game, that time afforded a new manager these days is more likely to be in the region of six months than six years. On that basis, after six months, at the very least, you need to be able to show some kind of progress.
Given that line of thinking (okay, I admit six months is a little arbitrary), Brendan Rodgers' time at Liverpool is worth considering. In his first six months, Rodgers was routinely written off as little more than a talker, a spoofist – someone who'd be quickly found out. To dispel that notion, results were required – and come January 2013, just over six months into his reign, those results started to come. The comparisons to David Brent, whilst still in evidence, began to be less and less common as Rodgers's Liverpool transformation began to stick. And now, a year on, even Henry Winter will tell you that when Brendan speaks, we should listen. Ultimately, a manager can pretty much say what he likes so long as he is winning.
I'd like to give Wolves credit, but I think we were a bit unlucky to lose the game, probably 0-0 would have been a reasonable result for us. But we didn't do anything to deserve more than a 0-0.

Roy Hodgson, 29 December 2010

Liverpool 0 (Bottom of the table) Wolves 1
So how was Roy Hodgson faring after six months? And how is David Moyes faring? Hodgson went because he, despite his "success" at Fulham and at Malmo and with the Swiss national side, was leading Liverpool to their worst ever Premier League season without any hint at all that he could turn things round. In fact, to my eyes, it was always going to be six months too many, as there was nothing in his record to suggest he could succeed at Anfield.
Moyes, as we approach the eight month of the 2013/14 season, seems similarly afflicted. And the only surprise – as with Hodgson – is that anyone is truly surprised at all.
I don't think anyone can really say we did a lot wrong.

David Moyes, 9 February 2014

Manchester United 2 (Bottom of the table) Fulham 2
Time will ultimately make no difference if you are not really up to the job. Jose Mourinho has not needed time at Chelsea. Pep Guardiola has not needed time at Bayern Munich. Carlo Ancellotti has not called for time at Real Madrid. Even Roberto Martinez has not needed time at Goodison Park. (At the very least, a clear philosophy should be evident.)
The fact that Roy Hodgson needed time at Liverpool, and David Moyes needs time at Manchester United ultimately speaks volumes about their respective abilities. No amount of time would ever have been enough for Hodgson at Liverpool. The same will surely be true of Moyes at United.
That said, hopefully the reflected glory of being Fergie's anointed one and the relatively benevolent media view will help United's fans and owners to hold steady in the face of the mounting evidence! And indeed, they should take comfort in the fact that even the fans of their greatest rivals are prepared to back calls for David Moyes to be given just as much time as he needs.
Paul, who has written for, The Irish Daily Star, www.backpagefootball.com, www.dangerhere.com, Football365, can be found at @little_football