By Daniel Rhodes.
Liverpool's defence: a shambles. An error-strewn cabal, plotting against the undoubted success of the attacking firebrands. Rodgers' men can blow away the opposition with ruthless efficiency, silky skills, through-ball precision and goal after goal after wonderful goal. The defence, on the other hand, are a rag-tag bunch of mediocre players, with no organisation and a penchant for calamitous on-the-ball Defensive Errors. The attack receives all the praise; the defence all the criticism. The midfield, well, that usually depends on the result.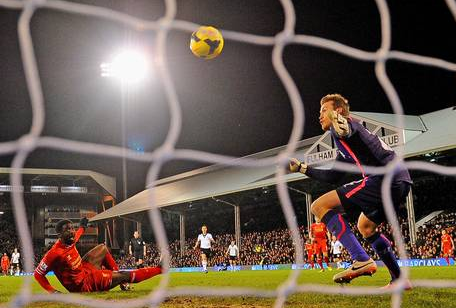 What this article sets out to do is look at each goal, penalty or own goal conceded this season. This one will look at the first ten games; the next one – hopefully after feedback in the comments section – will look at the goals conceded from games 10-25; and the final piece when the season ends.
I started the case for the defence here (link). This was the basic crux of the argument:
The whole sport is a mixture of risk versus reward: some teams, like Crystal Palace and Hull City, don't commit many players forward, thus reducing their potential risk of conceding because they remain compact and defend as a unit (rather than two centre-backs and a full-back up against two strikers and an advanced midfielder). Conversely, teams like Manchester City and Liverpool regularly try and overload the opposition, taking far more risk in the hope of greater rewards – more goals. Not only that, but once we're winning 1-0 or 2-0, ultra-attacking teams don't let up, they try and score again and again. This can only be a positive mindset to develop long-term, as the game against Fulham demonstrated; even though we made one or two individual errors, the team knew it had goals in it. Against Arsenal at home, we could easily have sat back once we went 2-0 up, but rather than try and keep it compact, tight, defending as a unit and reducing our risk, we went for the jugular, ignoring the potential of losing a clean sheet, in the search for more goals. It worked, brilliantly. It will continue to work; however, it will also continue to leave the defenders exposed to tougher situations than many defenders experience, and for that, they deserve credit and appreciation, rather than any criticism.
Aims of this analysis:
Look at the build up to the goal, trying to pick out positional decision-making as well as on-the-ball errors.
Adjust the evaluation setting to harsh, and pick out as many potential mistakes as possible.
Before we start, have a read of Richard Whittall (Counter Attack on The Score), where he highlights, in detail, the various possibilities and interactions that led to the Barcelona goal against Manchester City in the first leg of the Champions League knock-out game:
Iniesta has the ball at his feet with Busquets ahead of him just behind Zabaleta, Messi well ahead of the play, and Kompany a little further inside. Demichelis is a good three metres behind Messi. What happens next is crucial. Zabaleta can't keep up with Busquets for pace. Kompany sees that and begins moving toward his running path to prevent Iniesta from sending a through-ball clear on the flank. Messi meanwhile has slowed to get onside for the pass he knows is coming and receives just as Demichelis gets near him. In fact, Demichelis is the only City player aware of what's happening. This isn't because he's a genius, but because Kompany took a fifty-fifty gamble on where Iniesta's perfect pass was heading. Meanwhile the fourth City player in that backline (Clichy?) hasn't changed his run, perhaps accounting for the Barcelona player behind him.

So who's at fault here? Zabaleta for not keeping pace with the outside winger? Kompany taking a gamble by covering for him? Hart for not coming further out of goal sooner? Demichelis for making a last ditch, from-behind challenge on the best striker in the world? The linesman for not calling a free kick? Hart for not saving the penalty? Or is everyone on City at fault for their positioning on the break when Barcelona was in possession? Or perhaps they're all exonerated by the sheer brilliance of Messi's movement and Iniesta's perfectly weighted pass?

Isn't it safe to say that while these events were the outcome of a set of intents, they resulted in an extremely complex, ever-changing sequence of possibilities that could not be perfectly foreseen or accounted for as they unfolded in real time?
Stoke (H) – 17/08/2013
Result: 1-0
Incident: The Stoke penalty.
Game state: Liverpool winning 1-0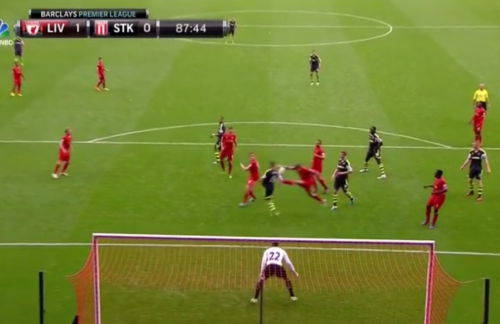 Who was at fault? 
Sterling for the clumsy challenge in a dangerous area at the end of the game? Or does the blame lie squarely with Agger, who fails to make up his mind about whether to head it or kick it and ends up handling it?
During the second and third games this season, we beat Aston Villa away, and Manchester United at home – both one-nil. We started off with three clean sheets, but there was a significant amount of criticism when evaluating the performance of the team. We seemed to score, then go into our shell, or 'shelling', trying to sit deep and protect the lead. It was a successful strategy. We dipped in the second half. Was it by design? Start the season, conserve as much energy as possible, and then benefit at the end of the season? Truth is, we don't know.
Now is where the fun starts, we concede in every other game in this section of ten games.
Swansea (A) – 16/09/2013
Result: 2-2
Incident: First goal. Nil-nil at the time. Sakho tries to head a clearance but it only reaches the edge of the area. Henderson then heads the ball away, again not getting any distance on it, before Shelvey tries a rifle a shot into the top corner; he manages an extraordinary air shot that dummies Gerrard on the edge of the box. Sakho tries to step out, Shelvey breezes past him like he's not there and shoots. Skrtel comes across and blocks the first attempt, however, the rebounds right into Shelvey's path, and he curls it into the far corner.
Second goal (Liverpool had fought back from a goal down to lead 2-1):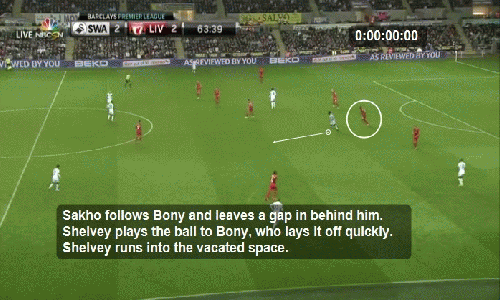 Is this a catalogue of errors or a well worked goal?
Shelvey plays the ball into Bony and Sakho tries to stick tight, leaving space in behind. Shelvey sees this space and is allowed to run from the halfway line to the edge of the area without being tracked. Skrtel tries to cover but Jongo heads it into the path of Michu, who outmuscled his marker Johnson and finishes well.
Who was at fault?
Sakho; the midfield for not tracking back with Shelvey; Skrtel for not coming out to beat Shelvey in the air; Johnson for losing Michu, and allowing him to get goalside. Or was it a good goal?
Fifth Game – Southampton (H) – 21/09/13
Result: 0-1 (first defeat of the season and still the only defeat at Anfield)
Incident:
Goal, in the second half.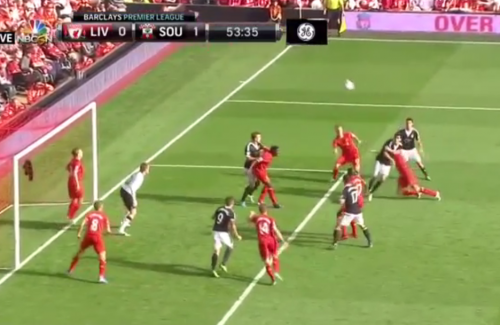 Before the corner, Toure is pressed on the halfway line, and passes back to Skrtel, who then dummies the ball out for a Southampton throw-in; they take it quickly, and Toure covers the long throw into the box, but – maybe – clumsily puts it out for a corner.
From the resulting corner, Agger, attempting a rugby tackle, still loses Lovren in the box, who heads it towards goal; Mignolet is wrong-footed, Gerrard fails to clear on the line.
Who was at fault?
It could, again, be five individual players, making mistakes, contributing to this goal. Skrtel for guiding the ball out of play needlessly, Toure, Agger for losing his man at the corner, Mignolet for misjudging it (very harsh) and Gerrard for failing to clear on the line.
Upto this point in the season, according to Opta, we made just five recorded defensive errors leading to either a shot or a goal. The biggest weakness of this article is that I'm only looking at goals, penalties and own goals conceded not all the shots or chances our opponents have had. (Have a look at this if you want to see how our opponents have fared – in statistical terms – against us, in each game, this season.)
So five games in, and we've only really played one decent side: Southampton. Three wins, three cleans sheets, but those defensive errors, both on and off the ball, are creeping into our play.
Sunderland (A) – 29/09/2013
Result: 3-1
Incident: Sunderland's goal, which came when Liverpool were leading 2-0.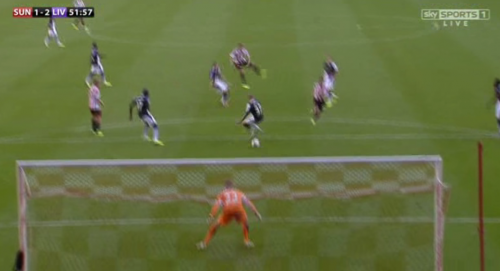 Ki gets the ball about 40 yards from goal, dribbles past Lucas, and shoots from 25 yards before Gerrard manages to block it. Mignolet saves, but parries the ball back into the path of the onrushing Giaccherini.
Who was at fault?
Lucas was easily bypassed; Gerrard too slow to block; Mignolet poor handling; Sakho for not tracking Giaccherini; Toure, stood still, same as Sakho; Skrtel is nutmegged by the shot, his man should be Giaccherini, but he tells Toure to move wide.
Crystal Palace (H) – 05/10/2013
Result: 3-1
Incident: Palace's only goal, and it came on 75 minutes, when Liverpool were already 3-0 up.
Sterling is booked for a foul in the corner, that gives the visitors chance to whip the ball into the box.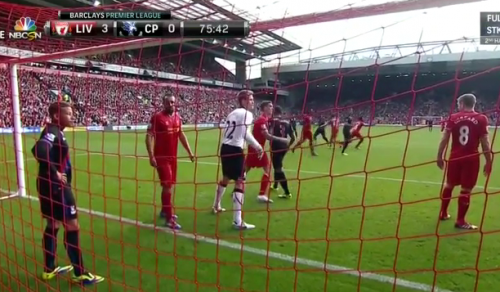 Enrique spots Gayle hiding in the net. And looks at him, as if to say "wtf". Gerrard is watching the other players mark a man, while he protects the front post.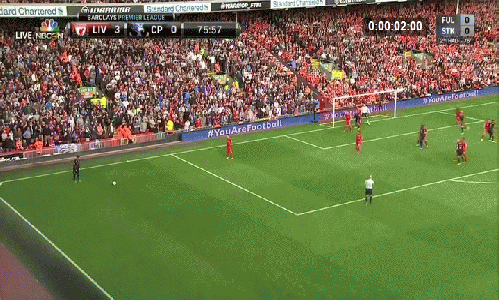 Who was at fault? 
Sterling, again, with the clumsy foul, this time giving away a booking and a free kick; Enrique, poor communication – not alerting Gerrard; Gerrard, for his poor awareness and marking; Mignolet, not proactive enough, either coming to punch, or making those around him aware of the threats.
Newcastle United (A) – 19/10/2013
Result: 2-2
Incident: First goal, at nil-nil, is a cracking strike from Cabaye. Nevertheless, there's still a few questions to ask about the Liverpool defending: can Cissokho close him down? Instead, he track Debuchy; Sakho leaves it too late, showing some indecision, and then the shot beats Mignolet from distance.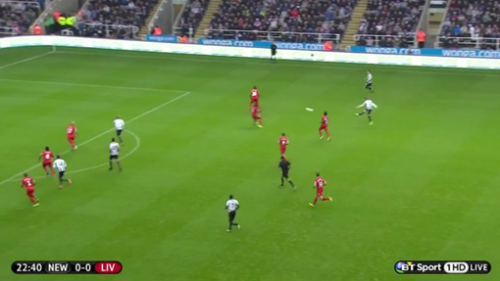 Second goal:
Cissokho and Sakho both fail to mark Dummett, who pulls away at the back post to get on the end of the flick-on.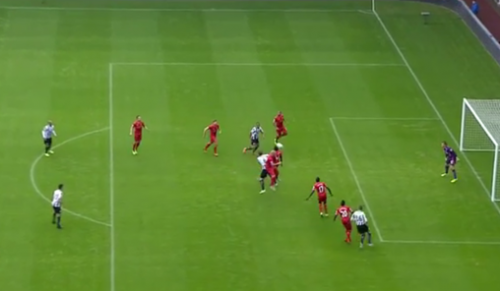 Who was at fault?
This was a game when the goals we conceded really did matter; Newcastle were reduced to ten men, but we still only came away with a point. Sakho is indirectly responsible for two errors – decision-making and concentration on the set piece. Cissokho the same: should he track his man, or close down the man on the ball? Mignolet was also beaten from distance and had no answer to the second goal from the set piece. Finally, should Skrtel restrict the flick on in the first place?
West Brom (H) – 26/10/2013
Result: 4-1
Incident: West Brom 'win' a penalty. The score is 3-0 to Liverpool at the time. Sterling loses possession initially, then Jones runs forward; Cissokho and Henderson both fail to make a challenge, outside the area, before Lucas and Jones come together in the area. Referee doesn't give it, but the assistant referee does.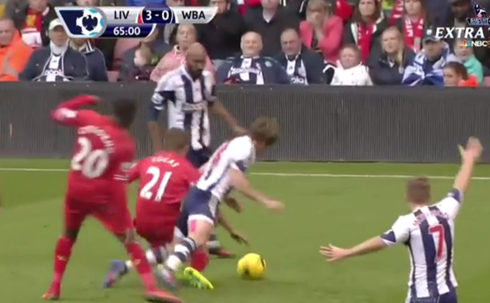 Who was at fault?
Sterling for losing possession; Cissokho for not closing down; Henderson for not attempting a tackle; Lucas for rushing in.
Arsenal (A) – 02/11/2013
Result: 0-2 defeat.
Incident: Arsenal's first goal. It is nil-nil at the time.
Sakho commits too early, again, and is taken out of the game. Maybe Cissokho can come across and block the cross? Nobody tracks Cazorla, including Gerrard and Lucas; and the Spaniard finishes on the rebound.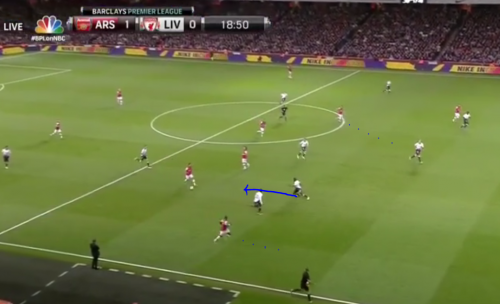 Second goal: Coutinho doesn't track back, Sakho and Toure allow Ramsey to take the shot.
Who was at fault?
Sakho and Cissokho again, one for closing down too early, the other for not doing it at all. The marking from midfield is terrible – both Lucas and Gerrard, and Cazorla is allowed to drift into the box, get onto the end of the cross – and the rebound.
During this section of five games, we made seven recorded defensive errors according to Opta; whereas our opponents made one – and that was Arsenal, in a game we lost two-nil. We conceded eight Clear Cut Chances during this period; we scored 12 goals, and, exactly the same as the first five games, we won three, drew one, and lost the other for 10 points – or 2ppg.
Defensive Errors by Player from this Analysis:
Sakho: six
Mignolet: four
Gerrard: four
Sterling: three
Toure: three
Cissokho: three
Skrtel: two/three
Johnson: one
Lucas: two
Agger: two
Disclaimer – my recorded errors are subjective. Might not even be errors, that's where the rigorous debate in the comments section comes into play.
The rest of this article, including the debate in the comments section, and the upcoming piece looking at games 10-25, is only available to Tomkins Times subscribers. 
[ttt-subscribe-article]