By Paul Tomkins.
Any time I start to buy into the potential brilliance of Brendan Rodgers he goes and does something that gives rise to some doubts.
Having said that, overall it has felt like an upward trajectory under the Ulsterman, so things have to be kept in that context.
Last season he over-talked his team before the visit of Aston Villa, who promptly embarrassed the Reds. This time Rodgers overloaded his team, so that it was far too top-heavy, and paid the price; a creditable comeback masking a quite dreadful first 45 in which Villa's front three were made to look like Messi, Neymar and Pedro by the gifting of an ocean of space.
Perhaps the manager was eager to provide entertainment to John Henry and his wife Linda, who were making their first visit of the season, but with a makeshift defence – and in Rodgers' own defence (unless it's down to bad training) there's the issue of constant injuries to the back four – he opted for no Lucas to protect them. It smacked of hubris, but Rodgers' boldness has often paid off. This time it backfired, with two points dropped.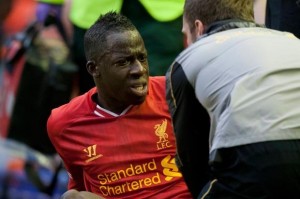 Shoehorning Sturridge back into the side whilst retaining Suarez, Coutinho and man-of-the-match Sterling resulted in a team out of balance. Lucas came on at half-time, and the game was "won" 1-0 during his brief appearance before injury struck; and yet after just five minutes of the opening half it was clear to most fans that there was a serious problem.
Rodgers is not afraid to change the personnel and formation early in a game, as seen by the withdrawal of Suso against Wigan last season after half an hour, even though the young Spaniard was playing well, but this time waited until it was almost too late to bring on a defensive-minded midfielder. On the balance of play, Liverpool were lucky to go in only 2-1 down at the interval, although Henderson's flick and Sturridge's finish were top class.
Some might argue that Rodgers' team are only marginally ahead of Everton in 6th place (and maybe behind them after their game in hand) despite having the best player in the world on the form of the season so far (even if Lionel Messi is of course better overall, and Ronaldo's goalscroring record is phenomenal over a longer period of time). Others might argue that Suarez's continued ascent is down to Rodgers. My take is that Rodgers was lucky to inherit such a talent, but he has helped build a side to suit Suarez's strengths, and that the player has flourished under the manager's guidance.
Despite creating the space for the first goal and winning the penalty for the second, it wasn't one of Suarez's better games. Then again, few emerged with any credit.
I took some stick on Twitter yesterday for defending Aly Cissokho (albeit a defence that acknowledged he doesn't look very good), but he's not the reason the team was struggling. Millions of Liverpool fans the world over develop Tourette's whenever he gets near the ball, yet I fail to see why he's seen as quite as bad as he is. Must there always be a scapegoat in any side?
Only a couple of weeks ago I wrote about how certain players were "shit", according to so many fans, and in it I only mentioned Cissokho once. That article was about others who were in the firing line. Now the French left-back is firmly in the sights of the snipers.
There's definitely some confirmation bias going on, where fans point out his every bad touch as full proof of his uselessness.
Remember, Cissokho is to Liverpool fans what Suarez is to the national media: someone who's every possible misdemeanour gets blown out of all proportion due to reputation. (As a brief aside, Suarez may have 'dived' to win the penalty, but only after drawing Guzan to sprawl across his path without getting the ball, and only after several earlier deliberate fouls on the striker were ignored by the ref, including a thumping elbow into the face. We hate to see diving in England, blah blah blah, but we're okay with a good old fashioned jaw-breaker.)
It's a strange situation with Cissokho, as this is a mere 'freebie', on loan for the season. He's never been described as a first choice, and rookie right-back Jon Flanagan even got in the side ahead of him, so it's not like Rodgers is indulging the Frenchman, who had fallen to at least third in the pecking order when everyone was fit. (Agger, another tried at left-back, is also injured, as is left-sided centre-back Sakho.)
And while Cissokho's use of the ball was often poor yesterday, it looked to me like he was trying his best, and in my opinion he was not the worst Reds' performer on the day. Yet he gained a disproportionate amount of the blame.
Cissokho did well in a brief spell at Porto, for whom he played in the Champions League. AC Milan thought they'd signed him for £12m, but he failed his medical because of his teeth. (This is surely a first? Apparently it was linked to spinal problems, but I'm no doctor; although my failure to make it as a pro is hitherto blamed on a tricky molar.) He ended up at Lyon, who were still the powerhouse of French football at the time. He went on to play for France under Laurent Blanc. Lyon then faded, taking Cissokho with them; so he went to Valencia. He didn't settle, and at the age of just 25 he moved to Liverpool.
At the time I didn't hear anyone saying that Liverpool should have kept Jack Robinson from gaining experience a division down (where he has struggled at times with Wolves), or that Flanagan was the answer to a position he may never even have played before. Like Coutinho and Sturridge, Cissokho was at a good age with prior big-club experience, and surplus to requirements at his parent club.
Someone told me yesterday that Liverpool were lucky to not lose every time Cissokho started. Yet the win percentage with him playing is 63.6%, against a season average of 58.3%. These stats aren't quoted to nail the argument one way or the other, but they do suggest that the left-back is not the liability some like to think. If people expect to lose whenever Cissokho plays, how come results are generally better?
So, I have to ask, has Cissokho merely tricked a succession of managers into thinking that he can play football? Is he "shit", as so many tell me? Or merely a decent (at best) player who is struggling, with the notion of him being a liability overplayed?
In a way the reaction to him reminds me of the one Christian Poulsen provoked. The highly-capped Denmark international had played at Schalke, Sevilla and Juventus before Roy Hodgson brought him to Anfield. Yet he came to represent everything the fans despised. The difference was that Poulsen was almost 30, cost several million pounds, and was brought in on the assumption that he'd go straight into the team. Now, Poulsen has had something of a revival at Ajax, and had been a big success in Spain earlier in his career, so he wasn't a dreadful player, even if he turned out to be a dreadful signing.
Similarly, I found Paul Konchesky fairly offensive in a red shirt because he was also nearing 30, had only a brief time at a biggish club (Spurs), and never really looked like a proper footballer to me. Like Cissokho, Konchesky had 90 minutes of international action to his name, in his case spread over two second halves for England, rather than one full game for France. Unlike Cissokho, he cost a fee – c.£5m – which included the promising youngster Alex Kacaniklic going to Fulham – what a desperately bad deal that was! – and also with Emiliano Insua (now at Atletico Madrid after a successful stint at Sporting Lisbon) loaned out. Konchesky has been in the Championship ever since.
And yet, as much as I loathed the performances of Poulsen and Konchesky, I hated hearing the cheers when they were subbed off and the jeers when they got the ball.
I said the same about Lucas, who went on to become a Reds' player of the year, and also Henderson, who has grown and matured into something rather special. However, the jeers don't help the player in the question at the time. Abusing your own team's players at the game is not going to get anything extra out of them. It may make them stronger over time, but it's a bit like punching your kids "to toughen them up" (i.e. it's not advisable).
I was told yesterday by one fan that 19-year-old Brad Smith can't be any worse, so why wasn't he getting the spot? And yet when the lad came on against Chelsea as a sub, I saw people mocking him as someone who'd never played the sport before in his life, having "won a competition to get onto the pitch". This was a teenager making his professional debut in a massive game when his side were on the rack. Talk about showing some understanding.
Imagine if that was your son out there, or reading the papers the next day. Imagine if that was your son getting dog's abuse on Twitter, as, bit by bit, fans of his own club try to break him down psychologically.
Yes, he's 'privileged' to be playing for Liverpool, but it will have been a long, hard road of working his way up through the different levels to get to that point, and if he was nervous, would you blame him? And you can't say that Smith was tainted by fame and wealth – as he has neither – and therefore deserving of the stick. Incidentally, it was a similar level of abuse that was dished out to Flanagan, who was seen as a complete waste of time until being reborn as Roberto Carlos against Spurs.
As much as I didn't see this hidden potential in Flanagan, it's not a reason to go around hounding someone who tries his best. And yet I had fans telling me that Flanagan should have been playing ahead of Cissokho, and that Cissokho should never have been brought to the club. Never mind that Flanagan is injured.
Now the fans (on Twitter, at least) are also turning on Simon Mignolet. And yet he'd had the best half-season of any Liverpool keeper in about five years. Now, as I've said with keepers before, the test is when they have that first setback, and how they respond. At big clubs, mistakes get magnified, and there's more potential to wilt under the weight of a heavy shirt. Now, I've pointed out his mistakes in recent weeks, but I've never said he's "not good enough".
Right now, the Belgian is looking nervous, and based on the last five games he doesn't look good enough; costing a goal a game. However, based on the 20-or-so before that, he looked more than good enough. So, which one is true? If he can rediscover his confidence then he could come back stronger. If he doesn't, he may go the way of James, Westerveld and Dudek. But let's at least take the whole season into account, not just a handful of bad games and/or moments.
During my years as a season ticket holder I wasn't one for getting on players' backs, but I was prone to the occasional red mist descending and, with it, the eruption of a stream of expletives. I'd feel personally offended by certain players' performances; and yet it was never about me. Teams and individuals have bad days, and it's not designed to piss you off.
While the players under-performed yesterday – Glen Johnson has looked sluggish for months, Gerrard was given the complete runaround in the holding role, Coutinho's shots and clever through-balls have grown ever less effective, and Kolo Toure looked like an old pro who hasn't played much football lately – this defeat rests at the feet of the manager.
Perhaps if Liverpool got an early goal it could have ended 6-0. Instead, Liverpool's attacking formation proved a negative step, because there was no defensive platform on which to build. It gifted the game to Villa.
And yet Rodgers deserves to be cut some slack based on a generally good season so far. That said, he will only escape valid criticism if Liverpool have markedly improved on last season come May.
Fortunately for him, the Reds are still on course to finish higher in the table, with more points on the board.