By Paul Tomkins.
Listening to a lot of Liverpool fans tweet – and presumably it's the same on phone-ins (I've avoided that torture for a decade now) – you'd think the current squad comprises a bunch of hopeless goons who were lucky enough to win a competition to wear a red kit and run around for 90 minutes.
Some players have a brilliance that's easy to recognise. If you can spell Luis Suarez, you know what I'm talking about. But at times, up to 90% of a team's players can be questioned, berated and written off to varying degrees. It seems that only one or two players in any team are safe at any one time; often even a club's better players need to be 'shipped out', or are 'finished'.
Even the fans of title-winning teams have their boo-boys. And then you have a team like Barcelona, who only very recently took football to new heights; now, if they even draw a game, the media seems to dismiss all of their players bar Messi, so that a kind of negative pall hangs over them. All of which makes me wonder if we, as Liverpool fans, ever get truly happy, we'll almost instantly be unhappy again. All that happens is that expectations rise.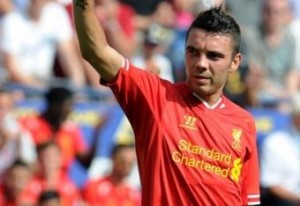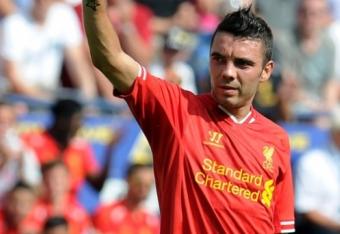 Right now, it'd be quite easy to find tens of thousands of Reds who think Aspas, Allen, Moses, Alberto, Coates and Cissokho – along with loaned-out Borini and Assaidi – are "shit". (Although in the last few weeks Assaidi has looked good enough to make some wonder why he was loaned out in favour of Aspas, in the ever-turning wheel of "he's shit, he is".)
I've seen Sakho, Flanagan and Sterling added to that list at various points of this season, along with Johnson, Agger, Stkrel and Lucas. Obviously Gerrard is no longer the force he once was, and Coutinho's end product is "crap" (because the word "erratic" is too tricky), which leaves Suarez as just about the only player we can all agree on. And even then, it's only relatively recently that he has stopped frustrating in equal measure to the joy he brings.
Almost no-one refers to players as off-colour, in a poor run of form, or as 'struggling'. There's rarely any shades of grey in terms of assessments.
The other day I tweeted about a good shot by Joe Allen, who was doing quite well against Man City, and I had half a dozen instant replies saying "he's shit" or variations thereof. I wasn't even discussing his overall merits, it was just an observation on a good shot that brought a save from Joe Hart.
It's almost like a Pavlovian response. If I'd just typed into Twitter the breaking news story that "Joe Allen has just saved 1,000 people from a burning building" the replies would be "he's shit". Even if a Liverpool fan were to mention going to the pub with his mates Joe and Alan, I expect "he's shit" would show up on his timeline. (Don't even think about discussing the famous American actress, Joan Allen.)
I'm fascinated with the perceptions people have about certain players, and how those who were clearly 'good' in other environments and/or different periods of time are suddenly written off as 'rubbish'.
Seven years ago, following his £21m move, I started to call this Shaun Wright-Phillips Syndrome. I remember Gérard Houllier's final season, and how many people said the young City player was the answer to some of the Reds problems. But he'd evolved at City; gradually, with a few minutes here and there, rather than being thrown into the XI with a big price tag. Once 'SWP' went to Chelsea he was suddenly labelled "shit".
The truth is, once you take a player out of the environment in which he is thriving, and put him under a different kind of pressure, possibly in a different role within a different system, and definitely with different team-mates and fans (who may have a different attitude towards him), he is essentially an entirely different player. Even a player as good as Andriy Shevchenko failed to adapt to the aforementioned changes.
Now, I started writing this before Iago Aspas's nicely taken first goal for Liverpool, although as it arrived against Oldham it won't be one to win over his critics. And in fairness to those critics, he has been largely anonymous whenever he's played, and anonymous is the kindest adjective I could find. But he was excellent for Celta in their promotion campaign two seasons ago (23 goals in 37 games), and despite playing in a struggling team, scored 12 in 34 once in the top flight.
Then he came to Liverpool and was scoring for fun in pre-season, although obviously it's only pre-season. Still, it's more encouraging if people are good in pre-season than if they aren't. And he arrived with an improving reputation.
Now, is he simply not very good? (I'm getting tired of writing 'shit', although some might say it's all I've ever done.) Is he just an average player arriving on the back of a couple of seasons that bucked his previous low-impact trend, or was he actually rapidly improving in the way that, say, Jamie Carragher and Didier Drogba did in their mid-20s? (Which, of course, is not to suggest he's going to reach their heights.)
Could Aspas actually be talented but someone who was struggling with the language, the culture and the pace of the English game, and then got injured? Or was he a bit rubbish and struggling with the language, the culture and the pace of the English game, before getting injured?
Think back to 2004 and the arrival of two other Spaniards, both of whom had unremarkable careers until their mid-20s, when one ended up at Real Madrid and the other at Barcelona. Antonio Nunez arrived, got injured in his first training session, and never really got going after that. Luis Garcia arrived and … well, we all drank Sangria. Garcia wasn't a world-class talent, but he was certainly a success.
And who are we comparing Aspas with? Messi? Suarez? Or other £7m imports? He's "shit" in comparison with what?
Clearly Aspas didn't arrive with a bona fide international reputation (the possession of which would help temporarily assuage certain doubts). But you don't acquire many of those types each summer, and certainly not for that kind of fee.
Then again, players can suddenly appear to "get it", with the it being "how to play football quite well". It often happens beyond the age of 22, although I suspect it rarely happens after 29.
Gareth Bale was a bit of a joke figure as a teen – after the point where he was a teen sensation with Southampton – with Spurs failing to win whenever he played. He was almost offloaded on the cheap, and was largely written off as a flop. Whether or not you find him a tad overrated (and £86m seems ludicrous), he's still one of the better players in Europe.
In 2001 if you asked which of Juan Seba Veron and Frank Lampard would go on to become a huge Premier League success, scoring 20+ goals a season and winning three league titles and a Champions League medal, which would you have said? Who would you have put your money on? "Fat Frank"? Probably not.
In 2003, Cristiano Ronaldo was a mass of stepovers followed by either running straight into the fullback or collapsing upon contact with a particularly nasty air molecule. He's gone on to do quite well though, hasn't he? If you took his goalscoring rate after four seasons (aged 21), he'd have needed to play 2,000 games to hit 400 goals. He ended up reaching that tally after about 600.
Two years ago Luis Suarez couldn't hit a barn door. Even if he was standing inside the barn he couldn't hit a barn wall. Around the same time, Daniel Sturridge was a Chelsea reserve, and Philippe Coutinho was surplus to Inter Milan's requirements. And yet the trio form the most potent Premier League strike force (Liverpool out-scoring every other club in 2013), even allowing for injuries and long-term suspensions.
Suarez has gone from having the league's worst conversion rate to the best. He scored almost as many league goals last month as Fernando Torres has in the past three years.
In the summer, most judges (of those whose opinion I encountered) seemed to think that Roberto Soldado was a shrewd buy for Spurs and that Man City had overpaid on Alvaro Negredo. Both are of the same age (28), with almost identical strike rates for Spain, yet one has landed firmly on his feet whilst (thus far) the other has been little more than a glorified penalty taker.
Even if a player's career at a club is generally  unremarkable, he can still do something to make his time there worthwhile. Think of Smicer, Cisse, Dudek, Baros and Traore, and one glorious night; but also Josemi, Nunez, Mellor, Sinama-Pongolle, Le Tallec and Biscan, who all did something to make Istanbul possible in the first place.
The moral of all this? Players improve. And players deteriorate. Some start slowly and then get better. Others start well and then fall away. Some start well and get better and … well, you see where that's going.
Also, pretty much every team has its weaker elements; there's always something to moan about.
Finally, football doesn't always make sense. At one time or another it makes us all eat humble pie. The player you hate might be 'shit' now, but in time you might think differently.