By TTT.
By no means an exhaustive list of the books available, this is a recap of some of those to have been reviewed on TTT, plus info about our own book, These Turbulent Times.
As well as those reviewed below, this week sees the release of Jonathan Wilson's book on Liverpool FC, looking at ten games which have defined the club's history, and which is bound to be worth a read.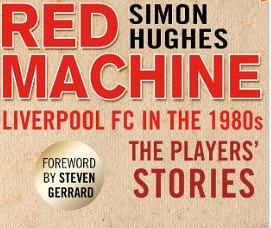 Red Machine: Liverpool FC in the 1980s – The Players' Stories by Simon Hughes
When I first heard that Simon Hughes was going to publish a book where he had interviewed eleven former Livepool players from the eighties to get their views of what made the side so successful, I thought that it was a great idea but, perhaps, not a highly original one.
Yet, although the underlying idea might be similar, the execution is completely unique and original. This is largely because Hughes has been intelligent in the people he's chosen to talk to.
For instance, one of the most memorable chapters is the one where Hughes talks to Howard Gayle, who only played five times for Liverpool but whose story is particularly telling because of his upbringing and how this influenced how he acted within the club. Gayle was Liverpool's first black player but his story – which was very much the result of the time and area where he grew up – and the later one of John Barnes highlight why one managed to change attitudes and the other couldn't.
Throughout the book there are common themes; threads that link each player with the rest. One of them is the heavy drinking culture which, largely because of the times we now live in, seems quite shocking. Another is the 'banter', that in truth verged on bullying, that went on in the dressing room.
Review by Paul Grech.
The Liverpool Encyclopedia by Arnie Baldursson and Gudmundur Magnusson.
The Liverpool Encyclopedia is such a great idea: it serves as the bible of all things Liverpool.
One of the men behind this labour of love is Arnie Baldursson and The Tomkins Times got in touch to talk about this book and what led to it.
How did the idea of a Liverpool Encyclopedia come about?
DeCoubertinbooks published "Liverpool: The Complete Record" to great acclaim in 2011. As far as we knew that could have been the only book we would ever write, but the following year our publisher suggested that a Liverpool Encyclopaedia would be an ideal next step for us. Whereas "Liverpool: The Complete Record" focused on stats and a comprehensive narrative for each season and was in black and white with few pictures, "The Liverpool Encyclopedia" ideally complements that with profiles for every single player and key aspects of the club's illustrious history as well as including around 1,100 images and is all-colour.
Did you uncover any stories you weren't aware of?
During the research phase we discovered through some clever detective work what amounts to be Alex Raisbeck's mini-biography in several issues of a Scottish newspaper published in 1915. It sheds new light on the life and times of Liverpool Football Club in the first decade of the 20th century and its protagonists. Before this discovery we didn't even have a single quote from Raisbeck, who was Liverpool's first superstar, the Steven Gerrard of his time, if you will. As well as using these series of articles in Raisbeck's profile, they also came in handy in entries all throughout the book that relate to Liverpool's early history from 1900 to 1910. This is a big revelation, one which we are very proud of.
Review by Paul Grech. 
Red or Dead by David Peace
In an early part of Red or Dead, the words 'wind', 'rain' and 'storm' keep appearing – words that will catch the eye of any Liverpool fan. At first they're disconnected, then they come up again and again, and after a few pages, the Kop explodes into sound as we – and Shankly – encounter 'You'll Never Walk Alone' for the first time.
The book is a hugely rewarding and engaging read, but not an easy one. Actually, that's not fair. If you get your head into the rhythm of Peace's writing/if you let the rhythm get into your head, the story barrels along.
Peace's style becomes a red machine, working to full effect. "There was no shelter from the word", Peace says, describing the impact of the sound created by the Kop on the opposition.
The style works sublimely well when Peace is describing what to me, and maybe to you, are the iconic images of Shankly at the 1974 FA cup Final. As the game is played out, Shankly switches his arms from side to side, like a man with the power to hold the whole pitch in his hands and shape it through sheer force of will.
Review by John P. Houghton. 
David Peace's new novel Red or Dead, starting with Shankly's appointment as manager in 1959 and going right through to September 1981, is an admirable attempt to provide a more balanced account. That's not to say that he takes a revisionist wrecking-ball to Shankly's reputation, as he is respectfully portrayed throughout, but crucially such respect does not prevent Peace examining the personal prices paid along the way. Indeed, his Shankly ends up uncomfortably close to a tragic hero precisely because the same qualities that enabled him to succeed while working would sour into burdensome flaws in retirement.
Review by Andrew McKay.
Liverpool Heroes by Ragnhild Lund Ansnes.
'Fourteen Anfield legends open up their hearts' says the catchline on the front cover, and it's hard to dispute that – they are certainly all legends, and there are 14 of them! They spill the beans – well some beans anyway – about their Anfield experiences. For me, the most telling interviews are with Roy Evans and, most of all and perhaps least surprisingly given his overt intelligence and depth of thought, John Barnes.
There's a fascinating account of Sir Bob Paisley's cunning philosophy in getting Phil Neal to play a week after fracturing a cheek bone, and the full story behind Neal's wife's antipathy towards football, stemming back to when Neal signed for Liverpool without telling her they would be moving to Merseyside with their two small children, leaving behind their network of family and friends in Northampton. The book reveals how it caused her depression which Neal barely noticed – 'I just wish I'd realised how poorly Sue was' – as he was so tied up with Liverpool, working his way into the first XI then trying to keep his place, then travelling to Europe etc.
Review by Chris Rowland.
These Turbulent Times
Paul Tomkins, Editor Chris Rowland and Deputy Editor Daniel Rhodes have tried to cultivate a style and standard for TTT, while at the same time encouraging writers and analysts to express and challenge themselves and the site's readers.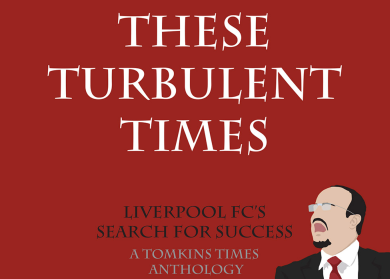 These Turbulent Times is a shining example of a community with a common interest but a vast array of differing talents, offering their individual opinions and analysis, usually (but not always) on specific areas of expertise; the sheer variety of topics within the context of Liverpool FC is extraordinary.
Football writer Paul Little, in his review of the book, commented about the sheer volume of analysis and opinion on the internet, and how difficult it is to choose between the competing sources. Nevertheless, he did have this to say about TTT and These Turbulent Times:
…from amongst the morass and nonsense, a legion of fanalysts has emerged to threaten the preserve of the traditional newspaper football writers. One such beacon of sense is Paul Tomkins, the father of The Tomkins Times website, one of the most lucid, intelligent and insightful sources of analysis and opinion on Liverpool FC on the web.

What's striking about the site's output, as evidenced by this collation of work, is the realistic and largely unsentimental way in which the writers view the club. There's little in the way of sugar-coating the plight of an institution that once dominated European football, but now struggles on the coattails of the current English powers. But nor is there any wallowing, just an acceptance of the current environment and a constant search for possible ways forward.

To conclude, These Turbulent Times is a must purchase for those Liverpool fans who like to think a little deeper – no, a lot deeper – about their club, where it stands and where it is going. Refreshingly, the book is almost totally devoid of cliché; yes, the Liverpool Way gets a disappointing run-out but there is thankfully no mention of the Liverpool Family.

For non Liverpool fans, the tome proves that not all supporters of that storied club are Twitter trolls and loons living in the past. The range of professional backgrounds of the book's contributors (which includes data analysis, scientific research, law, communications and process improvement) and how their knowledge and experience informs their articles gives depth and breadth to the contents. For some, it might all read a little too much like a series of academic papers or a business textbook. So if you like your football in Match of the Day sized chunks (and there's nothing wrong with that – football is there to be enjoyed after all), this may not be the book or website for you. But for others, that often dispassionate approach will be the book's great strength.
There was also another review, on These Football Times (who had nothing to do with the naming of the book), by Omar Saleem, who said the book appeals to more than just the average Liverpool fan:
Off the bat, let's get one thing straight; this book may focus on Liverpool Football Club but the content, analysis and understanding of modern football extends its relevance to all clubs in the Premier League and beyond. Whether you're looking to expand your knowledge of Liverpool as a supporter or neutral, or are just interested in the breakdown of performances and what methods are employed at a global super-club to achieve success, it's likely These Turbulent Times will appeal to you. This is exemplified perfectly by Swansea loyalist Matt Harrison's excellent feature on Brendan Rodgers.
Finally, LFCHistory.net and Chris Wood reviewed the book:
…this is very much a mixed bag of different topics and in that respect it probably has something for everyone … the statistician, the mathematician, the analyst, the businessman, the financier and the man in the street. Few will find every single chapter/article to their taste and some chapters will definitely need more brain cells to decipher than others. Paul Tomkins was privileged to have his finger on the pulse of Liverpool Football Club during a most difficult period in the club's existence. It was a pulse that nearly stopped completely and this diverse collection of articles neatly recalls the 'medicine' that was required to keep that heart beating because … from Martin McLaughlin's chapter "Football, Finance, Liverpool and the Top Six" that "£80m wasted on sacking managers and a phantom stadium" was indeed "the mess which F.S.G. found the club in when they arrived". From this book we can be reassured that the mess is slowly being sorted out. Maybe soon these turbulent times will just be a nasty memory of the big, black hole into which the club nearly disappeared.