A review of The Tomkins Times' new anthology by freelance football columnist Paul Little on F365 (Click Here for original article)
As a football mad lad growing up in Dublin in the 1970s and 80s, I looked forward to every Saturday evening when my Dad or brother would come in with the now defunct Evening Press newspaper. Back then, buried in the middle of the paper was a page given over to syndicated football writing from some of the best in the business at the time. Special features, interviews, opinions and tales from not just the English leagues, but from Scotland, Europe and even beyond.
As a Liverpool fan, I scanned the page for news and comment on the club, but recall often a sense of frustration that Liverpool in its pomp often seemed to be ignored. Perhaps writing about the most successful formula in football had become boring – and it tended to be the troubles of others that drew more column inches.
Leap forward thirty years, the paper is long gone – and in the face of the all seeing eyes, jabbering tongues and perpetually rattling keyboards of the internet, a football mad chap no longer has to wait for a Saturday evening to get his fix, no longer has to hope that a sports editor sees fit to cover his club. The opposite is the case. Fans of all clubs can access comment, analysis and news about their clubs with a rapier like click of a mouse anytime almost anywhere. The problem now, of course, is which of the many sources do you read? The internet has been brilliant in allowing everyone who wants to become a writer, an opinionista, a blogger, and ITK stake their claims – but an infinite amount of keyboard monkeys will produce an almost infinite stream of noise and dirge.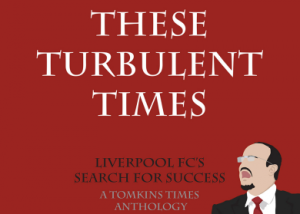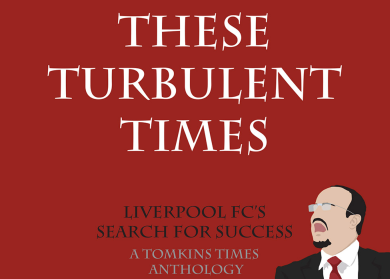 Nevertheless, from amongst the morass and nonsense, a legion of fanalysts has emerged to threaten the preserve of the traditional newspaper football writers. One such beacon of sense is Paul Tomkins, the father of The Tomkins Times website, one of the most lucid, intelligent and insightful sources of analysis and opinion on Liverpool FC on the web. Established in 2009 out of necessity (disability and illness had forced Tomkins to explore avenues to support himself financially), the site has grown from one man's blogged opinions to a successful subscription site involving numerous, specialised contributors overseen by its creator. The site's new book These Turbulent Times – Liverpool FC's Search for Success presents an anthology of the site's best writing (both its free and paywall content) over the four years of its existence.
What's striking about the site's output, as evidenced by this collation of work, is the realistic and largely unsentimental way in which the writers view the club. There's little in the way of sugar-coating the plight of an institution that once dominated European football, but now struggles on the coattails of the current English powers. But nor is there any wallowing, just an acceptance of the current environment and a constant search for possible ways forward.
As with any collation of articles, there can often be a disjointed, uneven feel to proceedings, and These Turbulent Times is no exception. Nevertheless, there are running themes to the articles that give a shape and consistency to the book. Key amongst them are analyses of the FSG approach and raison d'etre (where Financial Fair Play often takes centre stage), forensic discussion of the Rodgers tactical and coaching philosophy, and the modelling of better ways to approach the transfer market and source players that can take the club forward (data architect and business intelligence expert Lee Mooney's "A Model to Identify Players" is eye-openingly excellent in this area).
But it's an eclectic mix that covers a lot of other ground, from eulogising the brilliance of John Barnes and Ian Rush, to eyewitness accounts of Hillsborough and the last days of Rafa Benitez (a manager clearly dear to the heart of many of the contributors). Stand-out pieces include Tomkins' back to back articles on the Spaniard. Firstly, Tomkins recounts a lunchtime appointment with the under pressure former manager that became an impromptu half day seminar on his methods. Then in "Conversations with a European Champion" he lays out a passionate defence of a managerial era that seems almost dreamlike now. The same author's 'It's Getting Ugly: Hodgson's Way' written angrily in response to a shocking home defeat to bottom of the table Wolves lays bare the current England manager's methods and put those in the press who championed his cause firmly in their place.
The aforementioned Lee Mooney's piece outlining a complex model for identifying players – particularly players that traditional scouting might miss – is a very prescient piece in light of the current transfer window.
And two pieces by Daniel Geey (who in his professional life advises entities wishing to invest in the football industry, specifically with regard to the Premier League, Football League, FA, UEFA and FIFA regulations) are also well worth investigating. 'Into the Red: The Financial Fair Play Rules and Liverpool FC' is a must-read for Reds fans looking for a detailed insight into how the rules affect the club and how the club's owner's are shaping their strategies based on the UEFA plans to curb excessive, sugar daddy style spending. But more controversially, Geey's 'The Suarez Decision: Liverpool FC Grounds for Appeal' presents a cogent and rational legal perspective on the FA Commission's ruling on the Suarez Evra case and how Liverpool could have proceeded. A decision clouded in so much tribal bile is dissected and analysed and would make interesting reading, even for Manchester United fans.
To conclude, These Turbulent Times is a must purchase for those Liverpool fans who like to think a little deeper – no, a lot deeper – about their club, where it stands and where it is going. Refreshingly, the book is almost totally devoid of cliché; yes, the Liverpool Way gets a disappointing run-out but there is thankfully no mention of the Liverpool Family.
For non Liverpool fans, the tome proves that not all supporters of that storied club are Twitter trolls and loons living in the past. The range of professional backgrounds of the book's contributors (which includes data analysis, scientific research, law, communications and process improvement) and how their knowledge and experience informs their articles gives depth and breadth to the contents. For some, it might all read a little too much like a series of academic papers or a business textbook. So if you like your football in Match of the Day sized chunks (and there's nothing wrong with that – football is there to be enjoyed after all), this may not be the book or website for you. But for others, that often dispassionate approach will be the book's great strength.
Paul Little – follow him on Twitter
You can buy These Turbulent Times – Liverpool FC's Search for Success here.