By Daniel Rhodes, Si Steers and Andrew Beasley.
Here's the second instalment of their series in which TTT's writers, contributors and top posters dust off their crystal balls and give their thoughts on the coming season. This time it's Daniel, Beez and Si in the chair.
Where will the Reds finish?
Daniel Rhodes: Fourth, if we manage to sign two more players who would fit straight in the first eleven. Otherwise, we might struggle to compete with Spurs and Arsenal, and if we're not in the race for the Champions League spots by March, serious questions will be asked.
Andrew Beasley: It's hard to look past sixth. I think that Liverpool will improve, but one of the big guns would need to regress too for the Reds to finish any higher, and I can't see that.
Si Steers: Anywhere between 4th and 6th. It will be a disappointing campaign if we don't finish in the top 6, which I expect us to do. The competition for 4th is going to be very tough, but we do have an outside chance. I think we should be aiming for 70 points, and see where that leaves us at the end of the season.
How many points will the Reds finish with?
Andrew Beasley: I said 65 last season, so I was out by four. I therefore think we'll finish with 100 points this season….ok, perhaps not. I'd be very happy with seventy, and I think it is achievable. 69 or more would make it better than eight of the last eleven seasons, so I don't think people could grumble too much with that.
Daniel Rhodes: 71. (Although my predictor had us at 78 points.)
Si Steers: I expect us to finish with 70 points (hopefully my crystal ball is working as I predicted 61 last season!).

Who will be our most important player?
Andrew Beasley: Could be Luis Suárez for all manner of reasons (on pitch efforts, disruption, financial windfall…), but in reality it will surely be Coutinho. Our creativity level will drop without Suárez, and Coutinho needs to prove that he can create clear-cut opportunities more frequently than every other Premier League player for a whole season, rather than just for four months.
Si Steers: This season is going to be all about Coutinho I think, followed closely by Sturridge. But it will be Coutinho that is going to give us our creative edge; his vision is absolutely superb. He is going to have some willing runners in front of him such as Sturridge, Aspas, Sterling and Suarez (if he stays). They will all enjoy our Brazilian maestro pulling the strings behind them.
Daniel Rhodes: Hopefully, nobody, that's part of the problem; we need big contributions from Coutinho, Sturridge, Lucas, Agger and especially Mignolet if we're to achieve our objectives.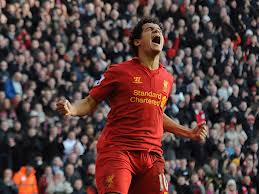 The rest of this article is for Subscribers only.
[ttt-subscribe-article]