By Paul Tomkins.
I think it's pretty clear that this is the best Liverpool side since the vintage that finished second with 25 wins and 86 points just four years ago. And even though this is the lowest tally in eleven years for a table-topping team at Christmas, Rodgers side is on course for 85 points, virtually identical to Rafa's that year. Indeed, Liverpool had 39 points from 18 games then, compared with 36 from 17 now.
This XI (and squad) doesn't have the experience of 2008/09's – that high-water mark of recent times; a team that, on top of two cup matches against Everton, faced 12 Champions League games that season, including Real Madrid in the last 16 and Chelsea in the quarter-finals.
That was a squad rich in European experience, but whose very European experience also helped provide the money and cachet to attract high-quality recruits (even if then, as now, there were far richer English clubs also in the Champions League every year; Liverpool were never in the market for a player beyond £20m when others were paying £30m). Equally, it was a squad stretched to the limit by the number of high-intensity games. One of the great bonuses of this season is that there won't be many additional games, even with a decent run in the FA Cup.
The turnover of players since the end of 2008/09 is quite eye-popping. Of the 11 "first choice" players from that season (inasmuch as there was a first choice XI under Rafa Benítez), ten are no longer at the club (although one, Pepe Reina, still belongs to Liverpool).
Three of that side subsequently made big money moves to a trio of perennial Champions League stalwarts: Barcelona, Real Madrid and Chelsea. Two others joined those same clubs for much more modest fees. Three have now retired, although with Fabio Aurelio it's hard to know if it's just another long-term injury. (I picture him turning up at a club when he's 73, saying "Hey guys, I'm finally fit!")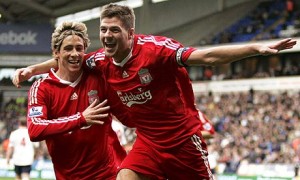 The 2008/09 side – Benítez's best – was more balanced; this current Liverpool side is a bit more attack-minded, although both played what can be termed good passing football, either in possession or on the quick counter, with an end product. That side had some great players; this side has arguably the greatest.
Of course, this Liverpool side is in many ways just starting out. The XI that beat Cardiff and Spurs had an average age of just 24, compared with the 26-28 of most title winners; although the Reds' average age has been higher than 24 across 2013/14 as a whole, with each of Gerrard, Toure, Enrique and Agger featuring in at least half of the Premier League games so far, to bump up that average.
On the one hand, this current side should improve with time and experience. On the other, it's only half a season of performances so far (as this incarnation of Rodgers' 'project'), and we don't know how it would do on a warm Wednesday in Barcelona.
Still, it won't hurt to make a comparison, on the basis that it's being done expecting to see a reasonably even match-up, given how exciting the current crop are. I'm basing my scores on the seasons in question, although it's impossible to ignore the influence of prior seasons and, where appropriate, subsequent campaigns. That should become apparent with the goalkeepers.
Goalkeeper
Reina 9
Mignolet 9
I think it's fair to say that Simon Mignolet has looked no worse than Pepe Reina at his best, which was still the case in 2008/09. For all we know, Mignolet could be having a "Dudek", where he looks impregnable for the first year, before a confidence crisis further down the road leaves him far less reliable (but thanks once again for Istanbul, Jerzy!). A recent example of this is Joe Hart at Man City.
In Reina's case, he lasted five seasons before he lost his mojo. At this level, five consecutive seasons of excellence is pretty rare.
Reina had a tighter defence ahead of him in 2008/09, so maybe that helped him look better. One area where he definitely was superior was in his kicking, and his quick-thinking when throwing the ball out to start a break (although the Belgian has been better at this in the last couple of games). But as Mignolet has barely put a glove wrong this season it'd be hard to mark him down as any worse than Pepe, based on a more limited sample size. Long may it continue.
This rest of this article is for Subscribers only.
[ttt-subscribe-article]