By Mihail Vladimirov.
As expected, Steve Bruce opted for a very defensive-minded system of play. But instead of going with either 4-1-4-1 or 5-4-1, he chose a 3-5-1-1 shape with a back three unit, two wing-backs and a diamond midfield behind the lone target-man Sagbo.
With Sturridge and Coutinho unable to start (with the latter on the bench), Rodgers introduced Moses and Sterling and put Henderson central. As such, the formation was closer to 4-2-1-3 rather than 4-2-3-1 thanks to Henderson being closer to the midfield duo than the front three.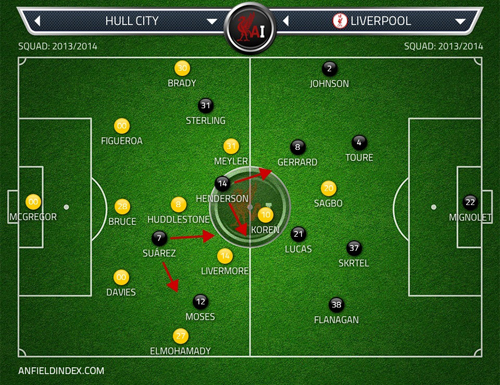 In a sense this game perfectly illustrated how with suitable tactics a vastly inferior team can completely nullify a team with obvious superior individual qualities. Tactically this game was all about Bruce's tactical decisions pre and during the game with Liverpool generally failing to adjust properly in any given moment.
Hull stifle Liverpool
The fact Hull played a hugely reactive style of play, with their prime concern being to not allow Liverpool's attacking threats to shine, wasn't a surprise at all. Similarly to Pulis and Allardyce, this has always been Bruce's usual strategy against better teams. Nor it was so unexpected that the home team would go with three centre-backs. The main surprise came in terms of the midfield format, which had an impact on the wide areas. Instead of going with the usual 5-4-1 formation, Bruce started with a diamond midfield and wing-backs.
Principally, both formations would have nine men behind the ball, but the difference is how exactly the team would have been expected to defend through the middle and down the flanks. In the 5-4-1 formation, as touched on in the preview, Hull could have opted to either have a flat defence and midfield lines, basically defending with a 5-4 wall, with two players per each flank and a deep midfield duo ahead of the centre-backs. The alternative variant was to see the home team using a narrow flat midfield four ahead of the back three unit and leaving the full-backs to shuttle down the flanks. Instead, the 3-5-1-1 shape, offered a mixture of the two variants.
The rest of this article is for subscribers only. 
[ttt-subscribe-article]