By Mihail Vladimirov.
As expected, Steve Bruce opted for a very defensive-minded system of play. But instead of going with either 4-1-4-1 or 5-4-1, he chose a 3-5-1-1 shape with a back three unit, two wing-backs and a diamond midfield behind the lone target-man Sagbo.
With Sturridge and Coutinho unable to start (with the latter on the bench), Rodgers introduced Moses and Sterling and put Henderson central. As such, the formation was closer to 4-2-1-3 rather than 4-2-3-1 thanks to Henderson being closer to the midfield duo than the front three.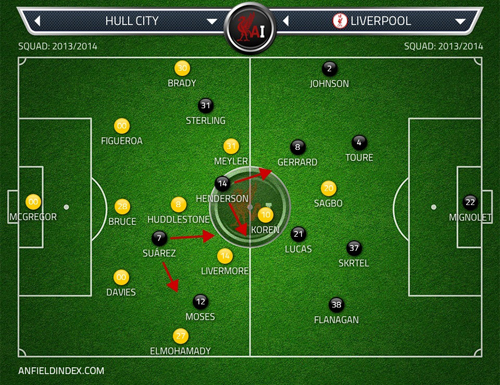 In a sense this game perfectly illustrated how with suitable tactics a vastly inferior team can completely nullify a team with obvious superior individual qualities. Tactically this game was all about Bruce's tactical decisions pre and during the game with Liverpool generally failing to adjust properly in any given moment.
Hull stifle Liverpool
The fact Hull played a hugely reactive style of play, with their prime concern being to not allow Liverpool's attacking threats to shine, wasn't a surprise at all. Similarly to Pulis and Allardyce, this has always been Bruce's usual strategy against better teams. Nor it was so unexpected that the home team would go with three centre-backs. The main surprise came in terms of the midfield format, which had an impact on the wide areas. Instead of going with the usual 5-4-1 formation, Bruce started with a diamond midfield and wing-backs.
Principally, both formations would have nine men behind the ball, but the difference is how exactly the team would have been expected to defend through the middle and down the flanks. In the 5-4-1 formation, as touched on in the preview, Hull could have opted to either have a flat defence and midfield lines, basically defending with a 5-4 wall, with two players per each flank and a deep midfield duo ahead of the centre-backs. The alternative variant was to see the home team using a narrow flat midfield four ahead of the back three unit and leaving the full-backs to shuttle down the flanks. Instead, the 3-5-1-1 shape, offered a mixture of the two variants.
The rest of this article is for subscribers only. 
[wcm_nonmember][ttt-subscribe-article][/wcm_nonmember][wcm_restrict]
Having a diamond midfield allowed Hull to better occupy the central areas and prevent Liverpool enjoying their usual passing flow. Not only did the home team have a 4-v-3 advantage in that zone, but in terms of space coverage, Hull's midfielders were suitably positioned to easily cut off the opposition's passing angles and severely restrict their ability to transform the deep possession higher up. In any given moment Hull could stick tight to Liverpool's midfielders without sacrificing positional stability, thanks to the spare man. As a general rule, whenever Liverpool tried to pass out from deep areas Koren would join Livermore and Meyler, creating a flat midfield three that aimed to completely cut off the link between Liverpool's recyclers and the front players. Even with Henderson dropping deep, the visitors had massive problems working around that line of three Hull players. This left Huddlestone free to concentrate on staying just ahead of the back three unit, preventing space between the lines to open up.
Additionally, having 3-v-1 at the back meant Hull had the added flexibility to use the two spare men whenever and however they needed to. If Suarez dropped deep to try and help Liverpool build-up through the middle, Hull's centre-backs either spread out with the side centre-backs (Figueroa and Davies) in position to help out the wing-backs if necessary, leaving Bruce and Huddlestone to communicate about how to deal with Suarez' movement. Or if the wing-backs were already dropping deep, forming that tight back-five unit, the side centre-backs would stay in position and be ready to step up and engage any player coming between the lines.
Having 3-v-1 at the back and 4-v-3 in midfield, on paper resulted in Hull being vulnerable 1-v-2 down each flank. However, Liverpool failed to exploit this (expanded on later), meaning that particular weakness really didn't matter. As a result the wing-backs were able to concentrate on dealing with Moses and Sterling and thanks to the 4-v-3 midfield advantage, Hull's back three unit was always in position to send the spare men to cover any potential gaps both down the channels and through the middle without sacrificing any positional stability in and around the penalty area.
The Tigers' main focus, expectedly, was to first and foremost prevent Liverpool creating chances and being able to penetrate, with everything else being of a secondary concern. Their shape and how exactly the players acted on the pitch, greatly helped by Liverpool's woes, meant Hull largely succeeded in that aim. From then, for the home team, it was a case of waiting for chances to break forward dangerously and ensure they took their chances.
Liverpool's attacking woes
It might be a case of Hull springing a partial tactical surprise using that 3-5-1-1 shape in order to be defensively as efficient as possible. But there was no surprise that the home team would be so defensive-minded, playing with nine men behind the ball, no matter what the exact shape and specific defensive patterns. As such, the emphasis was always going to be on Liverpool providing a framework capable of overcoming this. But, to put it bluntly: Liverpool failed spectacularly.
With Hull concerned about quickly dropping into the solid defensive shape, the players were also quick to drop off and leave Liverpool's deep recyclers completely unoccupied. As a result Liverpool had all the time in the world on the ball in their defensive third and deep in the midfield third. But they were unable to work around Hull's midfield and spray the ball higher up the pitch. This problem, however, was largely self-inflicted by the visitors.
The main reason was that there weren't enough players offering the required movement off the ball to open up the much needed passing angles to find those pockets of space around Hull's diamond midfield. Having four defensive players almost always staying behind the play clearly didn't help. The two centre-backs, Lucas and Flanagan rarely ventured forward. This was completely unnecessary not only because Hull had only Sagbo staying in advanced positions, but with Hull not pressing there was no need for the four of them to stay deep and help recycle the ball. With the four of them staying in deep positions, Liverpool only had six players attacking Hull's nine men behind the ball.
That's why, with Flanagan and Lucas on the pitch, it was strange to see neither of the centre-backs trying to bring the ball out of the defence and join the midfield battle in order to level it 4-v-4. Theoretically, Agger is Liverpool's best ball-playing defender capable of carrying the ball into midfield. But with Toure on the pitch, Liverpool could have channelled the play through him, using him in that role. This would have helped the team put emphasis on the right-hand side, using the left-sided pair (Skrtel and Flanagan) to shuttle across and cover to allow Toure and Johnson greater attacking freedom. With Lucas also there, this should have resulted in Gerrard being freed too. Instead neither of the centre-backs pushed up, and with Flanagan and Lucas notoriously incapable of offering much in attack, Liverpool suffered.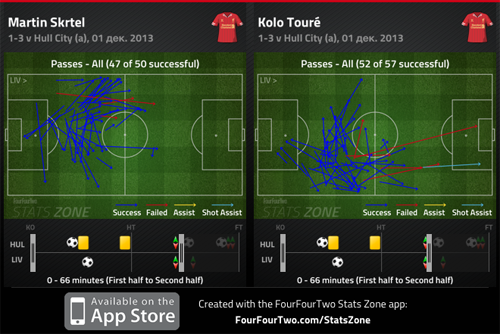 Last week at Goodison, Lucas was offered little defensive assistance from his midfield partners (with Liverpool playing a 1-2 triangle), especially once Everton switched to 4-2-4ish in the 50th minute. Here, the case was completely the opposite with Gerrard and even Henderson unnecessarily spending so much time alongside Lucas. Even when Liverpool tried to recycle and then transition forward, Gerrard was predominantly staying in touch with Lucas. As a result both players largely duplicated their roles, failing to provide the required movement diversity. Logically this further hampered Liverpool's chances to pass their way forward quickly and assertively. With four players already staying behind the play and helping recycle the ball forward, it was completely illogical and unnecessary to see Gerrard trying to do the same with Henderson repeatedly dropping deep to help too. And this was against team who were expected to sit deep and narrow, with nine men behind the play.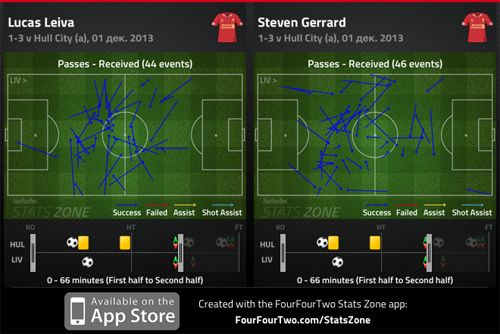 Not only this, but except for a few trademark searching balls, even on the ball Gerrard failed to provide something different to what Lucas was doing. Both players' passes were largely recycling-oriented sideways or backward passes deep in the midfield third.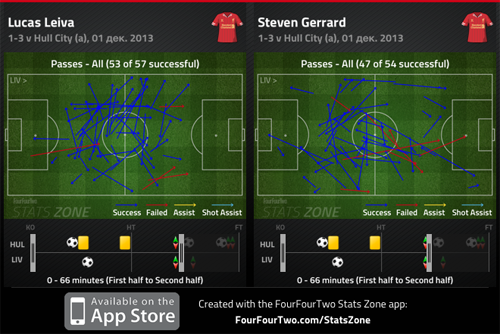 All of the above, combined with Hull's diamond midfield, meant Liverpool had enormous troubles bypassing the midfield area, entering the final third, and constructing positive passing moves. As a result the visitors had to mainly try direct balls, often trying to completely bypass the midfield area and directly feed the front players. Apart from one or two promising situations, logically Hull's defensive shape found it easy dealing with such attacks.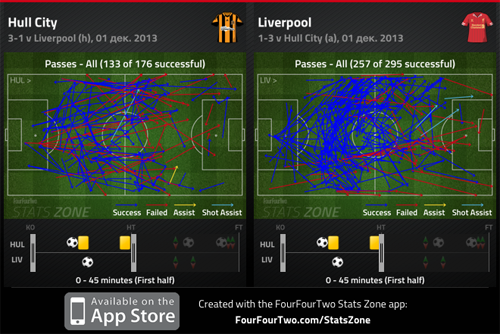 Liverpool's problem was further magnified by the total lack of interplay from the front players and their inability to vary their positions in a coherent manner. Suarez tried to drop deep and show for the ball. Meanwhile, Moses and Sterling repeatedly tried to move infield and receive the ball either side of Huddlestone. But as a whole the front players looked like disconnected individuals rather than a unit within the team. Far too often, when the wingers came narrower, no-one offered the reverse movement to try and provide that cohesive movement fluidity.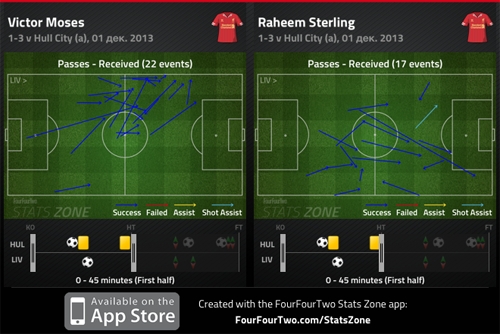 With Moses and Sterling moving infield, Liverpool were further robbed of width as neither of the full-backs tried to push on. While this was expected with Flanagan, it was very surprising to see Johnson failing to influence the play in that manner. One of the reasons was that it was Flanagan who received the ball more often, with Liverpool strangely preferring to build up over on the left hand side. But still it's hard to rationalise why Johnson was so inefficient pushing forward and exploiting the space left by Sterling's in-cutting runs.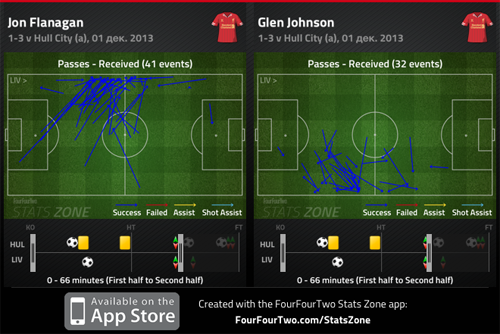 With Henderson forced to play more of a functional rather than creative or supporting role during the attacks, Liverpool were completely bereft of ability to construct penetrative moves higher up the pitch. With Gerrard staying so deep for so long, Henderson had to often drop deep and collect the ball off the recyclers in a bid to at least partially connect the team through the middle. But this meant he was unable to offer any close support to Suarez in terms of off ball movement and forward runs. One rare occasion, was when Henderson pushed forward to exploit the gaps created by Suarez' roaming – as he did for the situation in the fourth minute, when he tried to latch onto a Moses' cutback. As a result, even in the few promising situations the wide dribblers managed to create openings, there was no-one surging off the ball with Suarez constantly roaming, hence no constant attacking presence, while Henderson and Gerrard stayed predominantly deep and therefore unable to push forward in time.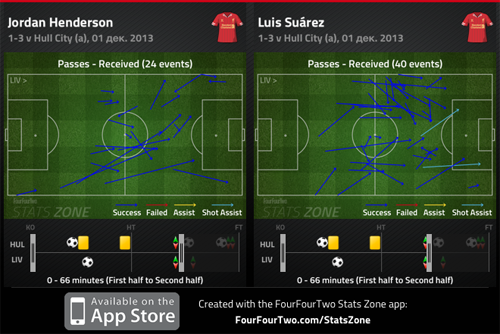 That's why it was strange to see Liverpool persisting to play deep as a team, resulting in Suarez and Henderson constantly looking to drop deep most of the time; instead of acting as a pair, relating to each other and helped by the wingers and Gerrard looking for ways to penetrate Hull's packed defence. And all of this against team that not only were expected to, but visibly, was overly defensive-minded with so many players behind the ball. Lucas and Gerrard could have still remained deep within the team's formation, if this was Rodgers' explicit wish. But the team ought to push forward as a whole, bringing the play into Hull's half and nearer their defensive third.
Anyway, it could be said the fact Liverpool remained so deep and with so many players behind the play was a deliberate tactic and not something that happened only as a result of how well Hull defended zonally. Repeatedly Liverpool as a team looked to transfer the ball forward quickly, looking for opportunities to hit the ball directly to the front players. It felt like the visitors were under instruction to play on the break, given almost all of their more promising attacking moves was as a result of direct balls bypassing the midfield area.
Surely, against a team looking to defend so tightly and with so many players behind the ball this was the completely wrong approach. But the lack of fluid and cohesive movement between the midfield and front trios made it evidently harder for Liverpool to approach the game with greater possession emphasis, based on passing fluency and greater interplay in the opposition's half.
Clearly, Liverpool's main undoing was the lack of any clear patterns of play in terms of how the team were expected to build-up, transitions through the pitch and approaches in the attacking phase. Everything seemed totally disjointed with the players largely duplicating their roles, failing to prevent diversity and ended up not relating to each other. Based on the starting XI and how the opponent were expected to behave (which was not at all so different to how they actually approached the game), it could be said Liverpool had enough tools to provide a better tactical organisation and greater attacking capability to penetrate the opposition. With Flanagan on the left, it was to be expected Liverpool couldn't stretch the play simultaneously on both flanks, which meant they ought to have tried creating supremacy through the middle and down the right hand side. Taking into account Hull's 3-5-1-1 shape, the visitors weren't able to overload the midfield zone, but they could have levelled the numbers there, putting greater emphasis on the right channel as their main area of strength.
As hinted above, the first step was to have the team pushing, as a whole, higher up the pitch, instead of having the majority of the players looking to drop deep and duplicate their roles. As such, Lucas and Gerrard could have been higher up the pitch (but still deep within Liverpool's shape) and right against Meyler and Livermore. With Toure looking to bring the ball out of defence he would have levelled numbers in that zone, leaving Gerrard free to join the attacks.
The next step was to ensure Liverpool built up down the right side – as this was going to be a direct consequence of having the right-sided Toure as the ball-carrier from the two centre-backs. As a result Johnson and Sterling could have acted as a pair, constantly switching who could stay wide and who should cut infield. This would have put greater pressure on Brady (just coming back from injury and prone to positional lapses) and Figueroa (who as a centre-back was going to be vulnerable to be dragged wide once Johnson got past Brady). With Liverpool enjoying the right flank as their area of 2-v-1 supremacy, the team should have had a greater chance to create gaps through the middle for Henderson and Gerrard to exploit pushing forward and supporting Suarez. Additionally, with the main focus being down Hull's left flank, on the opposite flank Moses would have had the chance to time his run and dart diagonally as the additional off -ball runner.
The main effect of this was that not only could Liverpool look to spread their possession from higher up, creating promising passing moves near Hull's penalty area, but Suarez would have had the close support of three players. Meaning in attack the team would constantly change between having a front two (Suarez and Moses) stretching Hull's back three unit and creating space for the runners coming from deep (Henderson and Gerrard). Alternatively, with Henderson and Gerrard looking to further overload the right channel, Suarez and Moses could time their runs and sneak in on Hull's blind side.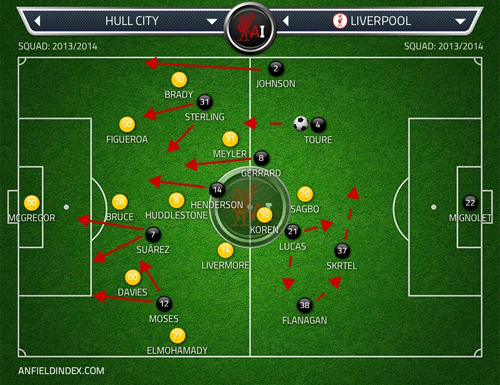 Anyway, the failings were so obvious and with Liverpool already wasting the first half, arguably Rodgers could have been proactive and acted as early as half-time. One way to try and improve the team's ability to penetrate was to introduce the system that saw Liverpool at their attacking best against Fulham. With Sturridge and Coutinho missing, Rodgers could have tried to replace them with Moses and Henderson. Moses is capable and at least partially able to replicate Sturridge's role in terms of movement. Similarly to Sturridge, the Nigerian could have been pushed up front to rotate with Suarez about who should drop deep and who should push in behind, who to stay central and who to drift wide. Meanwhile, although Henderson lacks Coutinho's vision and passing finesse, he is at least able to sit narrower and influence the play from between the lines, making it 4-v-4 and helping to establish a proper midfield control in advanced positions. This would have enabled Suarez to then push forward as the second forward, with Gerrard asked to be as active in surging forward as against Fulham.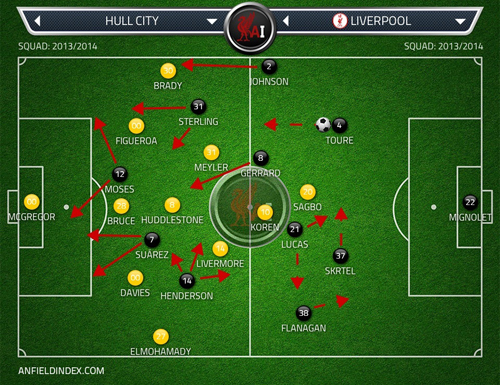 Alternatively, Rodgers could have turned to the bench and replaced the clearly under-performing Moses with Alberto, who could then be given the Coutinho role as the in-cutting from wide areas #10. Then push either Gerrard or Henderson forward to play the Suarez role, with Suarez moved as the forward to do the Sturridge bit.
Second half
At half-time Steve Bruce made an interesting tactical change. He switched from the initial 3-5-1-1 to a 4-5-1 formation. Figueroa moved wide as the left-back, El Mohamady dropped as the right-back with Koren going ahead of him. Given the added flexibility of that formation – reverting to 4-1-4-1 in defence but morphing into 4-3-3 in attack – it could be said the change was designed to increase Hull's attacking firepower. Perhaps Bruce felt secure enough to make that move seeing how abject Liverpool were in attack?
Hull now had the chance to put emphasis on their right flank, using the natural diversity provided by El Mohamady and Koren – the former moving infield with the latter overlapping on the outside. In addition, Livermore and Meyler were in position to support the attacks with Brady now providing the width down the left. Figueroa's role was crucial in Hull retaining defensive solidity. In contrast to El Mohamady he rarely ventured forward, staying deep and in position to quickly tuck infield and form a back three unit and negate any potential Liverpool counter-attacks while the rest of the team drops back.
Meanwhile, although Liverpool continued to enjoy around 65% possession, the team continued to struggle with all of the first half symptoms still plaguing the team's ability to create meaningful attacks. It was quite apparent, even early on, that the visitors were not going to improve drastically, following whatever Rodgers had to say or whatever tactical changes he might have tried to issue during the half-time break. As such it could be argued whether the first change could have happened around ten minutes earlier.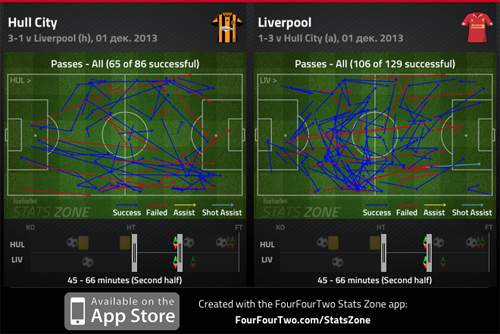 The actual change – Coutinho in for Sterling – seemed logical with the additional tweaks further enhancing Liverpool's different tactical outlook. Coutinho was brought to play as the central #10 with Henderson tucked in from the left. The positive was that these changes do signal that Rodgers was aware of Liverpool's failings and was trying to rectify them. With Coutinho, the team would obviously receive a creative boost while with Henderson playing narrower from the left the team was gaining that framework that inherently allows for more fluid movement and increased penetration. Suddenly Liverpool gained Coutinho's playmaking skills in the hole, with two midfield runners (Henderson and Gerrard) supporting the play from different zones.
In the meantime, Bruce opted to replace Koren with Rosenior, pushing El Mohamady higher up as the right winger. This served to further underline the fact that Hull would put greater emphasis on attacking down their right using a proper right winger and an overlapping full-back to try and create 2-v-1 overloads. In addition, the change meant that Hull now switched their defensive system once again. As touched on in the preview, the back four looked to defend narrow with the wingers told to drop deep as the auxiliary full-backs, with the midfield three remaining in a tight and compact unit.
Logically, Liverpool's attacking play quickly improved with a few well-constructed attacks following. Unsurprisingly the best two of them included Coutinho pulling the strings. First he tried to set up Gerrard, on-rushing from deep, with a chipped through ball, only for Figueroa (tucking infield to cover) to make the crucial block. Minutes later, Coutinho drifted to the right to receive Suarez's first-time pass before setting up Moses with a low cross for Liverpool's best chance in the whole game. Unfortunately for the visitors, Hull's keeper pulled off a great save to prevent what seemed a clear goal.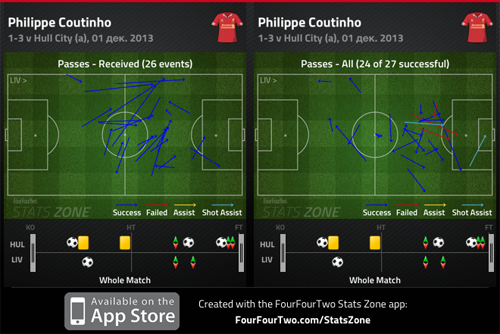 But then, once it seemed Liverpool would finally establish control of the game and were finally starting to put Hull under sustained pressure, the home team managed to score their second goal and again take the lead.
It was good to see Rodgers trying to react quickly this time, and two minutes after the goal he made his second sub. But bringing Alberto on for Moses lacked tactical sense, given the context of the game and how Hull were looking to play without the ball.
In a way removing Moses was the right decision given how minimal his impact on the game was. Still, arguably he should have been the one departing earlier when Coutinho came on, as Sterling looked much brighter on and off the ball. However, the bigger problem was that by bringing Alberto on Liverpool only had Johnson capable of providing attacking width from the full-backs. And this against a team who not only looked to defend with a narrow back four but also had wingers dropping deep in what seemed like a very compact 4-1-4-1 shape. Liverpool completely played into Hull's hands by squeezing the play towards the midfield zone.
As such it wasn't a surprise to see Liverpool failing to open up Hull's defence in the last twenty minutes (the added time is included here). As the below passing chalkboards illustrate, Liverpool lacked width to stretch the play and secure those gaps for some penetrative balls to be played into the last third.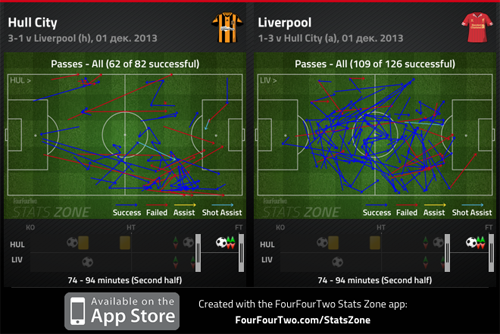 What's more, Hull weren't simply reverting to a back-to-the-wall, overly reactive way of seeing the game out. The home team actually did a good job using every opportunity to keep the ball in Liverpool's half and try to create something with it. As a result, not only did they prevent Liverpool having total possession and territorial advantage, but also managed to create decent attacks themselves in the last ten minutes. Apart from the third goal, there were two situations where perhaps Hull ought to have scored. First, there was the Sagbo chance in the 86th minute when he headed forward only to produce a tame finish from what seemed like a really good goal-scoring situation. A minute later Hull managed to score their third goal. Then, in added time, the home team broke forward really well down the right channel with some nice one-touch passes enabling El Mohamady to head into the penalty area, facing only Mignolet – but his shot went wide off target.
One could argue that once they went 2-1 down, Rodgers ought to have been much more tactically imaginative and braver with his second sub. Instead of using Alberto, the Liverpool manager could have opted to drastically increase his side's attacking potential. For example, remove Flanagan and introduce Aspas (him being on the bench surely meant he was fit to play 15-20mins?) with Liverpool going 4-2-4ish, with him and Suarez as the roaming front pair. Then move Johnson to the left and Henderson to the right as the overlapping full-backs, with Coutinho and Moses playing different roles on the flanks – the former as the narrower playmaker, the latter as the width-provider.  Furthermore, Rodgers could have replaced Lucas – as there was no need to have three defensive players marking Sagbo – with Allen, who is able to offer a greater attacking input. At the very least having him spearheading the recycling process and being more mobile than Lucas, might have freed Gerrard to permanently stay in advanced positions and support the front quartet.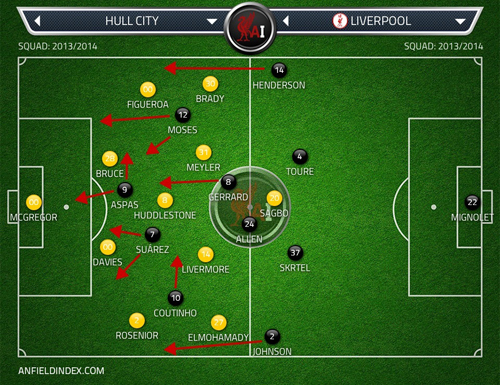 Even if the second sub is taken into account, Rodgers ought to have thrown caution to the wind in the last ten minutes and have a proper go in search of an equaliser by introducing Aspas for Flanagan. The possible aim was to move Johnson and Henderson as the overlapping full-backs and have Coutinho and Alberto sit infield to create openings for the front duo and Gerrard.
Post-match thoughts
Hull completely deserved to win this game. Not only did they completely nullify Liverpool with smart defensive tactics, but in the second half they managed to increase their attacking capability and grab their chances when they came to score goals.
For Liverpool this was a hugely disappointing game. On one side, the initial approach seemed completely unsuitable to how the opposition was expected and proved to line up. In addition, yet again Rodgers' in-game decisions looked either unnecessarily delayed or even failing to address the team's shortcomings in attack at all.
One could sympathise with Liverpool for their tame attack, completely lacking fluidity and cohesion, given Sturridge's injury and Coutinho's absence from the start. That Coutinho was not going to start was obviously not a surprise, with Rodgers verifying he didn't train all week. So it's less of an excuse for the team to lack so much in the creative department. As for Sturridge's injury coming on Friday, that excuse could be at least partially legitimate in that the team didn't have enough time to prepare any different approaches and patterns of play.
However, it seems a bit naïve to suggest that with one player missing and the other sitting on the bench – granted, two of the key players – could have such a negative impact on the overall ability of the team to penetrate the opposition. First, because as suggested above, Rodgers could have opted to keep the same system and replace both Coutinho and Sturridge largely like for like with Alberto and Moses respectively. When there is no time to prepare a different system with the same attacking verve and cohesion, at least keep the previous one as much as possible. Or at the very least, when you change the system at least keep it logical, with what look like more suitable playing patterns based on how you expect the opposition to play. Trying to play on the break against a team that is surely going to keep nine players behind the ball is counter-intuitive, to say the least.
And second, because it seems really inappropriate to suggest that a team such as Liverpool only has one way of playing in attack and that, again, only having one player missing would totally ruin it. It's really wrong to suggest Rodgers has spent 18 months training with the usual starting XI,  and yet still expect the rest of the players not to be ingrained in that attacking system and way of playing. Still, given how poorly organised as a team and in particular the front three as a separate unit looked, such a claim at the very least could be considered, if not taken as the ultimate truth.  For a manager who prides himself as a coach in the truest sense of the word, and who said with him the system would be the star, all of this seems a bit strange.
Another reason for concern is that with Rodgers usually not rotating his team or using his subs in full during games to give squad players playing time, that game showed the downside of having to use two players who largely lacked match practice, let alone were in good form. The same goes for relying on a player like Alberto to turn the game in your favour.
But the biggest disappointment is that once again, when the chips are down and it's tough for the team – before and during the game – Rodgers was unable to influence his team positively with assertive and efficient tactical management. Liverpool are good when the key players are all fit and the opposition is playing badly. Often the result is that the opposition is completely swept aside. But if the opposition is organised and uses smart tactics to negate Liverpool's threats and/or some of the key players are missing, the team is hardly helped by Rodgers' tactical decisions before and during games.
With all this in mind, it could be argued whether Rodgers' personal pride as a tactician should be really hurt after this game. With all due respect, if you have been just tactically outwitted by Steve Bruce, you will know that your performance on that front has been really poor.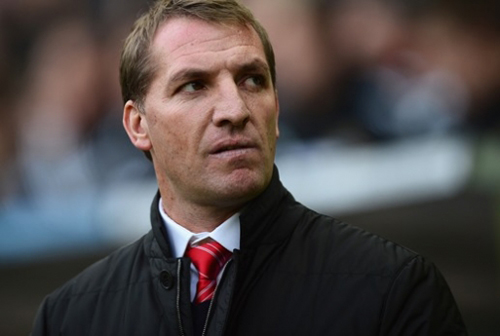 [/wcm_restrict]