By Paul Tomkins.
The time has come: Roy Hodgson deserves his own statue outside Liverpool's famous stadium. My suggestion is that it could be made of concrete, and built facing the outside wall of the Kop, right in the corner. It would be a perfect target for pigeons to shit on, and the addition of a traffic cone could finish the 'dunce' look. It would look very sorry for itself in the shadow of Bill Shankly.
Perhaps it could made of paper; toilet paper, even. In fact, it might be most appropriate situated in the Kop toilets. It could perch atop a circular urinal.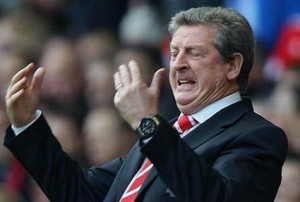 Because of course it's better for Daniel Sturridge to be injured now, after being risked in an England friendly when carrying an injury, so that he will miss the busiest part of Liverpool's season. Everyone at Anfield tomorrow, myself included, will have paid money that goes towards Sturridge's wages. England "borrowed" the player, risked his health, and sent him back unfit to start against Everton, and now he's out for six to eight weeks.
As someone on this site noted, would Hodgson have risked Wayne Rooney in such a way when Alex Ferguson was in charge? Of course not. Even as Liverpool manager Hodgson kowtowed to Ferguson as if he was actually his personal assistant at Manchester United. "My friend Sir Alex, grovel grovel," even after Ferguson had slated his Liverpool side and its star striker.
I don't want to be too down on international football, because for many people, and across many countries, it's a vitally important thing, even if it has disrupted our domestic season on four occasions already (soon, will players go on a 'league break' from international football?)
And I don't want to protect the money-making machine that is the Premier League, which grows ever more bloated on insane TV deals. But when everyday people are having to fork out £50-or-so every week to see their team play, they shouldn't expect those players to be taken off for a couple of weeks and returned in pieces.
At times I've felt some guilt for being so vehemently opposed to Hodgson during his Liverpool tenure; was I too harsh? And then I think back about all the things he said, and continues to say, and the gutless brand of football he provided, as well as the bizarre face rubbings, and any sense of contrition evaporates.
To be fair, he is not a bad football manager. In some situations he's quite good. He's probably not a bad person, either. But he still seems intent on ruining Liverpool Football Club's chances of ever doing well, even after he was kicked out three years ago.
The Reds' points haul this season has hinged on two players: Simon Mignolet and Daniel Sturridge. That these two players have been so pivotal is not Hodgson's fault. But the removal of one of them from the Reds' festive programme could be linked with his reckless use of the striker, who told the England manager he was not fit to play. "Ah, I'll test his resolve", thought Roy. Thanks, Roy. "Oh look, he was telling the truth. Never mind. Still, I won't apologise."
So, on top of building a statue, I suggest that John W Henry lure Hodgson to his private jet, on the promise of £10m-a-year to return as Liverpool manager. Hodgson is then bundled into the plane, stripped of his passport and dumped in Cuba, or Ecuador, or Papua New Guinea.
Who knows, in his absence the England national team might even then produce a shot on target?
The Best of TTT available now. Contains very few mentions of Roy Hodgson.