By Si Steers.
There are many attributes that make a great football manager; each manager will have his own strengths and weaknesses, but when judging how good a manager is, it is important to assess a variety of skills to determine how good they are, or can be.
If you were looking at five key attributes that make up a good manager you might consider the following:
Leadership
Coaching
Tactics
Communication
Scouting
It is important to consider that some of those attributes will be part of a manager's character such as Leadership and Communication; others like Tactics and Coaching are areas that will improve as a manager develops.
So how does Brendan Rodgers stack up against those five key attributes?
Leadership
One of the biggest tests of a leader is to have clarity of vision and philosophy, and to be able to articulate that into a plan or blueprint that actually influences direction and ultimately success.
It is well documented that Brendan Rodgers has a very clear idea about the type of football he wants to play, and has a good understanding of the type of players that fit into his ideological system. He knows exactly what he wants.
Rodgers also speaks with absolute clarity when talking about his ideas; it is unusual for a British manager to look to a possession-based philosophy; it is very much against the grain of traditional thinking in British football.
Rodgers' leadership credentials continue to flourish; whilst he possesses a complete belief in his ability and his way – which can sometimes be mistaken for arrogance – he seems keen to surround himself with experts in various disciplines such as sports science, scouting, and even sports psychology.
It is important as a leader that you listen and act on the advice of people with specialist knowledge; this is something Rodgers seems keen to do. He is also keen to learn, and that is a quality that will help him continue to grow as a manager and a leader.
Finally, one of the most important things you look for in a leader is authority. Rodgers doesn't come across as the type to scream and shout, but to me, he does possess an aura of authority. When he talks, you listen. And you should be wary about crossing his path; you sense ruthlessness in him.
So how does Rodgers score as a leader? It is difficult to judge as he is still in the very early stages of his career, but if you are looking at attributes, I would put him in the 8/10 category with the potential to improve further.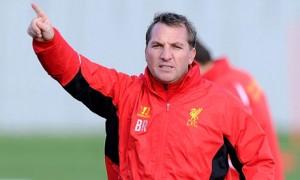 Coaching
So how does Rodgers fare as a coach? I think this is without question his biggest strength, getting the best out of players. One of the unique characteristics of Rodgers is his strength as both a coach and a manager; not every world-class manager is a world-class coach – but Rodgers has the tools to marry the two together.
Rodgers has a background in youth development, having worked under Jose Mourinho at Chelsea. So he understands the development journey of young players and what it takes for them to make that leap from potential to the first team.
Whilst the Academy at Liverpool has come on leaps and bounds since Benitez overhauled it, you can argue that few players have made that transition from potential to regular first team football over the past four years. It is also interesting to note that the likes of Sterling and Wisdom have fallen foul of 'off the pitch' headlines, whilst Martin Kelly's attitude has been called into question.
Rodgers has said many times that attitude is key for young players, which is probably why Jon Flanagan has started to see game time recently. Rodgers has also spoken about his desire to bring together the Academy and first team under one roof.
So what does this say about Rodgers the coach? To me, the recent changes at the Academy look on the face of it to be aligning the development of young players to Rodgers' philosophy and coaching ideals. It is evident that Rodgers wants to be a key part of a player's development journey, so that by the time they reach the first team, they understand exactly what is expected of them.
It isn't just the development of young players where Rodgers excels. He has been able to get the best out of Stuart Downing and Jordan Henderson, the latter having improved significantly under Rodgers influence. He has also taken Daniel Sturridge's game onto the next level, turned Coutinho from an Inter Milan reserve into a Premier League star, and has somehow managed to get even more out of Luis Suarez.
That doesn't happen by accident. It is down to excellent coaching, and a manager who trusts and believes in his players. In the relationship he looks to develop with his players, you can see that same kind of rapport Mourinho looks for.
I think that Rodgers is one of the most talented coaches in the Premier League, and I'd put him in the 9/10 category for coaching.
Tactics
This is an interesting area and there is a diversity of views about how good a tactician Rodgers is. I think it is fair to start by saying he has improved significantly as a tactician over the past 18 months, it is an area where he is still growing but isn't yet the finished article.
I think there is a definite case to make that FSG employed Rodgers the idealist, but over the past 18 months he has very much married that idealism with pragmatism; he has had to.
In Rodgers' ideal he would likely play 4231 or 4213 with a very flexible and fluid frontline. But this season we have seen different tactics for different games, and a lot of the time, you have to say he has got it right. We have seen three at the back deployed to make use of the strength we have in that position. And we have seen two up top to play to the strengths of Sturridge and Suarez.
That is a manager who is becoming more tactically mature. When your benchmark for a tactician is Rafa Benitez, you are always going to struggle to find that level. Benitez is out on his own as a tactician, quite possibly, one of the best in world football.
But just because Benitez was good doesn't mean Rodgers is bad. I think Rodgers has a different view of the game to Rafa, and puts an offensive mentality above tactical perfection and balance. Rodgers is more Ferguson than Benitez in that respect.
I actually think Rodgers' vision is most closely aligned to Arsene Wenger in the Premier League; both share similar attributes in philosophy, coaching and developing young players. But Wenger is more tactically mature than Rodgers at this stage.
I still think there is massive scope for Rodgers to improve tactically, and I think he will. For me, he is a 7/10 at the moment, but that has already improved from last season. I think he will be looking towards an 8 or 9 in the next few years as he continues to operate at the top of the game, where tactics become far more important as the difference between winning and losing.
Communication
It's a common theme that people feel Brendan Rodgers talks too much. But does he? I am not sure if it is he talks too much, or if he talks in cliché too much.
It is difficult for Rodgers as when he talks it is generally in the future tense, as he has yet to have the comfort of achieving something in his career to fall back on. He also has the difficult task of managing supporter expectations: if he says we are in the title race he is damned, if he says we are not he is damned. It is an incredibly difficult balance.
The best thing about Brendan Rodgers is that he actually engages people. He can be intense when he speaks, but it draws you in and makes you want to believe him. Unlike Benitez, Hodgson and Dalglish, Rodgers is a natural communicator (as most good leaders are).
It is almost anti-Liverpool in a way to be popular with the media and other clubs, but Rodgers has that ability to build relationships. Some people will probably still prefer Benitez or Dalglish's style over Rodgers – both of whom hated the media.
But when you look at big issues – Rodgers has been able to be strong and retained a positive or neutral press. The swipe at the FA following the Suarez bite and his response to the Ferguson book are just two examples.
Being a good communicator is a very big part of a manager's role these days. In the 24 hour media madhouse of football, you need somebody that can represent you well. And Rodgers represents Liverpool FC very well. For that reason, I'd give him a 9/10 as a communicator.
Scouting
So how has Rodgers done in the transfer market? To be frank, with the committee in place, it is very difficult to judge on Rodgers' ability in this area. We can go back to his initial summer with the recruitment of Allen and Borini – both of whom have yet to be a real success – but that seems like an unfair barometer on which to judge as it is such a small sample.
There are plenty of myths and speculation in circulation on how much input Rodgers has into the committee, and who has the sign-off on players. But the bottom line is, if a manager doesn't want a player, the club won't sign him. That has to be the guiding principle as it is the manager that has to play him.
So with that in mind, Rodgers deserves credit for his role in bringing Coutinho and Sturridge to the club, even if it wasn't him that initially identified them. He also deserves credit for making them into better players. It is still a bit too early to judge this summer's signings, but already Sakho looks an absolute star in the making.
The thing about Liverpool's transfer strategy of recruiting youth and developing, or players who have the talent but have perhaps fallen off the radar, is that it wouldn't work without a manager like Rodgers. The entire philosophy is based upon Rodgers' ability to coach, improve and develop players.
We don't have the resources to be in the market for the 'finished article', so we have to make them. That is why it is so difficult to judge our success or failure – there will inevitably be some players that fail, and others will mature and flourish at different times.
The question that needs to be asked with scouting is can Rodgers spot a good player? Without question, the answer is yes. He has a very clear view of the type of technical ability he wants, and also places mentality high on his list of attributes. As a scout, I'd give him a 7/10 on the proviso that the committee doesn't allow us to really see the full scope of his potential in this space. But the beauty of our structure allows some margin for error in this area.
Conclusion
As things stand, I'd say Rodgers is 40/50 towards becoming a great manager. Of course, that will be subjective, but it starts to give us some kind of indicator as to how he scores in key areas.
I think one of the best things about Rodgers is his desire to get better and improve. It is sometimes easy to forget that he is only 40; which is a year younger than Rafa before he went to Valencia.
One of the most lauded young managers in Europe, Andre Villas-Boas, is still struggling to make an impact in English football. It isn't easy, and you need a full suite of attributes to really succeed.
What I like about Rodgers is that he has a fascinating mix of philosophy and character. He has a certain aura, and he is beginning to show some substance behind the style. He isn't yet the finished article, and still has some weaknesses he needs to address. The positive is that his weaknesses are more knowledge gaps than character flaws – which will come with maturity.