By Chris Rowland.
Welcome to today's daily digest, listing the day's Liverpool FC news, the latest LFC transfer news, other major football news and also providing links to the best posts on the site's debate section.
LFC News:
The backs are back – Brendan Rodgers is set to welcome back first choice wing-backs Glen Johnson and Jose Enrique for tomorrow's Premier League clash with Fulham at Anfield.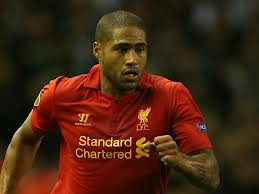 Back in contention …
Daniel Sturridge has reflected on the strong relationship with his manager which has allowed the 24-year-old to become the top scorer in the Barclays Premier League:
"The manager has done so much, I can't thank him enough for what he's done for me.

"First and foremost giving me an opportunity, and then talking to me a lot and telling me about my game.

"He's pushing me and he doesn't let me rest on my laurels. I'm not the type of person to do that; I'm always critical of myself. Sometimes he tells me not to be critical of myself.

"He wants me to constantly improve my game, never to be content – everything from the tactics to the mental side to listening to the manager. Every little thing, he is on point, and he wants me to be on point all the time.

"For me, it's great to have a manager that understands me as a person, and we get along. He's hard on me at times as well – it's not all plain sailing".
Brendan Rodgers believes Steven Gerrard may decide to bring an end to his international career after leading England at next year's World Cup.
"I think it's something he will assess and look at," Rodgers said.

"If you go to a World Cup in Brazil at 34 years of age you might not have many more championships left in you. Very few players do. I can think of Javier Zanetti and Paolo Maldini who have played on late but it's rare."
Luis Suarez has won the club's Player of the Month for October.
LFC Transfer Talk:
Liverpool are set to allow Raheem Sterling, 18, to leave Anfield on loan in January so he can get regular first-team football. Sporting Lisbon's Spanish international Diego Capel, 25, is being linked with a move to the club as his replacement (Daily Mirror).
Liverpool and Man Utd are set to go head-to-head to sign Benfica midfielder Nemanja Matic, 25.
Other Football News:
Manchester City's Sergio Aguero won the Barclays player of the month award for October after four goals and one assist in three matches. It completes an Argentina double after Southampton's Mauricio Pochettino was named manager of the month.
Articles Published Today:
Ten-Game Brief Tactical Assessment, by Mihail Vladimirov.
Best/Most Interesting Posts Today:
MikD made an in-depth assessment of the runners and riders amongst our current midfield options, the topic du jour at the moment. Here's a sample:
Our duo of Alonso and Masherano was imperious and it's that balance and level of quality we are trying to find again. Right now, Gerrard and Lucas are the best two players we have in those positions (in my view) and that's the issue. For all Henderson's energy and obvious improvement, in my opinion, he lacks a vital ingredient still and that's composure.

His general passing is fine when he is not under pressure, even his first time passing is generally good. But put him under pressure and he has moments when he makes poor decsions or he rushes and executes poorly. (Not all the time, granted). Do that in the final 3rd and it's just a missed opportunity. Do that when you're protecting the back 4 and it's a different matter.

Which brings me to Allen. What have we got in Joe Allen? He is tidy when we're in possession and always makes himself available but he's rather too easily brushed off the ball for someone who is protecting the back 4. Having said that, CL football is different to the PL. Is Allen's game better suited to CL football?
Garythespud make this brief but pithy appeal for Liverpool to be ruthless tomorrow. Here it is in its entirety:
The absolute verifiable, experiential, registerable, demonstrable, undoubtable truth of the matter is that if LFC wish to come 4th or higher this year then they must dispatch this shocking side with absolute indifference to any notion that football can throw up funny results. So sod that, I expect to see an emotionless slaughter.
Krishaldo reported "The English Premier League has hailed a "significant win" in its ongoing battle against piracy and Intellectual Property (IP) theft after the Federation Against Copyright Theft (FACT) secured a successful conviction against a website that had been illegally streaming live games."
The individual responsible received a two-year custodial sentence for fraud, the first time a prison term has been handed down to someone illegally exploiting the Premier League's rights.
Bazmeen posted his latest blog with link, assessing our current position and previewing the Fulham game. Here's a sample:
In order to achieve top four it is essential that we win the games against the teams we are expected to beat and the game this weekend against Fulham is a prime example of this. A lot of people are taking it as a given that we will win comfortably and of course that's understandable because of the poor showing from Fulham so far this season, but I always fear teams a little bit more when they are at a particularly low ebb. This is mainly because results tend to improve eventually with the downward trajectory halted, it's our job to make sure any improvement doesn't come against us.
One red posted news of a new book which will undoubtedly find its way onto a few Christmas lists:
Jonathon Wilson, (along with Scott Murray), has a book on Liverpool coming out on the 21st November called "The Anatomy of Liverpool: A History in Ten Matches".
From comment #3 onwards, there was some fantastic debate on the part tactics have to play in a club's successes or otherwise, with quality comments ping-ponging back and forth like – well, ping-pong! – and the author of the Ten-Game Brief Tactical Assessment article, Mihail Vladimirov, defending his position tenaciously and with conviction.