By Daniel Rhodes.
Welcome to today's daily digest, listing the day's Liverpool FC news, the latest LFC transfer news, other major football news and also providing links to the best posts on the site's debate section.
LFC News: 
Victor Moses claims fans will only see the best from him if he is given more of an opportunity to play:
"The main thing is to be on the pitch and enjoy my football," he said. "That's always been on my mind – to play games.

There was only a little spell at Wigan, when I first signed there, when I wasn't in the team every week.

I've always gone to places for the football – places where I'm going to play. By playing, you learn.

It may seem I've been around for a long time, but I'm still only 22. I think I can develop a lot more, but I realise to achieve that I've got to play as much as possible."
Liverpool defender Andre Wisdom, who is currently on loan at Derby County, has been fined a total of £840 after admitting a speeding charge.
The 20-year-old was clocked driving in an Audi Q7 at 61mph, on a road restricted to 40mph on October 1.
The England Under-21 international, who was not present at the hearing at Liverpool Magistrates' Court, was ordered to pay a £400 fine, £400 costs and a £40 victim surcharge, according to the Liverpool Echo.
Liverpool have confirmed Academy youngster Craig Roddan has joined Carlisle United on an emergency loan.
The 20-year-old midfielder moves to the League One side with view to making the deal permanent in January.

Roddan has been based at the Reds' Academy complex since joining the club from Wigan Athletic in 2007.
LFC Transfer Talk:
Liverpool are weighing up a January move for the out-of-favour Chelsea left-back Ryan Bertrand, according to the Daily Telegraph. The England international signed a five year contract at Stamford Bridge in January, but looks to have failed to impress Jose Mourinho, with regular right-back Cesar Azpilicueta replacing Ashley Cole in recent matches. (Link)
Fabio Borini's representative admits the Liverpool-owned player could head back to Italy in January.
The striker is on loan at Sunderland, but he's worried by his struggles for goals and games ahead of the World Cup. (Link)
"I can say that if Fabio's situation doesn't change in the next month, we could evaluate a return to Italy so that he can find the consistency he needs ahead of the World Cup," Marco De Marchi is quoted as saying in the Daily Star.

"Borini would absolutely love to take part in that tournament.

"Liverpool will not let go of the player definitively, so it would still be a loan spell. He is a modern striker, has an eye for goal and is appreciated by many in Italy and beyond."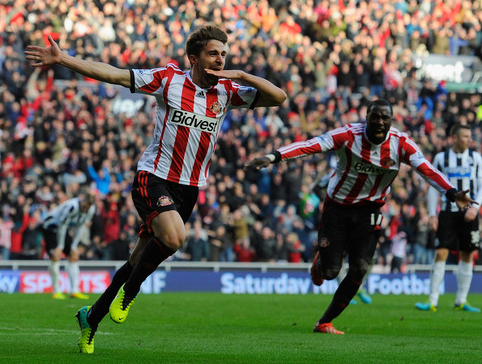 Other Football News:
FIFA reiterate there are no plans to move the 2014 World Cup in Brazil, despite the recent tragedy, where two workmen were killed, at one of the newly constructed stadiums: (Link)
Brazil has already admitted it is struggling to get all 12 venues completed for the tournament.

Six were ready for last summer's Confederations Cup but it is a race against time to finish the remaining six.
Articles Published Today:
Premier League Preview: Hull (a) by Gary, Mihail and Daniel. (Link)
Best/Most Interesting Posts Today:
Bob posted this article (Link):
This is an interesting read about new ideas from the US on data analysis that we may see adopted here.

I particularly enjoyed the video demonstrating the full pitch view, which is something I have been imagining would reveal far more than standard tv coverage – and it does!
Rox replied, after seeing the video, about the possibility that managers have a restricted view from the dugout:
Very interesting to see the movement of each player in that way, and especially seeing how the whole shape of the team moves.

It actually makes me wonder whether managers being in the dugout are actually missing a lot of important points throughout a game because they simply can't see certain angles and movements.
Maradoo, on the Hull Preview thread, responded the Krishaldo's delight at our upcoming three games in a week:
Nine points in 7 days would take us to 33 points from 15, and I can tell you that as far back as I have looked which is 2003-04, no team has ever had 33 points after 15 games and missed top 4.

In fact, only two teams have missed with 30! That was Chelsea 11-12 with 31 and City 07-08 with 30.

So for me, the game is like the old cliched cup final for us. Win, and I expect us to follow that by beating Norwich and the Hammers comfortably to achieve this heady target.

We HAVE to win on Sunday.
One Red, also in the preview, commented on Hull's impressive defensive record at the KC Stadium:
Was surprised to read that Hull have only conceded 2 goals at home all season. Seen as they have only scored 4 at home we hopefully can score early, put them on the back foot, make them come out and attack and use teh likes of Coutinho to pick out Suarez and finish out the game.

Given our problems defending dead ball situation last week anyone expect either or indeed both of Sakho or Kolo to start?
Beez analyses the number of shots Hull have had during their last four games:
Looking at the shot charts above definitely suggests to me that we should win this comfortably.

In their last four games, Hull have had a total of 60 shots, yet just 3 of them have been on target from within the box. Bear in mind they've played Sunderland and Palace at home in this spell too. There's no way they should be scoring against us.

They've allowed 48 shots, and ten of those have been on target efforts in the box, so I'd be surprised if we didn't score considering our attacking form.

3-0 to us.
Martin M takes another view on the recent sackings of Borrell and McParland, in response to Bob's post about the youth set up in the Guardian:
The headline is a bit, wide of the mark, i think would be the phrase.

Liverpool youth system changes are a fix for something that wasn't broken

I do wonder if this is simply a case of keeping things fresh and keeping people on their toes and motivated? That things have simply run their course and possibly stagnated?

Borrell has been here since 2009. You stay too long somewhere and you can start going through the motions, the same people with the same advice and opinions. Borrell and McParland have implemented a structure and their departure reminds me a lot of Peter Brukner and the response that followed that.
Beez posted some more stats relating to LFC's next few games – and how they correspond with the same fixtures from last season:
This match is also a good chance to improve on last year's corresponding fixtures, as Hull replaced Reading, and we drew 0-0 away to them.

The same is true of West Ham next week, so *if* we win our next three games then we'll be 8 points up on last season and looking at a 69 point season.

We'll then have ten games that only yielded a total of 9 points last season. I've said it for ages, but the next two months are probably going to decide if we can finish in the top four or not.