By Chris Rowland.
Welcome to today's daily digest, listing the day's Liverpool FC news, the latest LFC transfer news, other major football news and also providing links to the best posts on the site's debate section.
LFC News:
Manchester City boss Manuel Pellegrini does not regard Liverpool or Tottenham as genuine Premier League title rivals (Metro). City host Spurs this weekend.
'The Premier League is very close this year,' he said. 'There are six clubs challenging, with very little difference between one team and another.

'We have a lot of points to fight for, and I think at the end it will be between Chelsea, Arsenal, Manchester United and Manchester City.'
Roberto Martinez has been speaking about his first Merseyside derby:
"From the outside I have always been intrigued by this fixture. You do feel it's a special derby, it's the feeling of being a blue or red within the same family, within the city, and that develops a real competitive edge of how you follow your football club.

"I just realised after five minutes at the club how much this fixture means to the fans. But I think the important aspect from our point of view is just to make sure we are ourselves in the game, that we don't get affected by the occasion, that we don't play the derby and we play the game, and then realise that the three points are important enough to be concentrating on those and that will look after the whole occasion by itself."
Ahead of Saturday's Merseyside derby, goalkeeping coach John Achterberg believes neither side will gain any kind of advantage from the recent international break. Both teams have had key players away on international duty during the past 10 days, many of whom will not return to their clubs until Thursday.
Despite the disruption to preparations at Melwood, Achterberg is confident that plans are in place to ensure the Reds will be ready and raring to go come kick-off at Goodison Park.
"It's the same for every club," Achterberg told Liverpoolfc.com.

"We have a structure in place and two or three days before the game we work on those specific things. We should be able to get everything right.

"All the teams have the same problem, as most of the teams have international players in their squad, so everyone is in the same boat and you have to deal with it.

"For our club the most important thing is they are fit and healthy when they come back. We need the team to be fit and be able to compete for the starting XI."
Liverpool and Cardiff City have jointly announced a £10 discount on adult and senior match tickets for away fans for both league meetings between the sides this season.
LFC Transfer Talk:
Arsenal, Liverpool and Manchester City are hoping to sign youngster Toni Sanabria, 17, from Barcelona. The Paraguay forward has a £2.7m buy-out clause in his contract (Daily Star).
Barcelona could turn to Chelsea's Brazilian midfielder Ramires, 26, at the end of the season if they fail to beat Liverpool and Manchester United to Atletico Madrid youngster Koke, 21 (Daily Express).
Barca vice-president Josep Bartomeu has reportedly said the Catalans are in advanced talks to sign a new goalkeeper, confirming former Liverpool keeper Pepe Reina, 31, and Marc-Andre ter Stegen, 21, are on their shortlist of candidates (Daily Record).
Other Football News:
Tony Pulis has held further talks with Crystal Palace. Initially, the Welshman did express reservations about a number of aspects of the post. But talks have now reopened and Palace are hopeful of a positive outcome.
Have Palace been spotted practising long throws in training?
West Brom have received an apology from referees' chief Mike Riley for the penalty awarded against them in the draw with Chelsea earlier this month. Baggies boss Steve Clarke said:
"We've had a phone call from Mike Riley to apologise.

It doesn't get us any more points but it's nice of Mike to phone. If he's apologising, he obviously feels it was the wrong decision. We have to put it behind us now and move forward."
Articles Published Today:
Tip Top, Top Cat: Steven Gerrard, by Paul Tomkins.
Best/Most Interesting Posts Today:
Ross linked to an EPL Index article on zonal marking from corners and Dudek, and relived a glorious moment from 2005 …
You're less than 180 seconds away from taking the cup final to penalties. It's the game that nobody gave you and your disciples a hope in hell, even your players thought so – with their rational mindset anyway. But this is now, the 117th minute; 117 minutes of twists and turns. At half time you were 3-0 down, down and out. But now, you're within touching distance of a penalty shoot out and taking home the cup you'd dreamt of winning.

The opposition are in possession of the ball and a dangerous cross comes in from from the left wing and the cross is perfect, it couldn't be better, it meets the head of the most clinical striker they have and your heart is in your mouth as the keeper makes the initial save, only for the follow up to appear to be filmed right in front of your eyes at 10,000 frames per second as the striker meets the ball three yards out from goal with your keeper scrambling to get back to his feet. There isn't a sound and everybody is frozen in this motionless moment, only for the striker's shot to go straight into the unprepared finger tips of your goalkeeper and go over the cross bar!
Long Ball Larry had some interesting observations, prompted by a Ted Knutson quote, about Luis Suarez's goalscoring efficiency and its effect on his value and whether we should keep him.
Now, I'm not arguing we should turn down a £70m offer from Real Madrid should it come. But if Suarez really is *that* good – and Liverpool have ambitions of also being *that* good – we should think long and hard about whether that money is worth more than what Luis can provide on the pitch.
Beez added a note of caution, pointing out that much of Suarez's goal scoring this season has come against bottom sides, and that whether he is now the real thing or just a flat-track bully will be more tested in the tough fixtures approaching.
Davidorpen posted YouTube footage of Sakho's goals and performance for France against Ukraine yesterday and thinks "both him and Joe Allen have made a good point during this break."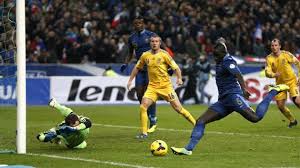 Liverpool unearth new goalscoring sensation …