By Chris Rowland.
Welcome to today's daily digest, listing the day's Liverpool FC news, the latest LFC transfer news, other major football news and also providing links to the best posts on the site's debate section.
LFC News:
Lots of very diverse LFC news today, starting with this heartfelt appeal to Reds' fans globally from a Filippino Red as they try to come to terms with the devastation caused by Typhoon Haiyan. There are links to donate on the page.
As we pull our resources together to respond to the needs of our countrymen, I am reminded of the indomitable spirit of the Filipino people. Though badly beaten and worn, we rise up together to meet the challenges at hand. We don't give up. This is the very same spirit I've associated LFC with. Maybe that's why, despite the distance, Filipino Reds have managed to become faithful supporters of the club.

'The words "at the end of the storm is a golden sky" never seemed more timely.'
Steven Gerrard says he will not "lose any sleep" over Sir Alex Ferguson's claim he is not a "top, top player" and that the former Manchester United manager tried to buy him at least once (Daily Mail).
"107 caps isn't bad for someone who isn't 'a top, top player', is it? I never expected to get that amount of caps."
Gerrard has told the club's fans to enjoy striker Luis Suarez "while he's here". "The Uruguay striker was linked with a move away from Anfield in the summer and is expected to be the subject of further speculation in January"(London Evening Standard, as reported on BBC).
Yet more on Gerrard – and Jordan Henderson believes working alongside Steven Gerrard on a daily basis has been an influential factor in his return to the England squad.
It's the first time Henderson has been selected for his country in almost 18 months – and he feels he returns an improved player, thanks to Gerrard.

He said: "I think I have improved since last time. Stevie helps me develop all the time in training and off the pitch. And when you play with him, you learn a lot.
Speaking about Henderson, Brendan Rodgers had this to say:
"It is thanks to his quality and professionalism that he is making marked improvements. I just see a young player that is athletically good, technically strong."

"Tactically he is aware now of the game. He can participate in the game, he knows when to move inside and outside. Tactically his understanding of the game is much, much better."

"That is a massive credit to him because he is working very hard, listening and wanting to be a better player."
Some interesting comments from Philippe Coutinho today about the two strikers in front of him and the general mood in the camp:
"As I've said before, they're great players," Coutinho told Liverpool's official website.

"They're always on the move and scoring goals and I'm happy to play with them.

"They make our work moving forward easier because they're always looking for space, and it's easier to pass them the ball.

"But it's not just them in the team, there are other great players and I'm very happy to be part of the group. It's an excellent team."

Coutinho moved to Anfield alongside Sturridge in January, and he says the England international has helped to lift team spirit on Merseyside.

He added: "He's an excellent person. He's always playing around with me and the other players, and he's fun to be around and a great player.

"Everybody on the team gets along very well when they're off the field and I think that creates a greater union between us and makes us stronger on the field."
Little Phil celebrates having two great strikers to feed
Back to Steve Gerrard again, and the captain also had some nice things to say about being in the midfield behind Suarez and Sturridge. Asked to describe what it's like to play behind the duo, Gerrard told the Daily Mail:
"It's a dream, an absolute dream. I have always played with one top forward through my career here. Now there are two main men and it is great.

"It has clicked without much work in training. I'm excited as I think it can get better.

"Daniel has grown as a player. He has been great for Liverpool but Liverpool have been great for him. If he keeps listening to the right people, he can improve."
A Metro blog, reproduced on the official site, makes the case for a knighthood for Kenny Dalglish, saying he's more deserving of it than David Beckham, who is being widely tipped for one.
In my opinion Dalglish was a truly great player where Beckham was a decent player who could make a good pass and take a good free-kick, but he was not world class.

Dalglish has went about his business quietly, especially his charity work, where Beckham is constantly in the media.

I'm sure Dalglish isn't bothered about receiving awards and recognition for his efforts, but it doesn't detract from the fact that he is more deserving of such an honour than Beckham.

Beckham may become a Sir but he will never become a King like Kenny.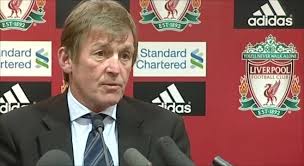 Arise Sir Kenny …
Some interesting debate followed, worth looking at from #296.
A 'challenge panel' designed to oversee the investigations into the Hillsborough disaster has been set up.
The independent panel, which will consist of three experts, will look at the progress being made in the inquiries by the IPCC and Operation Resolve.

The panel will consist of criminologists Dr Silvia Casale and Prof Roger Graef, and retired Court of Appeal judge, Sir Stephen Sedley.

"The group's purpose is to ensure the families' rights under Article 2 of the European Convention on Human Rights which requires public accountability and the appropriate participation of the families of those who died to safeguard their interests during the investigations."
Victor Moses has made the five-man shortlist for the prestigious BBC African Footballer of the Year award, alongside Premier League duo Yaya Toure and John Obi Mikel, Jonathan Pitroipa (Rennes) and Pierre-Emerick Aubameyang (Borussia Dortmund).
Liverpool FC and EA SPORTS have launched a brand new Goal of the Month competition for supporters who play FIFA14, with monthly prizes and an "incredible overall package" on offer.
"FIFA14 was released globally in September and a special LFC cover, featuring Philippe Coutinho, Steven Gerrard and Daniel Sturridge, is available to download free."
LFC Transfer Talk:
Metro says Liverpool want Southampton skipper Adam Lallana "to strengthen their midfield options as they seek to maintain their Premier League title challenge."
The Reds need to bring in more quality to boost a squad which lacks depth in one or two areas if they are to keep the pressure on current leaders Arsenal.

A top-four finish is the bare minimum required at Anfield this season and Lallana, called into Roy Hodgson's squad for the forthcoming friendlies with Chile and Germany, has been identified as one of the players who could make a difference.
Other Football News:
Manchester United defender Phil Jones claims the club's critics have been desperate for them to fail this season.
"People want us to fail because we have won the league so many times," Jones is quoted in the Guardian. "Everyone hates the best clubs, it is as simple as that, and United won the league long before I was here. We enjoy that. We relish the test we get thrown at us every week.

"[Sunday's result] proves when people doubt us, we are more than capable of standing up for ourselves and proving to people that is why we were champions last season. We weren't champions for nothing. We thoroughly deserved all the points we got last season."
Utd's Danny Welbeck, Michael Carrick and Robin van Persie have all withdrawn from their international squads.
Articles Published Today:
What Barcelona Had In Common With Wimbledon, by Paul Grech.
Best/Most Interesting Posts Today:
Rafapologist linked to an affectionate Independent article on Bob Paisley, contrasting him with Alex Ferguson in his soft-spoken style as much as in his record, which, for the record, was that Paisley won 2.1 trophies per year of his reign against Ferguson's 1.3.
Then Chardo34 posted something extremely rare – an article by TalkSport's professional WUM Adrian Durham from the Daily Mail in which the Opinionated One expresses the sentiment that "Liverpool fans were blamed for Hillsborough when it wasn't their fault. If there is any justice left in football, they will finish as champions this season." And as Chardo said re Bob and his campaign to have the fans at Hillsborough officially recognised as heroes, "I'd expect Adrian Durham would help champion your campaign." Ask him Bob.
… if there is one set of fans who deserve to win the title this season, it's Liverpool supporters. And this is why.

Liverpool last won the title a year after the Hillsborough tragedy. In all that time those fans have been lied to, lied about and generally treated appallingly. Hillsborough police changed their stories to try to pin the blame for the tragedy on Liverpool fans.

Liverpool fans were blamed for an appalling tragedy that wasn't their fault. They've had to endure the pain and lies of all that followed for years, for decades.

My memories of what I saw on TV that day are of Liverpool fans using advertising hoardings as makeshift stretchers to have stricken fans taken away for treatment. I also remember Liverpool fans in the upper tier trying to drag as many fans up from the packed pens below. Liverpool fans acted heroically on April 15, 1989 (Editor's bold).

The Liverpool fans have been through enough. It's time they had something to shout about, something they can properly enjoy.

It's about time English football paid back its debt to Liverpool Football Club. The Reds put England on the European football map in the 1970s and 1980s. And then England treated the club and its fans like dirt.

May the best team win the Premier League this season, but if there is any justice and sentiment left in football, Liverpool will be champions come May.
Long Ball Larry mused at length over the make-up of the PL and its unpredictable nature this season so far; every sign of some serious outlier stats in the offing:
As this excellent summation on The False Nine points out, it's a bit of a crazy season. Discerning its contours, despite being more than a quarter of the way through, is proving difficult.

…. broadly speaking, it's looking like a low points total for the winners, but a very large number of points accruing to the chasing pack and a record points total for non-CL teams.
In an interesting debate about whether having a large squad of established quality players can be counter-productive, MikD had this to say:
I was thinking this the other day when looking at Spurs in particular. This is where Rodgers can differentiate himself from the others i.e. buying star names is not necessarily the way to go. We have seen how easy it is to waste money and how effective it can be to buy players who are un-heralded but have hunger and quality e.g. Sturridge, Coutinho and Toure.

——

I'm not suggesting we don't spend, just be very targetted on where we need to strengthen. Spurs appeared to be hell bent on spending the Bale money on the best players they could find and worry about how to mould the team afterwards. Rodgers is building a team and tweaking it here and there and that smells much more like the Liverpool sides of old.