By Chris Rowland.
Welcome to today's daily digest, listing the day's Liverpool FC news, the latest LFC transfer news, other major football news and also providing links to the best posts on the site's debate section.
LFC News:
Steven Gerrard and Daniel Sturridge are injury doubts for England's friendlies against Chile and Germany.
Glen Johnson says the current Liverpool team is the best that he has been a part of in more than four years at Anfield.
Andre Wisdom, on loan at Derby, was forced to abandon his £100,000 Porsche on the way to Pride Park after it became submerged in a muddy ditch in the middle of remote woods because of a sat-nav error (Daily Mirror). 
LFC Transfer Talk:
Liverpool have joined the chase to sign Fulham's emerging French striker Moussa Dembele. The 17-year-old, signed from Paris St-Germain, is also a target for Manchester United (Daily Mirror). 
Other Football News:
It's international break time again. Suarez for Uruguay and Sakho for France are in play-off action, whilst Agger, Mignolet, Skrtel, Moses, Allen, Johnson, Henderson, Gerrard and Sturridge are in all their countries' squads for friendlies. Not sure whether Lucas and Coutinho are in the Brazil squad for their matches. Sterling and Robinson are also in the England U21 squad.
Articles Published Today:
Liverpool 4 Fulham 0: In-Depth Tactical Analysis, by Mihail Vladimirov.
Best/Most Interesting Posts Today:
These tables from Beez yesterday showed our record against both halves of the table. It included this conclusion:
Having looked at Liverpool's record against the bottom half of the Premier League since 1992, I can confidently state that sweeping aside the strugglers consistently is far more difficult than you might think.
In his excellent post on the topic of Brendan Rodgers, ConradHart said:
For me, I really like Rodgers because of the manner in which he has grasped our history and is leading not just the team but the entire club. I like neutrals liking my club. I'd hate to have a manager who creates an us against them stance for the club and doesn't care if everyone hates us. Just look at Chelsea and Man U. I like it that he appreciates what we stand for. I think this means as much to me as on pitch success.
Drzshen also came out in favour of Rodgers:
The point I am making is that tactics alone is not the be all and end all. A manager manages. A great manager is one who does and says the right things. Sometimes it is all about common sense, and that value in a person is not always easy to find.

I think Rogers is excellent. The results on and off the pitch speaks for itself.
Lots of good contributions on this debate today, including by Yiannis, Arjun aiyar, Si Steers and Dan Kennett.

Arjun Aiyar also posted this interesting article from the official site/Sky Sports about Suso, including this extract:
His tally of assists for the season now stands at five. It's a mark only bettered by Koke, Neymar and Cesc Fabregas. Given that those players turn out for the current top two in the division, it is a huge credit to Suso that he is achieving such numbers in a relatively struggling side. Prior to the weekend, only 10 players from clubs in the bottom half of the table had produced more key passes than the 19-year-old playmaker.

Much of those passes have been provided from wide positions on either the left or the right, where his close control has caused problems for full-backs. Following his efforts against Valladolid last week, there were only six players in the entire Primera Liga – including the likes of Lionel Messi and Neymar – with more completed dribbles. And yet, the man himself still eyes a central role. "My position is as a naturally deep-lying forward but I will play wherever the coach wants me – on either wing or in midfield," said Suso upon his arrival at Almeria.
StevieG-Dex posted Pepe Reina's sad account of the circumstances of his fallen-through move to Barcelona and the loan to Napoli.
And upon his return he revealed his future at Liverpool is as good as over after being forced out of the club by manager Brendan Rodgers.

"At the moment it's difficult to think about being a Liverpool player next year," Reina said. "They have a young goalkeeper in Simon Mignolet and the manager prefers him to me.

"That's the reason why I'm here and he will be at the club next year as well. There's no reason to think I'll be a Liverpool player from now on but we'll see where the future takes us.

"It's been a good move so far and I don't regret what happened. I would have preferred to say goodbye in a different way.

"It was the club [Liverpool] who made the move. I was on my holidays and nobody told me anything. Suddenly Napoli called and said they were agreeing terms with Liverpool and Liverpool just rang me two days later and said the same. They probably had their own reasons."
Humdul1 posted the suggestion from The Times' Tony Barratt that Joe Allen might be seeing some game time shortly.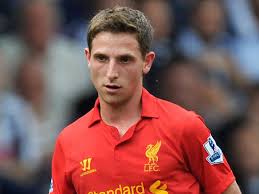 Might we be seeing more of him soon?
Fourcandles raised this fascinating possibility:
I've wondered if the clear changes in tactics over different chunks of the season are just ways of educating players under real-world conditions what their roles look and feel like. First, it looks rather obvious and blocky. But eventually, once the players are comfortable with distinct styles, and how to apply them in specific instances, I.e., when players can analyze and use the appropriate response on their own, then they can blend them. Then the opposition can no longer easily anticipate your formation or your tactics, your approach or your response.

Boom.
Finally today, Barneysfarm linked to his new single from his soon-to-be released album.