By Paul Tomkins.
As Liverpool fans we're steeped in the mythology of our managers as geniuses. It started with Bill Shankly's incredible personality, continued with Bob Paisley's remarkable success, and carried on through to Kenny Dalglish in the late '80s, where his clear genius as a player only added to his aura as a boss.
More recently, there is little doubt to anyone who doesn't harbour an irrational grudge that Rafa Benítez was a tactical genius, in the way he masterminded runs to two Champions League Finals by outwitting the managers of more established and expensive sides, and the amount of high-pressure matches he won.
Like it or not, Brendan Rodgers has these ghosts to try and live up to. Liverpool's history is both the reason why it's still such a huge club in 2013, but also a weight bearing down on any current set-up. Rodgers rightly called it "a heavy shirt" when he took over, and we knew what he meant. There are few clubs like it in the world.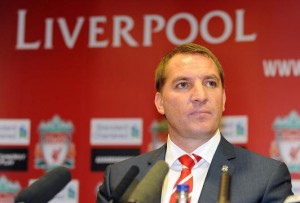 To my mind, it's impossible on the evidence thus far to get a sense of "genius" about Rodgers. He hasn't got the overpowering personality of Shankly, the European Cups of Paisley, the playing cachet of Dalglish, nor the proven tactical thinking of Benítez. As I've said since his appointment, as fine as his achievements at Swansea were, he hasn't yet got anything remarkable on his CV, either. Until he does, that will work against him when it comes to the length and breadth of any benefit of the doubt.
But does he have to be a genius to be a big success at Liverpool? I think not. Obviously if he proves to be a success at the club – building on the fine start of this season – then his legend will start to grow. Maybe there will be games that enter him into folklore, but there have been no such moments in almost 18 months.
Maybe Rodgers can harness some of the skills of those aforementioned greats to do things another way: without the larger than life bombast, without the fervent worship of the Kop, and without the encyclopaedic knowledge of tactics in their purest sense. Maybe he can take aspects of each great manager and use it in his own way.
Rodgers has yet to win many of the big encounters of his Liverpool career – his head-to-heads with the big boys have not great and the cup record is poor – and often these are things that legends are built upon. But his record in 2013 as a whole is excellent. Maybe having so few cup games has helped the league form, and it's clear that Rodgers has yet to have a season where rotation is essential, but there's no denying that results over the calendar year (and this season in isolation, too) are about as good as we have any right to expect, and better than any time since finishing 2nd in 2009. If he hasn't had to face the punishing schedule that comes with Champions League football, he also hasn't had a Champions League squad to call upon.
Of course, Rodgers is in a different position to a lot of his forebears, in that he's not in charge of transfers. For me, the great genius of Bob Paisley was in his transfer work: he bought a player, and sooner or later they slipped seamlessly into his XI, often replacing hitherto important personnel. An old football saying was that managers lived and died by the quality of their signings, but now at Liverpool, as with many other clubs in 2013, other people make those decisions, and, at best, the manager may only have a small say.
Of course, Paisley's genius could also be attributed to the 'scout extraordinaire', Geoff Twentyman. Managers didn't go out and find these players for themselves, after all, but in the old days, they made the final decision, and the buck stopped with them.
It was slightly different with Shankly, Dalglish (first time around) and Benítez, in that all signed a reasonable share of duds; more so than Paisley, who still got one or two wrong, of course. In Paisley's favour was that he inherited a team that had won both the league and FA Cup within the previous 12 months; Shankly and Benítez weren't so fortunate. Dalglish also inherited a recent title-winning side, but his signings in the first three years were almost all inspired. Paisley and Dalglish were in positions where they could break the British record to buy a player; Shankly and Benítez never really got close. So all of these situations are slightly different, and with Rodgers there's the transfer committee, too.
As I noted last week, I don't look to blame Rodgers for Aspas (if the Spaniard continues to flounder) nor exalt him for Sturridge and Coutinho. We need to think a bit differently when judging a manager these days; that's certainly the case since the transfer committee was installed around a year ago.
However, Rodgers has largely handled these resources very well indeed. Maybe 'any' manager could win a lot of games with Sturridge, Suarez and Coutinho as an attacking unit, but Rodgers has got some great performances out of this trio, with few finer than the demolition of Fulham yesterday.
I'm guessing here, but Rodgers probably has more influence over who leaves than who arrives. Andy Carroll clearly wasn't for him, so what was the point of keeping the big no.9? (I'd have still kept him in the summer of 2012 until a replacement was signed, but that's another issue.) Stewart Downing was never as bad as his critics suggested, but he wasn't the bravest on the ball. His age also worked against him.
Where Rodgers may have less influence is in when players reach their 30s. Rodgers can help shift players out simply by not playing them, but those running the club will make the decisions on well-paid players in the twilight of their careers. You could argue that Dirk Kuyt and Maxi Rodriguez could have helped see out another season, but then maybe there'd have been no room on the wage bill for Coutinho a few months later. The only reason Kolo Toure arrived at 32 was that his wage demands were relatively low; he wasn't playing for City and therefore wasn't in the strongest bargaining position. He needed to revive his career, rather than maintain his wealth.
A possible controversy is brewing with Glen Johnson, although he adds such a different dimension on the right flank, and there's such a paucity of reliable cover, that I'd be loath to let him go; occasionally you have to keep an older player rather than create a chasm. Martin Kelly is a fine full-back, but has a fitness record that Darren Anderton would be proud of. Jon Flanagan is a decent enough squad player, but unless he improves radically with age, he doesn't look like a future first-team regular. Andre Wisdom looks the type to become a great defensive full-back, but is nothing special on the ball. Ryan McLaughlin looks far more likely to succeed in the Johnson mould, but he's as yet untested.
Perhaps Rodgers will be hindered in the summer by a club decision to sell Johnson, if the powers-that-be decide his wages are too high for someone of his age (although of course, the transfer committee could always hand the manager a quality replacement, even if it might be easier said than done). The same could happen with Skrtel and Agger, although we can only hope players opt for a reduced pay-packet (as long as it's not insulting) in exchange for continuing to enjoy their football.
Rodgers may not have as much control as his predecessors in the regard, although Paisley was an advocate of letting players "lose their legs on someone else's pitch". So it's a policy that has some merit.
Maybe Rodgers' 'genius' is less tangible. Maybe it occurs not on the sidelines, in the way that it did with some of his predecessors, but in his office, where he gets inside the players' heads in between games. Appointing leading sports psychiatrist Dr Steve Peters was certainly a touch of genius; something so sensible that you wonder why other clubs hadn't got there first.
Rodgers has engendered an excellent team spirit, and done so by design. Perhaps this is easier in the earlier part of a manager's reign as it's often said that players lose interest and desire after three years under the same boss, due to overfamiliarity and repetition. (Success tends to be the factor that extends goodwill; just as winning a match makes players less mentally tired, then winning trophies keeps the team happy – if not necessarily the fringe players.)
Rodgers is clearly a clever, well-travelled manager (in his spare time, as a student of the game, if not in terms of the clubs he's managed), and maybe his genius could lie in human interactions. Perhaps he can't hold an audience in the palm of his hand in the way that Shankly did, or turn previously unheard-of players into world stars like Paisley, or command the fear and respect afforded to Dalglish, or switch his tactics on a match-by-match basis like Benítez.
But he can certainly talk with charisma, has played a role in assembling a strong team, and is not one-dimensional or outmoded in his approach to formations and line-ups.
Maybe he's one of those managers for whom one outstanding attribute is not apparent, but who, on the whole, knows how to do things sensibly, and with a fair sprinkling of panache in his team's play?
Out Now: The Best of the Tomkins Times. Buy it for yourself for Christmas!