By Chris Rowland and Daniel Rhodes
Welcome to today's daily digest, listing the day's Liverpool FC news and latest LFC transfer talk, other major football news and also providing links to today's best posts on the site's debate section.
LFC News:
13 Liverpool players have been selected to represent their country at various levels during the next week. Gerrard, Sturridge, Agger, Skrtel, Mignolet, Sakho, Moses, Toure, Lucas and Suarez, whilst Sterling and Ilori are picked for their countries' U21s and Ibe for England U19s.
13 out of 13 back fit please.
Four December fixture changes have been announced. Our fixtures against Tottenham, Cardiff, Manchester City and Chelsea have all been altered.  Revised dates:
Spurs (A) – Sunday, December 15. 4pm GMT (Sky Sports)
Cardiff City (H) – Saturday, December 21. 12.45pm (BT Sport)
Manchester City(A) – Thursday, December 26, 5.30pm (BT Sport)
Chelsea (A) – Sunday, December 29, 4pm (Sky Sports)
Club chairman Tom Werner today paid tribute to the progress Liverpool have made under the stewardship of Brendan Rodgers and insisted: 'We're very excited about the club's future.' In an interview with Ollie Holt of the Mirror (see ACSGP's post below), Werner said:
"I think Brendan has made remarkable progress. He's a great strategist and has shown strong leadership. When we hired him, we were confident we were getting one of the brightest managerial talents in the game and he is proving his worth.

"He's dedicated to improving the club as a whole and shares our vision of developing a club that is built for sustained success. Brendan is respected by the players. They feel he is a good strategist and a good leader and his philosophy has been embraced by everyone."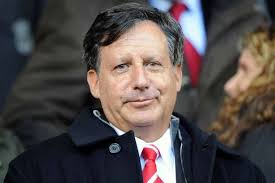 Club chairman Tom Werner
Managing director Ian Ayre says the club will consider a new contract for controversial striker Luis Suarez, 26, at the end of the season. Full story: Daily Mail 
Mamadou Sakho "has brought a powerful blend of youth and experience to Liverpool's defensive ranks", according to Martin Skrtel on the official site. The Slovakian said:
"In the games he has started he has shown how good he is, he's fitted into the team well and he's doing well at the moment.

"I'm happy for him and happy for the team because he is a good player for us. I just hope things carry on this way."
Speaking of Sakho, Le Parisien reported that he (Sakho) "has admitted he left Paris St-Germain in order to regain his place in the France national team."
Kolo Toure believes there is 'no doubt' that the current Reds team has enough quality to secure a Champions League berth this season:
"There's no doubt this squad is good enough to get a Champions League place," the 32-year-old said.

"We have so many good players and there's a great mentality here. We are at a fantastic club. We need to keep playing well every week and give 100 per cent for our teammates and the fans.
Liverpool's first-team doctor, Zaf Iqbal,  has been nominated at this year's Asian Football Awards. Describing him as "the king of medicine", Steven Gerrard said: "I've had serious injuries of late, and without the doc I'd have been in big trouble."  Also our Academy 14-year-old Yan Dhanda, who is of Indian origin, received the Up and Coming accolade at the same awards.
LFC Transfer Talk:
Liverpool are reportedly pondering a swoop for Swansea's Michu, however, any bid would cost the Reds £30million according to Swans chairman Huw Jenkins.
"It is understood that Arsene Wenger, as well as Liverpool's Brendan Rodgers, continues to monitor his progress, but will have to table a hefty bid to even tempt Swansea to sell."
Rodgers, meanwhile, is understood to be preparing a big-money offer for highly rated Atletico Madrid youngster Koke in January.
Both stories: Liverpool Echo
Other Football News:
Mostly international news today. Lots of follow-up to Jack Wilshere's "English people for England" comment.
"The question was should foreign players be allowed to play for England, and in my opinion I don't think they should.

If you live in England for five years it doesn't make you English."
Also, when asked how he'd increase the English talent pool in Premier League, Sam Allardyce said "Simple. Make sport a core subject in the school curriculum." (from BBC's Dan Roan).
Please discuss.
Articles Published Today:
Interview with Michael Jolley, Crewe Coach, by Arnar Steinsson
There was also a new TTT poll: What Do You Always Try To Read on TTT?
Best/Most Interesting Posts Today:
Bob posted YouTube footage of last night's Mirror Pride of Britain awards, which included the Hillsborough families' campaign for justice.
Krishaldo reported that the FA has imposed extra charges and requirements on his Sunday league team, and discusses the wider implications . Read this one and weep about the way the game is administered in this country:
"The FA are custodians of the game at ALL levels. We have just been told that our Sunday League team (FA Registered) now have to hang their own nets, put up the flags, take down the nets and flags, pack them away, clean the dressing room and now have to pay for hot water for the showers. On top of having to pay for the pitch and the ref. And £20 for each player to register at the start of the season.

My cousin has four boys from 6 up to 14 years old. All of them play football at least once a week. Each session costs between £2-4. With extra fund raisers to buy equipment to train with. We went to Holland on a football tour and speaking to local lads, they were shocked we have to pay for football here. They have a population of 16.7m. England is 53m yet look at their national team in comparison. Spain has 47m and Portugal 10.5m.

The FA won't change. Their priority is making money from Wembley and bums on seats around the top leagues, not the development of football. If they did, there would be a massive effort to change the fundamental philosophy of football in this country, not just building St Georges Park and hoping that better facilities = better players.

England are probably doomed to an eternity of being also-rans until the psychology of how the game is looked at is changed i.e. touch, technique, passing and understanding is rated along side hard work. I've heard countless examples of the bigger, stronger, faster lad being picked over the smaller but technically better lad at youth levels (one lad who played for my nephews team scored over 100 goals one season, yet was dropped to the wing when a bigger lad joined the team the following year).
ACSGP posted an interview with Tom Werner by Ollie Holt in the Mirror, in which the chairman praised Luis Suarez and highlighted the club's desire to keep him:
"He is one of the great players of the world and we felt that we would be a stronger club with him than without him.

"That does not mean I don't respect his intense desire to play in the Champions League. But it would be a very happy day next May if and when we get to the Champions League by finishing in the top four and he is part of it.

"It is our intention to keep him for a while.

"Our intention is to build a winning club and he is integral to that. "
TTT Subscriber arabadventurer (Nabs Al Busaidi) has been shortlisted by LFC to be the international fans (East) representative on the supporters committee.