By Chris Rowland and Daniel Rhodes
Welcome to today's daily digest, listing the day's Liverpool FC news and latest LFC transfer talk, other major PL news and also providing links to today's best posts on the site's debate section.
LFC News:
Kenny Dalglish has revealed current boss Brendan Rodgers was key to his appointment to the club's board of directors: "The most important person in me coming back was Brendan," Dalglish – who has returned to the club 17 months after his second spell as manager ended – told the Liverpool Echo. "You could fully understand if the manager wasn't in agreement with it. If he wasn't, he would never have known I'd been asked."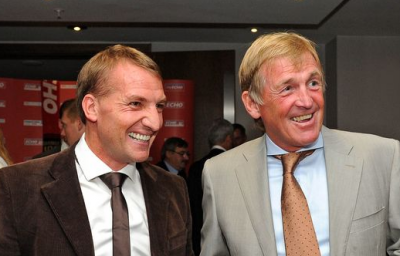 Brendan Rodgers told the Daily Mirror he believes in-form striker Daniel Sturridge can become a major asset for England:
"If Daniel maintains the form he is in, he's going to be a real asset. If you look at him and Rooney as a combination, that would be brilliant for England. You have him and his cleverness, and Rooney in behind him with his movement between spaces and his exceptional quality."
LFC Transfer Talk:
More links with us bidding for Anzhi striker Lacina Traore in January. Also some suggestion that Real Madrid may be coveting man City's Sergio Aguero. Both rumours would  presumably have a bearing on Luis Suarez's position at the club, one making it more likely he'll leave, the other that he'll stay.
Other Football News:
Harry Redknapp's been talking. No, really. Writing in his new autobiography, serialised in the Daily Mail, he reveals he was so confident of becoming England manager that he asked Brendan Rodgers, then at Swansea, to be his assistant at Euro 2012.
Redknapp, who was in the running to succeed Fabio Capello before the Football Association opted for Roy Hodgson, says:
"I wouldn't trust the FA to show me a good manager if their lives depended on it. How would they know? What clubs have they ever run? Who do they speak to who really knows the game?"

"This isn't about them giving the England job to me or Roy Hodgson, but English football being run by people who really haven't got a clue. And they get to pick the England manager! Everyone said I was the people's choice, the only choice. All the senior players seemed to be up for me to get the job. I got quite a few text messages at the time from players saying they would love me to manage England: Steven Gerrard, Wayne Rooney, Rio Ferdinand, John Terry.

But the FA went for Roy Hodgson to be the England manager – a man who is more their cup of tea."
Alan Hansen and John Hartson have been discussing the start to the PL season on the BBC Sport website – or BBC Salford Quays as we know them on here. Hansen says:
"People are saying it is the most open Premier League for years but, as far as I am concerned, the favourites at the start are still the favourites – the two Manchester clubs and Chelsea."

Hartson adds: "Early on in the season teams will start slowly and others like Southampton start really well. The table only starts to tell a story when we are 15-20 games in."
Ex-Brighton boss Gus Poyet's odds on becoming the next Sunderland manager have been cut, apparently.
Manchester United have offered Adnan Januzaj £60,000-a-week to stay at Old Trafford after his match-winning display in Saturday's 2-1 victory at Sunderland. The 18-year-old's contract is set to expire in eight months and with several clubs interested in signing him United manager David Moyes is eager to secure a deal to keep the Belgian and prevent a repeat of their loss of Paul Pogba.
Still with Utd, and Marouane Fellani could be out of action until December as he faces the prospect of wrist surgery. TTT Time would not stoop so low as to offer any possible causes for a wrist problem to a Utd player who came from Everton …
Staying with the theme, one time and possibly still Utd target Luka Modric says he is ready to turn down any advances to return to the Premier League as he plans to finish his playing career at the Bernabeu Stadium, according to the Daily Mail. The 28-year-old says:
"Besides being a great club, my family feels amazing in Madrid. In football it is difficult to plan, but if you ask me, I would like to retire in Madrid. With titles, of course."
Articles Published Today:
Alchemy and Elephants Part 3 – Objectivity, by Lee Mooney and Tony McKenna
Best/Most Interesting Posts Today:
Edmkted posted a critical article from Football365 about the burning issue on TTT at the moment; the difference between Liverpool's results and performances, and those second-half fall-aways:
'A match lasts for 90 minutes' was the predictably tedious response when I shared this on Twitter on Sunday, but clearly Liverpool's sluggish second-half displays threaten their chances of sustaining a good start.

It was the same story on Saturday, as what should have been a five or six-nil victory became a 3-1 win after the break. It's quite incredible that Liverpool had only two shots in the second half – neither on target – as Palace were allowed to recover and snatch a consolation when Jose Enrique, who was poor all afternoon, and Steven Gerrard, who looked disinterested all afternoon, switched off.

Liverpool conceded plenty of chances to a poor Palace side and allowed Sunderland 23 attempts in the previous fixture – the highest number of shots the Black Cats have managed in a Premier League match since a 2-1 win over Blackburn in December 2011. Better sides will make Liverpool pay.
Neil Burke argued that:
"It takes years to evolve a convincing, well-oiled machine of passing, attacking football. That is our ideal and Rodgers' ideal.

Right now, he seems to have learned some pragmatism.

There are clearly areas to work on as new players adapt. But right now, get the points on the board, performances will come later."
Daniel Rhodes devised "a rating system based on a number of different attacking and defensive metrics."
"The rating includes: CCCs, CCC conversion rate, shots on target, shots inside the box, the total shots, the number of goals and the total conversion rate. 

As well as these defensive ones: how many CCCs you concede, at what rate your opponents score them, the SOT you concede, SIB you concede, the total number of shots, the number of goals and the conversion rate. 

It ignores points, and perceptions!

The main thing I'm trying to measure is the efficiency of the chance, efficiency of the conversion rate – but crucially, the balance between attacking and defending."
Well worth having a look at this post, the table and the conclusions.
The sage of TTT, Jeff, says we shouldn't be looking at Liverpool in isolation but also at the rest of the PL – and Jeff sees "not one team out there that impresses me and there is not one team out there that at least to me does not have a serious weakness or a whole host of serious weaknesses. "
I have not seen a team that I would say is significantly better than Liverpool and I suspect that Liverpool may well be in a position to improve more during the course of the season than other teams. On this point, note the number of players who are playing regularly who were brought into the team in the last two transfer windows.
Taskin (Tash) complimented both Dalglish and Rodgers over Dalglish's appointment to the LFC Board:
It also speaks volumes for both Dalglish and Rodgers.  That Dalglish took the position and enters so humbly, thanking Rodgers for giving his blessing.  And that Rodgers was big enough to agree on his return.

Everyone comes out of this with a lot of credit.
Paul Tomkins was debating the current situation and the pro-and anti-'we're doing OK/no we're not' factions, but called for the freedom to debate without being attacked by those whose views may differ:
We might be better still when Coutinho, Johnson and others return, or we may stop winning games if we don't play a bit better. But focussing on either of these situations isn't wrong or right – it's just looking into the future, with hopes or fears, and no-one can say what will actually happen. I just want people on TTT to feel free to express either viewpoint, without being sneered at.
Yiannis discusses the nuances beneath the debate between performances and results, and debate itself!
…Therefore, we all know that results and performances both matter.

But do they matter equally?

Well, that's the big question, isn't it? I think, if you put a gun to people's heads and forced an honest answer out of them, most would concede that, ultimately, results are more important than performances. After all, at the end of the day (why does so much stuff go on at the end of the day? Do people not like mornings?) results always have a direct influence on league position at the end of the year (as well as qualification for Europe and cup wins, of course), whereas performances do not always have a direct influence on results. If you look at things from a purely logical viewpoint, you would choose a good result over a good performance every single time.

Of course, football isn't logical! I don't mean just the game itself (that's a discussion for another time), but our reaction to it. A football fan is a creature of emotion, first and foremost. We follow the game of football because it appeals to our emotions, and we follow Liverpool FC because they appeal to our emotions more than any other team. Obviously, results have an effect on our emotions, but you could argue that performances are purely emotional, or at least our response to them is…

Always be conscious of the tone in which you write. The very rules of TTT itself state "it's not what you say, but how you say it". When typing a comment, before you hit the "submit" button, scroll down the page and read that rule, then scroll back up and read your post again. Does your post obey the site rule we all claim to love and live by?