By Chris Rowland.
Welcome to today's daily digest, listing the day's Liverpool FC news and latest LFC transfer talk, other major football news and also providing links to today's best posts on the site's debate section.
LFC News:
Brendan Rodgers has been speaking about West Brom, Gerrard, Sturridge, Coutinho, the Reds' recent form and Liverpool's Champions League ambitions.
The manager believes Daniel Sturridge can become one of Europe's finest forwards over the coming years – but has set no goalscoring targets for the league's leading striker:
"The way I've always worked with Daniel is I don't set him goal targets – I think he's a natural goalscorer. For me, the communication and the talk with Daniel is about him getting into areas and working hard."

"I think you've seen already this season the types of goals he can score, whether it be with his head, his left foot, his right foot, his pace or his power.

"I believe he's a natural goalscorer, it's just about him understanding his role in the team, with the ball and the intensity without the ball.

"I firmly believe, and I've said it before, he can be one of the top strikers in European football over the next two to three years as long as he continues to work hard."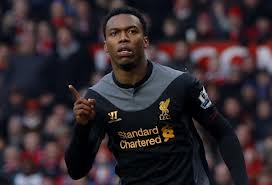 Rodgers also dismissed Sir Alex Ferguson's assessment that Steven Gerrard was "not a top, top player" as not credible.
"He (Ferguson) is probably one of the few – if the only one – who does not believe he is a top, top player," says Rodgers. "I don't think it was credible really in terms of what was said. You only have to look at Steven's career since he has been here, the accolades he has received all his life not only from managers but former players."
Some more good news on the injury front – Brendan Rodgers expects Philippe Coutinho to be available for selection against Arsenal next week.
Steven Gerrard accepts that his all-action style may have to change in the years to come but says his thirst for goals has not decreased in the slightest. The captain has operated in a deeper starting role on occasions so far this season, but argued that the recent switch to 3-5-2 has provided a platform for forward bursts.
"I can get forward slightly more in this formation knowing that I have got three defenders behind me. In general, whether the system changed or not, I have spoken to Brendan and he wants me to pick and choose my runs."

"Everybody understands that I'm not 21 anymore, where I can burst into the box at every opportunity. With experience, I hope I can pick the right times for those bursts."

"I'm not going to become an out-and-out holding midfielder just yet. Slowly with time I will adapt my game and maybe become a controlling midfielder."

"Certainly, for the remainder of this season I am still going to try and pick my runs to get forward into the box."
Raheem Sterling says that the team's success comes before any individual goals of his own:
"I've not played as much as I'd have liked to, but the team are doing well and that's the most important thing at this moment in time," he told Liverpoolfc.com.
It amuses me to imagine a player saying the opposite: "The team's not doing very well but I couldn't really give a toss because from a personal point of view things are going great."
Liverpool FC Academy has raised £12,000 for Merseyside children's hospital Alder Hey in memory of one of their young players, Stephen Packer.
LFC Transfer Talk:
Liverpool are considering a January swoop for 21-year-old Manchester City striker John Guidetti, says Metro.
Liverpool are known to be the front runners for his signature, having followed him since his loan spell at Feyenoord in 2012, where he scored 20 times in 23 matches. French money bags Monaco and Turkish outfit Trabzonspor are also in the race, but staying in the Premier League is the priority for Guidetti.
Other Football News:
Gary Lineker has condemned the "utterly depressing behaviour" of ambitious parents who rant and rave on the touchline trying to turn their children into football stars.
The 52-year-old Match of the Day presenter says in an article in the New Statesman their behaviour is wrecking their children's confidence and stifling their development.

"The competitive nature of most mums and dads is astounding," says Lineker. "The fear they instil in our promising but sensitive Johnny is utterly depressing."
Tony Pulis is being tipped to replace Ian Holloway as Head of Bomber Command at Crystal Palace.
Anti-racism group Kick It Out has released a statement after Manchester City midfielder Yaya Toure said he was on the receiving end of racist chanting from home fans during his side's Champions League Group D victory at CSKA Moscow on Wednesday night. Kick It Out: said
"First and foremost the support of Kick It Out is with Yaya and everyone associated with the club. He has been brave and proactive not only by speaking out after the game, but by reporting it to the referee too. It was the referee's role to then stop the game which would have dealt with the problem instantly. This was a key failing of last night.

"When abuse is officially logged like this, the offending club should be charged and an automatic partial stadium closure by Uefa can be explored. A second offence could mean a full stadium closure. Things are not perfect in this country. But this type of abuse is a depressing throwback and raises questions around the suitability of Russia as World Cup hosts."
Articles Published Today:
Premier League Preview 2013/14: W.B.A. (H), by Gary Fulcher, Daniel Rhodes and Mihail Vladimirov
Best/Most Interesting Posts Today:
Bob posted news of a development in his letter-writing campaign to the Prime Minister to have those fans who helped at Hillsborough whilst the authorities looked on and did next to nothing officially recognised as heroes, and has appealed for help from the TTT community:
Having sent a link to this article to all members of the 'All-Party Group on the Hillsborough Disaster', I have had a request from the chair (Alison McGovern) to meet to discuss the matter further. This is not 'success' yet, but it is a far more positive step in the right direction than I have seen over the previous 6 months.

I am due to speak with Alison McGovern next week and would welcome any help from the TTT collective knowledge base. It would be good to provide her with a handful of accounts of specific cases from the day.

Could you please paste any link here before Monday so that I can collate them ready for the discussion.

It will be an enormous help.
Cianos posted a Football365 interview with Swansea boss Michael Laudrup about that book that came out this week. As Cianos said, "as classy a man as he was a player".
Laudrup also believes there must be far more interesting content within Ferguson's tome, than any disagreements he has had with his players during his illustrious career.

But the headlines are all about these things about one player, or the other player wanting to leave.

"I saw some of the headlines yesterday, I refuse to believe that that is the most interesting stuff in the book.

"What Ferguson has achieved in so many years, there must be so many interesting things, so then I point my fingers at you guys (the media) about how can it be so interesting what happened one day with Roy Keane or a boot in the head of Beckham and why that happened?

"That can't be the most interesting thing in a book about a manager's life for 25-26 years."
Philip's been crunching some numbers – and as well as offering to collaborate with Stretch on his 'Investigating Fixture Difficulty' model, his research led him to this conclusion:
According to my model Man United have a 63.8% chance of not finishing top 4, Liverpool have a 30.1% of getting top 4.
Meanwhile, Stretch's continuing delving into the box of toys marked 'stats' revealed Liverpool underperforming in the "easiest" fixtures last season:
This smacks to me of an underlying complacency in the squad of 2012-13. It has been a problem for Liverpool for many years, but it has still not been addressed. I will continue to monitor this over the coming season to gauge if there is any improvement.
Still on the stats theme, Dan Kennett is looking at ACTUAL goals scored/conceded versus EXPECTED goals scored/conceded:
EXPECTED is calculated from nine different shot locations/types (headers and shots in the six yard box/wide in the box/ box central, shots outside, free kicks, pens etc)
This season's stats look a lot better than last season's.